Each jump has a name: grito (shout), gatinho (kitten), sininho (bell), toureiro (bullfighter), Jacob, marinheiro (sailor), Lone Ranger. They are simple metaphors, like imitating a cat's movements as you fall, or jumping with your eyes closed to evoke the mythical masked Texas Ranger.
In this neighborhood, the Ribeira, these names were passed on from parents to children, from older siblings to younger ones, from friend to friend. They come from times when many brave people jumped from the upper deck of the Dom Luís I Bridge, picking up the coins tossed into the Douro river by passersby.
But times are different now. There are fewer teenagers, and locals are outnumbered by tourists.
Leaning against the 19th century suspension bridge, Lala Silva watches her granddaughters Rosana and Nadia as they make their first dives. She remembers crossing the river when she was eight years old, despite her mother's interdiction.
Vítor Ribeiro also reminisces about his adventures on the bridge. A gardener, he comes here on weekends to relax and bridge-jump. He has lived his whole life in the Ribeira, witnessing the neighborhood around him change dramatically.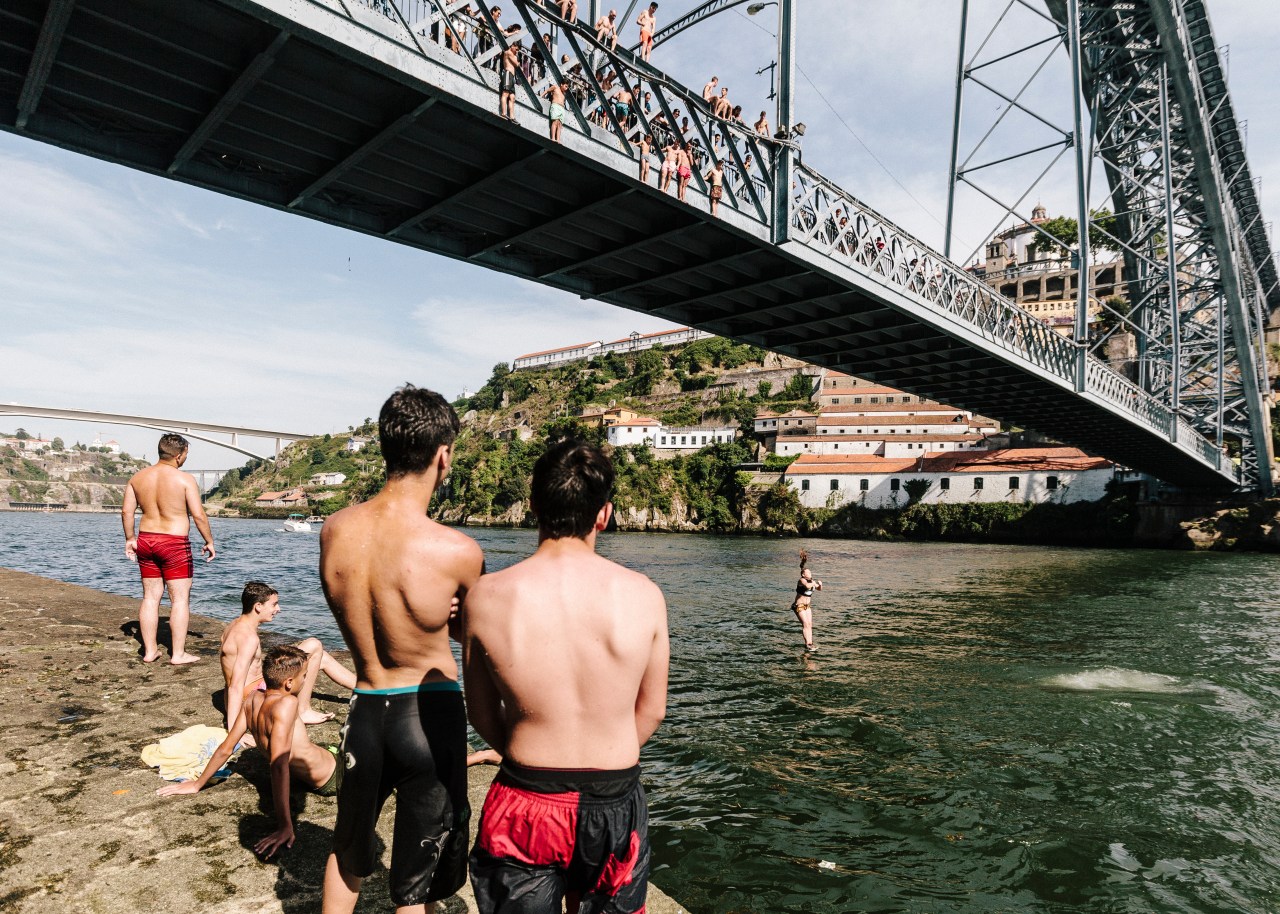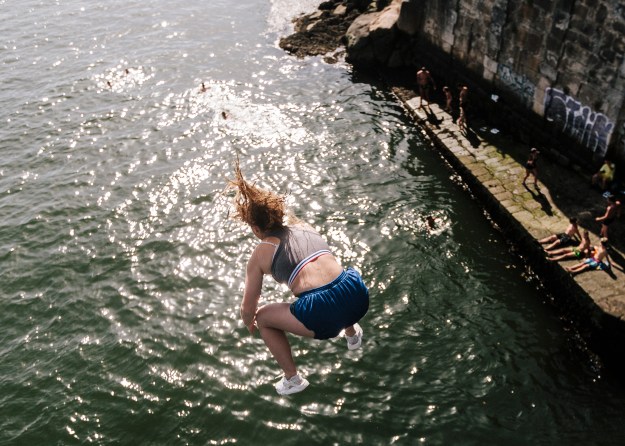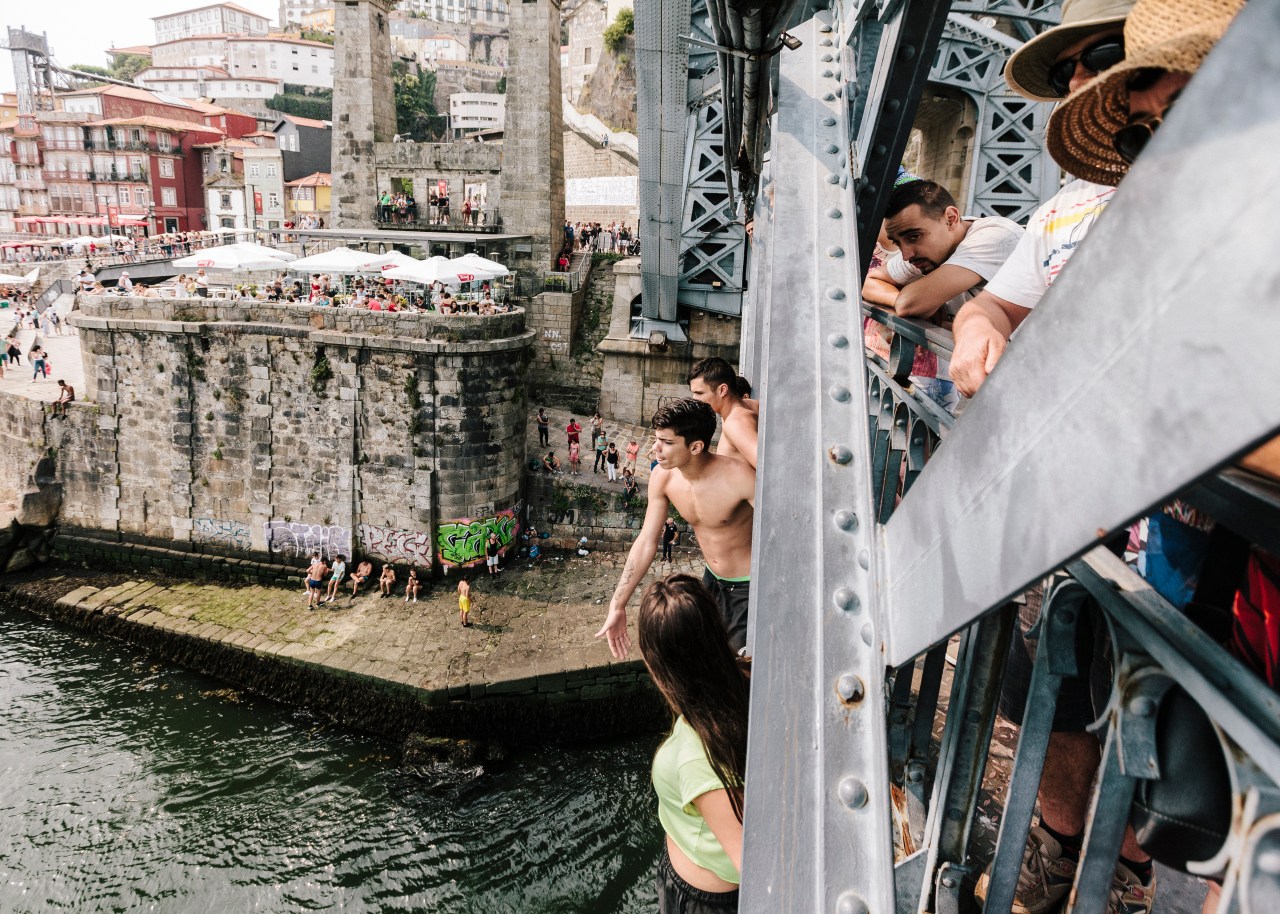 Illustrations and photos from the 19th century show the Douro full of ships, a sign of heavy commercial traffic. The river was Porto's lifeline, and the Ribeira neighborhood was its heart. But the construction of the Port of Leixões a few miles north on the Atlantic, as well as the modernizing of the city's infrastructures, gradually shifted the center of social, political, and commercial life outside the Ribeira. 
The buildings became neglected and run-down. At the end of the 20th century, the historic neighborhood suffered a sharp decrease in population, from around 15,000 people in 1981 to 4,000 in 2011.
More recently, the massive increase of tourists in Porto is pushing out much of the Ribeira's remaining working-class population, and building owners are constantly looking for investors to build short-term rental apartments for tourists.
Fifteen-year-old Miguel Lopes left the Ribeira more than five years ago. But despite its drastic changes, the neighborhood remains his summer resort. He knows that every day he can count on his group of friends to occupy the stone banks of the Douro.