It's midday in Queens. Under the rumble of the 7 train, Roosevelt Avenue, lined with bakeries, fruit shops, and carnicerias, is hopping. School must have just gotten out because children file down the street in twos or threes. Juan, a street vendor, is shaving ice to make a treat known in his native Mexico as raspados. The shaved ice comes in $2, $3, or $4 portions, but from what I can tell, Juan is pretty generous no matter the requested amount. Children order their syrup flavors: blueberry seems to be a popular option, the shocking blue color deepening as Juan fills each cup. The mango and the tamarind are natural juices; the rest of the syrups, he buys and cuts with sugar and water. There's a rainbow of bottles to choose from; kids linger over the choices. These are serious decisions. Pink straws and cups of shaved ice produce smiles in the afternoon sunlight; it's a lovely picture.
We actually are taking pictures, because we're here to write a story about street vending. I ask two young customers what they call the treat. The one who answers is about 10 years old. "It's in Spanish," he says. "Raspados." He notices that we've been taking pictures and starts to edge away from me. "What are you doing to him?" he asks. I assure the boys that we're just here to write about raspados, but he takes off with his friend pretty quickly.
It's an attitude that I've come to expect during our search for a vendor to profile. First, a Spanish-speaking reporter of Chilean descent went into Queens to find and profile someone. He came back saying that no one would talk. A lawyer with the Street Vendor Project put us in touch with a woman who agreed to do an interview, but then didn't show up or answer subsequent phone calls. A jaunt down Roosevelt Avenue produced more friendly results, but with vendors asking us to call the owners of their stands, and then owners asking us to call others to confirm. By sheer luck, we come across Juan, who moved here from Puebla in 1987. He tells us his fellow vendors are scared to talk to us. But he isn't, although he asked us not to publish his last name.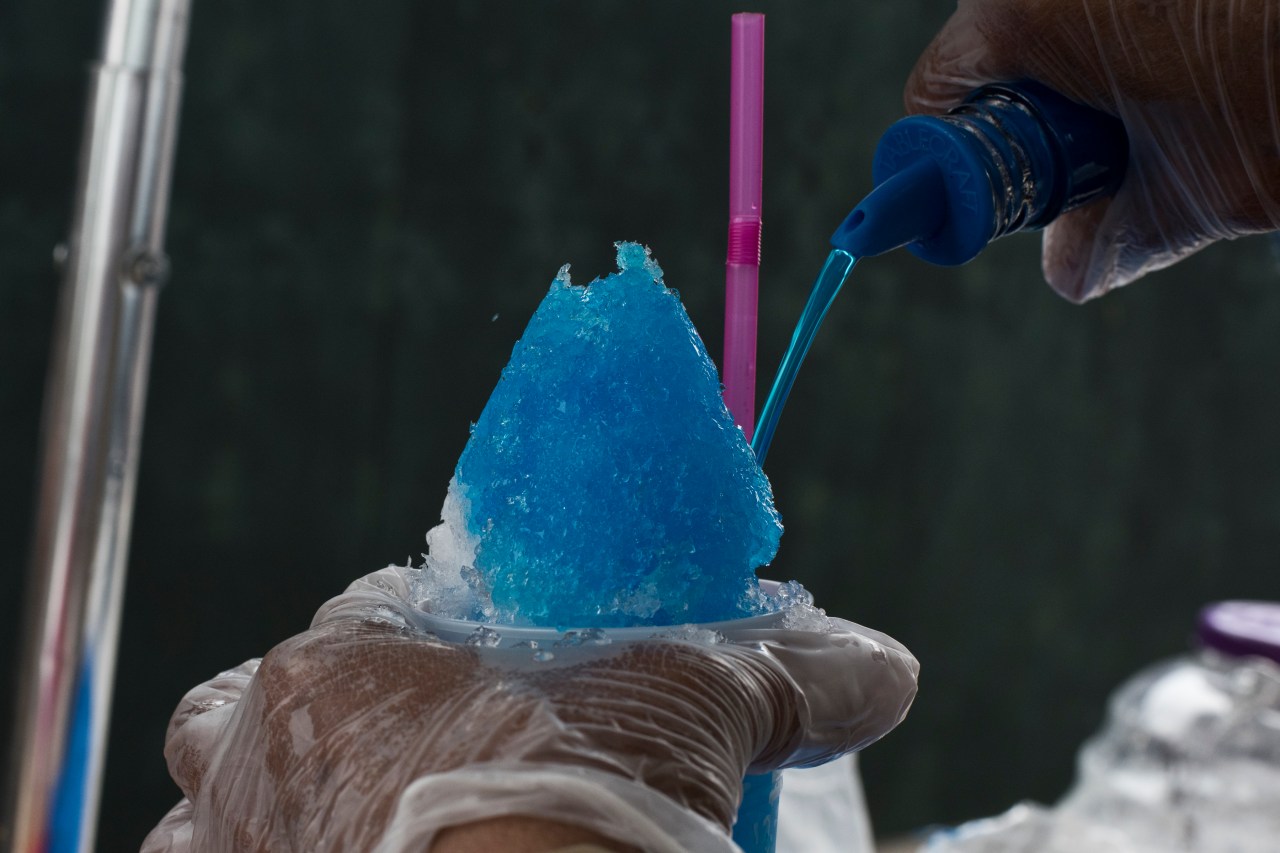 We ask him why he came to America. Five children, he says. Opportunity. He wanted to give them a better life. "I only have one child here, the other four are in Mexico. Three of them are engineers—two of the engineers live in Mexico, another one lives here." Why did the kids move back to Mexico? "Here," Juan says, "It's too much pressure. Even if you have only one job, you are working eight to eight—you eat, you take a shower, that's it, you're finished. It never stops. But in my country, you start to work at seven, you're done by two or three. It's a better life." The kids come to the U.S. to visit their father.
So why choose this difficult way to make a living? Juan has been doing this for almost four years. "When I was a cook at a school, which was the last job I did, which I did for 13 years, I decided to leave because they didn't want to hire another cook. For a year I asked to get a new person, but they didn't want to hire someone. So I told them, even if you lower my wages, I need you to bring someone else, but they didn't want to. That's why I left the job." Before the school, Juan worked in a restaurant kitchen. Juan owned shops back in Mexico; he sold, amongst other things, shoes, and kitchen utensils. The street vendor life isn't a complete change, his parents owned a fruit stand in Mexico. Juan has made his own cart—purchasing one runs $3,000, a barrier to entry for many.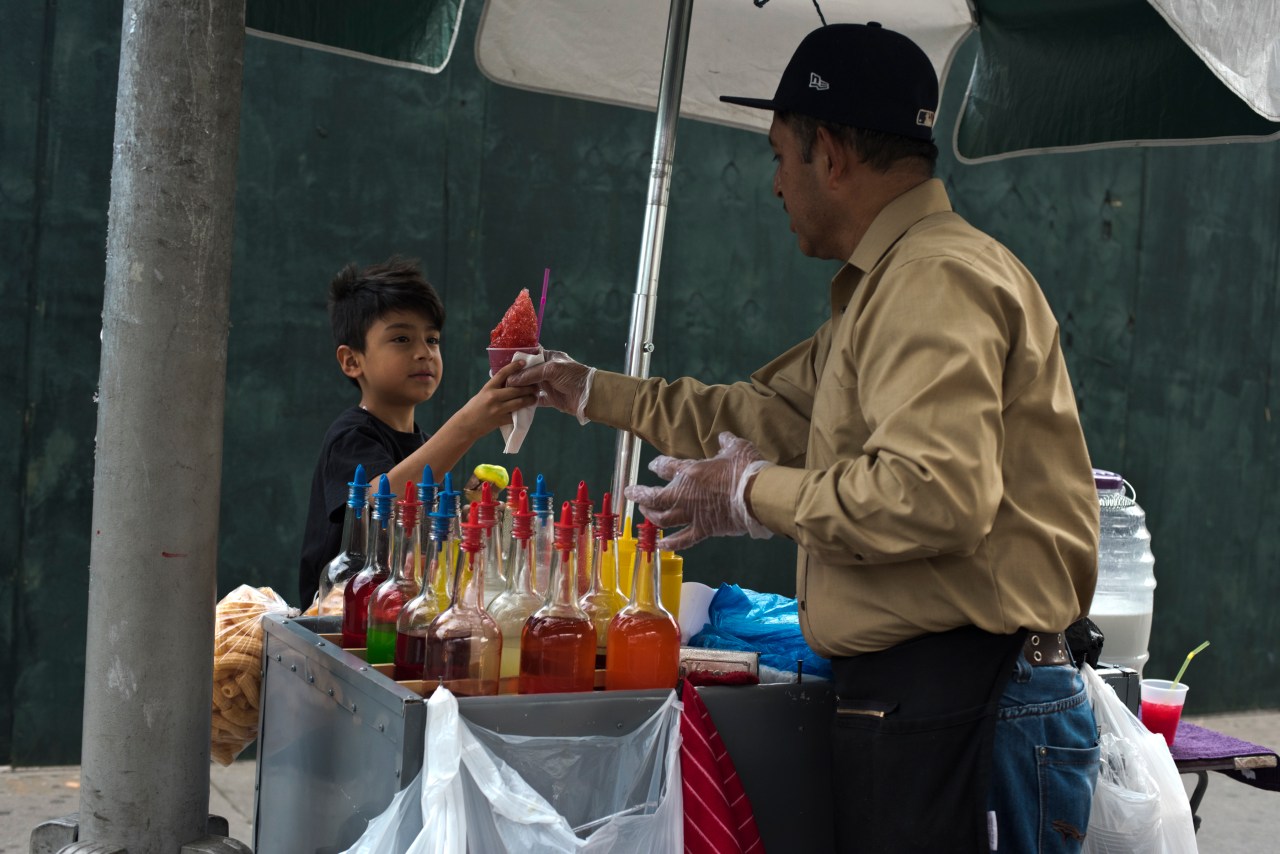 Juan starts the day at 7 a.m. He makes chicharrones. He'll fry them, then let them cool, a two-hour process; prepping the cart takes a total of three hours. After that, he'll head to this corner, where he will stay until 5 p.m.; sometimes he'll leave earlier if he sells out, or if the weather is bad. He shaves the ice by hand with a tool he calls a cepillo—brush—from a huge block of ice that he buys on 99th Street. Each block can make between 200 and 250 raspados. Juan has a shy smile and jokes with his young customers. The busiest time, he says, is from 4 to 6 p.m., when people are coming home from work or school. I ask him when his day is done, and he says around 5 p.m. I'm thinking that's not so bad when he continues, "I sell during the evenings, I sell corn with mayo and cheese. Besides this business, I have another one in which I sell elote and esquites, in another car. I go there after being done with this."
At 5:30, Juan hauls his first cart home for the day. He heads to the market to buy ingredients for the second part of his day: he has to spend two hours prepping his second cart that he runs at night when the demand for frozen treats has slowed.
He heads back out at 7:30. The block that Juan sells his elote and esquites on is a short walk from the noise and bustle of the 7 train. The relative calm of the afternoon is replaced with people rushing off the train, the rustle of shopping bags, and the round, heavy smell of grilled meat. Smoke fills the air near the train, and it's a relief to walk down the street and find Juan, who has changed into a different button-down shirt, a Yankees cap perched raffishly on his head. He wipes his face; he's already put in a full working day, but his night is just beginning. Customers start to show up, Juan opens a cooler that holds hot water and boiled corn, and steam swirls out; it smells like summer. He paints the corn with mayo and fresh-squeezed lime, tops it with cotija cheese, and gently, to the side—"watch your eyes"—adds spice. Just as I ask about regular customers, a young man sporting giant headphones pulls them down as he walks by and calls out, "Juan!" A spirited exchange follows.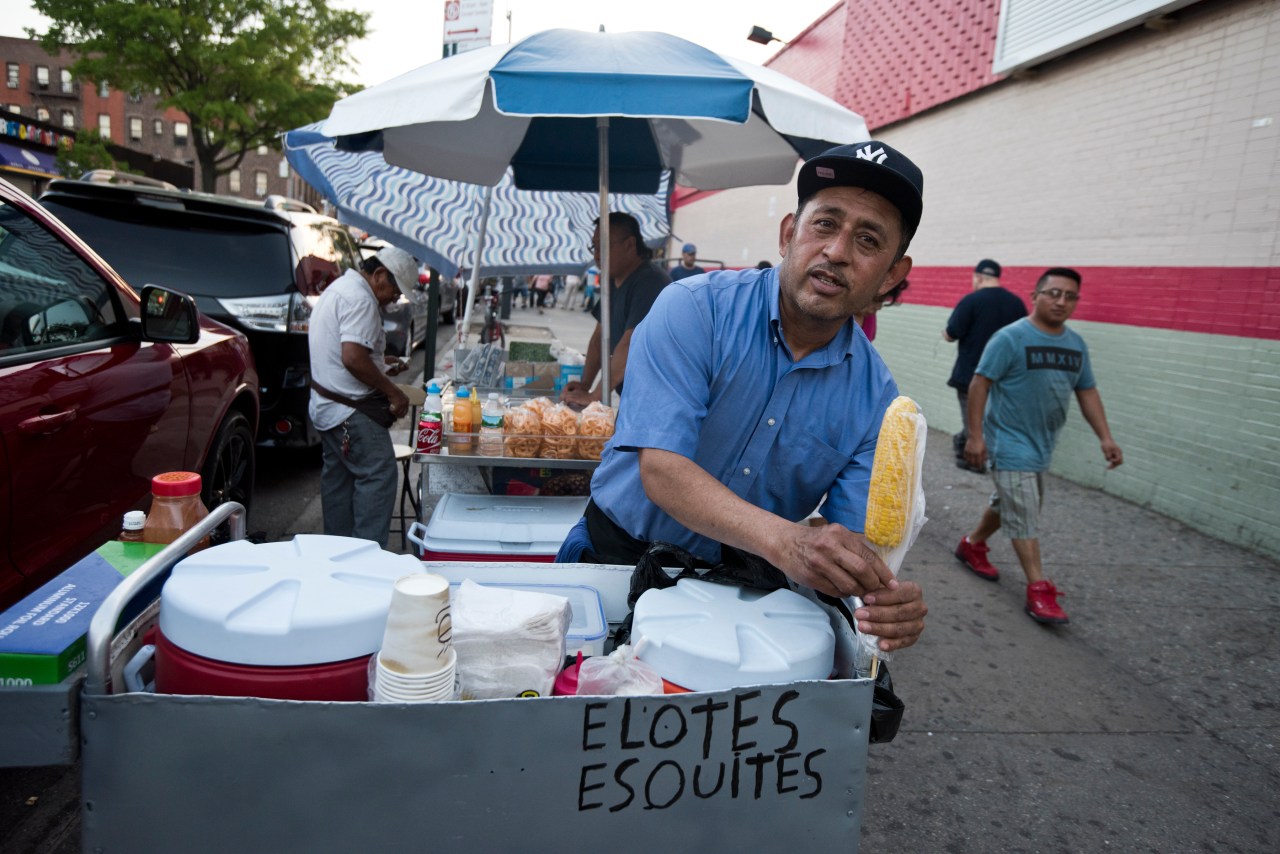 Juan's sense of humor, glimpsed earlier in the day, reveals itself. My Spanish is limited, but I hear him joking with a regular that he's going to be famous, in all the magazines, so so famous (we are, of course, taking pictures).
Juan was the first to sell elote on this block. He's been here for four years. There was no competition at first. But I can see, just around the corner, a man with a shopping cart selling elotes as well. He sells, says Juan, for $2.50. Juan sells for $2. The competition gets mad at him because he's lowering the price. But, says Juan, "I like the competition." If the other guy lowers the price to $2, he will lower to $1.50, if the other guy goes to $1.50, he will go to a dollar.
Besides the obviously hard work that this life entails, other worries abound. Licenses to sell on the street are expensive. And "it is difficult to work on the streets because the cops come and give you tickets," Juan says.
"They give you a summons and you have to go to court and wait for what the judge says. They ticket us for selling on the street," he says. "Even if you have a permit, they don't respect you." He says vendors also get ticketed by the health department to the tune of $1,000. "That's the hardest part for us street vendors."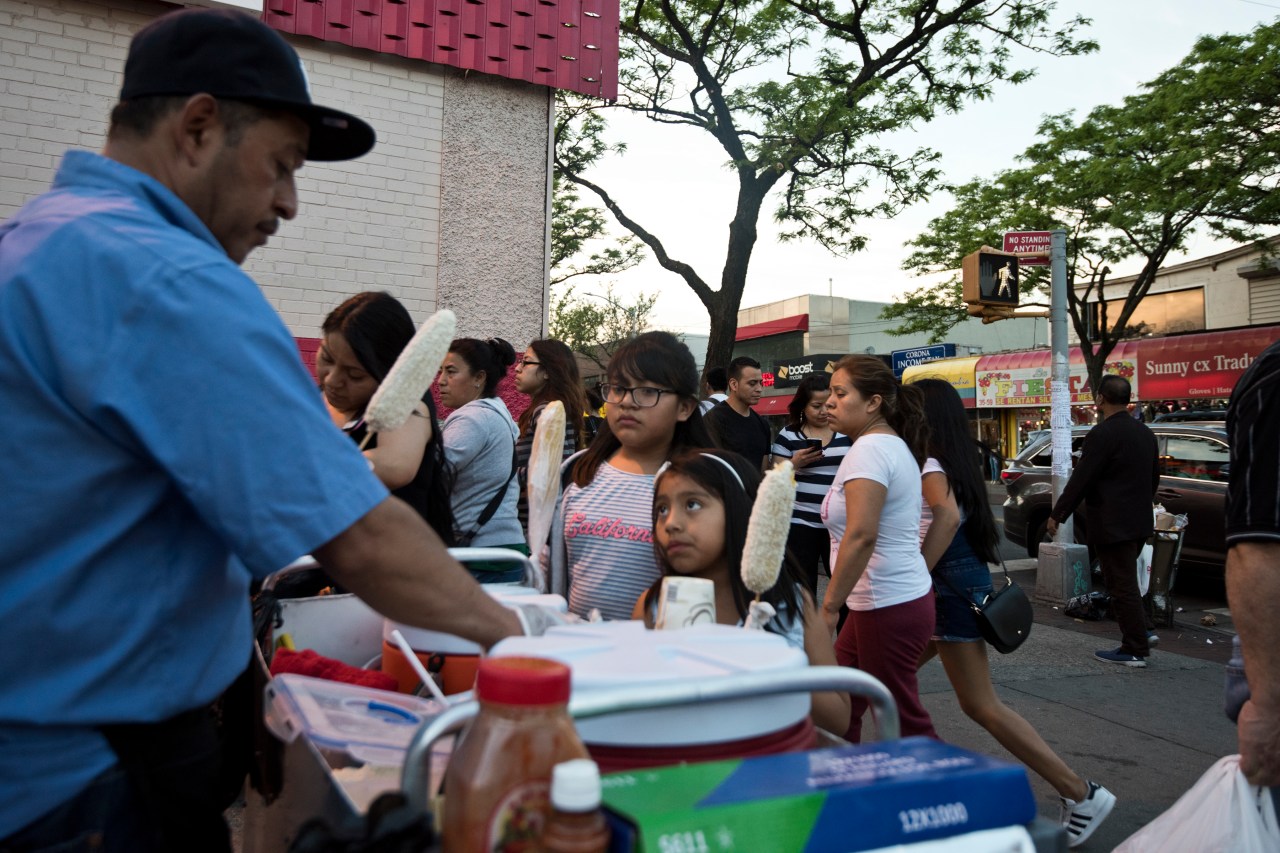 I ask about how things have changed since President Trump took office. "After the election, it did change," he says, "because no one was afraid before, but then they were. No one was on the street anymore. But now it's back to normal, people don't want to live their lives in fear."
Juan's days are very long. Seven in the morning until 10 at night is a long day by any standard. But, as Juan says, "this is my business. Only my business. In the school, there was a lot of responsibility every day. Cooking for 1,200 children, that's too much with only two men in the kitchen. This is my business. I'm working today, maybe tomorrow I'm working, or maybe not. There's no, 'my boss, my manager,' to say, 'what happened today,' you know? This is better."
The hours, the flack from the health department, the police. The competition. The political climate. Many would be unhappy or stressed or scared. Juan seems to meet it all with an admirable amount of equanimity. Walking back to the train in the deepening evening, it seems like a hush has started to fall on this busy block, and something that Juan said earlier keeps coming back to me. When asked about the current political climate, his answer was immediate, "Let me tell you, I'm not afraid of anything. I am willing to face whatever comes."