Grilling is one of the most delicious and primal ways of cooking, and the Basque Country is home to some of the world's best grilling restaurants, known locally as asadores. The grill, or parrilla, is employed for fast cooking over high heat. Basques are not known for cooking "low and slow"—at least from the grill. The fare that comes from the parrilla includes whole fish and gigantic rib steaks known as txuletas (pronounced chuletas). The best asadores—like any other great restaurants—start with great ingredients. But it is the personality of the establishment and the deft hand of their grill man (or woman) that set some apart from the rest. Here are a few that shouldn't be missed:
Portuetxe
San Sebastián is a city full of great food—from casual pintxos to tasting menus served at the almost disproportionate number of Michelin-starred restaurants in this small city. In one media report after another, you'll see many of the same places listed. Inexplicably, Portuetxe, a family-owned asador, is left off these lists. The patriarch of the restaurant, Javier Bereciartua, goes several times a week to the market for the best fish, meat, and vegetables. Yes, vegetables! It is a food group often overlooked at restaurants in the Basque country, but at Portuetxe vegetables are prepared with the same reverence as meat and fish. They are cooked simply and served in generous portions.
This balance between protein and vegetables is key to making Portuetxe the kind of place you could frequent several times a week. After starting with a big plate of bright green peas flecked with Iberian ham, move on to ordering whatever whole fish is available that day. Favorites include sole cooked so that its skin blisters, but the flesh stays delicate and firm. Pretty much every table will order txuleta, which is served sliced, bone-in, and finished with a nice dose of sea salt. The default temperature is a beautifully-warmed rare—here, rare means rare. Txuletas are on pretty much every asador's menu in the Basque region, but Portuetxe's txuleta stands out.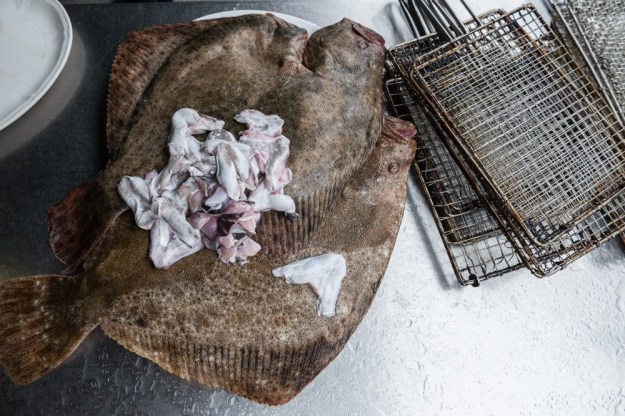 Elkano is the best fish restaurant in the world—period. It also happens to be an asador. Elkano is located in Getaria, a small fishing village about a 20-minute drive west from San Sebastián. Elkano was opened by the late Pedro Arregui who was an innovator on the grill—he used ingredients not commonly cooked on the asador, and some say he designed the wire baskets widely used to cook fish. He imparted his Jedi-grilling wisdom to his son Aitor who now runs the restaurant.
A meal at Elkano usually starts with a small bite of a raw fish such as bonito or mackerel. What's next depends on the season and what the sea is willing to give up. It's hard to not order the anchovies, baby squid, and kokotxas (hake jowls) to start. The whole fish offerings change daily. The salmonete (rouget) is outstanding. Its liver is about the size of a pea and served on the side; it deserves the spotlight it's given.
The king of Elkano is the grilled turbot, rodaballo. The fish is seasoned with a fistful of coarse salt and grilled in a custom-shaped basket. After it is introduced to the grill, it is met with olive oil. The skin bubbles from the heat. The pin-bones that line the perimeter of the fish dehydrate from the intense heat and become potato chip-crisp. The flesh is cooked to just done, at which point it is deboned swiftly and dressed with a secret sauce developed by Pedro decades ago; it contains a combination of oil, lemon, and garlic.
The txuleta is excellent but seldom ordered since fish dominates the grill. Dessert is not to be missed—try the cheese ice cream with berries or the torrija (a bit like french toast).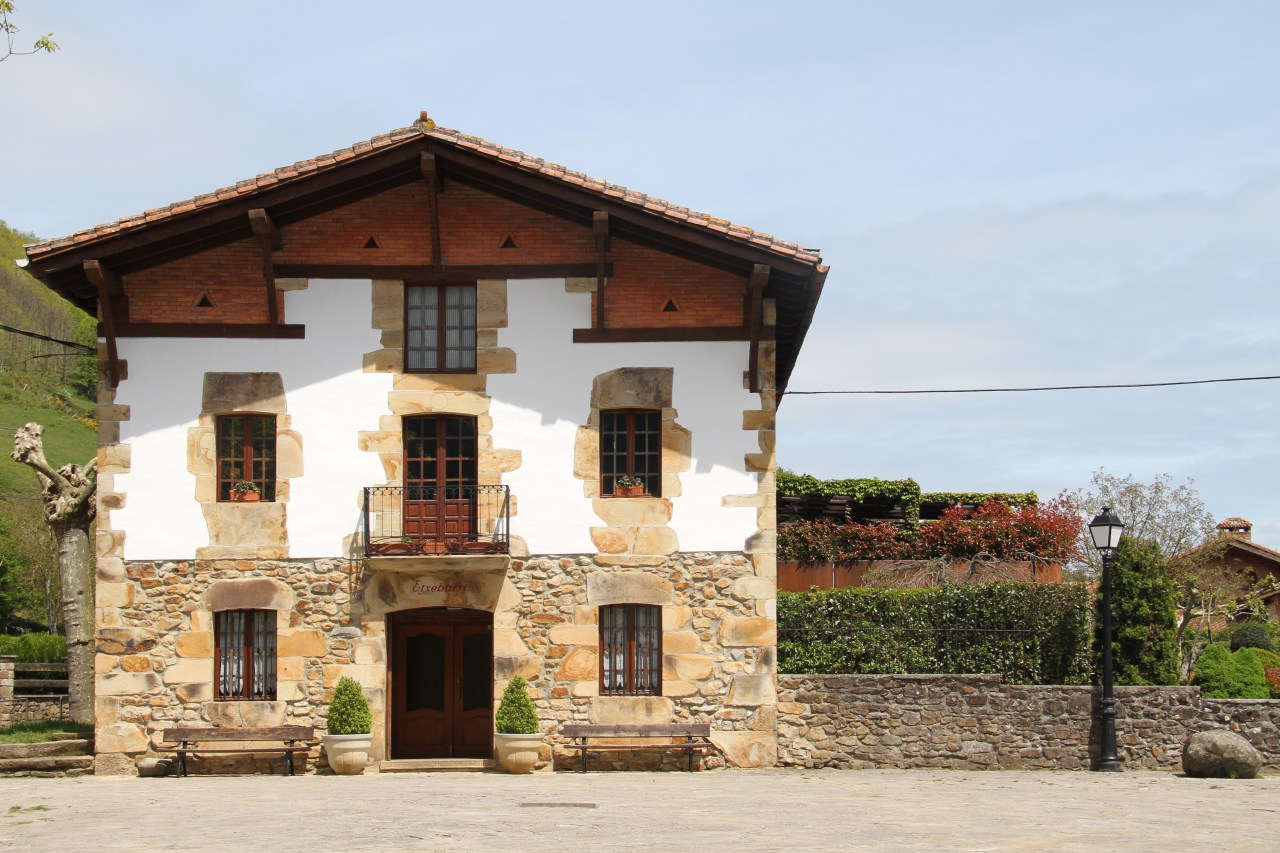 A few years ago an unassuming asador about 30 minutes from Bilbao became a mecca for chefs and foodies. Asador Etxebarri and its chef Bittor Arguinzoniz had been around for a couple of decades but received little fanfare. Word began to circulate locally in 2005 that a chef was grilling everything from angulas (baby eels, or elvers), to milk for his ice cream. It all came off of the grill. And everything had its own basket, wood, technique—its own unique preparation. It was as simple as can be. He blew minds and changed the face of grilling the world over.
Arguinzoniz started with wood, not charcoal like other asadores in the Basque region. He sourced apple, olive, orange wood; each, as he asserts, has its own flavor and nuance that he wields masterfully. So many people talk about Etxebarri's txuleta, but the real show stopper is the large shrimp from the Palamos region. The reddish-purple crustacean is beautiful and simple in its presentation. One could dismiss it on sight: "Oh, grilled shrimp. Sure. Sounds good." But when the head is removed an almost comical amount of juice spills onto the plate, through which you'll drag the perfectly cooked shrimp, then bread, your fingers… whatever. No plate leaves the table without every drop lapped up—this is pure shrimp essence, much like uni, with a strong taste of the sea.
Asador Etxebarri resides high on the list of the World's 50 Best restaurants. That accolade often leads to remarkable changes in a restaurant, but Etxebarri has stayed true to its roots. The only thing that has changed is that it's a bit harder to get a reservation.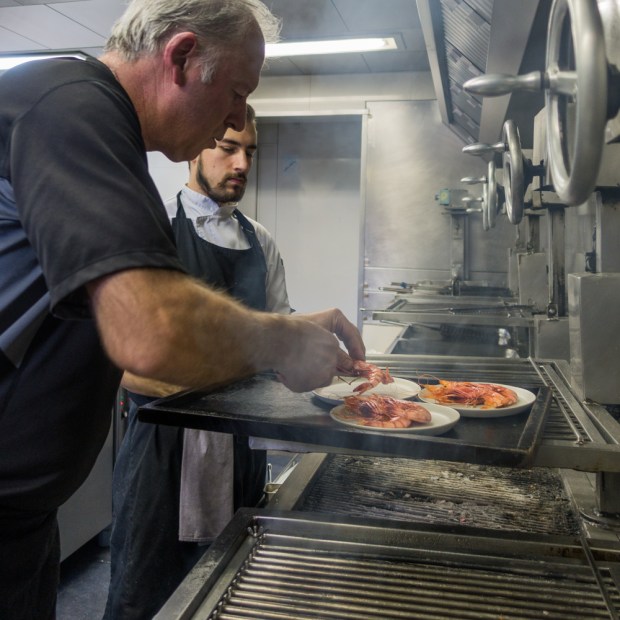 Other notable asadores:
Fronton  (txuleta, vegetables, fish)
Location: Paseo San Francisco 4. 1º Piso, 20400 Tolosa, Gipuzkoa
Contact: (+34) 943 65 29 41
Casa Julián  (txuleta)
Location: Calle de Sta Klara, 6, 20400 Tolosa, Gipuzkoa
Contact: (+34) 943 67 14 17
Xixario  (besugo sea bream)
Location: Eusko Gudarien Kalea, 2, Orio, Gipuzkoa
Contact: (+34) 943 83 00 19