403 N. 36th St.
Seattle, WA 98103
(206) 547-2040

Bourdain ate: cilantro noodles, yu choy, and thinly sliced flatiron steak; kimchi pancakes with braised pork belly and bean sprouts; marinated-short-rib rice bowl with house sambal, daikon kimchi, and egg; short-rib dumplings topped with pickled shallot and scallion.
Lunch dates: John Cook and Todd Bishop, co-founders of tech news website GeekWire; Rachel Yang, chef behind Revel.
Bourdain had: fresh bread, baharat-seasoned beef and lamb kebabs; fried cauliflower with tahini; summer fatteh with local squash and charred tomatoes, pine nuts, and stuffed grape leaves; hummus; beer.
Dinner dates: Raft Hollingsworth III and Joy Hollingsworth, Hollingsworth Cannabis Company, farm directors and members of the family that owns the company.
Bourdain had: crab, bacon, and melted cheese sandwich; drinks.
Dinner and drinks date: retired Seattle homicide detective Mike Ciesynski, Fred Moody.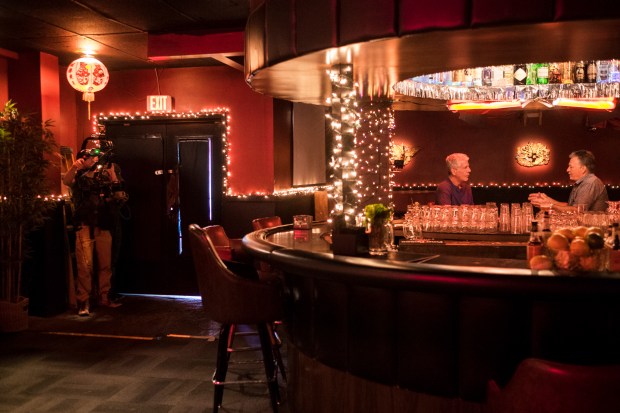 Bourdain had: drinks and tapas.
Dinner date: Mark Lanegan, singer-songwriter, formerly with Screaming Trees, Queens of the Stone Age, and many other acts, and artist behind Parts Unknown theme song; Jeff Fielder, touring guitarist.
Neighborhood Stroll through Capitol Hill
Walking companion: John Criscitello, street artist waging war against rent hikes and gentrification

Weed expert: Alena Lee, sales associate at Emerald Haze.