On paper—for those who still read on paper—a tech city like Seattle shouldn't be a shining destination for book lovers. Yet here we are in the birthplace of Kindles and one-click shopping, boasting enough print-focused destinations to make a best-seller list all their own.
How crazy are we about books? Even Amazon opened a brick-and-mortar store here—its first. Ah, irony. Seattle also houses international newsstands, a majestic university library straight out of Hogwarts, and a nonprofit writing center loaded with classes and lectures.
The city's gloomy weather gets some of the credit: People look to bookstores for community and entertainment here, not just deep discounts. Then there's the well-educated population; we were a Boeing company town loaded with engineers before Amazon and Microsoft published their first lines of code. Celebrity librarian Nancy Pearl—did I mention we have a celebrity librarian?—founded the If All Seattle Read One Book program, for which you could even wear buttons announcing that you were reading the book of the month, encouraging impromptu literary discussions with your bus driver or barista. Archie McPhee, a gag gift shop here, once designed a shushing-librarian action figure based on Pearl. It outsold all the shop's other action figures—including Jesus.
Here are a few of our many places to celebrate the printed page:
Ada's Technical Books
Best-sellers at this white-walled, beautifully designed shop on Capitol Hill include Visual Guide to Lock Picking. If that sounds like your thing, be aware that there's a 12-piece tool set that goes with the book and a weekly in-store meetup devoted to the sport. There isn't something for everyone, but "technical" covers a surprising range, from science fiction classics to cookbooks and, of course, hard-line math and physics. Stop by to solve a puzzle, drink a cappuccino (there's cafe seating), and stretch your brain.
Book Larder
It's not your imagination if you smell fragrant scones or savory soups in this small cookbook shop in the Fremont neighborhood. Odds are good a visiting author or food-loving staffers are cooking a recipe from a featured title. And yes, there are free samples. Owner Lara Hamilton stocks big-name new releases and cookbook classics but also makes room for esoteric titles and specialty items like glossy Art Culinaire magazine or a slim small-press paperback devoted to tahini.
Elliott Bay Book Company
Welcome to Seattle's unofficial temple of literacy. The spacious Elliott Bay Book Company includes high ceilings, a personalized stained-glass window, creaky fir-plank floors, talks almost nightly from an A-list of visiting authors—the same man, Rick Simonson, has booked the readings since they began 40 years ago—and clerks who are supremely well versed on recommendations. Elliott Bay was once a landmark of historic Pioneer Square. When that neighborhood could no longer support the store, owner Peter Aaron moved all 175,000 books a mile or so away to lively Capitol Hill. Regulars said the shop could never be the same in a new location—and yet, miraculously, it is.  
Fantagraphics Bookstore & Gallery
Long before comics were cool, Fantagraphics was publishing groundbreaking graphic novels by artists like Gilbert and Jaime Hernandez (Love and Rockets) and Daniel Clowes (Ghost World). The company's retail shop in Georgetown, an industrial neighborhood continually on the cusp of cool, shares a building with a collectible record store. It's the place to admire original comic artwork and browse boundary-pushing new collections or gorgeously reprinted classics, like Charles Schulz's Peanuts. Duck into the Damaged Room for great deals.
Address: 1201 S. Vale St., Seattle, WA 98108
Hours: 11:30 a.m.–8 p.m. Monday–Saturday; 11:30 a.m.–5 p.m. Sunday
Contact: (206) 557-4910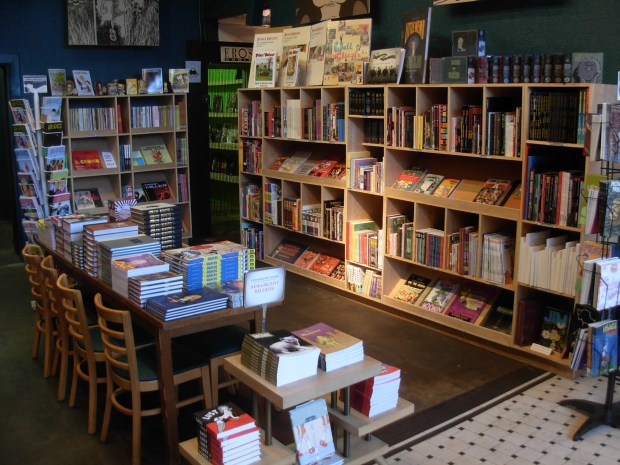 Left Bank Books
The sign at the cash register warns, "Banks suck!" Most staff members are volunteers, and there are no bosses. Seattle's long-established anarchist bookstore at Pike Place Market is serious about its leanings, but it's cozy and friendly as well. Comfortably scuffed wooden shelves, separated by a few short staircases, cover topics from sex to fermentation to Native American studies to prisons. Handwritten recommendation tags are detailed and passionate. Anarchy isn't welcome in all forms, though; another sign notes that Harry Potter books are kept behind the counter due to theft.
Metsker Maps
Even in an age of Google Maps and GPS, travelers flock to Metsker's. Founded in 1950 and now one of the largest map stores in the U.S., it's the place for any geographical guide, from topographical hiking maps of the nearby mountain ranges to a Lonely Planet book on Myanmar. It's OK to wander through aisles of international flags and globes and dream of future adventures; the staff is as welcoming to aimless browsers as to travelers with known itineraries.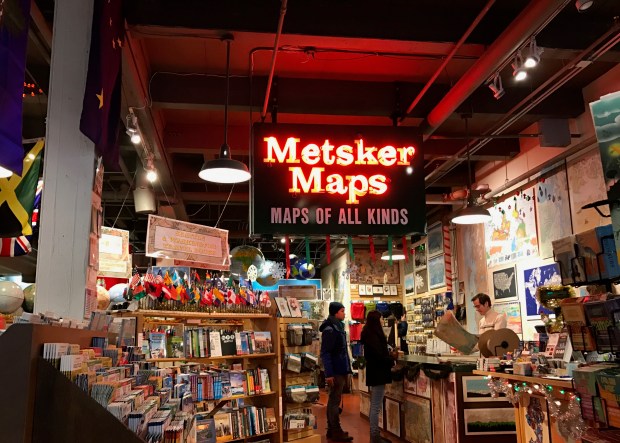 Phinney Books
If the pleasant, low-key man checking inventory looks familiar, it might be because Tom Nissley was an eight-time winner on "Jeopardy!". Part of his prize money went toward supporting his career as a writer; another part went to buying his own bookstore. The story has a fitting preface as well: Nissley was a longtime editor at Amazon before going on the game show and rescuing this buy-local neighborhood shop. The small but deliberate selection, including a monthly book subscription, champions underappreciated older titles like Walter Tevis's The Queen's Gambit.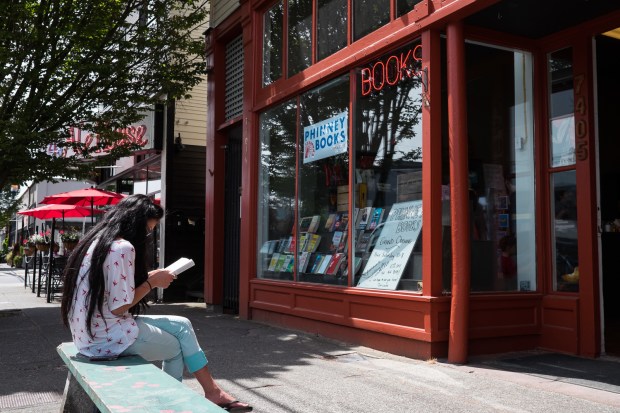 Seattle Central Library
The art museum is a few blocks down the street, but Seattle's main library could be mistaken for it. The steel-and-glass building, designed by Rem Koolhaas, towers 11 stories high in asymmetric geometric stacks. There's a stately view of the city and Puget Sound from the floor-to-ceiling diamond-pattern windows of the 10th-floor reading room. The 4th floor is home to blood-red corridors, and jarring video sculptures live along a chartreuse escalator wall. Look down at the maple flooring of the first floor; words in 11 languages are carved into the planks. Add on oodles of public computers; a cafe featuring thick, rich hot chocolate; and, lining a multi-floor spiral, nearly 10,000 shelves of books.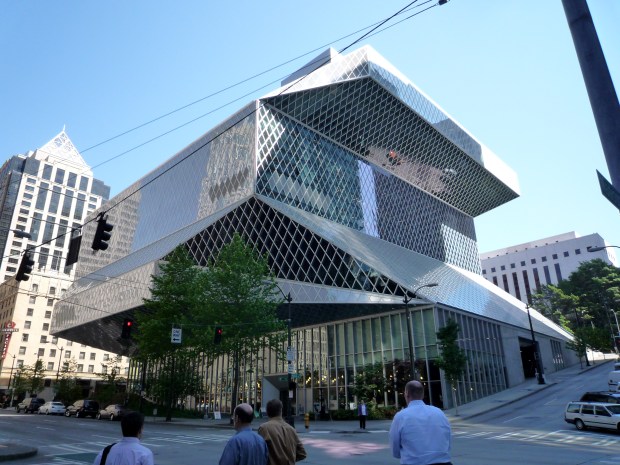 Third Place Books
This anchor store in a shopping center just north of Seattle was founded on the idea that people need a "third place" to interact beyond their places at work and home. Comfy chairs invite readers to settle in, while used copies of books are conveniently shelved alongside new titles. Venture to the adjacent commons area to join a group Scrabble game at the long wooden tables, grab a coffee and a tall slice of layer cake from the Honey Bear Bakery, or lug around 4-foot-high chess pieces for a very hands-on battle. Spring to fall, there's a farmers market in the lower parking lot.
Amazon Books
Despite how much blame Amazon gets for the demise of bookstores, its physical store is surprisingly reminiscent of a big Waldenbooks in the golden days of chains. There isn't a book out of place at this location, in an upscale outdoor mall in Seattle's north end. All books are displayed face out, making for speedy browsing but a limited selection. (Amazon devices also take up space.) Books are stocked based on Amazon star ratings, and customer reviews are from the website. Prices aren't marked, because Prime members get the same discount they get online while others pay full price. Think of it as free no-day delivery that you pick up yourself.