Senegal has a long history of Afro-Cuban music, with its roots deeply ingrained in the trans-Atlantic slave trade. In the 1970s, musicians began to infuse traditional Senegalese drum beats with salsa and thus a new genre called mbalax (rhythm in Wolof ) was born. With bands like Orchestra Sahel, Orchestra Baobab, and Africando gaining global recognition, salsa is very much a part of Senegalese culture and tangible everywhere in the local music scene, with many bars hosting regular mbalax and salsa nights. As with anywhere in town, the party won't start until close to midnight—and the headliners won't be on stage until well into the night, usually around 1 a.m.
Le Viking
Hardly a state secret, Le Viking is an institution when it comes to Dakar nightlife. Arrive early to secure a booth for you and your companions, and watch the crowds roll in. There's live music on Wednesdays, Fridays, and Saturdays, with singers who favor a mixture of genres—everything from salsa and mbalax to modern hits and French chanson.
Le Viking
Address: 21, Avenue George Pompidou, Dakar
(+221) 772448056
Yengoulene
With the likes of Orchestre Baobab and Africando performing here, Yengoulene is one of Dakar's most famous nightclubs. Depending on the evening, Yengoulene plays R&B and all the latest hits. Live bands perform most Fridays and Saturdays; expect anyone from mbalax stars to cover bands rocking popular French tracks from the 80s.
Yengoulene
Location: Nord Foire 7+8, Dakar
Contact: (+221) 338207626
Tradicion
This hidden gem is a Cajun-Creole restaurant in Dakar's Sicap-Liberté neighbourhood. Live salsa evenings are usually held on Fridays and Saturdays, but you might also be lucky enough to catch a few members of Africando in an impromptu jam session here on a random night. Tradicion is in the middle of a residential area, and with no website or official street address, it's best to ring up beforehand for directions.

Tradicion
Location: Between Route du Front de Terre and Keur Diagne, Sicap-Liberté, Dakar
Contact: (+221) 773418884
Le Fouquet's
Situated in the heart of Dakar, a stone's throw away from the presidential palace, Le Fouquet's is a traditional bar. Home to classic décor and a more mature clientele, there is almost always salsa playing here. A live orchestra usually plays from Wednesdays to Sundays, but be sure to check before going.
Le Fouquet's
Location: Dakar Plateau
Contact: (+221) 776368722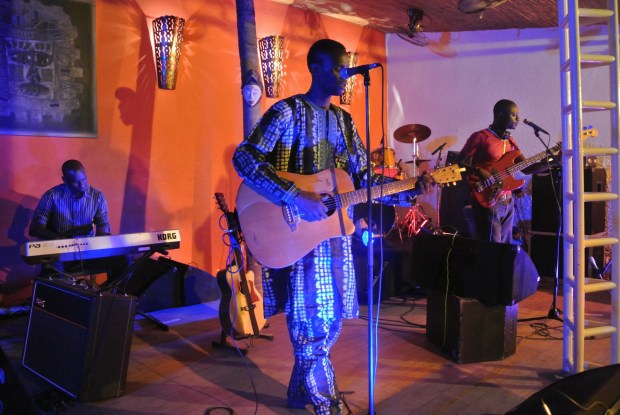 Just 4 You
Located across from the Cheikh Anta Diop University, this open-air venue is guaranteed to be lively with a party-like atmosphere any night of the week. This is one of the most popular spots among students and performers range from local hip hop stars Daara J to mbalax royalty like Omar Pene—but call to make sure there will be live music the night you go.
Just 4 You
Location: Av. Cheikh Anta Diop, Point E, Dakar
Contact: (+221)772361174

Le Madison
Located near Just 4 You, Le Madison is another place where young Dakarois go to let their hair down. From flashy, themed club nights aimed predominantly at students to performances by some mbalax superstars, this place also offers a variety of live music, with a mixture of modern beats and salsa on the menu most Saturday nights.
Le Madison
Location: Avenue Cheikh-Anta-Diop
Contact: (+221) 776408682
Chez Anthiou
This popular but fairly underground venue does triple-duty as a bar, grill, and nightclub. You're most likely to catch a mbalax night here on Wednesdays, Fridays and Saturdays.
Chez Anthiou
Location: Sicap Rue 10 x Niente
Contact: (+221) 773630583