They cost anywhere from a couple hundred dollars to a few thousand and are listed online as prized possessions. Handcrafted from a variety of woods, including hard Honduran rosewood, each of the custom-made accordions by Larry G. Miller is a fine-tuned and unique piece of art.
Born to sharecroppers in 1936 in the prairies of Louisiana, Miller has lived his entire life in Cajun country. He learned to play music from his father and older brother as a child, but it wasn't until his late 40s that he started his company, Bon Tee Cajun—later renamed Bon Cajun—and made his name in Cajun music circles for his handcrafted accordions.
Like gumbo and boudin, accordions are an important part of Cajun culture. Miller, now retired, estimates he made more than 1,200 of them in his 37 years in business.
"There were about eight years at the peak where I was turning out about 100 a year," Miller says. He says each accordion takes about 160 to 175 hours of to make. He also built scoreboards, spoons, and triangles—other instruments used in Cajun music.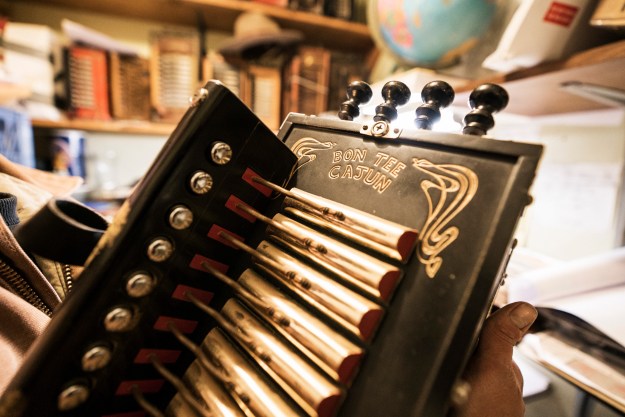 "He was one of the top three Cajun accordion builders in history, in both quality and quantity," says his grandson Blake Miller. The younger Miller grew up working in his grandfather's shop and today plays the accordion in a Grammy-nominated Cajun band named the Revelers. "I definitely don't play any other accordions besides his," he says.
This year an electrical fire destroyed Larry G. Miller's shop, and with it his collection of detailed plans and jig tools for building accordions. He says five of the accordions he lost predated World War I. "The biggest [challenge] will be trying to rebuild all of these jigs," he says. He trained more than 16 apprentices in the course of his career, he says, and is hopeful that some of them will help rebuild the lost patterns and jigs.
"Accordion music is a signature part of our culture," Miller says. "So we're going to maintain these accordions because it is part of who we are."