I knew the 400-mile drive from Karatu to Shinyanga, Tanzania, was a long one and that attempting it in one day was ambitious, to say the least. After receiving multiple speeding tickets and a brief police detainment, our team of four friends realized we were not going to make it in a day. It was 9 p.m., and we knew it would be wise to pull off for food and sleep. The bustling district hub of Singida looked like a promising oasis after a long stretch of dark road.
After finding some $10 sleeping accommodations and washing off the stench of our various altercations, we took to the streets in search of sustenance. The maze of dirt roads surrounding the Singida bus station revealed a mecca of street food, in particular the Tanzanian midnight staple chips mayai.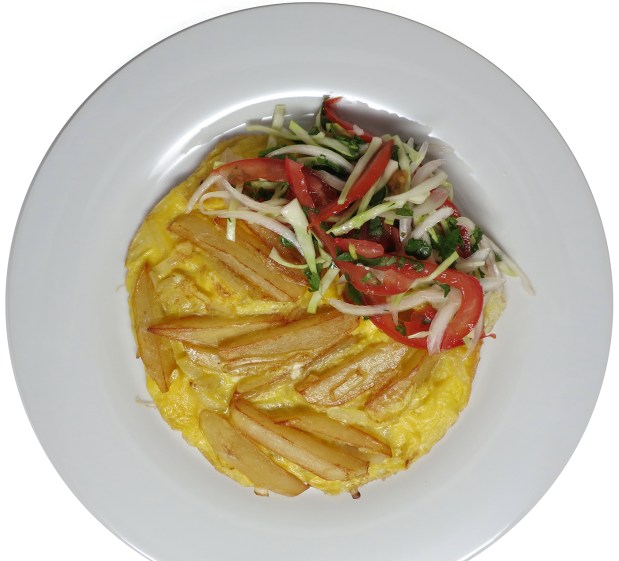 Chips mayai (sounds like "my eye") is a snack where french fries and omelets become one. Chips, of course, refers to fresh-cut deep-fried potato wedges, while mayai is the Swahili word for eggs. With over a dozen stalls to choose from, I was attracted to the glowing charcoal trench smoking away in front of the Ubungo Café (ubungo is Swahili for hip). The owner, Emanuel Joeli, walked over to explain that he makes the best chips mayai in the region. Having eaten the treat at just about every street stall west of Dar es Salaam, I am no novice. I was intrigued by Emanuel's bold statement.
Without pause, Joeli tossed raw potato wedges into a cast-iron pot, provoking the oil to release an aggressive hiss. The scent of searing tuber sent my travel mates into a joyful frenzy as we frantically assembled a table and put in multiple orders. When the potatoes reached an expert golden hue, Joeli portioned them out into small serving-size skillets, which he placed on the grill over the charcoal pit. He then pointed his ladle toward a massive collection of beef-tip skewers, smoking away on the corner of the grill. 
"Do you want mishikaki on your chips?"  
Not once in the dozen times I have eaten chips mayai has any chef ever offered a mishikaki upgrade. Up to this point, I didn't know it was a thing. Inhaling a waft of the garlic and cumin smoke rising from the pyramid of skewered flesh, I nodded ravenously.
"Yes. Mishikaki. Mishikaki for all of them."
Joeli pushed the chunks of beef off the skewers with a long knife and added two scrambled eggs to each skillet. As soon as the eggs fused meat to potato, he flipped the whole creation over onto a plate. The slightly concave pan gave the mass a smooth domed appearance. The plate was presented with a side of chopped chili peppers, diced onions, tomatoes, a pile of salt, and a 40-ounce bottle of pili pili (local chili sauce).   
Salt sprinkled atop, the snack was best ripped apart with one's fingers and picked up with bits of hot pepper and onion. The chips were so plentiful that the dish ate more like egg-coated french fries than a potato omelet. The mishikaki bits were like magical bouillon cubes of smoke and spice, lending the whole thing some main-course substance. Joeli snuck in a break and walked over to see if his chips mayai lived up to their reputation.
"I have been selling this dish for 18 years. This is not a dinner food; it is not eaten out of necessity. People in Tanzania eat chips mayai as a treat to themselves, which is why I make sure I give a large portion. It is a special snack."
Crunching through another mouthful of crispy potato, I grabbed my last chunk of mishikaki .  
"Joeli, you were right. This is the finest chips mayai I have ever eaten. Do you know how long this dish has been in Tanzania?"
"Well, I think the chips came from the British when they ruled this region as a territory. Tanzania gained its independence in 1961, so I would guess at least since then."
I smiled, "I guess that's one reason to not hate the British."
Joeli burst into laughter, "Yes, chips and Manchester United."