Don Pedro Pincus Gottesman made the long journey from Romania to Uruguay in the late 1940s. Like so many other Jewish immigrants who survived the war, he was fleeing the Old World with little more than hope for a better life and willingness to work hard. But he had an advantage: He was a butcher, and he landed in a small nation with an outsize devotion to beef.
Bovines have thrived in Uruguay for centuries. It's said that Hernando Arias de Saavedra (more commonly called Hernandarias), an influential gobernador of the early colonies, noted the area's potential for cattle farming back in 1608 and personally arranged the delivery of a herd to test his theory. Today more than 12 million cows roam the fertile pastures of Uruguay, far outnumbering the human population of about 3 million. Beef is a mainstay of the country's economy and a pillar of its identity.
By the time Gottesman reached the eastern shores of the Rio de la Plata, the industry was strong and competitive. He used his modest savings and help from a relative to open a slaughterhouse in San José, a semirural region just outside the capital, Montevideo. There he bought a small storefront that he rented out to other butchers on the condition that they sell his cuts.
Those were the early days of El Novillo Alegre (the Happy Steer), now Uruguay's most prestigious butcher shop. Today run by Gottesman's 32-year-old grandson Pedro Gottesman, El Novillo Alegre has grown into a small empire, with five shops in Montevideo and the famed beach town Punta del Este, an online delivery operation, and two seasonal namesake steakhouses. To become a household name in a country where beef is ubiquitous is no small feat.
"I started working with El Novillo Alegre in the early '80s, when I opened my first restaurant, and I work with them to this day," says Martín Pittaluga, an owner of La Huella, a celebrated beachside restaurant in José Ignacio that is regularly listed among Latin America's 50 best restaurants. "Although I don't like the word, and they don't use it either, they were the first boutique butcher shop in the country, completely devoted to quality and customer service."
What makes El Novillo Alegre stand out, in Uruguay and elsewhere, is an ability to walk the line between innovation and tradition, to look to the future without letting go of the past. The company puts forth a modern face, with retail outlets decked in glass, steel, and bright lights and an efficient sales operation that quickly sends out orders placed online or over the phone. But not a whole lot has changed behind the scenes, especially not the product on offer. "We only sell meat from steers and heifers younger than 24 months, of British breeds like Hereford and Aberdeen Angus," says Pedro Gottesman, who has worked in the family business since he was 17. "These animals are pasture raised like in the old days. Only a small percentage goes into feedlots if there's a harsh winter."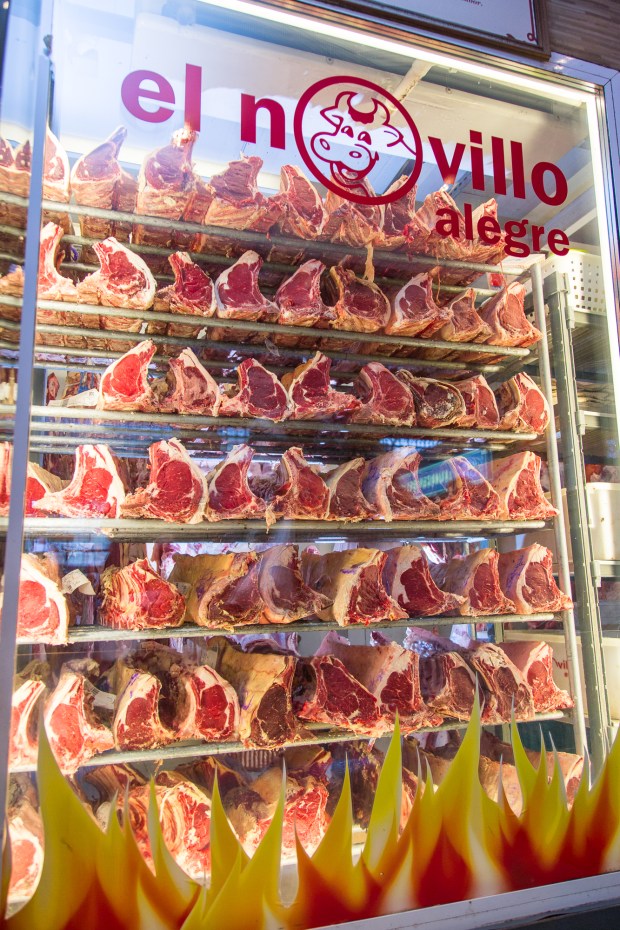 In developed countries like the United States, where decades of mass-produced, chemical-laden foods have left a sour taste in consumers' mouths, companies are scrambling to offer the kind of organic, artisanal, and heritage products that are often readily available in Uruguay. Some locals may complain about the slow pace of life, but at least they don't need to long for the way things were, not at the Sunday table.
The country's 68,000 square miles of rolling hills and flatlands are largely covered in meadows where cows still roam freely, chewing grass and flicking away flies with their tails, as they have for hundreds of years. Aware of the value of these circumstances, the government instituted a nationwide traceability system, which means consumers can know exactly where their beef came from and how it was raised. But Uruguayan meat is known for its high quality, so international demand (Uruguay sells cuts to the United States, the European Union, and China and is about to enter a deal with Japan) has caused a scarcity of top-of-the-line beef at home.
In this framework, El Novillo Alegre's enduring practice of controlling the entire supply chain has been crucial. "We work directly with farms and farming cooperatives, and we slaughter the animals ourselves inside a processing plant that we rent," says Gottesman. "In 48 hours or less, the meat is already in our shops."
Not many consumers have access to truly fresh meat (that isn't already packaged, meaning it has been refrigerated for an unknown time) these days, not even in Uruguay, where supermarket chains have forced many neighborhood carnicerías to shutter. By Gottesman's estimate, Montevideo has about 300 butcher shops today, down from about 1,000 a decade ago.
Thanks to a combination of strange luck and business acumen, El Novillo Alegre has been ahead of the pack for a while. The company's big break came in the early '70s, at the hands of Boris Gottesman, Pedro Gottesman's father. When Boris Gottesman was just 20, he told his father he wanted to rent the shops in San José (there were two by then) and take over the retail operation.
It was a dark time for Uruguay. After years of political conflict between the right and left, followed by a surge in street violence, the military seized power in 1973. Among other senseless measures, the government took control of Montevideo's meat trade, allowing only the state-run Frigorífico Nacional to distribute beef. This resulted in shortages, outrage, and a black market. You simply cannot deny Uruguayans their daily churrasco.
Because El Novillo Alegre was outside the capital, it did not have to follow the new regulations. And it was close enough for city dwellers to drive there regularly, even if doing so carried the risk of jail time. There are tales of people rigging their car trunks to hide their contraband. "Back then, my father was employing more than 50 butchers, who worked day and night to satisfy the demand," says Pedro Gottesman. "Sometimes they sold up to 8,000 kilos in a day." He says a typical butcher shop today sells about 1,000 kilos.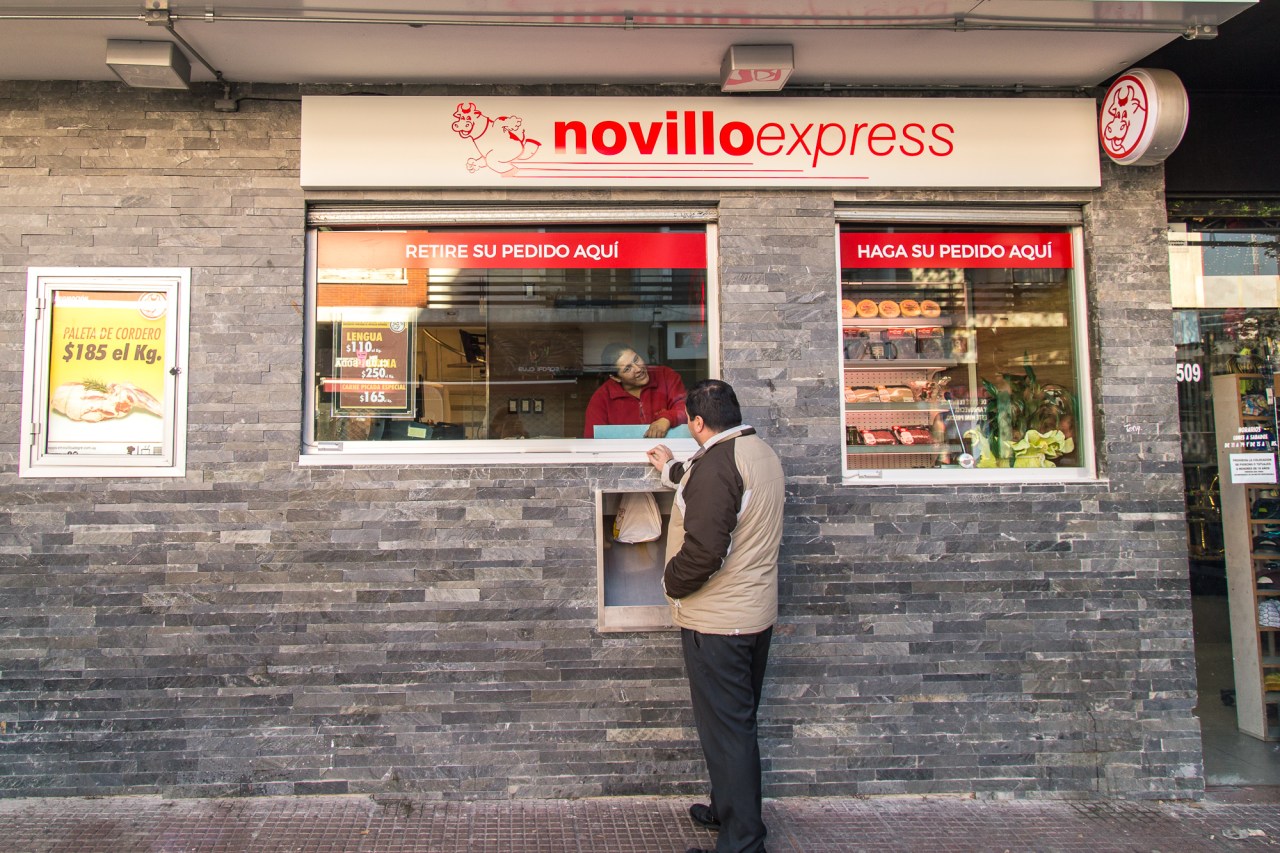 Just a year later, Boris Gottesman opened a shop in Punta del Este, establishing his brand among South America's elite, and by the time democracy was re-established in 1984, he also had a storefront in Montevideo.
On a recent afternoon, I visited El Novillo Alegre's sleek counter in the Mercado Agrícola de Montevideo, a historic food market that reopened in 2013. Rows of dry-aged steaks were on display behind glass in a temperature-controlled chamber, but customers were mostly asking for the usual: asado (spare ribs), vacío (flank steak), and pounded nalga (bottom round) to make milanesa, a breaded and fried preparation that is extremely popular served with a side of mashed potatoes or as a sandwich.
Pedro Gottesman says he tries to keep up with some global trends. The business adopted dry aging, a demanding process that enhances flavor and tenderness, 10 years ago. He adds, "But mostly we keep doing things the way my grandfather did them."
Sticking to tradition can be costly. For one, every shop is staffed by trained butchers, as opposed to just salespeople. There's an employee who inspects the cattle before they enter the slaughterhouse and another who oversees the company's fleet of refrigerated trucks. But the Gottesmans are not about to mess with their formula, especially now, when everything old is new again.