The August sun rises above the Centro Obrero Tupambaé, where I've just left my first raid dance. The next bus down Ruta 7 doesn't come for two more hours. Since the previous afternoon, I've shared countless sips of mate with friends and strangers, gone to a beauty pageant, turned red with sunburn, and danced to Lucas Sugo. Now I'm headed back to Cerro Chato—a small town (population 3,227) four hours outside Uruguay's capital—to referee a youth soccer match.
I'm with Manuel, Gabriel, and Victor, friends from Cerro Chato I only recently met. The four of us are sitting on a curb and freezing in the dead of the Southern Hemisphere winter. We joke around for a while after not seeing enough passing cars to warrant hitchhiking the 45-minute trip. Needing fortification, we resign to the bakery across the street to eat bizcochos filled with dulce de leche and quince paste. Still in a freezing, half-asleep state, I take advantage of a set of keys to the local high school and sprawl on the teacher's lounge chairs for the most awkward nap of my life. Twenty minutes before the bus is due to arrive, my companions wake me.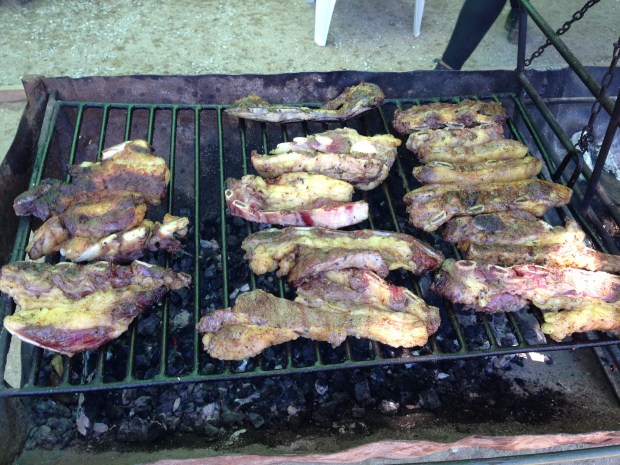 This is the best part of life deep in the Uruguayan countryside. It's waking from a nap in the middle of a eucalyptus grove dotted with cow excrement to the sound of racehorse hooves and cumbia blaring full blast from pickup trucks. It's a day spent eating sausage sandwiches (choripan), steak with french fries (asado con papas fritas), hot dogs and fried bread (panchos con torta frita), and breaded steak sandwiches (milanesas). It's a party where jeans, vests, plaid shirts, and berets make up the standard male wardrobe. It's students and teachers, bus drivers and passengers, doctors and patients, parents and children, sharing a drink, a dance, and a laugh.
You can sum up all of this up with one word, and that word is raid. In the consonant-averse local dialect, it sounds like "rye-EE."
Upon arriving in Uruguay, I already knew that people like their meat, yerba mate, and soccer and are pretty relaxed and unhurried. After a few months in the capital, Montevideo, I moved to Cerro Chato to carry out a research project on the closure of passenger rail, to find a tranquil place for a self-imposed exile, and to perfect my colloquial Spanish in an environment free of other foreigners. In doing so, I discovered raid culture.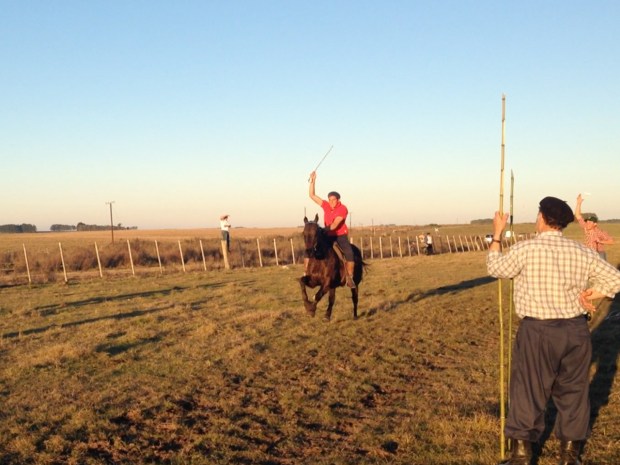 You won't see raid in a guidebook for foreign travelers. Wikipedia directs readers to enduro ecuestre, which simply describes an endurance horse race, with no reference to the surrounding culture and social events. Perhaps that's unsurprising since you won't find a raid in Montevideo or Uruguay's coastal areas; I've mentioned the term to friends there and received blank stares. The 12 Uruguayan departments—the country's 19 administrative subdivisions—with raids do not include Montevideo, Maldonado, or Colonia, beyond which the vast majority of domestic and foreign tourists do not venture.
Two-thirds of Uruguay's population lives in those three departments. The other third lives inland in what Uruguayans call the interior. People in the interior go frequently to Montevideo for medical, educational, legal, and other practical reasons, but Montevideanos rarely travel inland for necessity or leisure. A Montevideano is more likely to be acquainted with the global cities of Miami and Paris than the interior towns of Melo and Paysandú.
To hit raid country, you have to go north and east—up national Rutas 5, 6, 7, and 8—into what Montevideanos call el Uruguay profundo. Isolated Ruta 7 heads 250 miles through Uruguay's heart toward the border with Brazil. Only a few new agroforestry plantations distract from the otherwise unbroken landscape. It's home to no major tourist attractions or towns exceeding 10,000 people. There the horse is king. Ruta 7 is to raid hípico as Tobacco Road is to college basketball or the M62 is to rugby.
Raid is a party, a festival, a sporting event, and the talk of the town for weeks. It's a family reunion, a conduit for romance, a flea market, and a business opportunity. In the week leading up to a raid, locals concerned for my romantic well-being would say, "Tenés que agarrar una yegua en el raid," which means "You've got to grab a mare in the raid." In case you're wondering, it's a double entendre.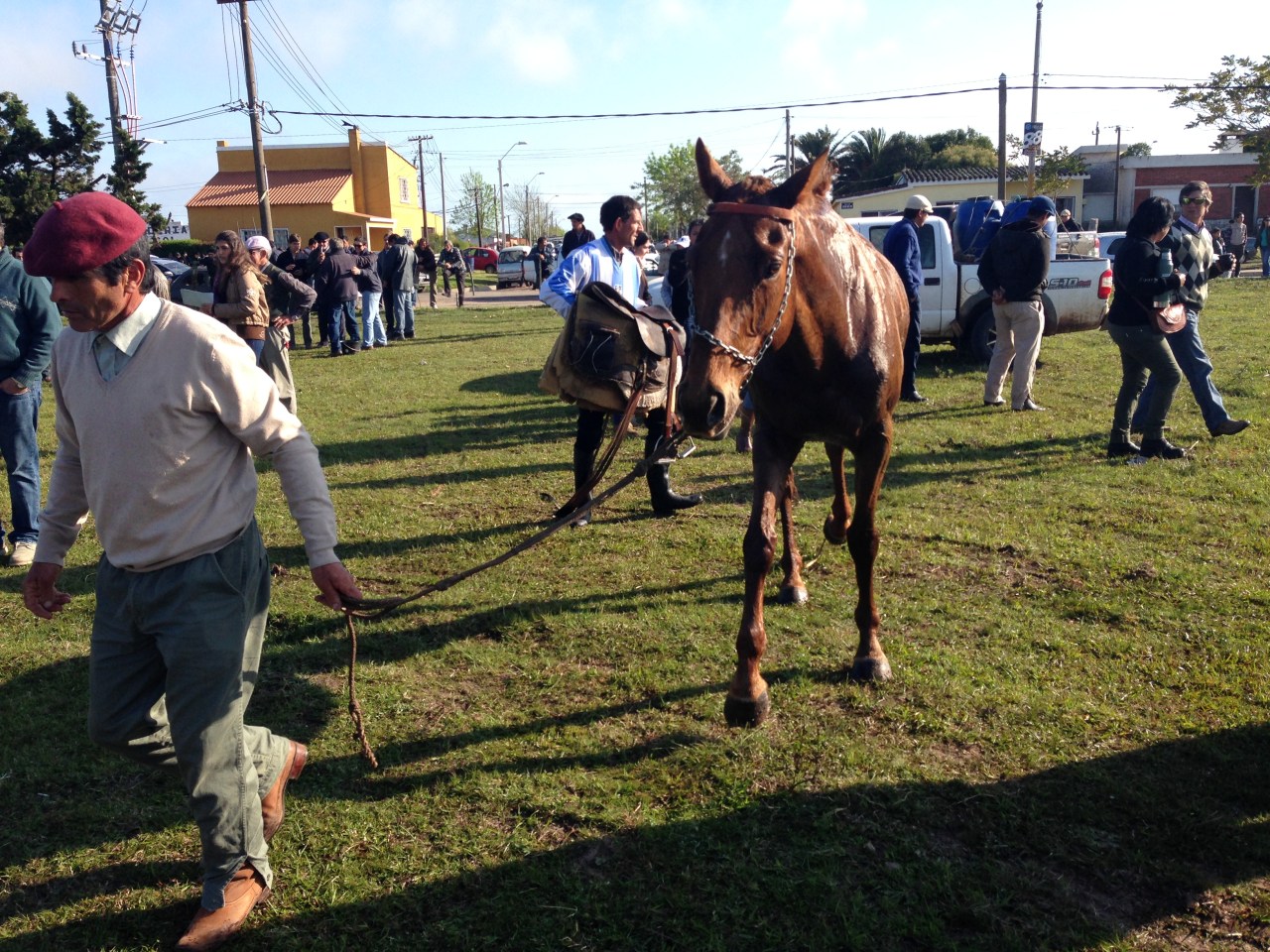 Every weekend from March to November, a different town in rural Uruguay hosts a raid as part of a yearlong circuit of horse races run by the Uruguayan Equestrian Federation (FEU). The festivities last from Friday afternoon to Monday evening. A social club in the town is in charge of the proceedings, facilitating races, organizing dances, and putting on other events, such as livestock auctions. Most of these towns are tiny and far apart, with nothing in between except cows. When there's a raid on, it's where everyone goes. It's the chance for any community to have its shining moment. Gauchos and peones—laborers—turn up from the campo. People who live, study, and work in Montevideo return to their hometowns to catch up with family and friends for a reason that isn't a funeral or an election.
Throughout the weekend there are short track races, plus the prueba larga, the biggest draw, a road race of up to about 75 miles starting at dawn Sunday. Revelers leave the club and send horses and jockeys off into the barren, rolling countryside for an arduous journey. Halfway through, riders return to town for a rest, veterinary check-up, and bath. The path is treacherous, and because of fatigue or injury, many horses don't finish the race. In September's raid in Cerro Chato, La Ratonera (Mousetrap), an elegant yet powerful white mare, entered town 20 minutes ahead of the only other two specimens fit enough to finish.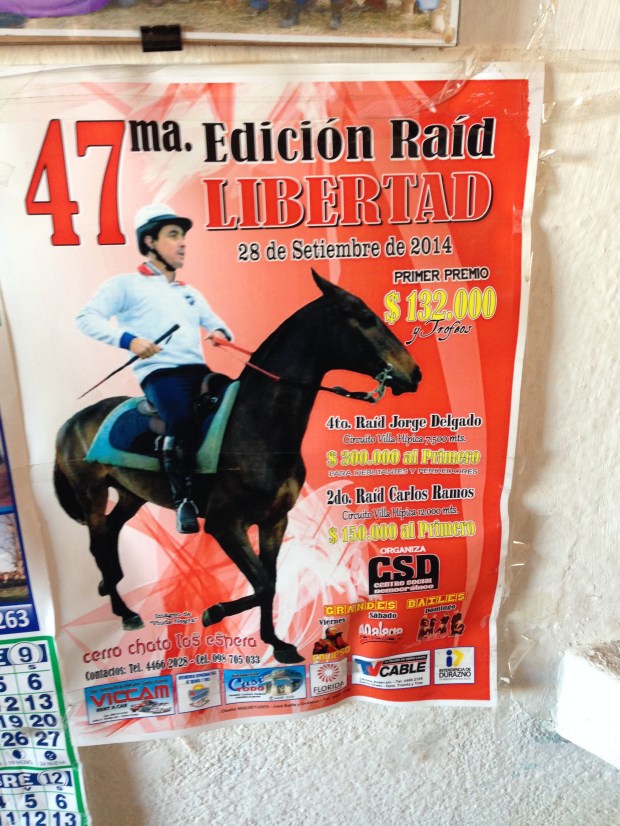 A prueba larga is a marathon, not a sprint. It's about steadily enduring on the frontier, as people in the interior have been doing for decades. Spectators see the horses in far more hardened psychological and physical states than in a track race. Most of the riders are male, but in socially progressive Uruguay, female riders are welcome. The last two years, the FEU has organized an all-female raid de damas the weekend of International Women's Day.
The first raid was hosted in Sarandí Grande (population 6,130) in 1913. Ever since, raids have been an integral part of Uruguay's rural identity. In today's peaceful times, a raid is a way of reliving the epic horseback journeys of national heroes in centuries past. Breathless radio commentators sound as if they're recounting a battle, not a sporting event. Each raid has a different name, often patriotic. Raid Batalla de Tupambaé happens in the eponymous town where Aparicio Saravia and his rebel Blancos clashed with ruling Colorados in the 1904 civil war. Raid Instrucciones del Año XIII in Sarandí del Yí pays homage to the 1813 document that expressed Uruguayan desire for autonomy from Buenos Aires. Raid Protector de los Pueblos Libres in San Ramón is just one of thousands of events, buildings, and statues in the country honoring national liberator José Artigas.
One might think that historicism and patriotism would make for a staid few days. But step inside the Club Uruguay Fraile Muerto (yes, the town it's in was named after a dead friar) at 4 a.m. on a late November Saturday, and the atmosphere is neither dead nor monastic. Over a thousand people fill two dance floors, with a five-piece band taking each stage. These bands aren't your ordinary evening—or in this case, all-night—entertainment. Wearing matching suits and sweat-drenched shirts with the top two buttons undone, band members play a brand of cumbia tropical unique to the interior of Uruguay. As with most things in Uruguay, you're never far from soccer, especially the country's two esteemed rival clubs. Playing fair, the bands pause during a bridge to give a shout out to all supporters of Nacional, then to all supporters of Peñarol and continue to the chorus.
Two men lead today's biggest bands. Carlos "Chacho" Ramos is a Casupá native whose groups Calipso and Los Amos del Swing play neither calypso nor swing. Talented, laid back and personable, he has balding strawberry blond hair and bright blue eyes. The younger Lucas Sugo became an instant heartthrob among adolescent Uruguayans with his hit "Cinco Minutos y Nada Más." The music video—which has nearly 4 million views on YouTube—features an adolescent's relationship with his mother.
At the raid, the throbbing bass, the dos y uno beat of the octapad—a drum kit in a box—the twinkle of the electronic keyboard, and the open guitar riffs interrupt Uruguay's tranquil plains. It's a mix of swing-your-partner-round-and-round, trance, and tacky 1980s, all to a Latin beat. It's what Uruguayans call re tranqui, a holistic expression whose closest translation—superchill—doesn't begin to do it justice.
At raid, booze is present, and you drink or you don't. Those opting to indulge are watched over by their abstaining compatriots. Liter bottles of national lagers Patricia and Pilsen are poured ice cold into plastic cups. Uruguay is the world's second-largest whiskey consumer per capita, and you can see why on nights like these. A chalkboard behind the bar in Fraile Muerto reads, "William 50, Jhonie Rojo 60, Jhonie Negro 100." Translation: You can get the cheap stuff—William Lawson's–for 50 pesos (less than $2), but you've got to shell out twice as much for Johnnie Walker Black Label. You can get it on the rocks in a highball or con pomelo: mixed with grapefruit Paso de los Toros, a popular soda.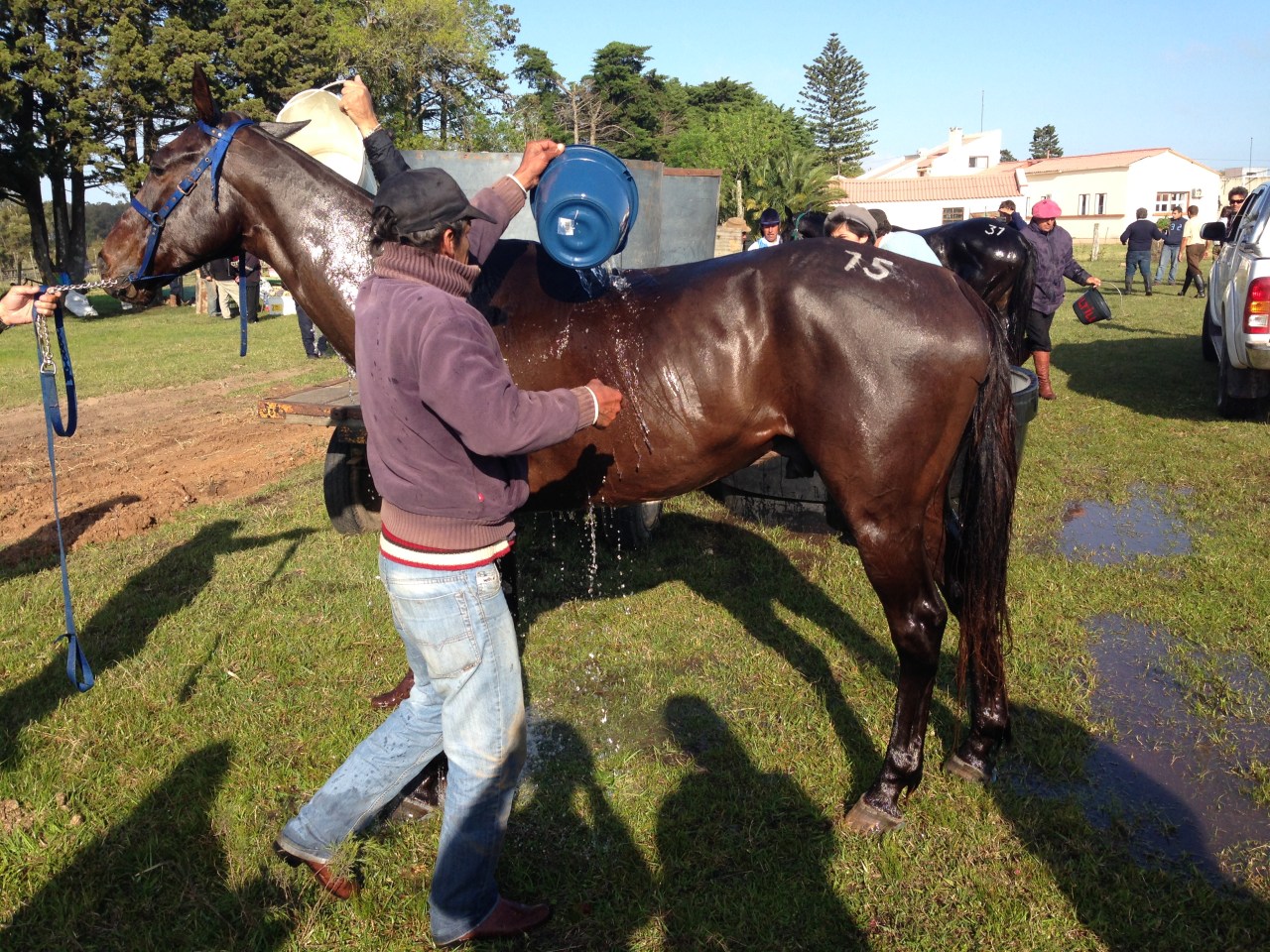 As the one show in town, a raid is indicative of the lack of consumer choice that often befalls rural Uruguay. However, there's something refreshingly beautiful about leisure that isn't broken up by demographics and picky taste. Uruguay is a very lateral society with little hierarchy and compartmentalization. Especially in the interior, it's very common for people of different backgrounds to rub shoulders, and raid is the time and place they do so quite literally.
Camaraderie comes naturally with a raid. It's a weekend of nonstop eye winking, cheek kissing, backslapping, and thumbs-upping. After I struggled for several weeks to adjust to the interior's slower pace of life, raid gave me a way to join the community. It disproved any lingering doubts I had that rural life is less full of meaningful encounters, people, and events than in the city. The weekends boast no decorations, no fancy costumes, no corporate sponsors, and no advertising boards. Devoid of frills, pomp, and circumstance, it's Uruguayan minimalism at its finest. There are horse races, good music, family, and friends. What else do you need?
Samuel T. Brandt (@samtbrandt) is the author of the forthcoming book Uruguay: The Little Country in the Middle, from which this is excerpted. Brandt, who spent time in Uruguay on a Fulbright scholarship, is completing his Ph.D. in geography at UCLA.
Copyright 2018, Samuel T. Brandt. Reprinted with permission.
Originally published on Roads & Kingdoms on July 7, 2015.