Vietnam's history is scarred by invasion. First by the Chinese, then the French, then the Americans. And along with their bomb craters and bullet holes, they also left culinary marks. The Chinese brought noodles and wontons, the French brought baguettes, and the Americans dropped hamburgers and beefsteak. Through it all, this great, ancient, and vast cuisine has always been picky about what it borrowed from the invaders it defeated. And anything it borrowed, it simply made better.
Bún bò Huế
The food of Huế is unlike any other regional food in Vietnam, and it cannot be reduced to one dish, but if reduce it you must, bún bò Huế is the dish. Huế food a style that evokes a royal past. Feudal lords of the Nguyễn family made Huế the capital of Vietnam in 1802—a status the city held until 1945. Huế is still referred to as the Imperial City, and Huế's best-known dish is the noodle soup called bún bò Huế. It's a spicy, sour number crammed with fermented shrimp paste, lemongrass, ginger, pork knuckle, banana blossoms, and noodles. But bún bò Huế is just the beginning; there's far more to ancient royal Huế food than this noodle soup. Imperial Huế food is predominantly made up of delicate, gloppy rice-cake-based dishes that arrive doused in nước mắm (Vietnamese fish sauce). Today, you can find Huế-style restaurants all over Vietnam, but to learn about the full depth and variety of its more than 1,000 dishes and hundreds of years of history, you have to eat in Huế.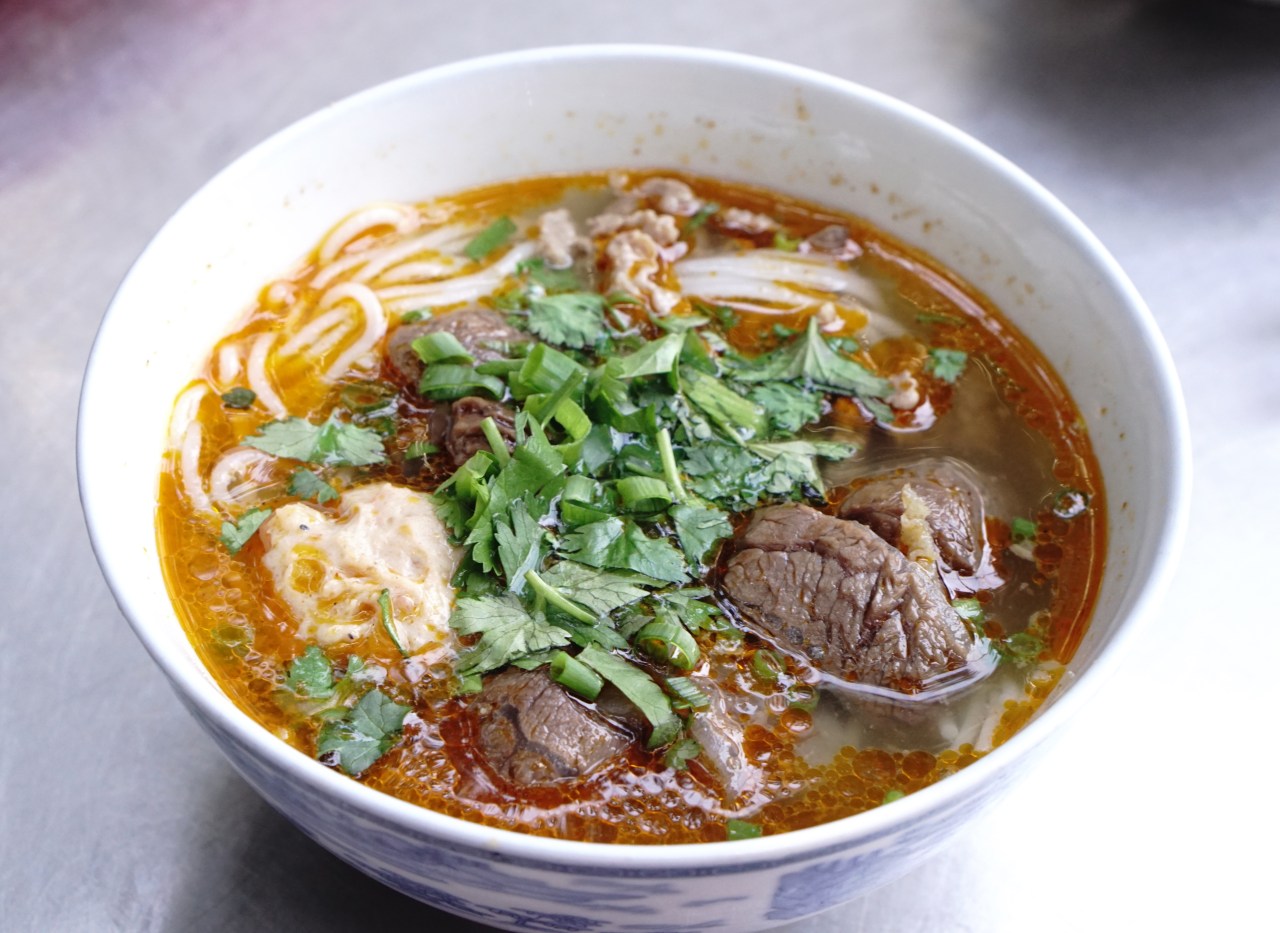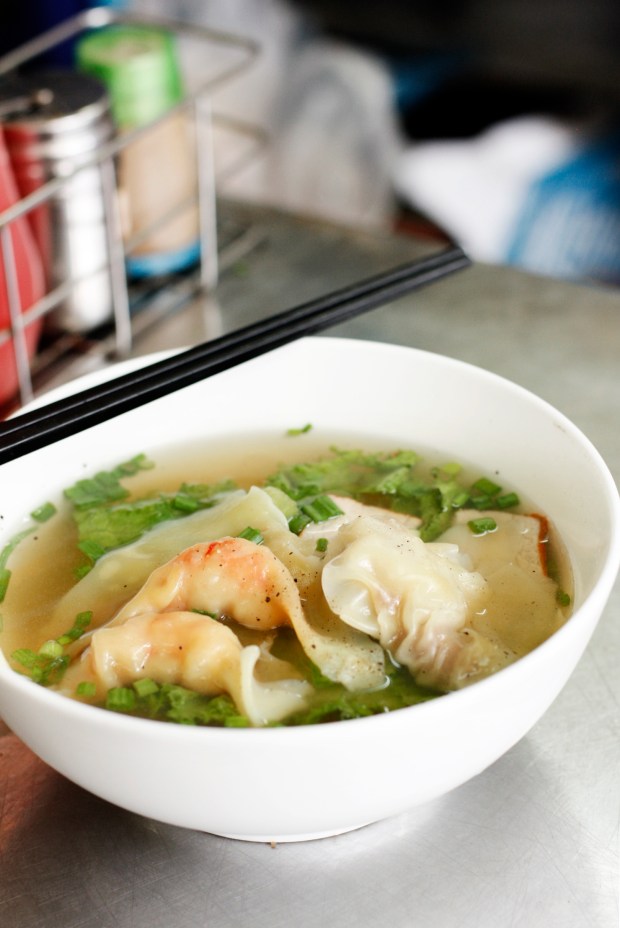 Mì hoành thánh
It would be fair to say that China and Chinese people are not well liked in Vietnam. The much larger northern neighbor has a history of interference in Vietnam. Most recently, at the end of the American War in 1975, the new Vietnamese government did not trust the ethnic Chinese living in Vietnam, and it kicked many out, while others fled. In 1979, Deng Xiaoping had another go to, in his words, "teach Vietnam a lesson." The result was a 27-day war and at least 10,000 people dead.
Throughout that troubled history, the Vietnamese made sure to nab a useful recipe when they found one. One result of that is mì hoành thánh, a very Vietnamese version of a Chinese wonton noodle soup, which is now a staple throughout Vietnam, particularly in the south of the country, where most Chinese settled. The mì in the dish are flash-fried yellow cylindrical noodles, slung into a slightly sweet soup with a few wontons (hoành thánh—get it?), some chives, a single lettuce leaf, sliced pork, minced pork, and a greasy rice cracker. Like so many great, seemingly simple Vietnamese dishes, mì hoành thánh is a bowl born of conflict.
Bánh mì
In the mid-19th century, French colonialists arrived in Vietnam. They brought coffee, potatoes, onions, and baguettes. The Vietnamese discovered uses for all these things, but they found the French butter- and pâté-filled baguettes a little dull, so they got to work.
Nowadays, bánh mì sandwiches are just as famous as French baguettes in much of the world. These small, airy, extremely light baguettes are found on just about every street corner from the Mekong Delta to the border with China. While the bread is different from French bread—it is lighter, airier, and more crumbly—it's what's inside that makes them so very Vietnamese.
A classic bánh mì might come with a simple pork pâté or slices of chả lụa (Vietnamese pork luncheon meat), some cucumber, pickled carrots, spring onion sprigs, coriander, a splash of hot sauce, and a dusting of chà bông pork floss. A more exotic bánh mì might include pigskin, offal, meatballs—the list goes on. And that's the point: A few hundred years ago, the Vietnamese hadn't heard of baguettes, let alone sandwiches, but they took that simple, foreign food item and made it Vietnamese forever.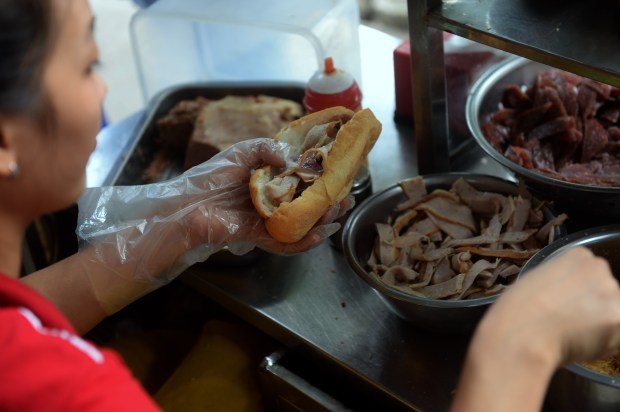 Phở bò
Vietnam's most famous culinary export, phở bò (beef noodle soup), is thought to have originated just outside Hanoi in the early 20th century. Some say it was influenced by the French colonialists' pot-au-feu, or beef stew. Some say the main inspiration was the Chinese dish guòqiáo mĭ xiàn (crossing the bridge noodles). Some say it was a mixture of the two.
But now there's broad consensus that phở bò is a distinctively Vietnamese dish, one that comes tricked out with all the country's flavor bells and umami whistles. It's a star-anise-stuffed, beef-bone-rich, aromatic wonder, a breakfast or any-time-of-the-day dish for millions of people. A dish that comes accompanied by a basket of herbs in the south or a vat of garlic vinegar in the north. War is over, but the Vietnamese will still battle over whose phở bò is the best.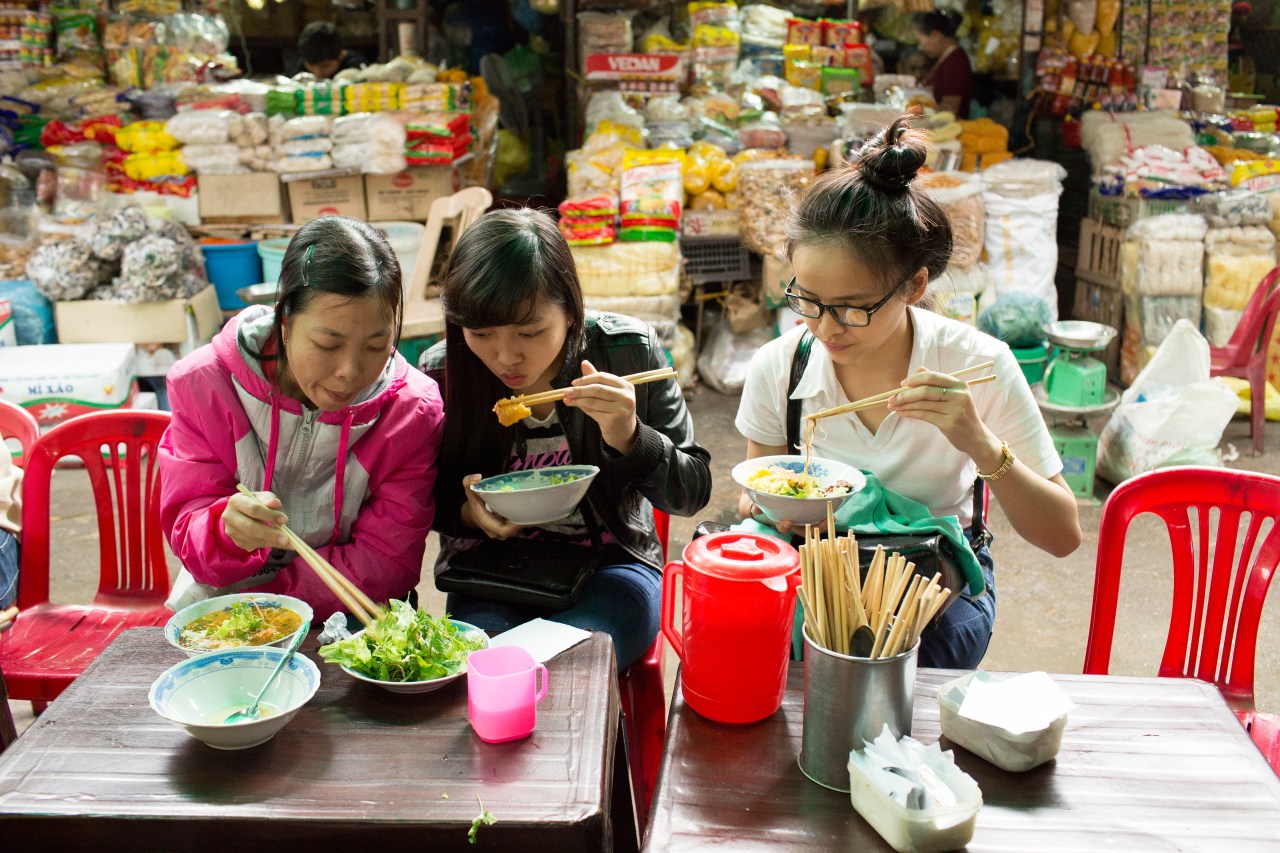 Chả cá Lã Vọng
Chả cá is a famous Hanoi dish made of fried fish, dill, and spring onion and served with cold bún (vermicelli) and peanuts. In the late 19th century, revolutionary soldiers, who were bent on evicting the French colonialists, would hold clandestine meetings at 14 Hàng Sơn in Hanoi. The family that hosted them set up a restaurant, Lã Vọng, to disguise their activities, and served only chả cá. Ironically, the restaurant soon became popular with the French aristocrats they wanted to oust. It was the perfect cover.
After the French got the boot, the street was renamed Chả Cá, and the restaurant became a symbol of revolution. Lã Vọng still exists in its original location and serves its signature dish. Locals say you can find better chả cá elsewhere in Hanoi nowadays, but the historic spot still draws crowds.
Bún đậu mắm tôm
"Food for the poor." That's what Hanoians called bún đậu mắm tôm during the years following the American War. A nearly 20-year U.S. trade embargo, imposed in 1975, meant food was scarce, and meat was a treasured commodity. Enter bún đậu mắm tôm, a cheap and simple dish of cold rice noodles, tofu, and fermented shrimp paste.
The tofu comes fried. It can be ordered as you like, from fried a lot to fried a little. However, it is the combination of textures—the softness of the noodles, the crispiness of the tofu, and the pungent, electric jolt of the mắm tôm (fermented shrimp paste)—that sends this dish and anyone who eats it into the stratosphere. Emblematic of poverty it may well be, but bún đậu mắm tôm lives on as one of the most sensational street food staples in the capital.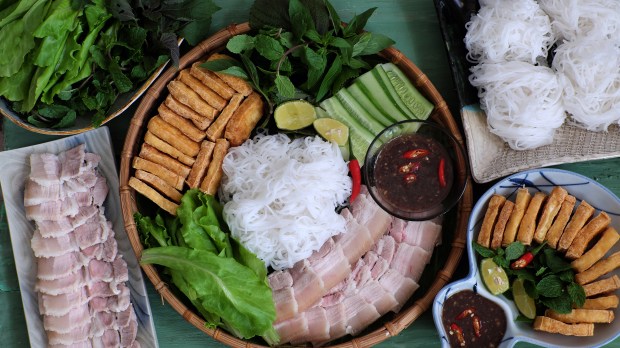 Hủ tiếu Nam Vang
This slightly sweet rice noodle, prawn, and offal soup is an immigrant. It entered southern Vietnam along with an influx of Cambodians during the 1960s. Nam Vang is Vietnamese for the Cambodian capital, Phnom Penh, and hủ tiếu Nam Vang quickly became a popular dish on the streets of Saigon. Variations were developed over the years—some dry, some wet, with subtle differences in ingredients, noodles, and stock. But it is the original hủ tiếu Nam Vang that remains the most popular.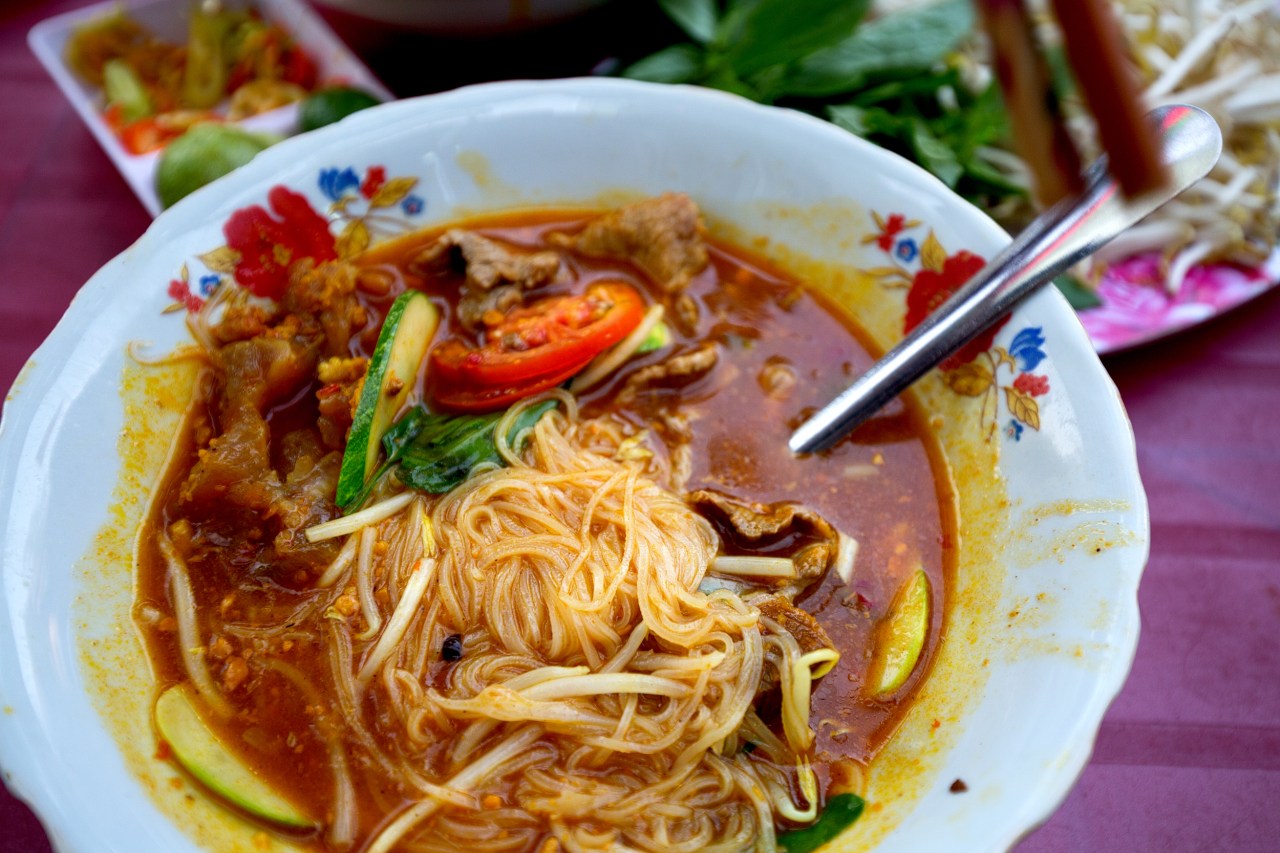 Bún chả
If bún đậu mắm tôm symbolized the strained relations between the United States and Vietnam, a simple bún chả meal in 2016 symbolized rapprochement. Bún chả is a Hanoi original and a lunchtime-only dish. Grilled pork belly and minced pork patties are served in a bowl of fish sauce with sliced chayote and carrot. It comes with a plate of lettuce, perilla leaves, bean sprouts, herbs, and fresh cold white vermicelli.
Street-level barbecues fire up daily from 11 a.m., when the scent of pork begins to fill the air and hungry diners gather. In many ways, when President Barack Obama sat down with Anthony Bourdain to eat bún chả in Hanoi, it was a defining moment. For a sitting U.S. president to eat regular Vietnamese food in a regular Vietnamese restaurant and enjoy it in the same way millions of regular Vietnamese do every day spoke volumes about a man and a country to the Vietnamese. While that meal in Hanoi came toward the end of a political era in the United States, it was symbolic of Vietnam's arrival. After all those years of invasion and conflict, the Vietnamese and their food had arrived on the global stage.