Ever since a North Vietnamese army tank burst through the gates of Independence Palace in Saigon in April 1975, the city has become Vietnam's center of reinvention. The country's enterprising youth go there to seek their fortunes, dissolving into its thousands of winding alleyways. Cheap living costs and demand for international talent have attracted a large expat community. Since the fall of Saigon, the city has taken on an unprecedented life of its own—a pulsating world of beer clubs, skyscrapers and steaming bowls of phở—growing into an entirely different version of Ho Chi Minh's legacy.
In the smoggiest reaches of Vietnam's south, life goes on a little more unchecked than in much of Vietnam. A thousand miles away from the watchful eye of Hanoi, people still call this city Saigon. And every day a subtle power battle plays out for Ho Chi Minh City's destiny: Will the megalopolis submit to government restrictions on street-food and motorbike bans, or will it simply ride through the red tape like the unstoppable beast it is?
Many visitors are intimidated by Ho Chi Minh City's intensity. Its roads are crammed with roaring engines. Its neighborhoods are a tangle of electronics shops, street food carts, and dirty puddles. It's a far cry from Hoi An's twee charm in central Vietnam or Ha Long Bay's visceral splendor in the far north. Ho Chi Minh City is where business happens. It's a fast-paced, noisy world, all too familiar with the hustle of life. But give it a chance and Saigon will welcome you into Vietnam at its most authentic and exciting.
To experience Ho Chi Minh City at its best, you're going to need some legs—aka a motorbike. This isn't the most pedestrian-friendly city in the world. The long-awaited Ho Chi Minh City Metro is still years from completion. Construction started in 2012, and it is scheduled to open in 2020, but that target looks optimistic. For scooter rentals, Tigit Motorbikes in District 4 and Chi's Cafe on Phạm Ngũ Lão, the main backpacker street, are reliable options. A decent steed starts from 120,000 Vietnamese dong ($5) per day. If you want to leave the driving to the pros, download the Grab Bike app (or simply approach one of the many motorbike taxi drivers reclining on the sidewalks) and hold on tight as you whiz down Saigon's narrow streets. Of course, this comes with its own set of risks, but invest in a good helmet (insist on an Anda model, not a shoddy "coconut" helmet made from plastic) and join the flow of traffic, and you may find there's order to the chaos.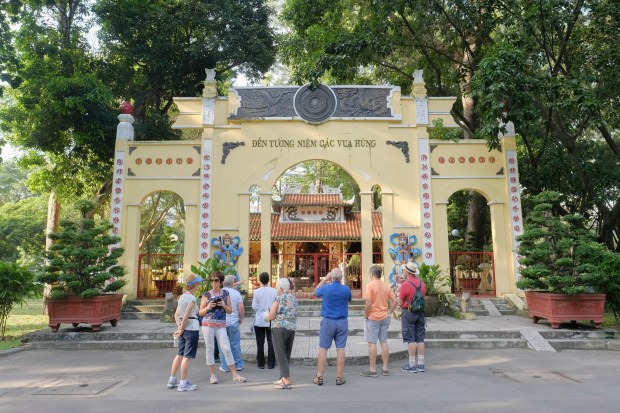 Ho Chi Minh City bursts to life in the early hours, as people profit from the cooler temperature to set up shop and exercise. Grab a cà phê sữa đá (iced milk coffee) from a nearby cart and head for Tao Đàn Park and its 24 acres of beautiful gardens in the heart of District 1. This is a gentler introduction to Saigon compared with the rude awakening many receive when landing. The park is an oasislike manifestation of Vietnam's culture and an escape from the concrete chaos. Meander through contemporary art sculptures and Buddhist temples, including a miniature replica of Nha Trang's Cham Tower. If you're feeling active, ask to join in a game of đá cầu (a kind of hacky sack), or simply watch energetic retirees practice tai chi under the shade of pagodas and palms. Arrive early and you will be rewarded with the chance to see Tao Đàn's bird cafe. This is where a group of avian enthusiasts display their prized pets in the park's open-air bird corner.
Hanoi may have presidential bún chả, but Ho Chi Minh City is the birthplace of the mighty bánh mì sandwich. You'll be more than satisfied after ordering one from the aluminum carts of Saigon's colorful áo bà ba (the pajamalike outfits favored by older Vietnamese women) army, but the best breakfast in town beckons at a tiny al fresco sit-down restaurant with plastic stools called Bánh Mì Hòa Mã. Defying the convention of bagged sandwiches for Vietnamese on the go, Hòa Mã serves its bánh mì ốp la (that's baguette with egg) on a sizzling hot skillet. The fried eggs, sausage, and mystery meats arrive spitting on the skillet, and you can mop up the yolk and grease with the fresh, crusty baguette as you watch the city go to work.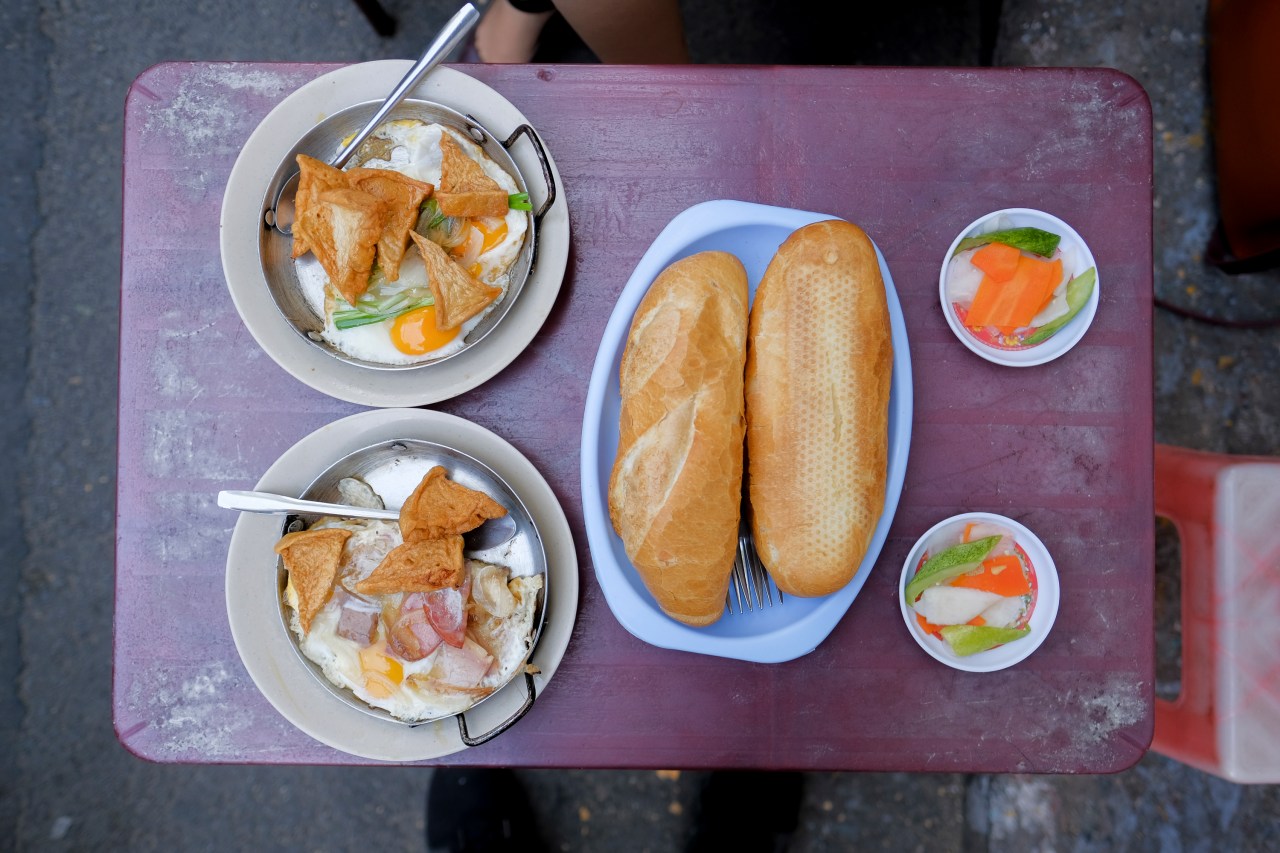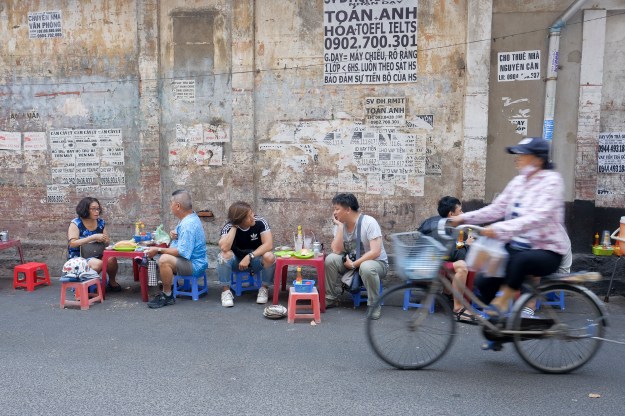 As the roar of engines signals that the city is in full swing, take a 10-minute drive northwest toward District 10, to a time before Vietnam became a nation of motorheads. FITO museum, also known as the Museum of Traditional Vietnamese Medicine, is a lovingly maintained private collection. The artifacts are on display inside an old wooden house, with winding staircases and a gorgeous rooftop temple. The owners have preserved almost 3,000 items used in ancient pharmacies dating back to the Stone Age and placed them in a homely menagerie as if they were all still in use. Most fascinating are the hundreds of ingredients displayed in rows of glass jars, including jungle fungus and deer horn. It wouldn't be Vietnam without a cheesy interactive element, so when you're asked to dress in traditional ao dai and pose with some ancient teapots for a photo shoot, you'd best just go along with it. There's also a gift shop proffering cures ailments, with medicines from peppermint oil to mushroom tea.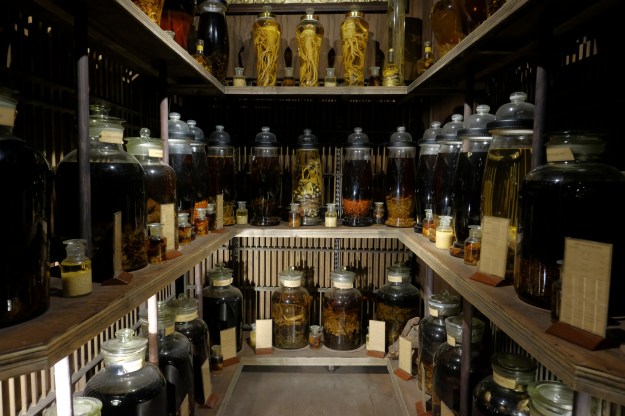 12:00
pm
Secret Weapons Basement
287/70 Nguyễn Đình Chiểu
Đa Kao
Get Directions
A 15-minute drive along Điện Biên Phủ street will bring you to this unassuming, narrow, two-story house (complete with a lone security guard). The house played a pivotal role during the Tet Offensive in 1968, when more than 100 cities were simultaneously attacked by North Vietnam and the Viet Cong. It was bought by Trần Văn Lai in 1966. He was a spy for North Vietnam and a contractor working at Saigon's Presidential Palace. On direct orders from the Saigon Commandos' Security Unit, Lai spent three years digging a secret cellar beneath the house to store nearly three tons of weapons for the Tet Offensive. Lai's son, Tuan, has since taken over the property and is happy to accommodate visits if you call in advance. Open the trap door and discover a stash of bazookas, guns, and grenades that South Vietnam's army never found. It may be another piece of war history that Vietnam is trying to build an identity on, but it is also proof there is plenty to Ho Chi Minh City if you look beneath the surface.
1:00
pm
Saigon's Other Lunch Lady
152/6A Điện Biên Phủ
Phường 25
Get Directions
While The Lunch Lady enjoys the fame and ire of living up to expectations from her cameo in an episode of Anthony Bourdain's No Reservations, a proper local street food feast awaits at the eastern end of Điện Biên Phủ. Ms. Nga's soup stall is a little over 10 minutes away from the spy house. Saigon's Other Lunch Lady has run her little shop in Binh Thanh District for over 20 years, and she serves a rotating menu of different dishes from Monday to Saturday. On Mondays its bún măng vịt (bamboo and duck noodles). On Saturdays it's bánh xèo (crispy savory pancakes). If you're there on a Friday, it's bún thịt nướng (freshly grilled pork, spring rolls and pickled vegetables on a bed of vermicelli noodles). Make generous use of the fish sauce and mix it together; it tastes best when messy. Show the proper respect to Ms. Nga and call her chi, the safest way to address a woman of maturity in Vietnam. (Ba or "grandma" might get you a lifetime ban unless you're that age yourself.)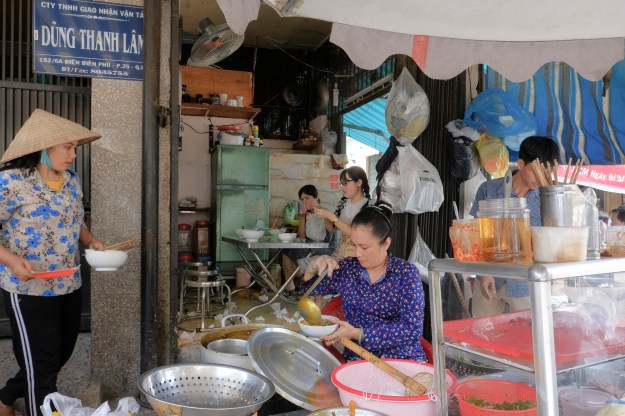 Sink into a post-lunch reverie in the air-conditioned nooks of Saigon's Cafe Apartment at 42 Nguyễn Huệ street, a 15-minute ride south into the glitz of District 1. The cafe's exterior is Instagram gold. Residents of this apartment complex rent out units to boutique stores and cafes, creating an almost sitcomlike collective of young Vietnamese business owners putting their creativity on display. The block was built in the 1960s by the South Vietnam government as a housing block for American officers. Today the building overlooks the prim promenades of the city's main pedestrianized street. Order a traditional cà phê at Saigon Oi coffee shop, which uses a Phin filter to slowly drip coffee onto condensed milk in a glass. Authorities have tried clamping down on Saigon's Cafe Apartment for years (it is not 100 percent legal to rent out government apartments to businesses), but its increasing internet virality is almost too big a tourist (and economic) draw to lose.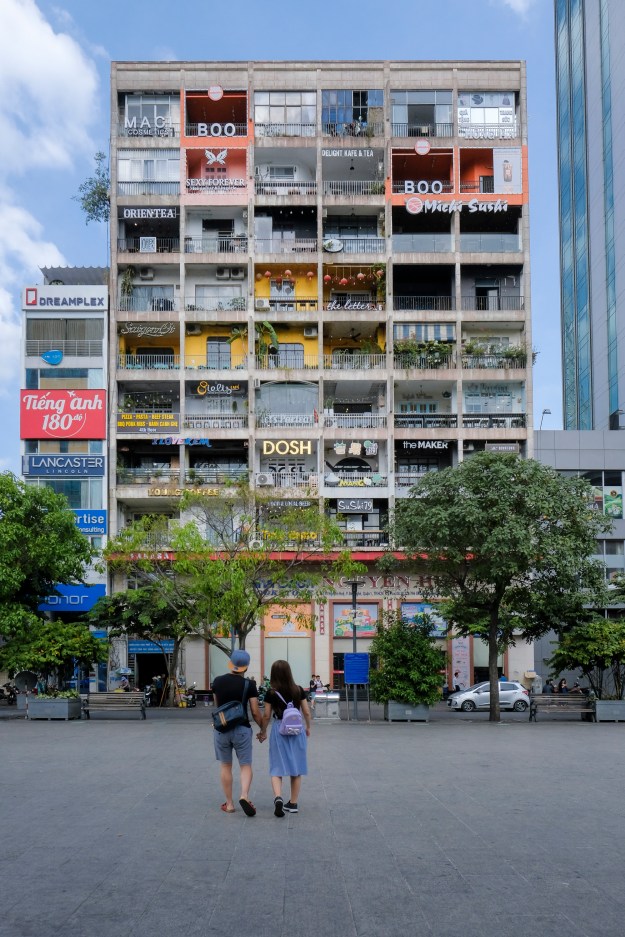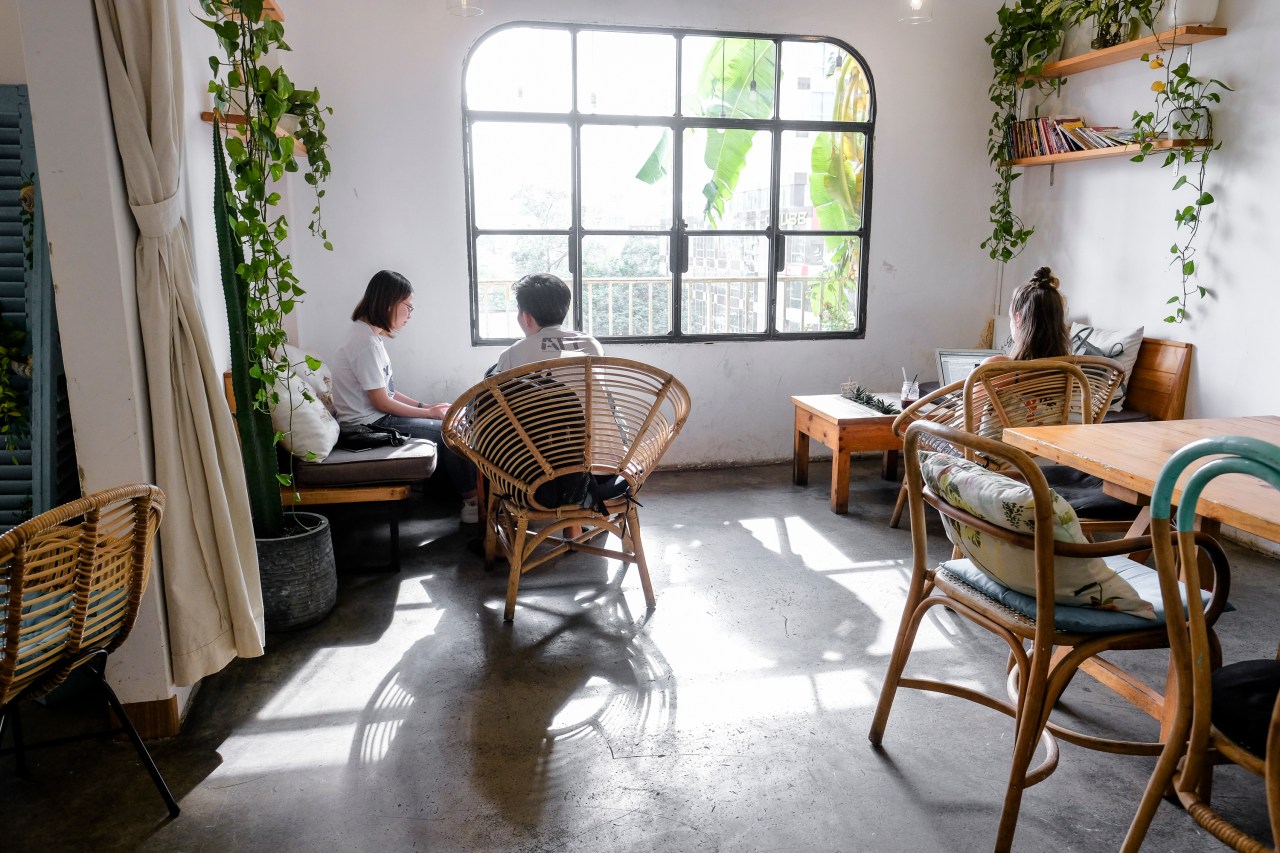 4:30
pm
Mayhem Saigon Vintage Store
136/1 Lê Thánh Tôn, Phường
Bến Thành
Get Directions
Ho Chi Minh City's tourist markets have gained a reputation for being overcrowded and selling little more than cheap Beer Saigon vests and dodgy bottles of snake wine, so give in to curiosity at your peril. A better option is to support local artisans in the city's increasing number of independent stores, like Mayhem. To visit, you need not venture far from Saigon's biggest market, Bến Thành (aka the one with the clock). Mayhem is just five minutes around the corner from the Cafe Apartment and down past a dark alleyway lit by the glow of nail salons. Mayhem is one of the first vintage clothing stores in Vietnam. Browse through technicolor printed shirts while listening to the shop's punk rock soundtrack. Everything in Mayhem, from design to production, happens in Vietnam. This is indicative of a new generation, one that is keen to express its identity with a distinctive Saigon flavor. Mayhem offers a strange buying incentive. If you take five shots of vodka, you'll get 10 percent off your purchase. Ask the attendant to pour from the bottle next to the cash register. And use your common sense: Don't continue driving your bike if you choose to do so.
Step out of Mayhem and head northeast toward the trendy Binh Thanh District, which has recently gained the nickname Little Tokyo because of its glowing lanterns and ramen shops. Cross the Thủ Thiêm bridge and into the outer reaches of District 2, where you'll spot crowds of food vendors, families and doe-eyed couples gathering to catch the sunset. This spot offers one of the best views of Ho Chi Minh City's skyline: a completely uninterrupted view of all its major landmarks. Hop off your bike and watch the sun dip behind the Bitexco Financial Tower and newly completed Landmark 81 (the tallest building in Ho Chi Minh City). The skyscrapers seem to light up Vietnam's black night like huge but distant cellphone screens. Finding a spot to take in the view is likely to be a task during the chaos of rush hour, but you'll soon find the view of downtown Saigon helps filter out that noise as the buildings are reflected in the Saigon River.
6:00
pm
Saigon Outcast
No. 188/1, Nguyễn Văn Hưởng
Thảo Điền
Get Directions
Fuel your inspiration from the skyline with a drink at Saigon Outcast, a leisurely 15-minute drive through the heartland of District 2. This used to be one of the poorest areas of Ho Chi Minh City, but now District 2 has become one of many passion (and financial) projects of foreign investors and ambitious European and Vietnamese hipsters. They have helped turn what was once swampland into a secluded expat enclave. This is gentrification at its most glaringly obvious; many locals have been pushed to the slums in the outskirts, while the center has turned an increasingly noticeable shade of white. Saigon Outcast stands in the middle of this issue: part trendy outdoor hipster bar, part exhibition of local artists who are almost singlehandedly regenerating Ho Chi Minh City's creative scene. The impressive halfpipe attracts skaters from all over the city, best watched while sipping from a glass of locally made Heart of Darkness craft beer. Arrive at the right time and you might make one of the monthly flea markets.
Dinner sizzles in edgy District 4, an area terrorized by Nam Cam, "the Godfather of Saigon," in the 1980s and '90s until he was finally imprisoned in 2003. His mafia reign cut short, locals could open their businesses to the masses (without fear of blackmail or customers getting their bikes stolen). Vĩnh Khánh has since gained a thriving reputation, awarded an accolade as a Food Street by local authorities in 2018. It has an unofficial accolade: It is Saigon's Seafood Street, and there you will find classics like mực nướng (grilled squid) and sò huyết (blood cockles). You'd be fine squatting down to eat anywhere there, but hot, crowded Ốc Oanh restaurant is a solid choice for a giddy, chili-and-tamarind-splattered night of ăn ốc (snail eating), with large groups of locals laughing and stacking bowls inside a haze of sizzling grill smoke. Order lots of different plates to share and simply discard the shells into a bucket on the floor and soak up the sensory overload at this electric hour while knocking back glasses of Bia 333 on ice. Một, hai, ba, dzô! (One, two, three, cheers!)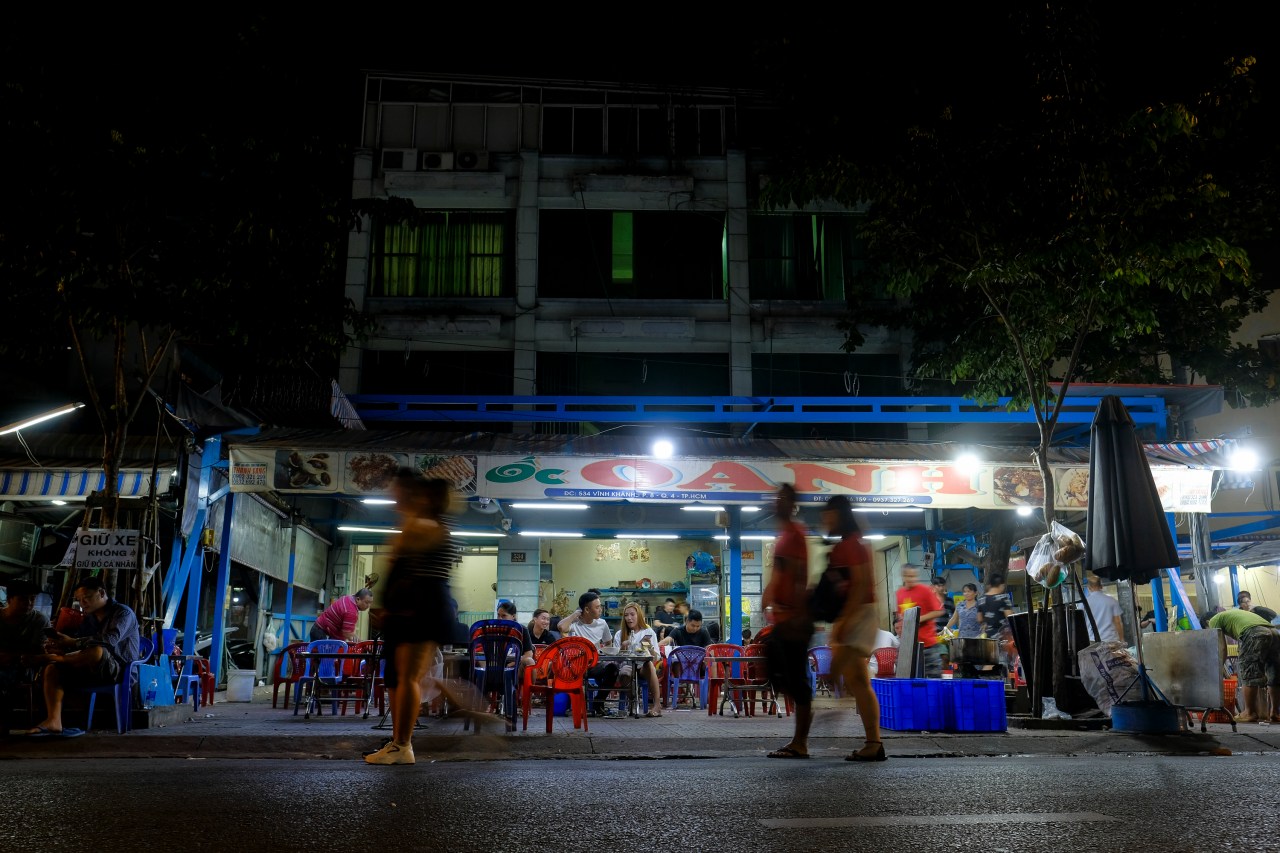 10:00
pm
The Observatory
85 Cách Mạng Tháng 8
Phường Phạm Ngũ Lão
Get Directions
If you haven't already, it's time to hand back that motorbike and take a five-minute taxi ride to the Observatory. People go there to bop to Vietnam's best DJs, clink bottles of Beer Saigon and lose themselves in drunken conversation until sunrise. The club has seen three reincarnations. It first opened in 2013 as a multipurpose event space in District 1, where people danced it into legend. Then it moved to a massive underground warehouse in District 4 in 2014, and in 2018 it was back to District 1, where the Observatory 3.0 has risen once again to keep Saigon's bright young things cutting shapes against the glittering nightscape.