Tex-Mex, a unique blend of Mexican and Texan cuisines, is easily found throughout the southern state, but the culinary tradition is well represented at Marfa Burrito. Ramona Tejada's small cash-only restaurant is a local institution where you can find people from all walks of life—ranchers to Border Patrol agents, tourists to celebrities.
The entire menu is handwritten on neon-pink poster board and features several made-from-scratch burritos filled with beans, eggs, cheese, meat, potatoes, and homemade red and green salsas. The Primo, named after local music legend Primo Carrasco, is stuffed with almost all of those ingredients. The burritos are wrapped in wax paper, and they are so big you'll need both hands to hold yours.
If you're ever in West Texas, a visit to Marfa Burrito is a must. Until then, try Ramona's recipe for pork asado at home.
PORK ASADO BURRITO
Servings: 6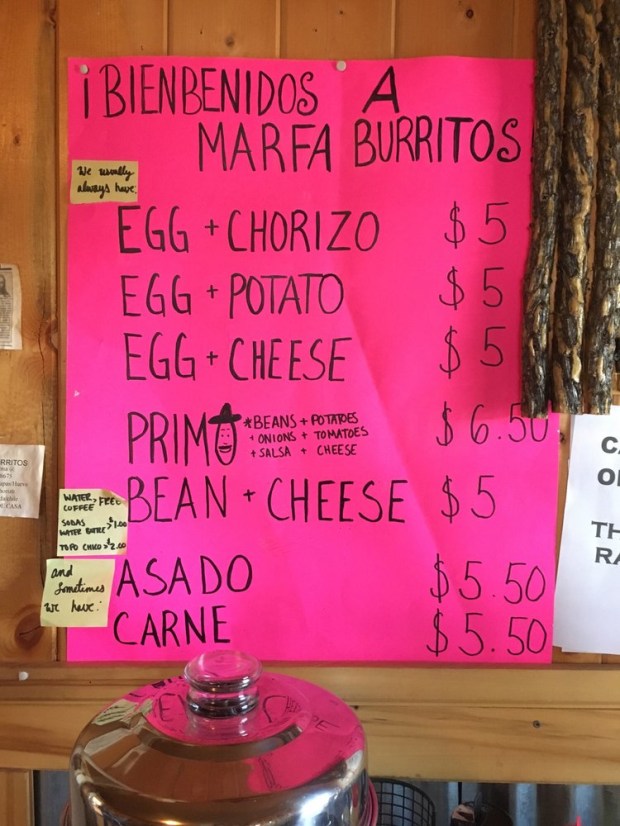 Ingredients:
4 pounds pork, cubed
Flour, to lightly dust the pork
Salt, to taste
8–10 dried guajillo chiles
3 cloves garlic
Pinch, Mexican oregano
Preparation:
Lightly dust the pork with flour and season with salt, to taste, then sauté the meat.
Put water in a small pot and bring to a boil (you'll need to reserve about 2 ½ cups). Add the dried chiles before turning off the heat. Let the chiles soak until they are soft (about 5 to 6 minutes). Don't drain the water!! Transfer the softened chiles, garlic, and a ½ cup of the chile water to a blender. Blend into a thick sauce, then strain the sauce over a pot. Put the pulp that is left in the sifter back into the blender and add one cup of water. Blend until smooth, and strain again into the pot.
Pour the sauce onto the already cooked pork meat, and add a pinch of Mexican oregano. Bring the mixture to a boil, and let it simmer for about 2 hours or until the pork is tender and falls apart. Serve inside a warm tortilla and enjoy!
This recipe was provided by Ramona Tejada.