240A (3ra. C), Jaimanitas, La Habana
(+53) 53 58 51 44
Bourdain ate: the day's catch, featuring classic seafood and sushi.
Lunch date: Hugo Cancio, the Cuban-born entrepreneur behind Fuego Enterprises entertainment and a host of other businesses operating in the U.S. and Cuba.
Calle 26, esquina 11, Vedado, La Habana
(+53) 78 38 22 60
Bourdain ate: a ceviche of dogfish with pickled vegetables, loin of pork pan-seared with yucca, and a riff on a traditional orange sauce with garlic and coriander.
Lunch dates: Inti Herrera and X Alfonso, the entrepreneurs behind the nightclub, performance space, and art gallery; Lisette, F.A.C.'s chef.
Boulevard del Barrio Chino, C/ Cuchillo No. 17 e/ Zanja y San Nicolas, La Habana
(+53) 78 61 54 78
Bourdain had: steamed dumplings, Sichuan chicken, beer.
Lunch date: Jon Lee Anderson, The New Yorker staff writer and conflict-zone reporter.
Cafetería
a la BBQ
Vedado, La Habana
Bourdain ate: fried pork, plantains, beans, flan.
Lunch date: Leonardo Padura, author famous for his portrayal of Cuban life and for the Mario Conde series of detective novels.
Caribeño Restaurante
Siboney Beach, Santiago de Cuba
Bourdain had: dorado, rice, beans, plantains, and rum.
Lunch dates: Reymel Delgado Rodriguez, Bourdain's fixer; Rubén Ernesto Durán Sánchez, in the bar business; Sergio Peña Creo, who rents rooms to tourists.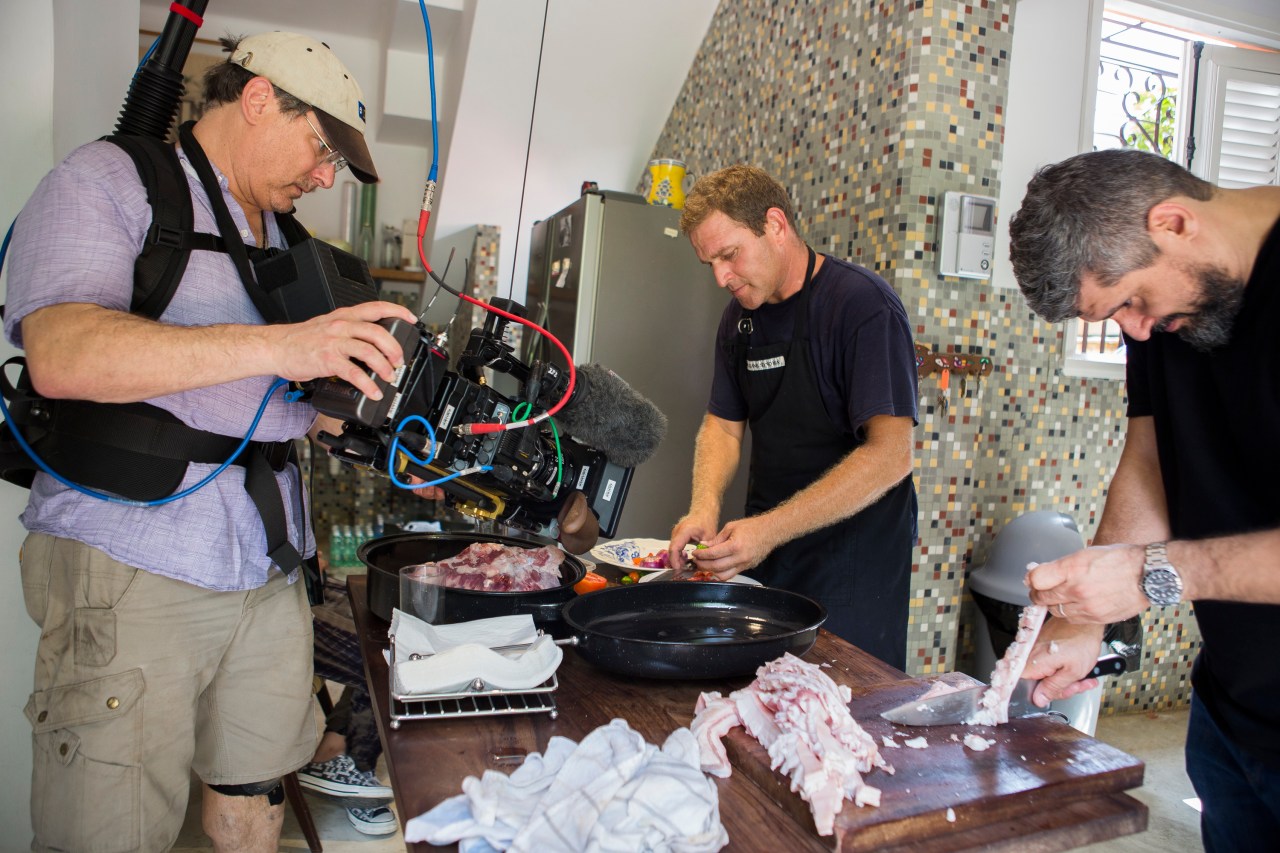 468 Aguilera, Santiago de Cuba
Bourdain had: rum.
Drink date: Alain García, lead man of the hip-hop group T.N.T. La Resistencia.
A home-cooked meal
Bourdain dines in the home of Yusimi Rodriguez, journalist and translator. Her mother, Rosa, prepares cabbage stew with carrots, tomatoes, and green beans; pork marinated in garlic, with onion and sour orange.
Drag race
Bourdain attends a drag race with Los Amigos del Motor, die-hard gearheads, "drag racers who for more than 20 years have been defying the law and escaping the grind of daily life by pressing pedal to the metal and hurdling down the highway faster, faster, fast as they can go." 
BBQ & tunes
Bourdain attends a barbecue at the home of Dago Rodriguez, a member of the world-famous artistic duo Los Carpinteros. There, musician Kelvis Ochoa has made pig's-head soup, with pumpkin, corn, peppers, and sweet potatoes, casaba, and plantain. There are also tamales.
A special guest
Featured in the episode is Juana "la Cubana" Bacallao, legendary singer with a storied career that began before the revolution. She performs at El Gato Tuerto.