Addis Ababa has a gift for accommodating and blending extremes. Churches and mosques blast their calls for prayer simultaneously, illustrating the religious intensity and harmonious coexistence of Addis Ababans. A restaurant serving shiro, a cheap, ubiquitous stew that is beloved by rich and poor alike, shares a wall with an Italian gelateria. A storefront displays traditional Ethiopian attire next door to a sexy lingerie shop. A new upscale nightclub plays the latest twerking anthem down the street from a traditional tej bet.
There's a sense of optimism in Ethiopia. The country boasts the fastest-growing economy in sub-Saharan Africa, and in Abiy Ahmed Ali Ethiopians have a young reformist prime minister. His government, which came into office in April, has released thousands of political prisoners and invited once-exiled political parties to join the political process. In July Abiy and Eritrean President Isaias Afwerki announced a declaration of peace after two decades of war.
In Addis development is lurching forward. Corrugated metal sheets abound throughout the city, concealing gutted neighborhoods that have been cleared to make way for modern new buildings. Luckily, Addis Ababans are an adaptive bunch, finding creative ways not only to survive, but also to thrive amid the dizzying changes. Visit Addis, walk the streets, and take time to absorb it all. The Addis of today will be but a distant memory tomorrow.
Start your day early with a jog or walk on the steps of Meskel Square, in central Addis. Though Ethiopia produces some of the world's best runners, you will find joggers of all skill levels and body types running up and down the wide concrete steps.
Meskel, which means "cross" in Amharic, references an Ethiopian Orthodox holiday that celebrates Roman Empress Helena's discovery of the cross on which Jesus was crucified. Christian religious leaders gather here each year on September 27 to read from Scripture and light a bonfire. As a testament to the many religions practiced in Addis, the square is also where Muslims from all over the city gather to pray during Eid. It is the nerve center of Ethiopian politics and has been the site of rallies and protests for decades.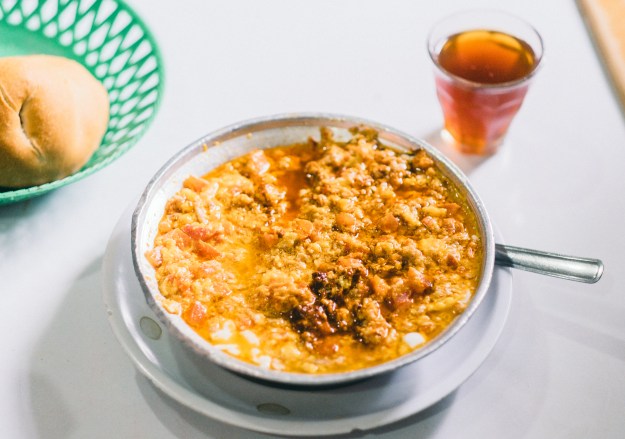 Replenish at Addis Sport Cafeteria No. 1 with a plate of their famous ful medames. The dish, versions of which can be found throughout Africa and the Middle East, mixes fava beans with roasted onions, garlic, tomato, pepper, and nit'r qibe (seasoned butter), topped with yogurt and green chili. For the last four decades this cafe has been serving the dish to the traders and workers of Merkato, the largest open-air market in Africa.
Word to the wise: this spot has four tables, so be prepared to wait in line.
Stop next door at the equally small and popular Sami Café, a juice bar that serves up purees of pineapple, avocado, mango, guava, papaya, and orange. Order the Spris, a delicious layered combination of all the flavors, and ask for a lemon to squeeze into your mug—it makes all the difference.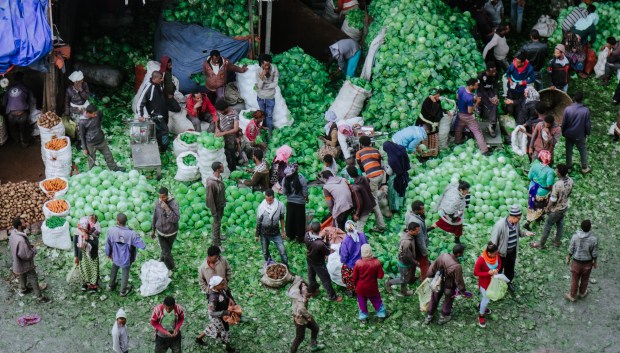 Take a short stroll to Atkilt Tera, the area of Merkato that supplies Addis's fruits and vegetables. Trucks overflowing with produce from the countryside start arriving at 2 a.m. and pull up continuously throughout the day. Chances are, whether you're dining at an upscale restaurant in Bole or picking up fresh beles (cactus fruit) from a street vendor in Kazanchis, part of your meal came from this spot in Merkato. Marvel at the sheer scale, organization, and efficiency of this market, which looks chaotic only from afar.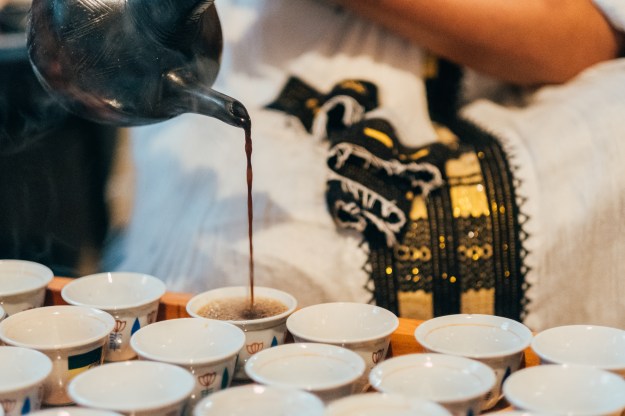 Coffee is sacred in Ethiopia, where it is drunk continuously throughout the day. Tomoca Coffee opened its doors 60 years ago; and though it now has several locations, the original spot on the outskirts of Piassa is the best. The standing-room-only cafe serves up strong cups of macchiato with beans from all over the country. A short walk down the street is Enrico Pastry, which makes the best custard, bite-size cream puffs, and mille-feuilles in town. Go early before they run out!
Piassa, one of the oldest neighborhoods in Addis, has some of the city's best art deco and midcentury architecture. Take a minute to admire Itegue Taitu Hotel's beautifully maintained woodwork and intricate details, from the wide, inviting columns to the majestic doors. Built around 1905 and named for Empress Itegue Taitu, wife of Emperor Menelik II, the hotel has a beautiful terrace from which to take in views of the city.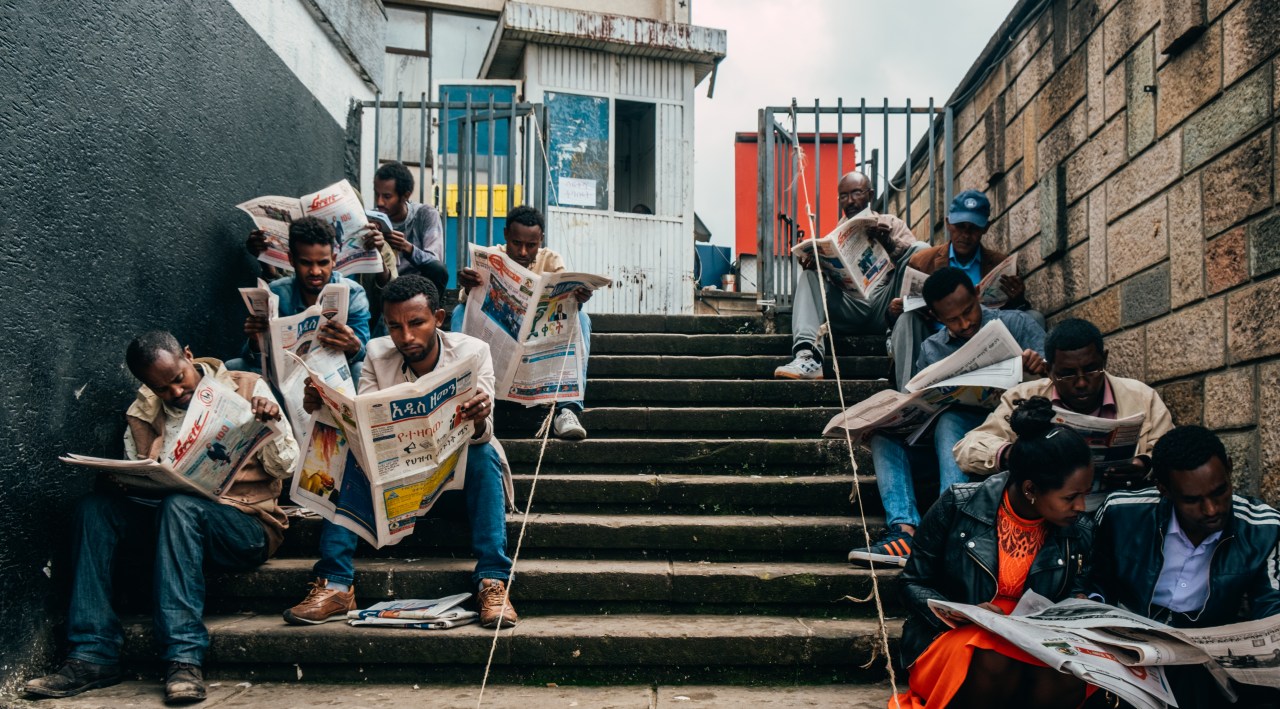 Don't leave Piassa without visiting Africans Bookshop, which sells books by Ethiopian literary giants such as Haddis Alemayehu, Laureate Tsegaye Gabre-Medhin, and Sebhat Gebre-Egziabher. Take your new book to the steps of nearby Arat Kilo Roundabout Post Office, where Addis Ababans read newspapers on loan from nearby vendors.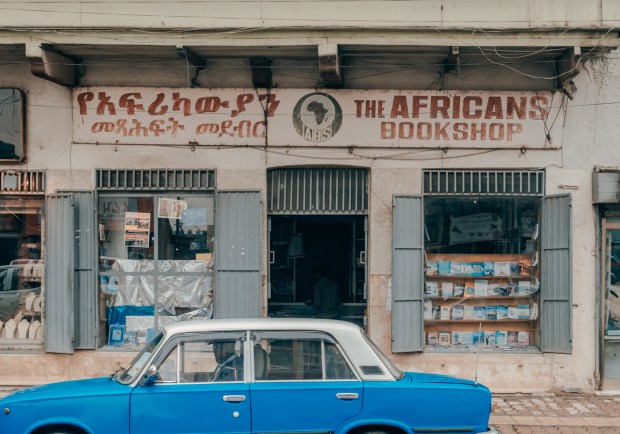 You can tell as you approach Addis Ababa Restaurant from the street that it's seen better days: The paint has faded from its wide walls; the doors creak open as you're invited inside. The '70s decor makes it feels as though you've traveled back in time to Addis' feudal past, without the oppression.
Try the tibs, beef cubes cooked to a crisp and oozing with scrumptious fat juice, and goden, rib meat. Accompany them with some tej, honey wine made with local gesho leaves. The drink's sweetness masks its punch. Those familiar with the liquid gold say your knees lock after a few bereles (beakerlike glasses) of the stuff. Sober up with a cup of coffee, slow-brewed over charcoal for an added kick.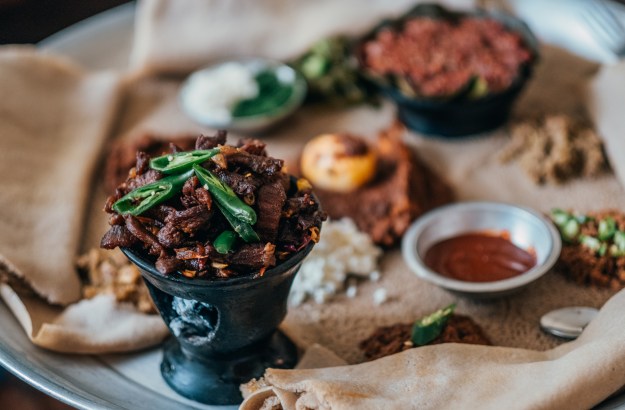 After all that eating and drinking you might need something a little stronger than coffee to keep you going through the afternoon. This is a perfect time for the popular (albeit shunned in some circles) pick-me-up called khat. A stimulant and dopamine enhancer, khat grows and is mostly consumed in East Africa and the Middle East. Chewing the leaves gives most people a sense of focus called merqana and can also make the chewer very talkative.
Buy some leaves at Beleche Khat Bet, and take a cab into the hills of the vast, leafy Entoto neighborhood toward the Enqu Ledeta Lemariam Church. Rest in the nearby grass meadow that overlooks the city, and take a moment to reflect on the phenomenally growing, living, breathing, ever changing marvel that is Addis.
Addis has a burgeoning art scene, with regular exhibitions sprinkled across the city, and Addis Fine Art is arguably one of the city's best-curated galleries. Boasting a range of well-known and up-and-coming artists, it showcases some of the most beautiful pieces from exciting artists, with an emphasis on those from Addis.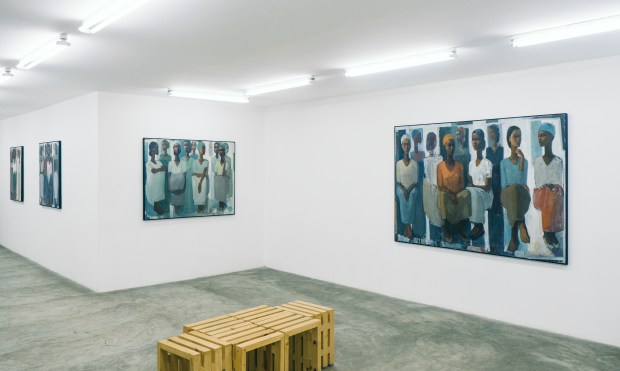 Despite being one of the oldest cafes in the city, Village Cafe is open to outside influences: Here you will find tasty Mexican treats, ranging from tacos to tequila. Order a tej mojito (honey wine muddled with mint and limes), listen to hymns from neighboring Estifanos Church, and watch passersby as they head home from the office.
Take a cab to Gebeta, which serves homestyle dishes like misir be siga and beye aynetu in a welcoming, verdant, outdoor setting. On Sundays and various nights throughout the week, live bands play everything from reggae to Ethiopian pop, drawing a young, hip crowd.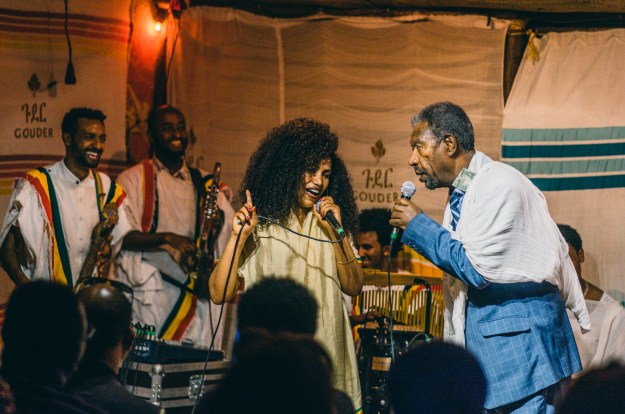 Although new clubs and bars open in Addis every week, visiting an azmari house is still the best way to end the day. A traditional freestyle singer, the azmari makes up clever, witty lyrics on the fly, often while playing a one-string instrument called the masinqo. There is usually an accompanying drummer. The azmari makes the rounds, poking fun at patrons, expecting a tip in return. It's one of the few places in Ethiopia where mostly taboo topics like sex and politics are openly discussed and where women have equal, if not higher, footing than their male counterparts.
The iconic Fendika is one of a very few institutions that survived the redevelopment of the Kazanchis neighborhood. For years the bet's loyal clientele petitioned for its preservation, and last year they raised funds to prevent its sale and demolition.