Hủ tiếu Mỹ Tho
Mỹ Tho is the capital of the Southwest province of Tiền Giang and is considered the gateway to the Mekong Delta. Hủ tiếu was brought to Vietnam by Chinese immigrants in the 1960s and became very popular in the south. There are many versions of hủ tiếu but the Mỹ Tho dish became widely known because of the noodles, made from a variety of rice from the nearby town of Gò Cát. Hủ tiếu was traditionally served in moving carts by Chinese-Vietnamese but is now present in numerous brick and mortar locations across Southern Vietnam.
The sweetness of this noodle soup comes from braising pork marrow bones, dried squid, and whole onions together. The broth is ready when the bones are soft and onions completely translucent. The richness of the soup is paired with perfectly soft and chewy rice noodles. A colorful bowl of hủ tiếu Mỹ Tho is typically topped with ground pork, shrimp, pork liver, quail eggs, green onions, celery leaves, chives, and bean sprouts.
Where to eat it: Thanh Xuân, 62 Tôn Thất Thiệp, District 1, Hồ Chí Minh City
Bún riêu
This crab-based noodle soup requires few ingredients—freshwater crabs, tomatoes, tofu, and rice noodles—but requires a very labor intensive cooking process. Bún riêu is a specialty of Hà Nội and is widely consumed by Vietnamese from all walks of life because it's inexpensive and considered to be quite nutritious. As the dish spreads from the capital to other parts of the country its flavors and presentation begin to vary.
A tasty bowl of bún riêu begins with a big pot of broth made from freshwater crabs, which can easily be caught in the river deltas of Vietnam. The top shell is removed and the crabs are prepared in several stages. First, they are mashed in a big wooden mortar to release all the meat and flavors, then sieved to get rid of the shells. This process is repeated several times until all the meat and juice is extracted. The extraction is then simmered for hours until the crab meat solidifies and floats to the top of the pot. The end product is a flavorful broth with an attractive light red color from fresh tomatoes, a slightly sour taste from tamarind, and deep richness from the simmered crabs. It is served with rice noodles, fried tofu, and topped with green onions, shredded banana blossoms, julienned water spinach stems, and fresh basil.
Where to eat it: Bún Riêu Hàng Bạc, 11 Hàng Bạc,Hoàn Kiếm District, Hà Nội
Bún ốc
Ốc means snail in Vietnamese. Bún ốc, a snail noodle soup, is another specialty of Hà Nội and another comfort food whose flavors depend largely on family recipes. No matter how many disagreements there might be surrounding how to make a proper traditional broth for bún ốc, all Vietnamese chefs can agree that the dish absolutely requires fresh snails—ốc nhồi or ốc bưuu—dấm bỗng, a vinegar made from rice, and ớt chưng, a chili jam.
Besides a whole, fresh goose, the essential ingredient of bún ngan is dried bamboo shoots, a staple of Vietnamese cuisine. Once boiled and rehydrated, the dried bamboo shoots have a chewy tenderness and fragrance that would remind any Vietnamese of comforting stews. The flavor of bún ngan is built slowly by simmering the whole fresh goose until the meat is cooked just right and intensified by adding dried bamboo shoots stir-fried with shallots and onions. This dish is simple but subtly complex and can drive residents of Hà Nội to very small alleys of the city to find a good bowl.
Where to eat it: 10 Trung Yên Alley, Hàng Bạc Street, Hoàn Kiếm District, Hà Nội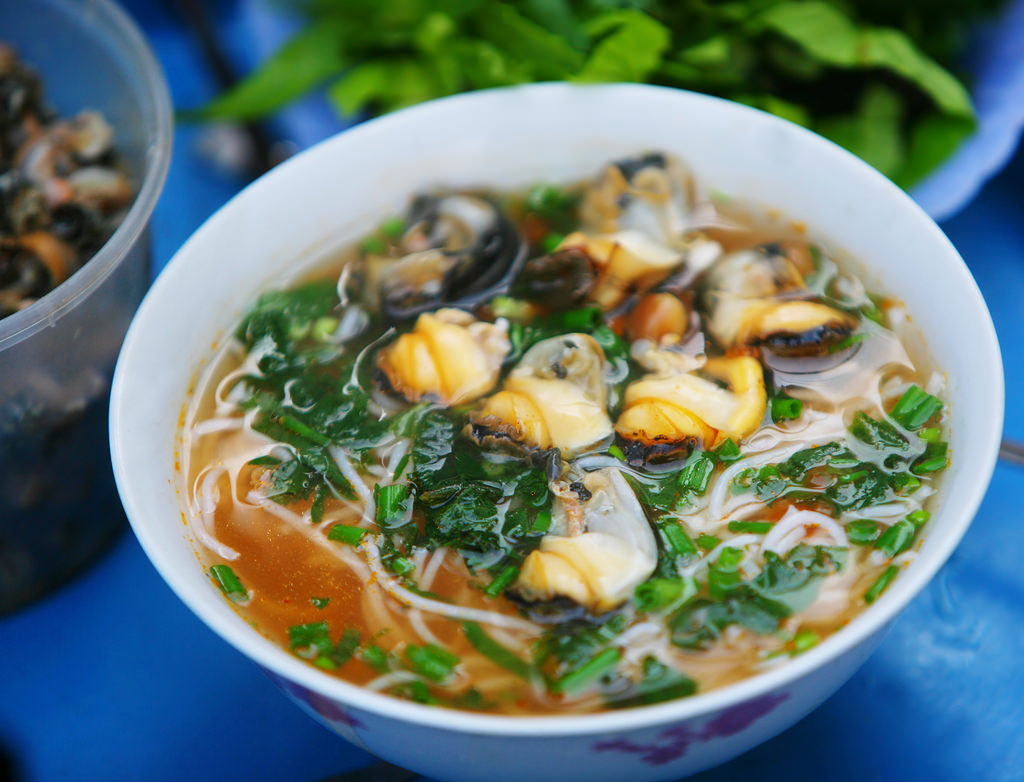 The clear, beautiful broth of bún ốc should satisfy not only your taste buds but also your senses of smell and sight. The carefully chosen snails have to be first submerged for at least an hour in a mixture of rice water, sliced fresh chili and lemon. The traditional method uses the leftover rice-soaking water to remove the slime from snails. The clean snails are then cooked in boiled water to make a base for the noodle soup broth. Cooked snails are individually removed from their shells and stir-fried with garlic and shallots to enhance their flavor. Tomatoes are added to the broth to render it a stunning shade of light red, and rice wine vinegar adds a slightly tangy note. A bowl of bún ốc is served with rice noodles in the delicious broth, topped with fried tofu, snails, green onions, chili jam, and fresh perilla, a minty herb.
Where to eat it: Bún Ốc Cô Lan, 139 Khương Thượng, Đống Đa District, Hà Nộ
Bún mọc dọc mùng
Dọc mùng, the star of this noodle soup, is also known as bạc hà in southern Vietnam. It is the fleshy stems of a plant called Colocasia gigantea, or giant elephant ear. When cooked, the stems have a spongy texture, which serves as the perfect vehicle to carry the flavors of broths. Bún mọc dọc mùng is a noodle soup with giant elephant ear stems and meatballs. This dish is so typical and popular in Hà Nội that it is consumed in every household and most street restaurants for all types of meals: breakfast, lunch, afternoon snack, dinner, even late night eats.
As with all other noodle soups, the craft of making the broth is an art that defines this dish. The broth of bún mọc dọc mùng is judged by its clarity, and is made from hours of simmering a combination of pork ribs, hock, and feet. The meatballs are made with a mixture of ground pork, mushroom, and seasoned with salt, fish sauce, and rock sugar, then cooked in the broth. The elephant ear stems are peeled, sliced and added to the soup. A bowl of bún mọc dọc mùng is satisfying with every bite of rice noodles, savory meatballs, thinly sliced pork hock, and soft dọc mùng that has absorbed all the flavors of the broth.
Where to eat it: Look for the big pot of steaming soup on the sidewalk right in front of the alley at 62 Đại La, Hai Bà Trưng District, Hà Nội.
Miến lươn
In a small alley on Nguyễn Chế Nghĩa street in Hà Nội, a tiny family restaurant specializing in miến lươn is known for selling over two hundred pounds of eels per day. This is just one of the hundreds of hole-in-the-wall eateries that sell miến lươn, eel noodle soup, in the capital city, and it's a great example of how much this dish is loved and worshiped. Miến lươn is also very popular and considered to be a specialty of Nghệ An, a province on the north central coast of Vietnam. As rice agriculture is common in Southeast Asia, eels are farmed in polyculture rice fields and are often produced along with rice crops.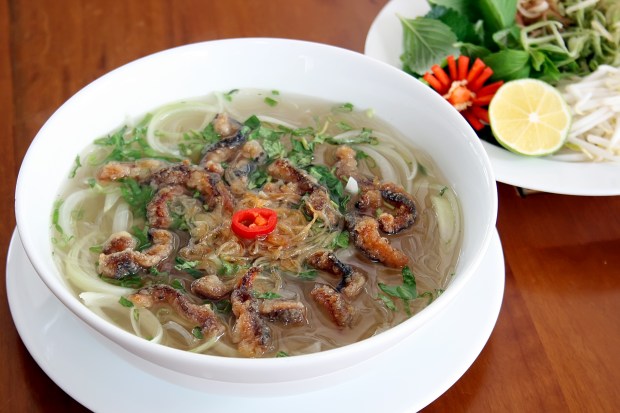 Traditionally in the countryside of Vietnam, ashes from wood stoves were rubbed on eels to clean off the slime and smell. Today, fresh lemon is used instead. Broth is made with the bones and heads while the eel meat is deep fried or stir fried. A steamy bowl of miến lươn is truly comforting to the soul and is served with a fragrant broth, chewy vermicelli noodles made from arrowroot, flavorful pieces of eels, bean sprouts, crispy fried shallots, and Vietnamese coriander.
Where to eat it: Ms. Nhung sells her famous miến lươn in the small alley next to her house at 7 Nguyễn Chế Nghĩa, Hoàn Kiếm District, Hà Nội.
Bún thang
Bún thang is a complex and sophisticated specialty of Hà Nội, requiring more than twenty ingredients. The main part of the Vietnamese New Year Tết is celebrated with family over three days; it is believed that bún thang was born on the fourth day of Tết when all the excess food from family celebrations was combined artfully into one noodle soup dish. Due to this tradition, bún thang used to only be consumed during the holidays and represented the culmination of a multi-day feast. However, today the dish has been popularized and has become an inevitable part of the bustling street food scene in Hà Nội.
Making the broth for bún thang takes hours of meticulous attention. It starts with boiling a whole chicken to make a light chicken stock. Once the cooked chicken is removed, pork bones and dried langoustine are added and simmered with dried shiitake mushroom and whole shallots. The intricate broth concocted with a balance of chicken, pork, and langoustine is just half of a refined bowl of bún thang. This noodle soup is only complete with an intense array of toppings, including chicken meat, thin strips of duck omelet, shredded dried langoustines, sliced shiitake mushrooms, julienned pork sausage, green onions, pickled white radish, Vietnamese coriander, a tiny bit of shrimp paste, and sometimes even a drop of cà cuống—a very expensive extract from a giant water-bug—that is very potent and intensifies the soup with a hint of cinnamon and pepper.
Where to eat it: Bún Thang Bà Đức, 48 Cầu Gỗ, Đống Đa District, Hà Nội
Bún ngan
Hanoians are so creative with their noodle soups that just when you think there couldn't be any other types, you learn that a dozen other kinds exist. Unlike bún riêu or bún thang which have become icons of Vietnamese cuisine, bún ngan—a noodle soup with goose meat—is rarely found outside of Hà Nội. However, in the capital city, bún ngan is widely popular and very affordable.
Bún bò Huế
Bún bò Huế, as indicated by its name, is a specialty of the former capital Huế located in the center of Vietnam. This noodle soup features a beef broth, which helps trace its birth to around the 19th century at the beginning of the French presence in Vietnam. Cows and buffalos were traditionally used for agriculture and not for consumption until the Western presence in Southeast Asia introduced beef to Vietnamese cuisine.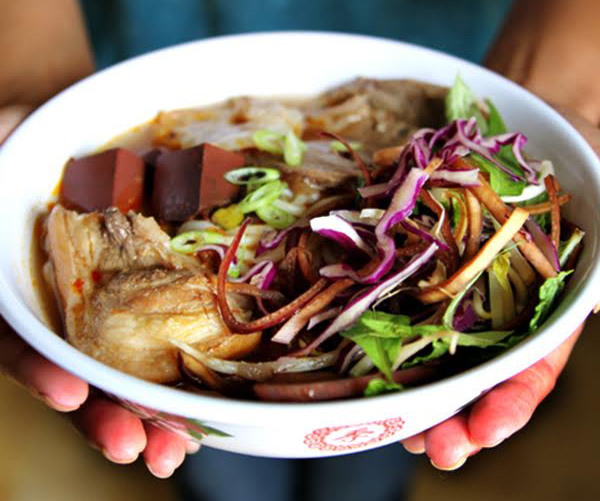 The bún rice noodles in bún bò Huế are much thicker than those in bún dishes from the north. And its broth is very typical of the Vietnamese cuisine from the central region, which is spicier and bolder in flavors than the gastronomy in the rest of the country. A good bowl of bún bò Huế is distinctly perfumed with lemongrass and colored by annatto oil. This delicious noodle soup is topped with pieces of beef brisket, thinly sliced pork hock, and lean, garlic-inflected Huế style sausage made from pork. No bowl of Vietnamese noodle soup would be complete without an assortment of fresh herbs and bún bò huế is no exception. It's usually accompanied by julienned water spinach stems, banana blossoms, Vietnamese coriander, fresh onions, green onions, and very spicy chili jam.
Where to eat it: Bún Bò Gánh, 110 Lý Chính Thắng, District 3, Ho Chi Minh City
Mì Quảng
Quảng Nam, where mì Quảng comes from, is a region in central Vietnam where the majority of residents work in agriculture. Mì usually indicates a type of noodle made with eggs and wheat flour and is not traditionally Vietnamese. However, the mì in mì Quảng is actually a type of wide noodle made by hand out of rice and is uniquely produced in Quảng Nam.
Unlike other Vietnamese noodle soup, mì Quảng is unique not because of the broth or the toppings, but because of the noodles. Every region in Vietnam tends to claim that its regional rice is superior to others; because of the variation the rice noodles of each region will also vary. Here, a type of rice produced in Quảng Nam has to be soaked overnight, then ground together in a large stone mortar until the mixture becomes smooth. A bit of turmeric is added to the ground rice which is then flattened out into a thin sheet of noodles and cooked. The big sheets of cooked noodles are cut into wide strips and brushed with peanut oil to avoid sticking. The final product is extremely delicate noodles lightly scented with peanut and beautifully colored with turmeric. The broth for mì Quảng is thick and can be made with beef, chicken, pork, shrimp, or a variety of fish. The toppings may also vary but always include grilled rice crackers, fresh green chili, crushed peanuts and young mustard greens.
Where to eat it: Mì Quảng Bà Mua, 19-21 Trần Bình Trọng, Hải Châu District, Đà Nẵng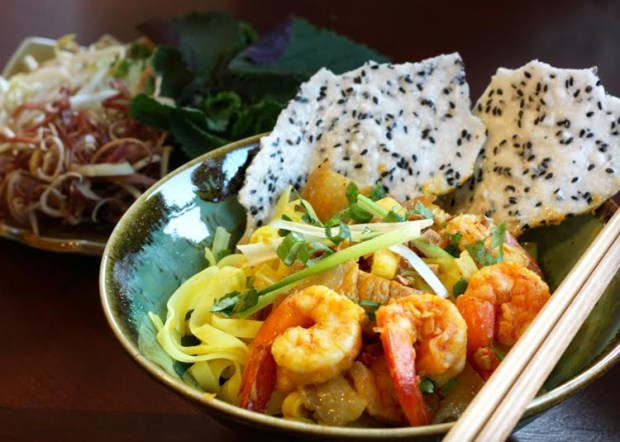 Bún cá Ninh Hòa
Another noodle soup that is associated with a specific region is Bún cá Ninh Hòa, named for a beach town in the province of Khánh Hòa. Not many know of Ninh Hòa but everyone who has been to Vietnam is probably familiar with Nha Trang, the charming seaside city on the South Central coast. As neighbors, Ninh Hòa and Nha Trang both share the fish noodle soup bún cá as a culinary specialty. Many coastal cities in Vietnam have their own version of fish noodle soup but bún cá Ninh Hòa is considered by many to be the most unique. Since Ninh Hòa is a fishing town, it prides itself in using the freshest fish in the famous bún cá.
This noodle soup features a broth made from brassy chubs, named for their bronze appearance, and fish cakes made from black scrawled cowfish, so-called for their black skin and the two horns over their eyes that look like cow horns. Bún lá, the noodles served in this dish, are also known to be specifically produced in Ninh Hòa. The noodles are handmade from rice and divided into small swirls, each of which is placed on a small piece of banana leaf to avoid sticking. The highlight of this dish is the harmony of the light fish broth, delicate fresh noodles, flavorful fish cakes, and fresh basil.
Where to eat it: Bún Cá Ninh Hòa – Kỳ Đồng, 17 Kỳ Đồng, District 3, Hồ Chi Minh City