Bourdain-isms
"Hawaii is America, as American as anything could possibly be, yet it also never shed what was there before in the layers and layers that have come since."
"Does it matter that it's America?"
"It's not a particularly welcoming or friendly part of the world. Contrary to—sort of—the 'aloha' myth."
"The Hawaiian Islands are not a monolith. Islands, that's plural, and we're talking eight very different islands with very different identities."
"A simple question like 'Who is Hawaiian?' gets you all kinds of answers."
"How many generations does it take? I mean, who qualifies as Hawaiian?"
To Hawaiians on Molokai: "So you've really disappointed me. You in no way lived up to your reputation as mean, inward-looking, hostile. Come on, admit it: It's a calculated strategy."
"If you're watching this show, I hope your heart is swelling with admiration. But bottom line: Don't come here."
"The ocean is all around for thousands of miles: a humbling feeling, knowing at all times the ground upon which you live and walk and breathe is but a tiny speck in the middle of all this."
"Maui is an island as beautiful as it gets. And, sure, it's got its share of portion-controlled cruise-line entertainments, doled-out and digestible bites and complimentary mai tais. But you'll also find a sort of beloved institution like Tasty Crust—as local a place as you're likely to find."
"Behold, bitches—the plate lunch."
Eats
232 Kalihi Street, Honolulu, HI 96819
808-847-6467
Bourdain ate: miso soup, pigs feet soup, tripe, taco rice (taco fillings on a bed of rice—an Okinawan specialty).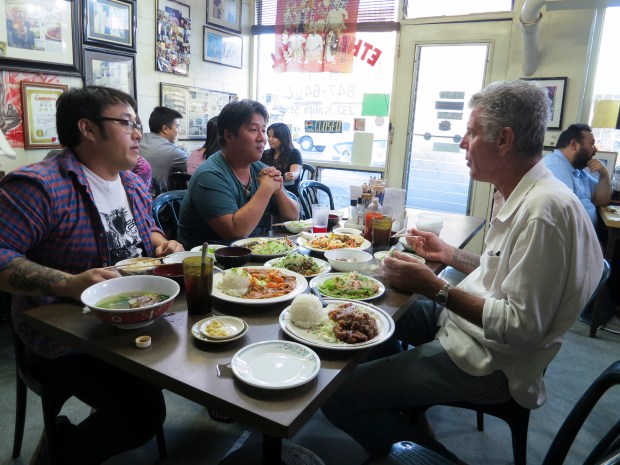 3435 Waialae Avenue, #104, Honolulu, HI 96816
808-735-5900
Bourdain ate: pan-roasted mahi-mahi.
1770 Mill Street, Wailuku, HI 96793
808-244-0845
Bourdain ate: A plate lunch: white rice, potato-mac salad ("There is nothing more Hawaiian," Bourdain says), chicken katsu, hamburger steak in "sinister" gravy, seared ahi with nori and sesame seed.
Hawaii as a microcosm of the world
For Hawaiian journalist Daniel Ikaika Ito, his ancestors offer an example of how to move forward in a world grappling with the effects of climate change.
"The beautiful part about my ancestors is they realized there was a limited number of resources where they lived. So they observed nature," he tells Bourdain. They set out to "figure out what were the cycles and how do we preserve this resource? Hawaiian culture can teach the whole world something that it needs to know. … We all live on an island."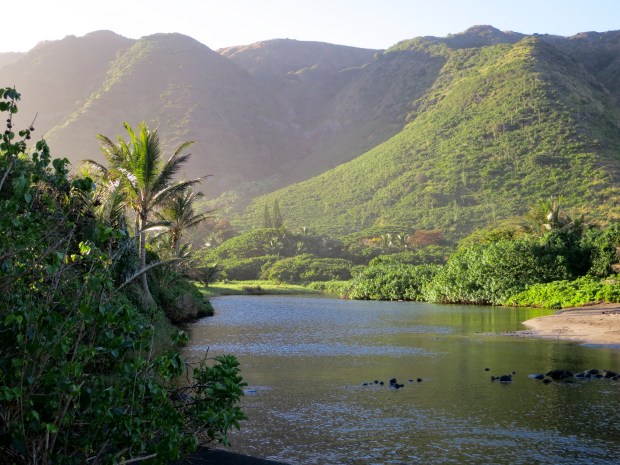 Sidekicks
Andrew Le: chef behind Hawaiian Vietnamese restaurant The Pig & the Lady.
Mark "Gooch" Noguchi: chef restaurateur at Mission Social Hall & Cafe and sustainable food movement advocate.
Paul Theroux: Hawaii-based travel writer and author of iconic 1975 travelogue The Great Railway Bazaar. 
Daniel Ikaika Ito: Hawaiian journalist and founding editor of Contrast Magazine.
Nainoa Thompson: iconic Hawaiian navigator who in 1980 replicated his people's ancient maritime route to Tahiti; president of the Polynesian Voyaging Society.
Walter Naki: Molokai spearfisherman.
Walter Ritte: Activist from Molokai who protested the U.S. military's use of the neighboring island Kaho`olawe as a bomb range.
Hanohano Naehu: Molokai community leader and educator who is a caretaker for the Keawanui Fish Pond.
Uncle Ross: Waterman, canoe surfer.
Shep Gordon: Renowned talent manager and producer behind acts including Pink Floyd, Luther Vandross, and Blondie.
Joe Mobley: University of Hawaii professor who studies humpback whales.
Debunking the "aloha" myth
Don't expect a warm welcome, Bourdain says in this episode of Parts Unknown, despite the fact that Hawaii conjures images of locals welcoming visitors to resorts with floral leis.
A resentment toward outsiders isn't particular to Hawaii, says Paul Theroux, Hawaii-based author and travel writer.
"Did anyone ever come to an island with a good intention?" Theroux remarks to Bourdain, adding that one finds the same simmering tensions toward newcomers in Nantucket, Sicily, or Corsica.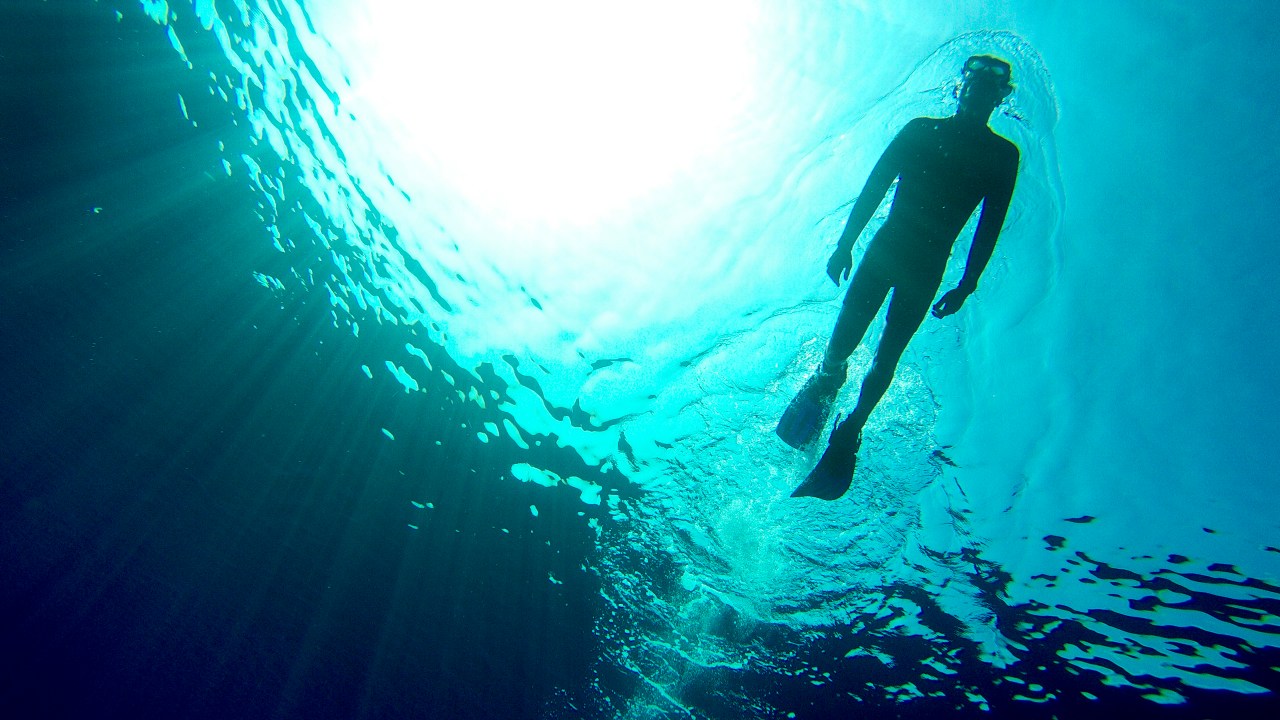 Gone fishing
When fishing for octopus in Molokai, you can coax the octopus out of its hole with a spear and then lift it above water and beat it with a mallet. Or, for a more traditional approach, you can bite it in the brain.
Which Bourdain, perhaps unsurprisingly, does—even if it takes him a few tries to find what he describes as a "Chiclet-sized organ."
Lingo
Haole: a person who is not an indigenous Hawaiian.
Hōkūleʻa: a double-hulled sailing canoe; a replica of the kind of craft believed to have been used by ancient Polynesian navigators.
Friendly Island: A sardonic nickname for Molokai.
ʻĀina: Hawaiian word for "land"; it translates literally to "that which feeds you."
Ohana: Hawaiian word for an extended circle of family and close friends.
Kūpuna: Hawaiian word for ancestors.
Imu: Traditional Hawaiian pit oven.