Hong Kong bustles with a reputation for speed and neon and brutish blocks of concrete and glass that shoot up into the sky. The territory, with more than 7 million residents, is a city of Blade Runner references and high-contrast Wong Kar-wai vignettes. It's a veritable melting pot.
But if you look closely, you'll see that Hong Kong's polish is actually a hard-earned patina, that it's a city of working-class grit. After decades of rapid modernization, there's been a shifting of gears as residents start to take stock of who they are and what they represent.
For every soulless commercial megamall, there is a network of independent businesses that celebrate this city's heritage and its future. If possible, visit during the cooler autumn and winter months, when the city's walkability index soars.
The perfect day in Hong Kong is filled with pit stops that feed the soul, from the decades-old family businesses that stand defiant to the creative young guns who challenge and invigorate the status quo. It's where, between the shock of the city's changing tides, you can find pockets where you feel that unwavering Lion Rock spirit—that scrappy resourcefulness, resilience, and solidarity—that made Hong Kong what it is today.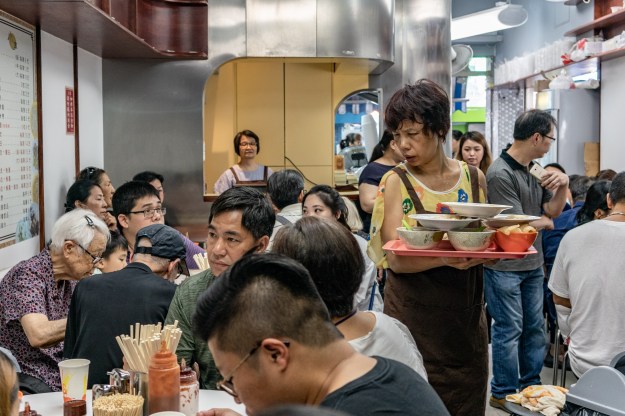 The working-class Kowloon neighborhood of Sham Shui Po, known for its densely packed street markets, is a fiesta of slow-moving bodies, squawking electronics, and dusty secondhand treasures—and the perfect spot to awaken your senses. Start the day behind the market stalls at Hop Yik Tai. Join the queue for freshly steamed cheung fun (rice noodle rolls), tightly wound like 35-millimeter film and slathered with sweet soy, sesame, and hoisin sauces along with a smattering of toasted sesame seeds. Don't bother sitting; join the denizens as they hunch over their steaming platefuls in the cramped alleyway, then toss your plate in the plastic bucket when you're done, because it's time for your second breakfast.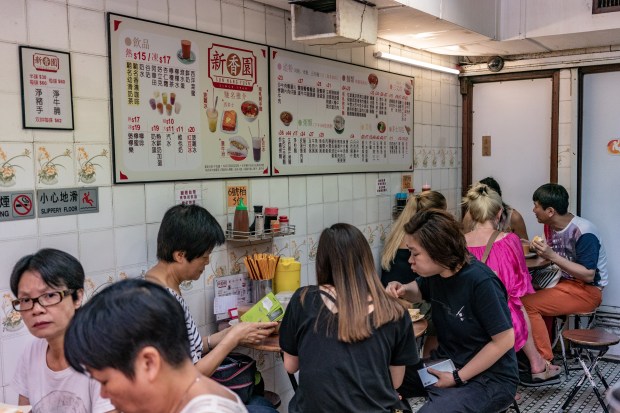 Hop over to Sun Heung Yuen (38 Kweilin Street) across the road, a classic Hong Kong diner that's open 24 hours a day. Settle in with the quintessential Hong Kong breakfast beverage—steaming cups of rich milk tea—paired with Sun Heung Yuen's signature corned beef and scrambled egg sandwiches. (The experts ask for the bread hon dai, or toasted, for the perfect soft-to-crisp ratio.)
After breakfast, the natural course would be to explore the cacophony that awaits on the streets of Sham Shui Po. This area was the heart of Hong Kong's garment industry in the 1970s, and although the factories have since moved north to mainland China, the streets still brim with reams of fabrics and coils of beading and sequins, with fashion students and savvy seamstresses haggling their way through Yu Chau, Ki Lung, and Tai Nan streets.
Make sure to take a look around you as you make your way up and down these roads. In recent years, the area has become a hotbed for artists who have made their mark on the local fabric of the community via HK Walls, a nonprofit arts organization that organizes an annual street art and mural festival in neighborhoods around Hong Kong. Seeking out these flashes of unexpected street art—from Spanish artist Okuda's "Rainbow Thief," a kaleidoscopic, smiling doglike creature on 180 Tai Nan Street, to Italian painter Peeta's futuristic mural on the Golden Computer Arcade—has become a part of the Sham Shui Po experience.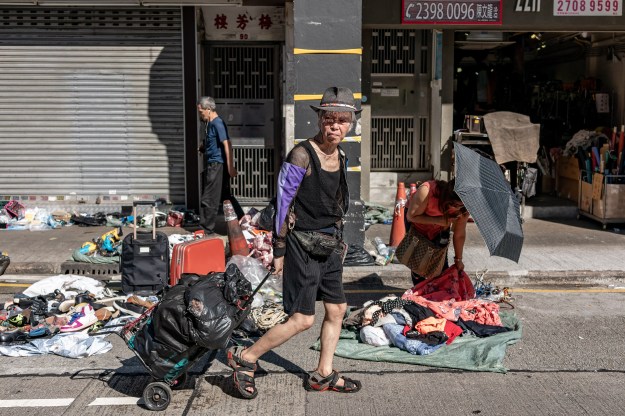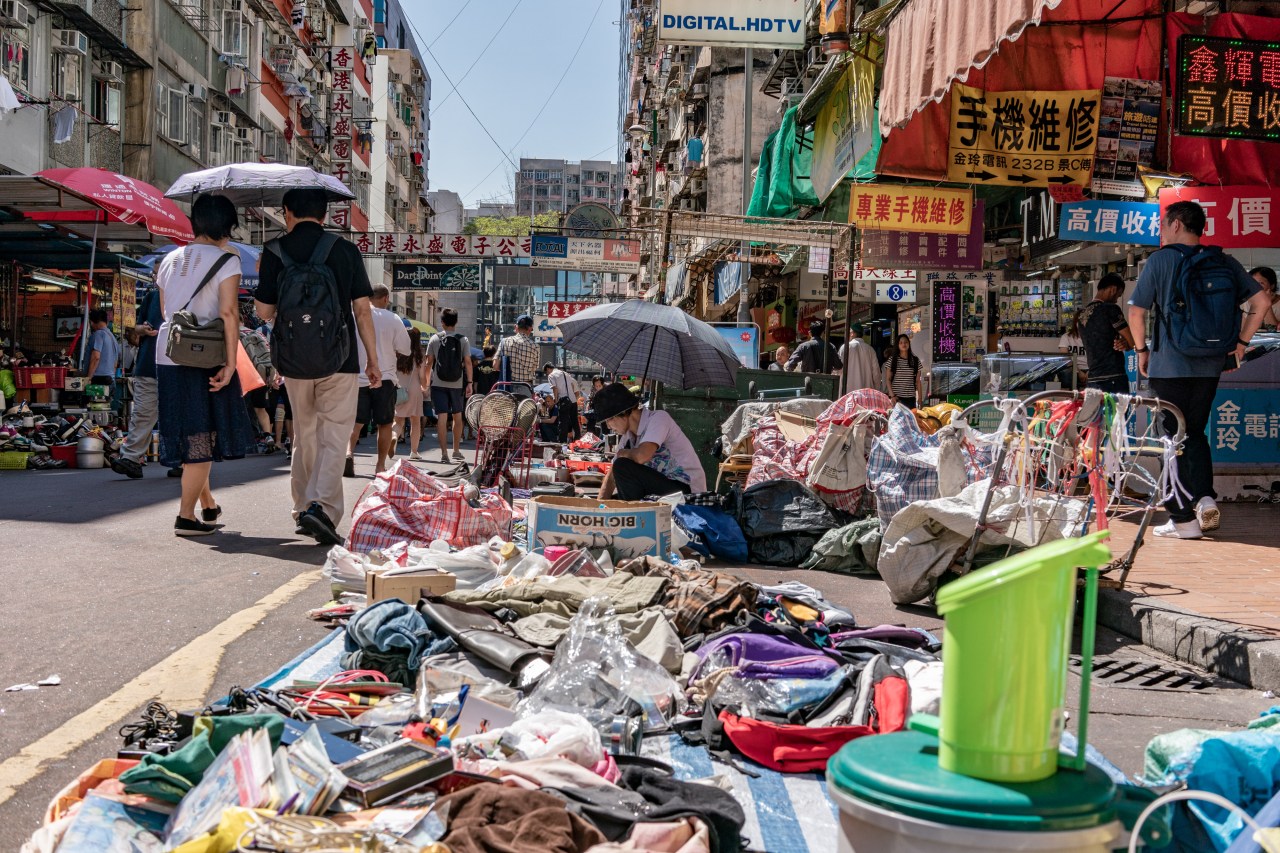 It's not all old guard here. An independent bookstore, art gallery, makerspace, and coffee shop all in one, Common Room & Co. is part of the emerging breed of multifaceted and multiuse spaces popping up in low-rent areas where youthful creativity can bloom. Head here for a quick breather and contemplation over local zines. The space gets busy in the afternoon but is relatively meditative in the morning and a balm to counteract Sham Shui Po's relentless chaos. The baristas can, of course, grind you up a fine hand-drip coffee, but you can also self-brew using Common Room tools and beans.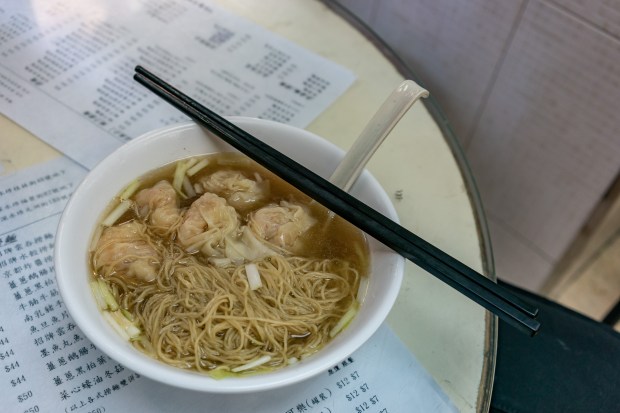 If you're to do Hong Kong like a local, then it's already time for your next meal. Carbs are taken seriously here, and a stalwart such as Lau Sum Kee is the place for aficionados looking for traditional wonton noodles. This old favorite started as a roving street vendor in the 1940s in Guangzhou, then was a dai pai dong (open-air street stall) in the '50s before becoming brick and mortar in the Sham Shui Po area in the '90s. The distinctive al dente texture of the thin, alkaline noodles is still achieved through bamboo-pole kneading—a dying craft in the era of mechanization. Make sure you get two versions of the noodles to truly appreciate their bouncy texture: a classic wonton noodle in soup and a "dry" noodle with shrimp roe, with the soup on the side.
Continue your walk north from Lau Sum Kee toward Shek Kip Mei for the Jockey Club Creative Arts Centre, located in a former a factory estate, a registered charity dedicated to supporting the spectrum of arts. The slightly grass-roots aesthetic of the studios is a testament to the diversity of artists and designers who have set up shop here, creating an art village of over 140 tenants. If you're lucky enough to visit when one of the center's quarterly handicraft markets is on, be prepared to load up on independently designed, keenly priced leatherwork, delicate jewelry, and accessories emblazoned with esoteric illustrations, from cheeky shibas to anthropomorphized forms of Hong Kong transport.
On a perfect day, you'll find a taxi driver who will happily take you across the harbor to Hong Kong Island, but if that proves impossible, the MTR (Mass Transit Railway) will get you there too, with little difficulty. Make your way to Sheung Wan, a slowly gentrifying district that still has plenty of local charm. One of my favorites is the family-run Fukien Tea Co. on Mercer Street, now being run by a third generation of Yeungs. There are no complicated scales, mineral waters or fussy preparations here, just proper roasted tie guan yin (its signature oolong tea) and aged puerh (fermented tea), various infusions of which you can sample alongside Yeung Ting-Hui, the second-generation tea master, and Ah Gum, the family's amicable white cat.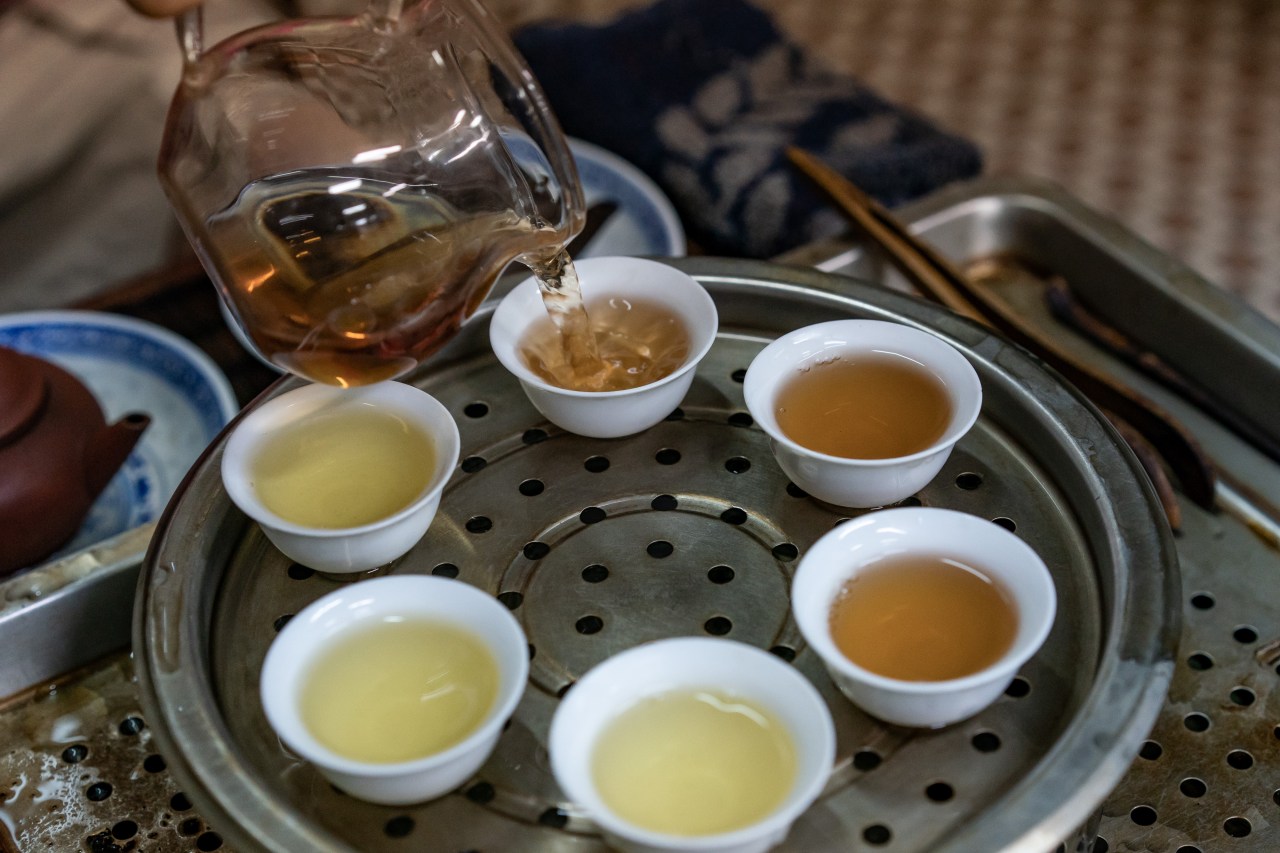 Hong Kong is a city of fading history. While many architectural gems have disappeared, often torn down to make space for more profitable luxury residences and commercial buildings, the former Police Married Quarters in the heart of the business district is one example of a redevelopment project with a purpose, and it's less than 10 minutes from the Fukien Tea Co. on foot. The venue runs as a nonprofit social enterprise and is dedicated to supporting local creative industries, housing initiatives such as Taste Kitchen, a culinary talent incubator, and PMQ Taste Library. The latter, set up by local writer and artist Craig Au-Yeung, is a must-visit for those with a love for the written word and culinary exploration. A day pass can be bought for $4, which allows you to peruse the library's deliciously unparalleled collection of cookbooks, food literature, gastronomic magazines, and more.
For an aperitif, this small, smart bar serving superlative cocktails priced under $13 is a unicorn in a city where overwrought, unnecessarily complicated libations command nearly double that amount. As the name suggests, this Hemingway-inspired watering hole is a class act, with strong structured drinks that are best when savored slowly. Bartender Agung Prabowo is a local legend, with a mischievous streak that translates into cocktails that might include curry leaf-infused gin or a touch of gruyere in an egg white foam.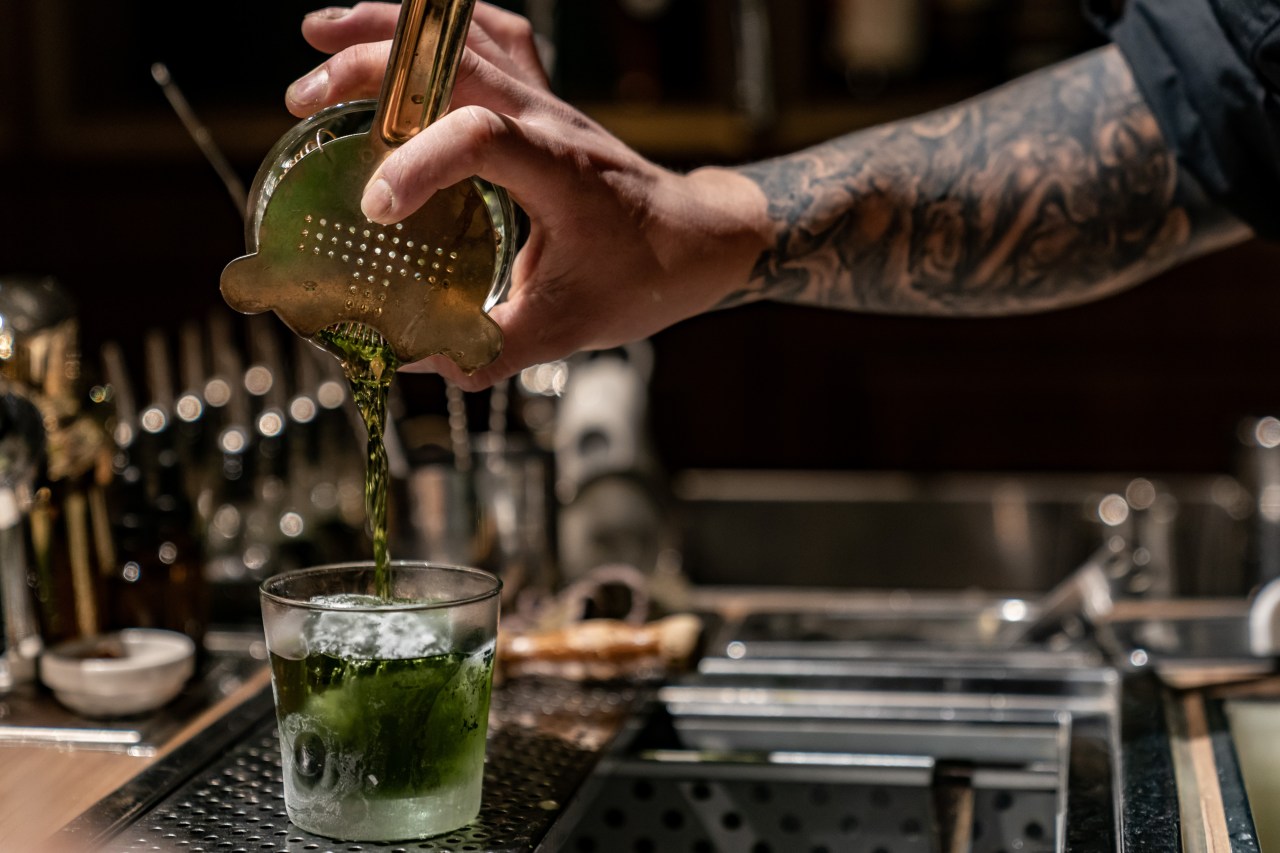 Hong Kong's food scene is growing up, with a generation of local chefs reaching deep into their roots to discover sources of inspiration. From your preprandial cocktail at the Old Man, it's a few skips across the road before you enter Happy Paradise (a name that chef-owner May Chow chose to conjure thoughts of shady massage parlors and karaoke dive bars). You might not expect progressive Cantonese gastronomy to turn up on the neon-lit lino tabletops, but there you have it. Be sure to order items that speak of Chow's Hong Kong upbringing, from the sparkling take on wok-fried beef rice noodles brightened up with salted lemon to the sweet-and-sour thick-cut pork chop zhuzhed up with mixed berries and pickled onion.
End the night with a glass of wine at one of Hong Kong's loveliest little gems, where the house pour is anonymous but the music is fresh. At Visage One, owner Benky Chan plies his trade as a hairdresser by day, and every Saturday he turns his intimate salon into a jazz bar of sorts, sharing his love for sound with a motley assortment of fans who fill the room, perched on anything from the wooden staircase to stout stools on the mezzanine above. The one rule is simple: Don't talk when the musicians are playing. In the glow of candlelight, it's easy to see why Chan's sanctuary is so treasured; it's where you're likely to be rubbing elbows with strangers, with the understanding that a place like this will stay, for now, blissfully suspended in time. It's a raw and rare experience that goes against the current of the ever-changing landscape beyond its concrete hideaway.
If you don't find yourself in Hong Kong on a Saturday, get your jazz fix at Peel Fresco (49 Peel Street, Central), a local haunt of live-music geeks, thanks to its rotating roster of local talents (names to know: Nate Wong, Ted Lo, Eugene Pao) and visiting international artists. The drinks are standard, but you can always nip to Fineprint (38 Peel Street, Central) across the road between sets for a glass of natural wine from a small but intriguing list.