Every city needs a hero. Ideally it's a nourishing one, one that is dependable, approachable, and accessible to everyone—rich and poor alike. In New York, it's the dirty-water hot dog. In Beijing, it's jianbing (a street food similar to crêpes).
Here in Hong Kong, it's curry fish balls.
Street vendors often buy the fish balls pre-fried, then boil them and serve them up with curry and hot sauce to customers huddling around the booth.
This boil-and-sauce technique is, I suspect, designed more for speed than for flavor. Without being cooked in the curry, the fish balls are slightly bland. They draw their flavors from the sauces instead of being a single, together, perfect entity. The approach makes sense for street vendors, especially in this relentlessly expensive and fast-paced city.
But if you want to re-create curry fish balls at home—and I would argue that doing so honors the dish's complexity—you'll want to do things a little differently. You don't want to fancy it up—oh, f*** no. After all, this is street food, so for god's sake show some respect.
One thing to note: Hong Kong–style curry fish balls are a big, shameless orgy of various cuisines, chiefly Indian, Southeast Asian, and Fujianese. It's the perfect bastard child. I recommend keeping that in mind as you layer flavors in this dish.
You can, of course, serve your curry fish balls in a paper cup with toothpicks, street style. But I prefer to ladle them over a bowl of instant ramen for a legit, if not glorious, weeknight meal.
Cooking time: About one hour.
Ingredients:
(Serves
4 to 6)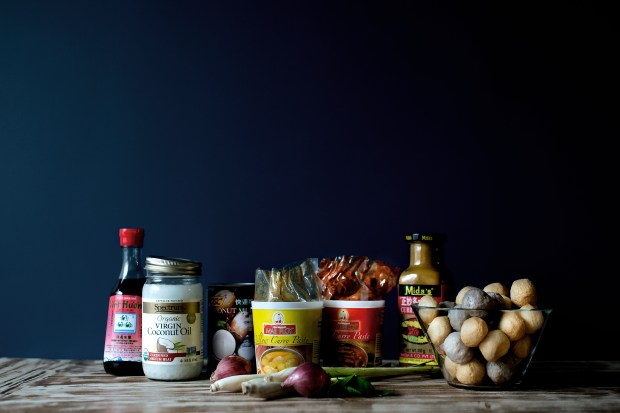 18.7 ounces Asian fried fish balls or an assortment of small meatballs
2 tablespoons coconut oil
4–5 small shallots, finely minced
1/4 cup Thai yellow curry paste
2 tablespoons Thai red curry paste
2 tablespoons curry powder
1 can coconut milk
1/2 can low-sodium chicken stock, plus more to taste
3 stems lemongrass, cut into segments
4 makrut lime leaves
2 1/2 teaspoons dark brown sugar
1 teaspoon smooth peanut butter
1/2 teaspoon paprika
1/2 teaspoon freshly ground black pepper
4 bricks instant ramen
Sriracha sauce to serve
Preparation:
Rinse the fish balls (or meatballs) to clean and set aside.
In a large pot over medium heat, add coconut oil and finely minced shallots and fry until the shallots are golden brown. Add yellow and red curry paste and curry powder, then cook for another 2 minutes until fragrant.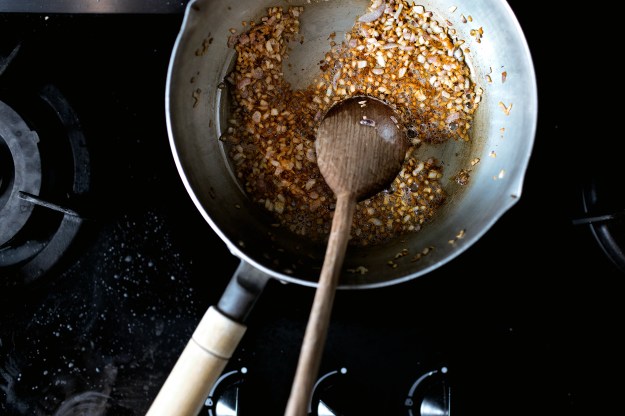 Add coconut milk, chicken stock (use the coconut milk can to measure), lemongrass, lime leaves, brown sugar, peanut butter, paprika, black pepper, and all the fish balls. Simmer.
Keep on a simmer for 40 to 50 minutes, stirring occasionally. Add chicken stock to bring the liquid back to its original level. It's ready when you see red fat starting to separate from the sauce.
Serve with toothpicks as a street food–style snack or over instant ramen. Either way, douse in Sriracha sauce.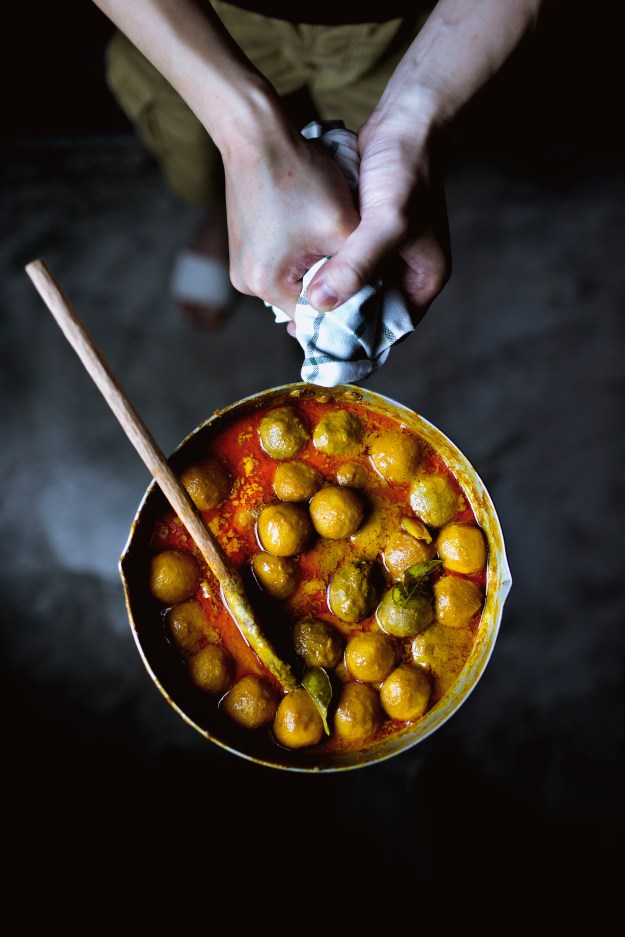 This essay and recipe are excerpted from the author's blog Lady & Pups.