As a member of the small community of expats living in Tehran, I earned a reputation: I knew where to eat.
More people are visiting Iran than ever before, but that's a very new phenomenon. During those lean years of few visitors, if you were an out-of-towner coming to spend a few days—especially if you weren't going to be invited to a home-cooked meal—you were lucky if you tracked me down.
I've been that guy in every city I've lived in, across multiple time zones and continents. But Tehran posed a unique set of challenges.
For one, it's massive. Also, despite the legendary hospitality of Iranians—or perhaps because of it—Tehran is not a city known for its restaurants. This made my skill at identifying the special ones that much more valuable to new arrivals and people just passing through.
Their reasons for coming were as varied as their appetites, and in a country where, for decades, eating out meant a limited range of kebab and bad fast food joints, they often left hungry, deprived of the opportunity to have a home-cooked meal of traditional Iranian food.
While Iran is newly accessible to many citizens of the world, Iranian cooks in the U.S. and Europe are sharing their cuisine with new and interested audiences. The popularity of the country's food is on the rise. The increased exposure is also heightening the demand for better restaurants, and new ones are popping up in Tehran all the time.
It pains me to say it, but it's been over three years since my last meal in a Tehran restaurant. That place is on this list.
Sitting down to a meal in one of my old hometown haunts any time soon seems out of the question for me. But here are the spots to go to—and what you should order—if you make it to Tehran before I do.
Arvand Kenar
This is where I would take guests I wanted to impress, especially if they were already familiar with Iranian food and bored with the limited options at most restaurants. It is possibly the most centrally located of all the eateries on this list, and it's impossible to miss, near one of the main intersections of Tehran's most important street, Valiasr.
The fava bean and dill rice with slow-cooked and braised lamb neck or shank is one of Tehran's best dishes. The secret to the rice is in the use of tallow, or sheep fat, in the cooking process. The smell may be a little much on first whiff, but the richness of the flavor is astounding.
They also do their own version of haleem bademjan, an eggplant appetizer with shredded meat and fried onions topped with whey, that eats like a complete meal.
Arvand Kenar
Kebab Mansour
A couple of doors up from Arvand Kenar on Valiasr is this humble place, specializing in "hot bread and kebab." It's a stripped-down version of the more elaborate kebab places and serves exactly what its decor implies.
Fresh baked bread in a clay oven and skewers of meat and tomatoes grilled over open flames. Have the koobideh (minced meat) and joojeh ba ostakhoon (chicken kebab with bones).
Kebab Mansour
Etminan
This is hands down the restaurant experience that the foreign guests I have entertained enjoyed most in Tehran. The simple and very old-school lunch cafeteria is located in the Tajrish Bazaar, in the northern part of the city. At the foot of the Alborz Mountains, Etminan is in the middle of the capital's smaller and less chaotic traditional shopping center.
There are plenty of places to eat in the vicinity, but Etminan's unpretentious food has been appreciated for decades. They have a rotating menu of stews, kebabs, and mixed-rice dishes, all in manageable portions, served up in steel bowls and trays. It's the perfect place for a small group to mix and match and share a few items. They're known for their gheimeh sibzamini, a tomato-based stew of chunks of lamb, yellow lentils, and potatoes, but I also love their fava bean rice.
Etminan
Dizi Sara
A dizi is the clay pot used to prepare Ab goosht, or "meat water," a classic of Iranian cooking. A mix of lamb and an ample portion of rump fat with broth, potato, tomato, and chickpeas boils in the dizi. The broth is then separated out and eaten like a soup with pieces of bread. The remaining solids in the pot are then mashed together and eaten as bite-size morsels with some fresh herbs and pickled veggies.
Dizi Sara is the place in Tehran to have ab goosht. In fact, it's the only item on the menu. Each customer gets a meal that includes a piping hot dizi, a pitcher of doogh (a salty and sour yogurt drink that tastes better than it sounds), all the garnishes, bread, and a tea and dessert service at the end. Diners have the option of deconstructing the ingredients themselves (the traditional way) or getting help from the waitstaff (not an option at most places).
The interior of the restaurant is designed to resemble a traditional teahouse, complete with paintings in the style of those that adorned the old establishments. The combination of meticulously prepared food and ambiance makes it one of Tehran's best dining experiences.
Dizi Sara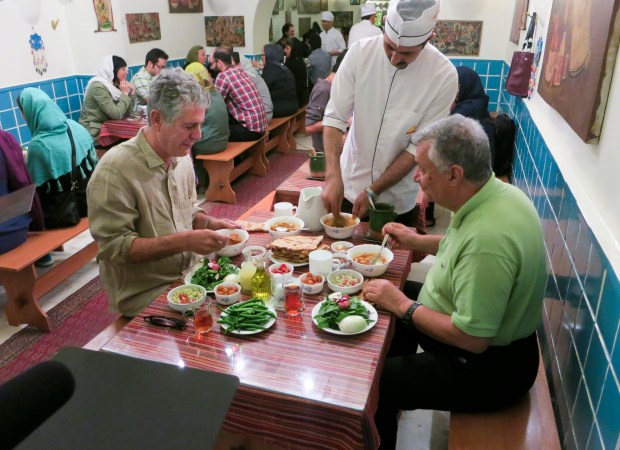 Shandiz Mashhad
During the week this is a setting for power lunches with Iranian private-sector tycoons and regional diplomats. During the weekend it's for family celebrations. Shandiz Mashhad gets its name from a village just outside Iran's holiest city (and my dad's hometown), which is known for sheeshleek, or grilled lamb chops on the skewer.
Chelow goosht, literally "rice and meat," is another favorite. A good friend of mine, a Brazilian newspaper correspondent based in town, dubbed it "melting meat" for the tenderness of the slow-cooked lamb smothered in onions over buttery rice.
Gilaneh
Just next door to Shandiz Mashhad, Gilaneh's vibe couldn't be more different from its neighbor's. Homey and bordering on romantic (a quality officially frowned upon in Iran), with antique furnishings and potted flowers, it specializes in the food of Gilan, a northern province on the Caspian Sea. The restaurant has a well-deserved reputation among Iranian foodies for its unique riffs on the national cuisine, which take advantage of sour flavors, garlic, and fish.
Kebab Torsh, or "sour kebab," is strips of tender meat marinated in pomegranate paste.
Mirza ghasemi is perhaps the best known dish of Gilan: smoked eggplant, scrambled eggs, tomato, and copious amounts of garlic, all blended together. It goes great with the house-baked bread and the fesenjoon, which is a stew of pomegranate and walnuts that is usually served sweet and at celebrations. The sourness of this one makes it stand out.
SPU
SPU is perennially regarded as one of Tehran's top restaurants, and it deserves the designation. It's a vast place near a river in an area of northwestern Tehran. It has indoor and outdoor seating and several small cabins that can accommodate groups of diners, sitting on the floor around a spread of food. Iranians call this seating arrangement a sofreh, and they're not so easy to find anymore.
If you can stomach the fact that it's situated right next to Evin Prison—rumor has it SPU delivers to corrupt officials who are doing time—the menu is filled with consistently excellent takes on all the classic rice dishes and kebabs. They also do a very good version of Iranian marinated olives, called zeytoon parvardeh, which are slathered in pomegranate (fresh seeds and paste), crushed walnuts, garlic, and herbs.  
SPU
Hani Parseh
Hani Parseh is an anomaly. It's expensive by Iranian standards, and it's subterranean. It's lit with fluorescent lights that are way too bright. There's no table service; you take a tray and fill it as you move down the line. At peak mealtimes, there is a long line up a flight of stairs and into the street. That's because the food is good and there is something for literally everyone. Some of the highlights are the eggplant creations, yogurt with cucumber, spinach and plum stew, and rice with green beans and meat. I don't like tongue, but my friends swear by Hani's.
Before there were restaurants catering to vegetarians, this was one of the few places you could get Iranian dishes that didn't include meat. For herbivores I'd recommend the ash e reshteh, a hearty soup of herbs, chickpeas, and noodles, topped with a mix of fried mint, garlic, onions, and whey.
Located right around the corner from the office of the Foreign Press Department, Tehran-based foreign correspondents and visiting journalists often dine there after covering major events.
Hani Parseh
Location: Beheshti Street, between Vozara and Qaem Maqam-e-Farahani
Contact: (+98) 21 8810 1581