Lagos smells of and sounds like redemption in the morning. The air is blameless: free from or not yet choked by exhaust fumes, ash, music blaring from nowhere and everywhere, light showers of cement, car honks, competitive cries from bus conductors to get into their black and yellow buses with wooden seats instead of the other black and yellow buses with wooden seats and broken fenders.
Like the day before, the city was static for hours, held together by an endless looped stitch of cars, tricycles, motorbikes, trucks, lorries, tankers. They are all competing for space on roads planned by designers who perhaps did not foresee that the roads would witness such generous use or that they needed more width.
On days like today, Lagos earns its ranking as one of the most difficult cities on Earth to live in. Commuters are stuck on roads for hours. Others are left idle at bus stops waiting for a carriage that won't arrive for more hours. Productivity is cut short. Frustration simmers. Eventually there's an uptick in the likelihood of accidents, leading to more hours of traffic.
Yet, in the morning, the citizens absolve the city. No matter how bad the previous day was, we try again.
What those livable city rankings and listicles do not tell you is that resilience is the Lagosian's armor. The city thrills in spite of itself. Stuck in a traffic jam, you will find vendors that bring the latest, greatest hits to your window on CDs. You will dance. You might pass alternative routes and happen upon a roadside chef who makes the spiciest and best noodles you have ever tasted. You might park your car somewhere to breathe and discover an apartment tower with a restaurant that has a gorgeous view of the Atlantic and a delicious ocean breeze.
Lagos is color and chaos: impeccably manicured public parks and sometimes flooded streets; heated, open political debates at newspaper stands and overzealous policemen; tireless boozy parties and street evangelists.
A perfect day in Lagos is straddling its ironies and its hidden gems; losing one's self in its history and culture and future; learning how it came to be and where it is going and tucking in a tasty meal in between.
The best day to do all of this—nearly traffic free—is Sunday.
The easiest, most comfortable (and most expensive) way to move around the city is by car. To keep your blood pressure low (or as low as it can get on Lagos's roads), hire a private car for the day. The average Lagos driver is a man on a mission. A side street or highway is his obstacle course, and you are a hurdle to be conquered. Should you play into his hands by taking the wheel, you will be violently honked at—as colorful expletives are thrown your way—and overtaken. A scratch might be left on your car as a souvenir. It is never immediately clear what's to be gained at the end of this obstacle course, and it is much better if you don't try to find out. Let the driver take the abuse instead. He's likely used to it and dishes it out, too. Also, carry cash.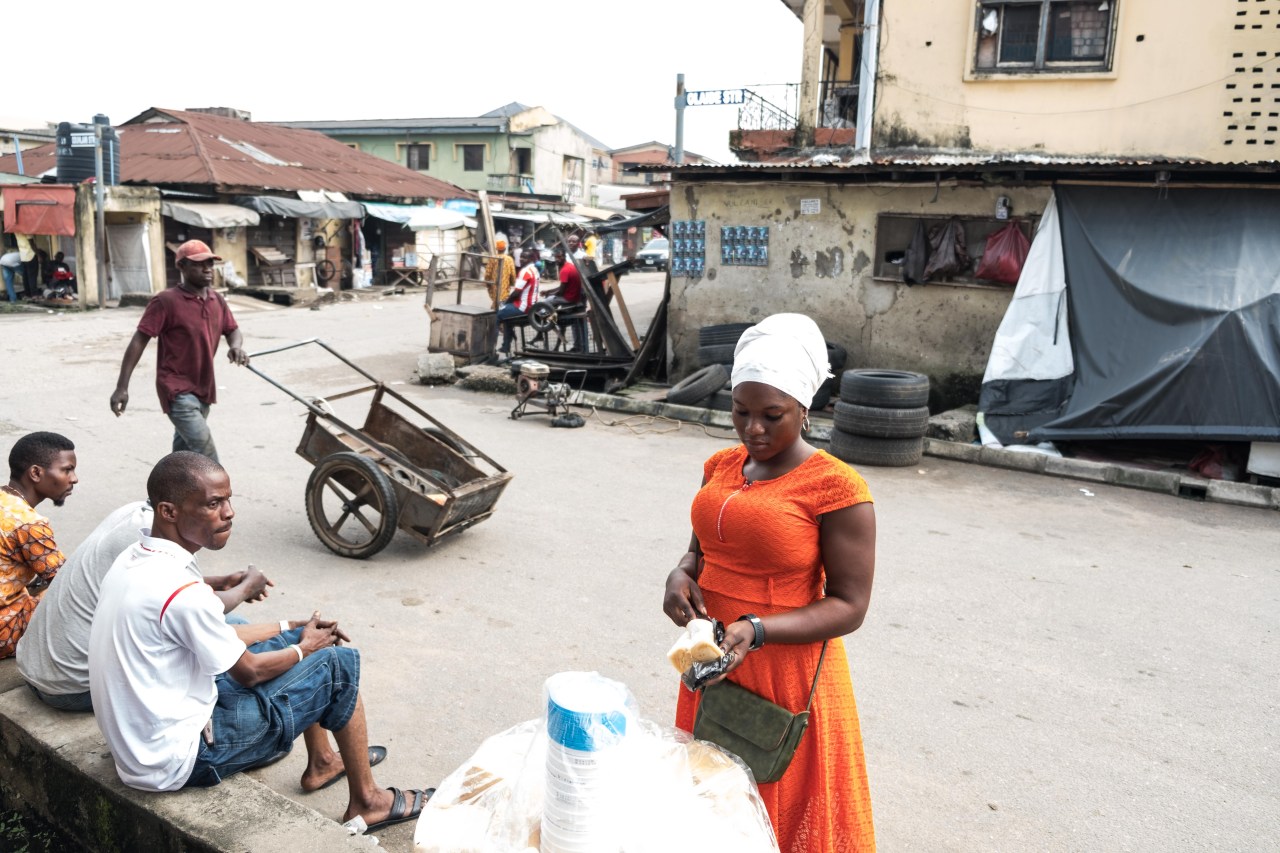 In Lagos the best breakfast is served by an invisible bakery. I have been eating from it for at least 20 years—so has the rest of the city, and so should you—but precious few actually know exactly where their pillow-soft, stretchy, golden-brown bread comes from. Ladies and gentlemen, I give you Agege bread. It is named after a popular district in mainland Lagos where, according to legend, the first bakery that produced it was based. These days the bread comes from different bakeries all over the city. The best part about Agege bread is that it comes to you. As early as 7 a.m., street vendors cover the city's streets, crescents, estates, gated communities, and village outskirts, announcing their arrival with a singsong call: Agege bread ti de o! All you need to do is shout in return: "Bread!" They carry the toothsome staple on a slab of wood balanced on their heads, arranged in a pyramid and protected from the morning's dew and dust by a transparent cellophane bag. The best vendors travel in pairs. Accompanying the bread seller will be another vendor selling sparingly salted and otherwise unseasoned beans known as ewa ayogin. The beans are served with a spicy stew made from bell peppers and sometimes unripe tomatoes. The result is a great-tasting burger of sorts. Should ewa agoyin not be available, the bread vendors will sometimes offer a mix of mayonnaise and butter. Ask for a generous lather.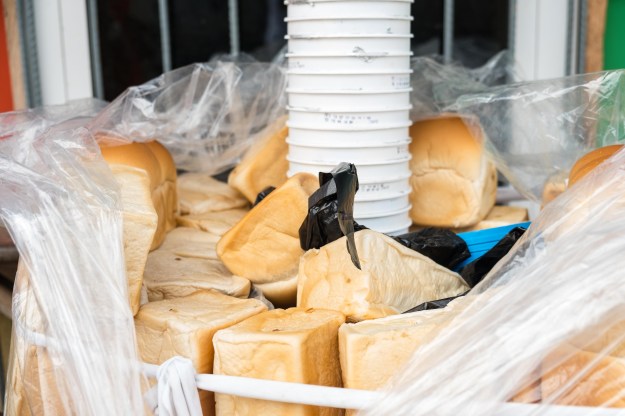 Now to your first destination. Yaba is perhaps best known these days as a seedbed of tech startups once visited by Mark Zuckerberg on his first trip to sub-Saharan Africa. But before there was Facebook, there were colonial day offices here; a decades-old railway station; Nigeria's first crop of tertiary institutions; and Makoko, a sea village reportedly occupied centuries ago by Lagos's first set of migrants.
Start at the Makoko waterfront. The community there is located on the fringes of the Lagos Lagoon, underneath its most popular and well-traveled icon: the Third Mainland Bridge. It was founded as a fishing village in the 19th century, but when Lagos's population spiked and there was no longer space on land, the residents simply created it for themselves on water. Half of the community lives on the lagoon itself, in aluminum and wood structures set on wooden stilts that are dug into the lagoon floor. This storied community has suffered several demolition attempts by the state government and was once home to an ingenious floating school that won the Silver Lion at the Venice Architecture Biennale. (Sadly, it eventually collapsed under heavy rainfall.) The community and its people are NOT the attraction; there will be no slum tourism here. What should catch your eye is the morning seafood market: brilliant catches of tilapia. You will be well tempted to purchase at least one; do so (and pack it in ice). You'll need it later in the day. Hop in a taxi.
9:30
am
Yaba College of Technology (YCT)
Herbert Macaulay Way
Yaba, Lagos
Get Directions
It's time to go to school, but this time you're not going to class. You are here for the sculptures. YCT is the nation's leading polytechnic and has produced the country's best technically gifted hands. Scattered across the modest campus is an accomplished collection of life-size visual art hewn from metal, stone, fiberglass, and other materials; most are created by the students in the school's art department. Get lost in a sea of them. I grew up doing exactly this, as my secondary school was located just next door to the campus. Recently installed on the campus is an impressive sculpture of a person created entirely from plastic. I suspect your phone wouldn't idle too long in your pocket while you're here. It's time to go—grab another cab.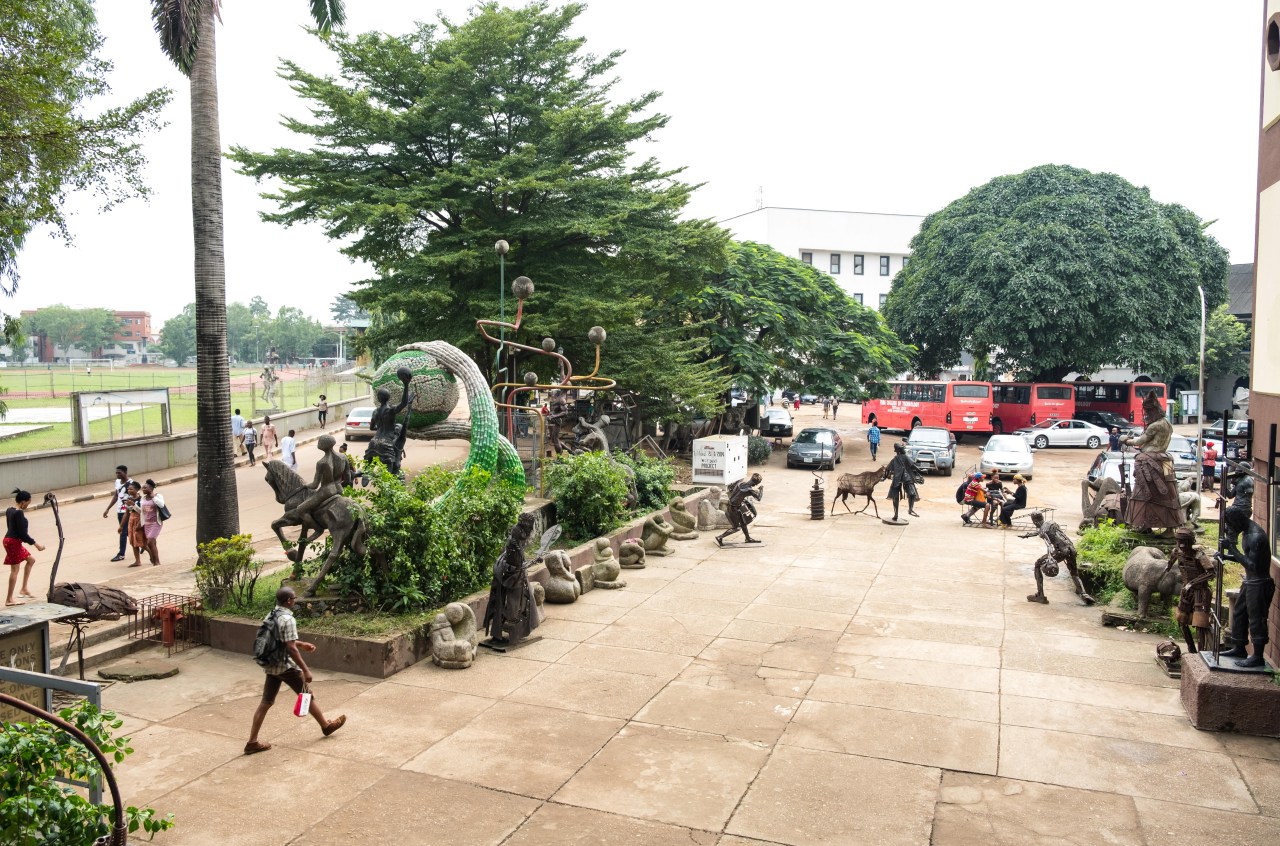 10:00
am
Legacy Railway Museum Compound
17 Ebute, Federal Road
Ebute Metta, Lagos
Get Directions
You will see coaches from the early 19th century. You will see visual stories of how the people, goods, and dreams of Africa's economic capital crisscrossed the nation—mostly to the benefit of her British masters. You will be allowed access into a few trains. I wasn't even born when this former train station was at its height of functional powers, but given the impressive hulks of metal now attended by rust and cobwebs instead of passengers, it must have been quite a sight in its heyday. History is not Lagos's favorite pastime, but an organization called Legacy 1995 thought it necessary to preserve the 100-year-old memory of this once great railway. It's time to find yet another taxi. We're going on a little adventure.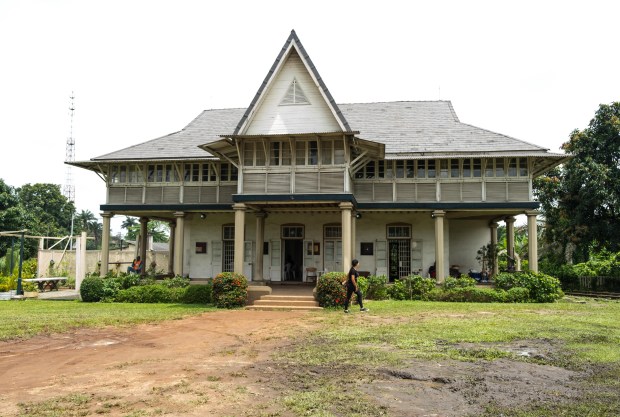 From the rail to the sea! Actually, the Atlantic Ocean. But really the beach. Tarkwa Bay is an artificial island 20 minutes away from Victoria Island (V.I.), Lagos's corporate capital of bank headquarters, swanky clubs, and houses protected by stationary police vans occupied by men armed with AK-47s.
To get to Tarkwa Bay, park your car at the jetty. Take one of the hourly ferries from the Fiki Marine, a jetty under the Falomo Bridge, close to the Nigerian Law School. You could alternatively try the Paradise Jetty, neighbored by the U.S., British, and Indian embassies, among others.
Once you hit the Bay, keep your belongings close. Those who live on the island are very enthusiastic people, and they will welcome you off the boat. They might take a liking to your wallet if you're not paying attention. By now your Makoko fish is probably dying—haha—to be eaten. The settlers will provide a grill and a canopy for you at a negotiable cost. Both should cost about 5,000 nairas, a little under $14. Alternatively, there's a camp lodge on the island—Jaybee Beach Camp—that is very DIY in its services and could provide a grill. This is preferable. The lodge also has a darling bar, where you can kick off some day drinking—it's never too early to drink in Lagos.
Hit the water while your fish simmers. The bay is a popular spot for surfers. If that's your thing, there will likely be an available board for you to have a go on. There are also abandoned, capsized ships washed up on the island that make fantastic backdrops for dramatic photographs. Your fish will be ready by the time you've taken a dip and checked out the boats.
2:30
pm
Terra Kulture
1376 Tiamiyu Savage St.
Victoria Island, Lagos
Get Directions
Take the ferry back to the mainland. You've just had some good fish, but now you need a real lunch, and Terra Kulture is it. This isn't just any old restaurant; it comes with a bookstore, an art gallery, and a theater, and it's popular with the creative jet-setters, expatriates, and just about everyone else. It also happens to serve the best Nigerian cuisine in the city.
Order the chicken pepper soup, a spicy broth made with scented leaves of uziza and diced chunks of chicken, as an appetizer. For your main, try ofada rice and fried plantain. This is a brown rice served in uma leaves with a spicy stew of bell peppers, locust beans, onions, palm oil, and diced meat. If you haven't already noticed, Lagosians like their food seasoned with heat that might make your nose run.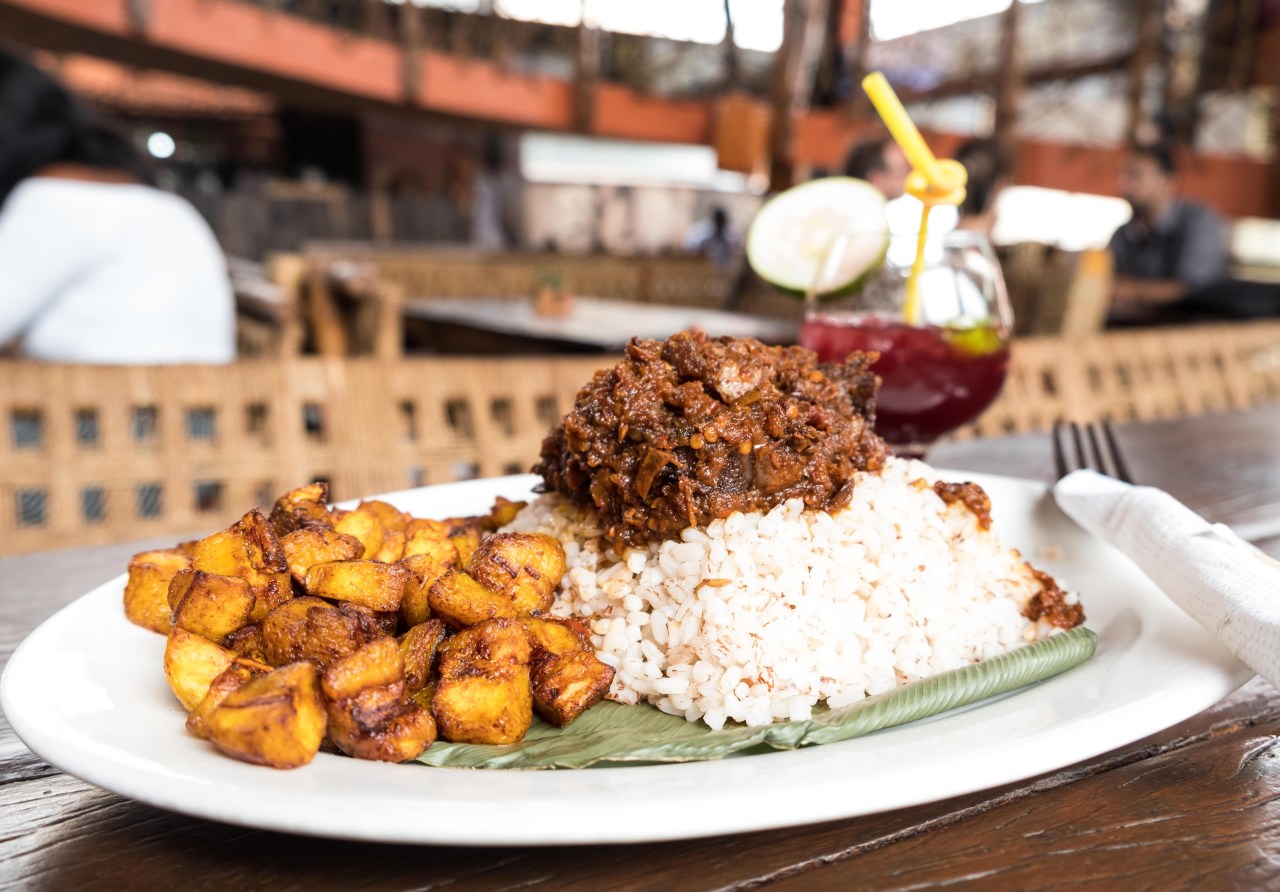 After you're sated, head to the Terra Kulture bookstore. There you will find (sometimes—they are not always well stocked) the latest titles by African authors, as well as classics. Books from the African Writers Series, published since the early '60s by Heinemann and once edited by the late, great Chinua Achebe, come highly recommended. You may also find more contemporary works authored by Jowhor Ile, Chimamanda Ngozi Adichie, and A. Igoni Barrett. Consider some poetry—an album, actually—by one of the craft's most prominent voices, Wana Udobang. The bookstore also has a reading area, where you can immediately get started reading the titles you fancy. If you want to hold off on that, head to the gallery to see the latest exhibition. Whatever you do, don't get dessert—that's at the next stop.
3:30
pm
Vestar Coffee
26A Oju Olobun Close
Victoria Island, Lagos
Get Directions
Before your sugar fix, take a quick detour to Eko Atlantic, Lagos's new mini city in progress. It's down the road from Terra Kulture Walk, on the stretch of Bar Beach where the ocean has broken its banks several times—most recently in 2012—and caused Victoria Island to flood. (There are still bars on the beach.) You will see in the distance Lagos's never-ending construction—much of it luxury towers rising out of where there used to be frothy saltwater. Flats in those buildings will cost the kind of zeroes you expect to see on big company financial reports. But don't let the thought of dollar signs in excess get you dizzy. Instead, settle down at one of the newest and friendliest coffeehouses in the city. Ask for a strawberry parfait: a mix of yogurt, fruits, and purees. Expect inside: kiwi, avocado, nuts, and a rare Japanese fruit called yuzu.
4:00
pm
Tafawa Balewa Square
Tafawa Balewa Rd.
Lagos Island, Lagos
Get Directions
I hope you're tired of hopping in and out of your car by now, because it's time to walk. You're in Lagos Island, the city's oldest district, where buildings have recorded the passage of time. This used to be the capital of Lagos State. There is plentiful Brazilian architecture here: churches, converted bank buildings, homes, and old federal ministry offices—all relics of Brazilian master builders, former slaves who worked as carpenters and artisans in Brazil before returning to Nigeria and continuing their trade. Most of the buildings are badly maintained, increasingly unoccupied, and under the constant threat of a wrecking ball.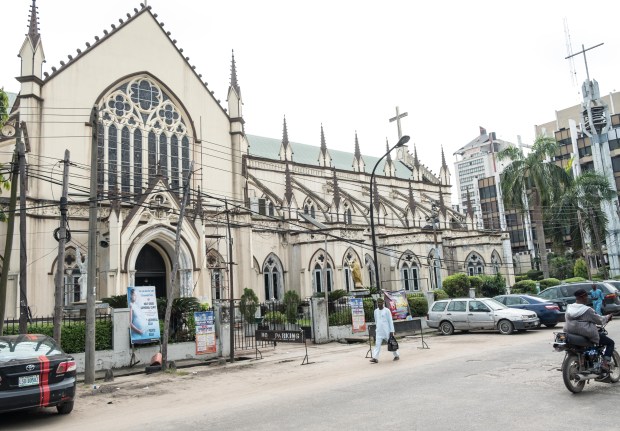 In September 2016, the 161-year-old Ilojo Bar, designated a national monument by the federal government and owned by the same family for generations, was demolished. How exactly this happened is a mixture of indifference to cultural history, weak systems and laws concerning cultural preservation, and the state's determination to demolish anything to attain mega-city status, shiny new buildings and all.
Get out of the car at Tafawa Balewa Square. Its entryway is usually crowded by street hawkers and taxi drivers, queued up waiting for passengers, but wind your way through the crowd to get a close look at the square. It is a magnificent structure, guarded by four gargantuan white horses over the gate and seven red eagles on the roof. Named after Nigeria's first prime minister, the country celebrated its rebirth as an independent nation here. Before you leave TBS, you might catch a whiff of food grilling. The street hawkers usually have corn or plantains roasting in the open air. Grab either or both and walk down Tafawa Balewa Road. Make a left by the roundabout and then a right on Lagos Island's most famous lane: Broad Street.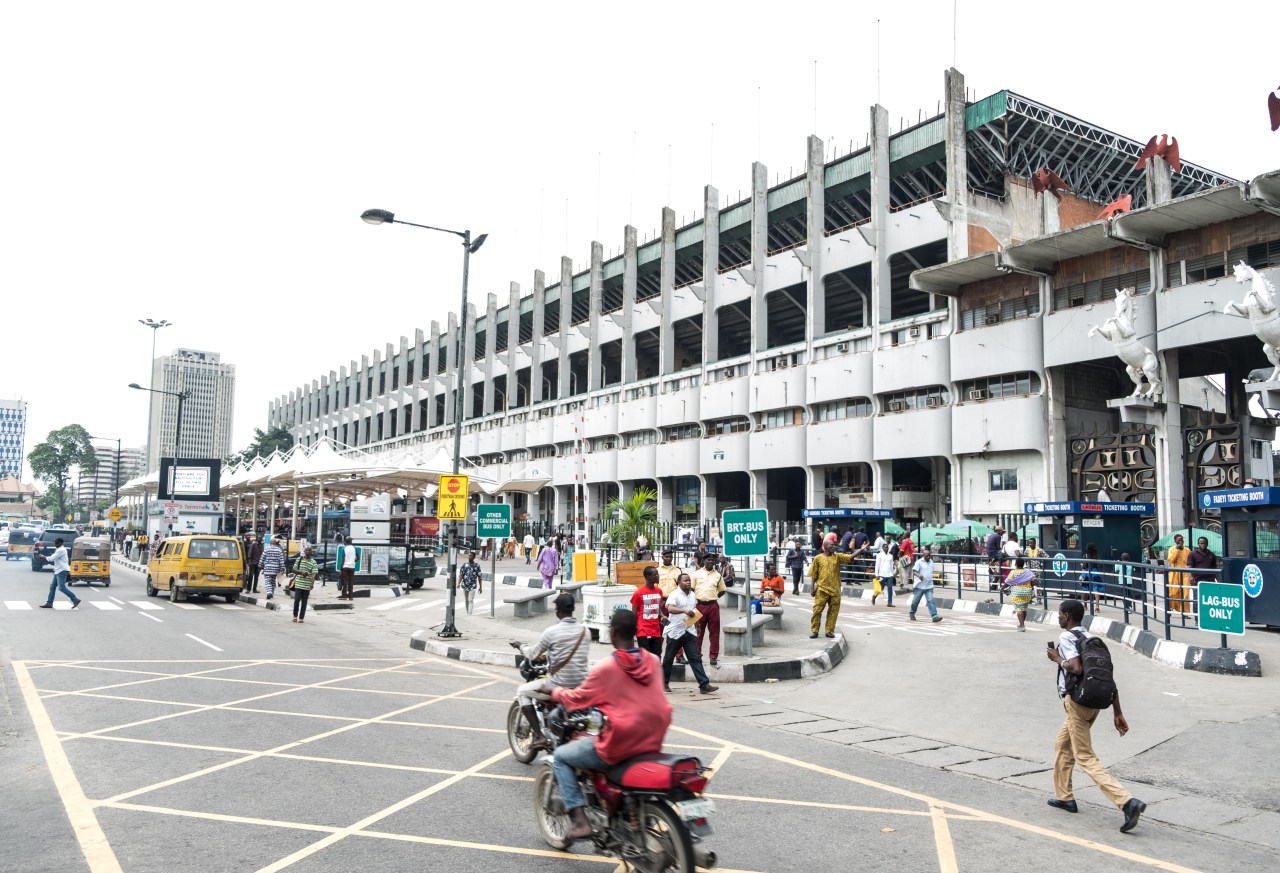 Walking down Broad, you'll pass a vibrant clay hospital dating back to the colonial era and a skyscraper called Western House. After a five-minute walk, you'll make a right at Freedom Park, which used to be a prison in colonial times. These days its inmates are an amphitheater, a small gallery, and a food court that can be trusted for an ice cold local herbal beer called Orijin. In the park you may catch rehearsals of dancers, musicians, and actors performing in a show happening later in the evening. Grab a beer and watch. Take a tour of the park to see if there's an ongoing exhibition. Soak in the calm and green and people-watch. The Freedom Park crowd is colorful and hip, filled with struggling artists, creatives, corporates on an early lunch break, DJs, and business men and women trying to sell you goods from health insurance to hair ribbons.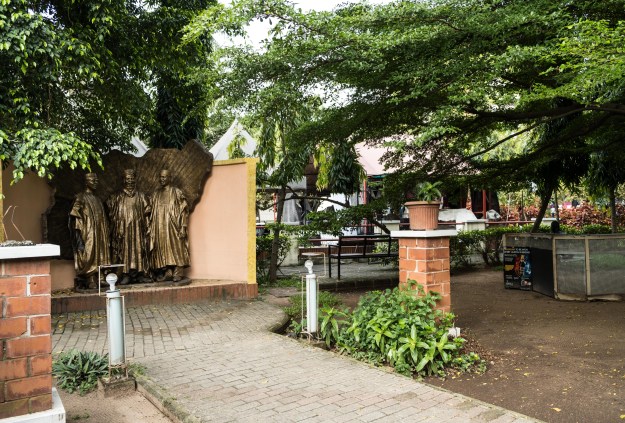 4:45
pm
Balogun Market
49 Balogun St.
Lagos Island, Lagos
Get Directions
By the time you've walked all the way down Broad Street and passed through the Brazilian Quarter, reminiscent of Salvador de Bahia, you will have arrived at Balogun Market, the most popular market in the city, maybe even in the country. You can get just about anything here, but don't dawdle: You are here for ankara! It's a wax print of Dutch origins that has been in vogue all over the city and the country at large for years. You will find ankara in all colors of the rainbow, along with other brilliant textiles like guinea, lace, Atiku, adire, and Kampala.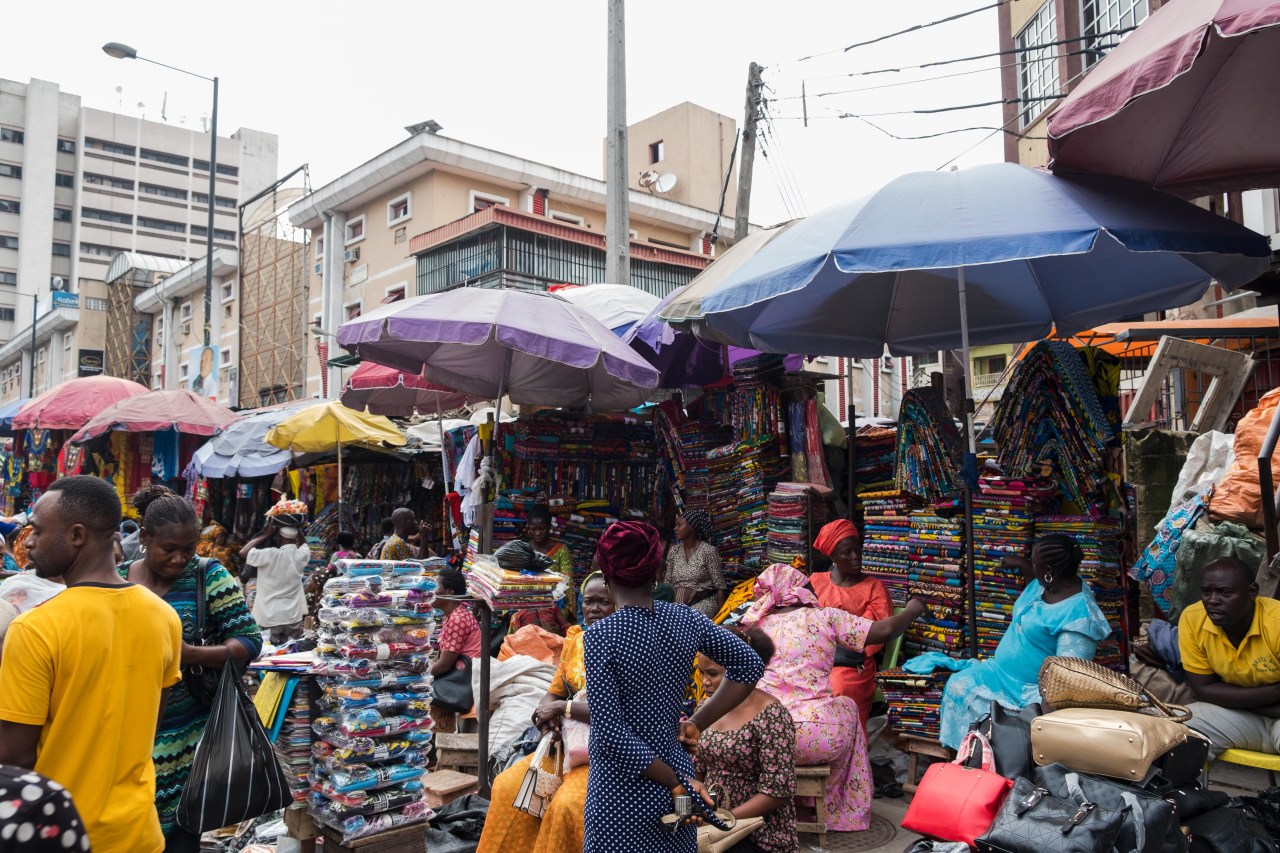 5:15
pm
Rele Gallery
5 Military St., Onikan
Lagos Island, Lagos
Get Directions
From amid the bustle of market women calling you, entreating you to come into their shops and sometimes boldly grabbing you by the hand, hail a ride to Rele and step into the serenity of the city's foremost contemporary art space. On display at Rele is arguably Lagos's best—and often youngest—contemporary visual-art talent. Ask to see works by Sejiro Avoseh, Tolu Aliki, Marcellina Akpojotor, or Muyiwa Akinwolere. You will not be disappointed. The gallery also attracts a diverse, upwardly mobile audience, so you might meet a cool product engineer developing a local fintech solution or a yogi who runs a healthy lunchbox company on the side. If you want a bit more of the local artistic flavor, head to 16/16, not far from Rele. It is an alternative space that showcases underground talent and also has a Thai restaurant within. It's on the 16th floor of a residential block of flats and has a gorgeous view of the Victoria Island skyline. When you see the sun descending, it's time to go.
6:00
pm
Lekki Waterside Gardens
B20 Wole Olateju Crescent
Lekki Phase 1, Lekki, Lagos
Get Directions
Before the sun sets, dash to the nearby ice cream store, appropriately called Ice Cream Factory. Order the chocolate cookie dough and Madagascan vanilla or Baileys flavor. Or all of them. Take your ice cream and get closer to the glowing red ball. The gardens are just by the water, and the sun looms large over the lagoon as it sets. The spread of glorious orange over ripples of gray water might inspire a thousand photographs and tears.
7:00
pm
Lekki Waterside Hotel Bush Bar
Plot 2B Wole Olateju Crescent
Lekki Phase 123401, Lekki, Lagos
Get Directions
It's happy hour. This bush bar has no special deals, but it has a special view of the Lekki-Ikoyi Link Bridge, one of Lagos's iconic landmarks.
The play of lights on the water, waves softly lapping the shore below the bar, and the red lights of cars brightening the bridge are a soothing mix. Order more bottles of Orijin here. You can pair it with another bowl of pepper soup—this time try goat meat.
This is a live-music altar, a monument to Lagos's biggest musical export: Afrobeat pioneer, activist, and all-around legend Fela Kuti. If you're here on a Sunday, his son Femi Kuti will be performing a four-hour set. You will be surrounded by dancers bedecked with beads, herbal drinks of dubious origins, fat blunts, portraits of Fela, and a concert atmosphere unmatched elsewhere in the country. It is a glorious way to end the day. You may stay till midnight. Typically, Lagos is the city that doesn't sleep. While the Shrine may wrap activities at 12 a.m., there might still be some witching-hour delights to discover if you don't feel up to hitting the sack just yet. Start the day again—if you wish—at Allen Avenue. What you do or find is up to you.