It's late afternoon in New York City and tucked into a side street in Tribeca, Chef Soulayphet Schwader's restaurant, Khe-Yo, is finishing up lunch service. A bartender is counting down his drawer, the last guests are bustling back to work, and it's that merciful pre-dinner lull when the kitchen gets a breather and the dining room is calm. Well, the kitchen would have a breather if we weren't here to take a lesson in Lao Food 101 from Schwader. We're here today to get Schwader's own story, and also to learn about Lao food but, as I'll find out later, Chef speaks Lao through his food, so today, the food will do the talking.
I'm standing in the kitchen with Schwader, listening to him quietly speak with his guys on the line, "Hey, can I get some cilantro, please?" "You can go whenever you're ready, man." And then to me, "Here, I want you to taste this."
I'm telling you, this job does not suck.
Sticky Rice
"So the difference between Laotian culture and food versus others: every meal starts with sticky rice. Breakfast, lunch, dinner, unless it's a soup-based meal, will have sticky rice. There are very few dishes that I can remember growing up that we would eat jasmine rice with—every now and then, but about 90 percent of the time it's sticky rice," Schwader says.
Chef Schwader was born in a village called Thangon outside of the Lao capital of Vientiane. After the 1975 Communist takeover, his family crossed the Mekong River into Thailand. The family stayed in a refugee camp in Nong Khai for a year, where Schwader's father passed away.
"It's hard to distinguish what's truly Thai and what's truly Laotian, other than the fact that we're considered the children of sticky rice," Schwader laughs. "If someone comes into my restaurant and orders, but they don't order sticky rice, is it truly a Lao experience?" To prevent this from happening, at Khe-Yo, the first round of sticky rice—served with eggplant and a spicy chili sauce—is on the house. Schwader compares it to the bread and butter service common in other restaurants.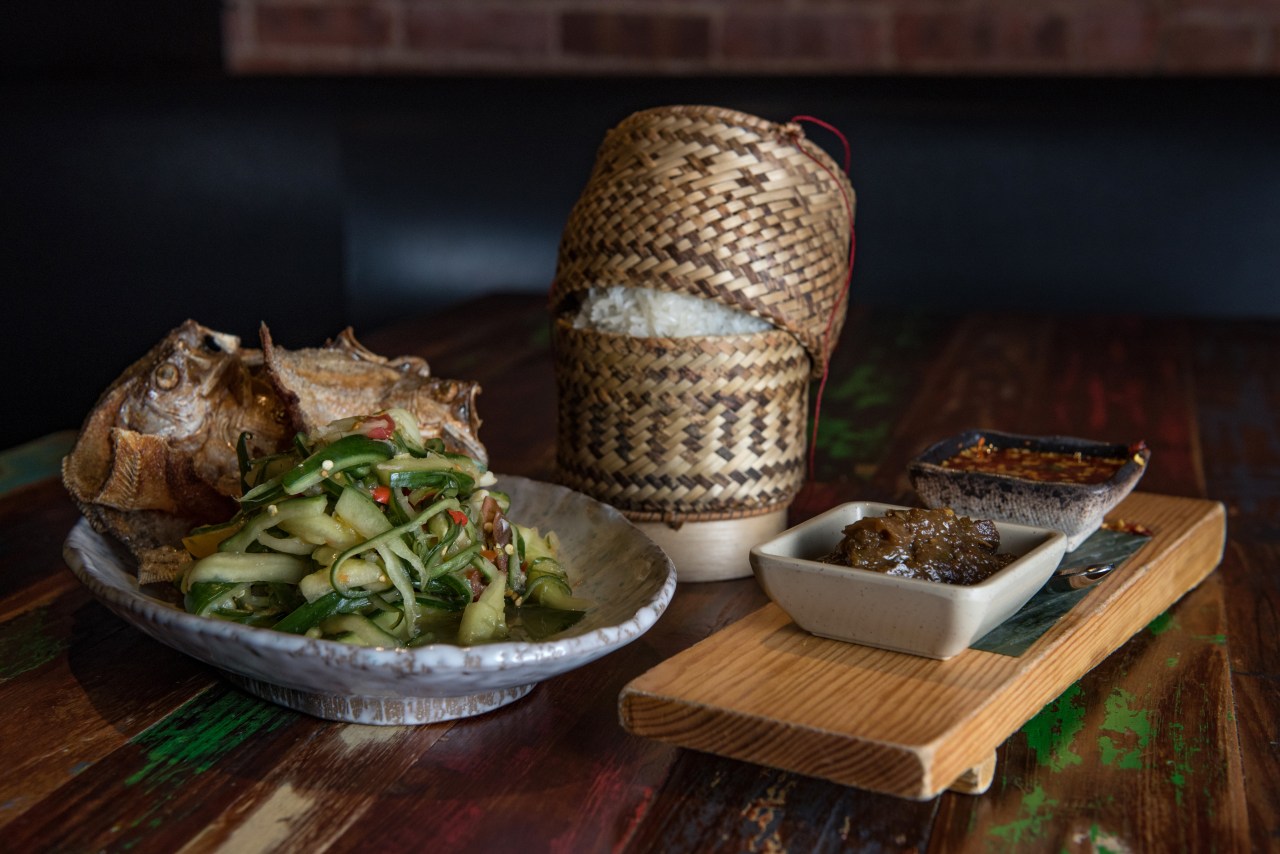 The difference between what is Thai and what is Lao is a common thread in speaking with Lao chefs. Many Lao chefs open Thai restaurants because customers are more familiar with the food. Schwader, despite coming to America at the age of three, grew up in a Lao community in Wichita, Kansas that was able to sustain Lao restaurants, grocery stores, and families. Schwader's family was sponsored by a man named Jack Fishback, who was, "basically like the godfather of the Laotian community because his business sponsored a lot of families that came over."
Schwader shows me how to roll my sticky rice up into a little ball and dip it into the sauces. To hell with bread service. I want to be a child of sticky rice.
Smashed Salad and the importance of "The Funk"
We move on to the smashed salad. Smashed salads are another thing that Thai and Laotian food have in common but, says Schwader, "You could be right on the border in Nong Khai, near the refugee camp, and order a papaya salad. And they'll ask you if you want it Thai-style or Laotian-style."
What's the difference, I ask?
"The Lao style has like funky, fermented-fish chunks inside—it's a little more funky. The Thai version is less funky, with a more traditional fish sauce. So smashed salad—is it Thai? Yes. Is it Lao? Yes. The principle is the same with all of our salads, our version is a little funkier and that comes from padaek, which here, we call 'the funk'."
What?
"Growing up in Wichita, every Laotian household has a jar—we take bait fish and cure it, season it, add lemongrass, galangal, fish sauce, and just let it ferment. It's never refrigerated, it's left to ferment and I always describe it as super-concentrated fermented anchovy sauce. It's kind of thick, and it's kind of funky, so that's how it became "the funk" here." Schwader asks for a container from the kitchen. It's a plastic tub from which I can indeed see whole fish sticking out, tails and fins emerging from a dark sauce that is, undeniably, funky. "If you go to any Laotian household that I know of in Kansas they have it in dry storage somewhere away from everything, wrapped in like 10 plastic bags. Knowing how to use this sauce, that's a huge part of Lao cuisine."
So despite being the first in his family to speak English, and, of course, to identify as American, Schwader grew up eating the food of his country. "My background, my story, where I came from, everyone's always surprised that I grew up in Kansas and that there's a Laotian community that could support my mom making traditional Lao food. There's Lao grocery stores, even Lao restaurants, in Wichita."
The smashed salad is served with crispy fish. Despite being a landlocked country, fish plays a large role in Lao cuisine. "Fishing, fish is a big part of our diet. The river is part of our identity, people live off of the river—especially if you don't have a lot of money you can go and fish and catch whatever fish you can for your family to eat. My uncle actually fishes for these fish, they're called crappie, in Kansas. His wife splits them, all bone-in, and they sun-dry them, and he sends it to me here in New York, where we fry them crispy." Often, Schwader relies on his family in Wichita to send him Laotian ingredients that he can't source in freakin' New York City. It paints a pretty vivid picture of how established the Laotian community in Wichita must be. But it wasn't, of course, perfect. "When you're young you're the oddball. I'm the Asian to the white kids, and the Laotian community thinks I'm the white guy cause I grew up on the other side of the town—you never really fit."
Crispy Coconut Rice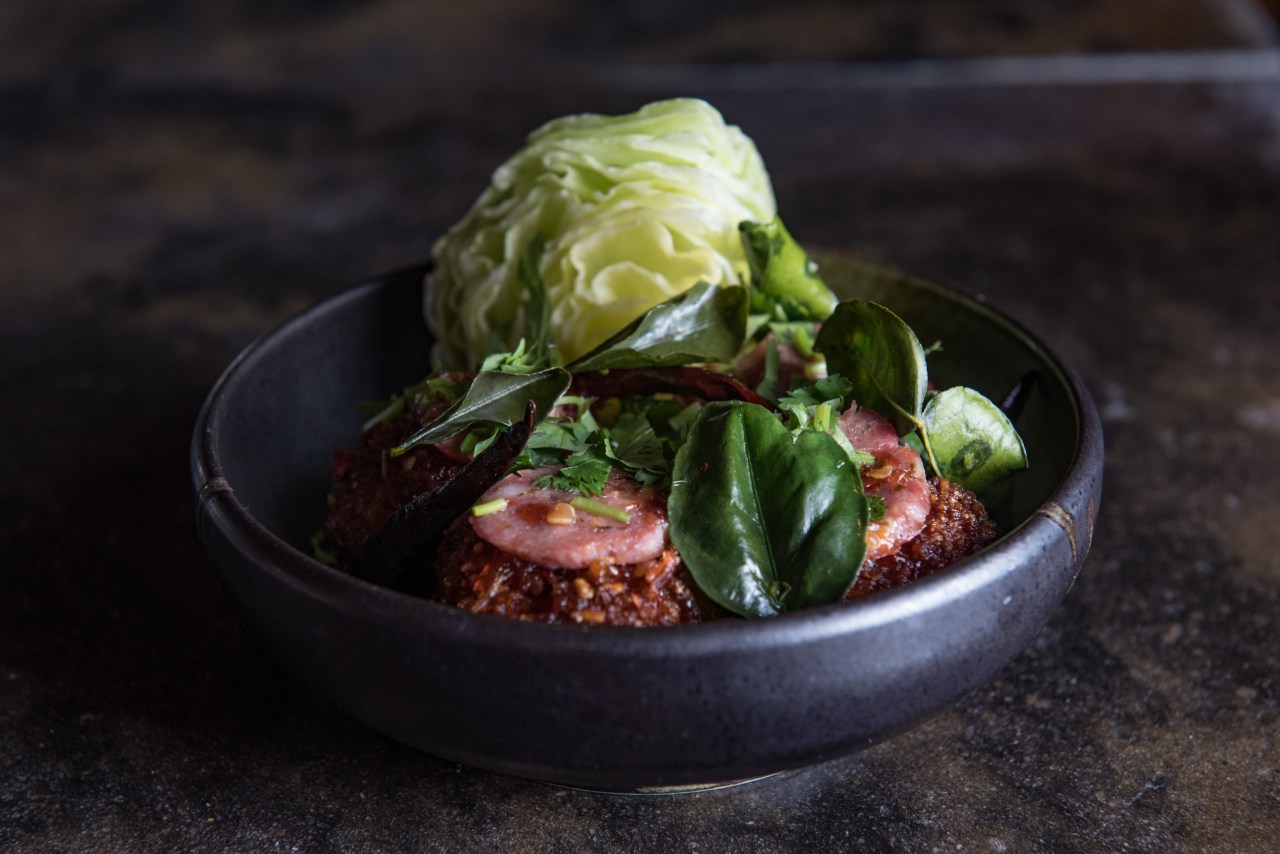 We move on to nam khao, a crispy coconut rice that's topped with herbs and Kaffir lime sausage. "Everything here is meant to be eaten with sticky rice, or like little lettuce wraps, little lettuce bowls, we tell guests at the table the more you mix it in the better it gets. Typically in a Laotian household it comes already grounded up and mixed. Presentation-wise for the restaurant, we serve it this way. It's jasmine rice mixed with fresh green coconut, paprika, some curry fish sauce; then we ball it up, fry it, and it's all meant to be stirred up."
It's delicious. Schwader makes what he calls "bites" with lettuce leaves and hands them to me. While I try to eat gracefully, he continues, "There could be different interpretations of people saying well, coconut rice is Thai. I remember asking my mom when I was first opening the restaurant—you know, recipes are orally passed down through family, they're not written down. So I said, 'Mom, what is considered super-traditional Laotian?' And she says, 'Coconut rice, nam khao, smashed salads, bamboo stew.' These are popular dishes in Laos and in Thailand, but they're super Lao."
I'm pretty sure I know the answer to this, but I ask, "So your mom helped you with the menu for the restaurant?"
"Yeah. Absolutely. Growing up, I didn't cook in my family, I washed the herbs and the lettuce, my brother helped my mom cook all the stuff, I would just end up washing all the stuff and organizing all the herbs and vegetables." Schwader's mother comes into town for Lao New Year when he does a special dinner and offers blessings to the guests. She's retired now, a respected elder in the Wichita Laotian community.
Schwader's only request so far is that we photograph all of the food together, as that is how a Lao family typically eats: all of the dishes at once. "There's no wrong way to eat this. You can make any combination you want because I learned growing up that's how Laotian food is—we make our own combinations of stuff and then we have a plate of it—that's the best part."
Poached Bass
Schwader moved to New York in 1999 after he finished culinary school. He spent 15 years in the city's kitchens. "I worked at BLT, I worked with popular chefs, at steakhouses and stuff. I think it's good for your repertoire. You can't just cook, well, you can cook one type of cuisine, but you should definitely be able to cook a piece of fish correctly, be able to temp a steak correctly; all these different techniques can add up to whatever you want to cook."
We're on to poached bass. Typically, says Schwader, this would be river fish, but he likes to use local bass. Which, of course, he knows how to prepare from serving his time in multiple kitchens. "We poach the bass with a fish broth and then we pick all the meat off and then a little bit of skin and roasted eggplant—the most important part of the seasoning for the poached bass dish is the funk. It gives the dish that roundness. And then we serve it with steamed vegetables and sticky rice." It's delicious: delicate and funky and floral, somehow all at once. There's foraged wild young bamboo from Jersey, apple eggplant, and Vietnamese mint. We make bites. Lots of bites.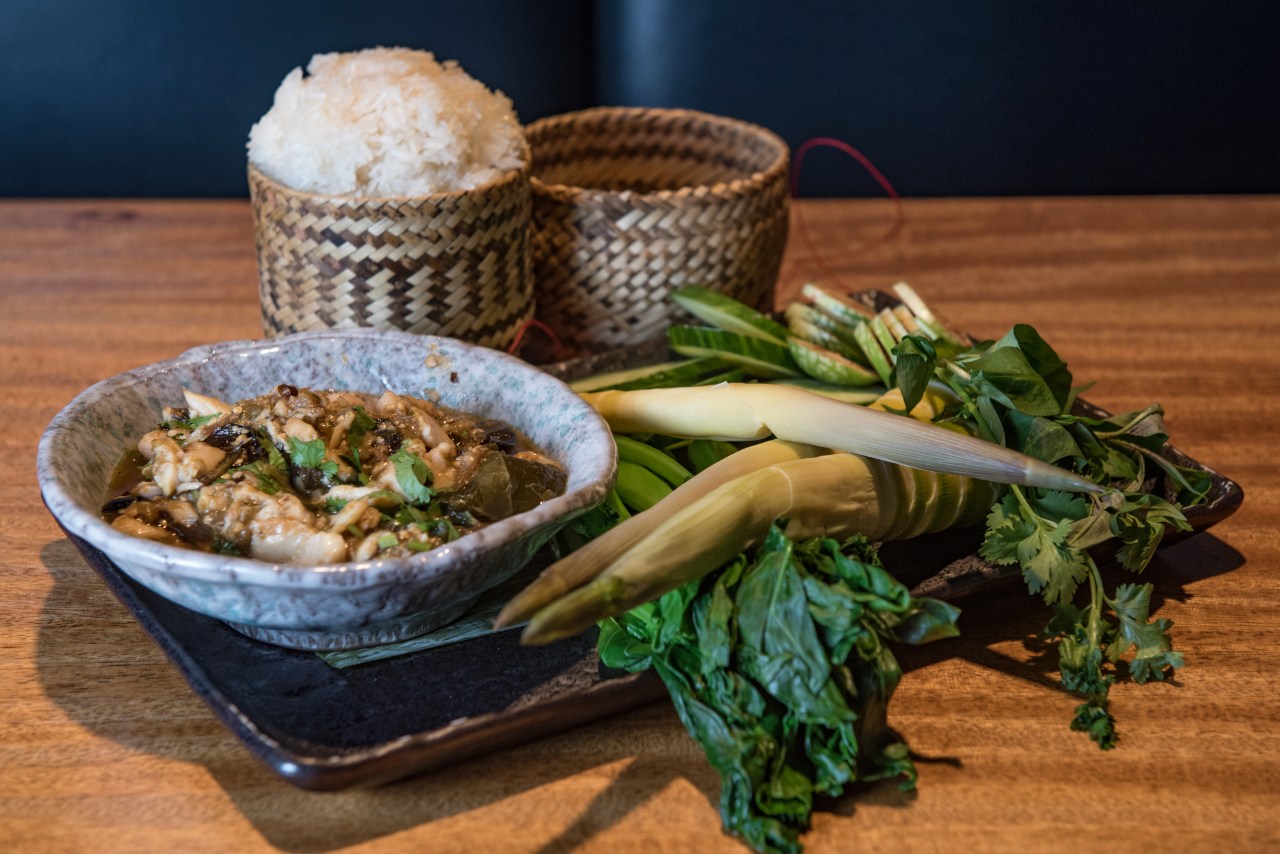 I ask why there aren't more Laotian restaurants. Khe-Yo is still the only well-known Lao restaurant in the city. "I'm one of the luckiest people in the world to be born in Laos, to have worked in all these different kitchens and then be able to wake up and say, 'I'm gonna make Laotian food.' That's pretty lucky as a chef. You know people say, you're the first Laotian, but no, there's a lot of mom and pop Laotian restaurants out there, I'm just lucky to have had a professional culinary career that taught me how to utilize presentation and marketing. But is it good Laotian food? I hope. But there's been other people that have been doing it longer than me that didn't get the credit they deserved because they're the ones who've kept the community together, who made it possible to go to a Laotian restaurant and get beef jerky, to get stuff that you don't normally get at a Thai restaurant."
Beef Jerky
It's not often that you see beef jerky on a restaurant menu, but as soon as I taste it, I know I'll be back for more; a simple blast of umami pleasantly complicated by the accompanying dipping sauce.
"Sesame beef jerky, a lot of different cultures have jerky, so Laotians have jerky. It's a practical food, it lasts longer, it's a simple marinade, we oven dry it on low, fry it up, and serve it with a smoked chili sauce, which is a chili sauce I figured out how to make it using Mexican chiles for the smokiness."
This dish is so simple, but it's the one I'll think about later. Dumbstruck by food, I ask a pretty stupid question: why is this so good?
Schwader says, "You have to be passionate about every single little detail that goes out to a customer. I love the first reaction of someone eating something for the first time and they're like, 'oh shit that's good I want more.' People walk into my restaurant and they're like, 'What is this place?' and then they order a dish and they're like what is that dish, and then they get the dish and they're like shit, that's good, that's something I want to come back for: that's the goal."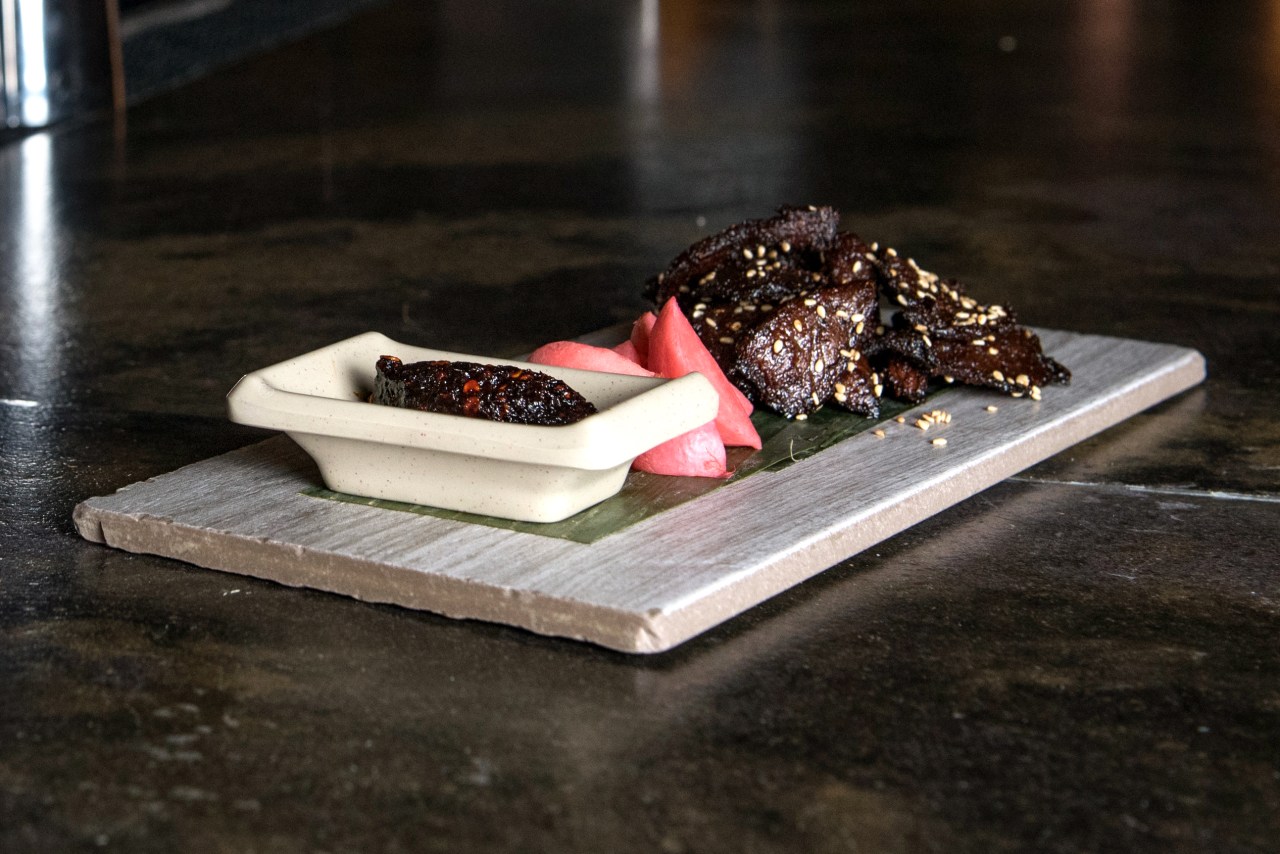 Khe-Yo, which means "green" in Lao—unsurprising given the role that vegetables and herbs plays in Lao cuisine—has been open for four years.
Schwader feels a strong connection to the Laotian community, one that he credits his restaurant with helping to strengthen. "I feel like I was disconnected from this whole thing growing up. I think that being able to understand that I can make a difference and I can make people more aware of the fact that my country, where we came from, it's the most heavily bombed country in the world. I'm lucky to be able to have a platform to do that on. It's connected me more with the Laotian community." Schwader helps to raise money for the advocacy group Legacies of War, which has brought him closer to people his age from Laos.
"I get a lot of Lao visiting the city who've heard about the restaurant, and they're super proud of me, but they're super-judgmental. It's absolutely a double-edged sword. But when Laotians come in I always send extras, and I always send them dishes that I think they'll like and that are representative of what we do. I'm here to take care of Laotians because I know that we're all like—the refugee family, and a community, so I try to always make them feel like they're a part of this, too. I know that might sound biased, but you take care of the people from your ethnicity and your culture."
I ask if the restaurant has a lot of regulars. Unsurprisingly, it does. Schwader credits the Tribeca family crowd with keeping Khe-Yo in business. "I'm living literally, my family is living the American dream. We started with nothing as refugees. My mom's now retired, she's got a beautiful house. I have a business. All my family is doing well, and that's through hard work, my mom always keeping me humble, and telling me just to work hard, treat people right, and hopefully they'll come back to you."
The rest of the food gets packed up. Generously, Schwader offers it to me, a move that will make me popular when I get back to the office. There are pans on top of the bar, heaped with food to feed the dinnertime staff that is arriving (in the restaurant business they call it "family meal").
As Schwader said, "You're family if you're here. I'm not gonna make everybody happy. But I'm happy with what we're doing and that's all I can ask for."