The edges of the mustard-yellow counter and table tops are worn smooth from years of elbows and hands rubbing against them.
Shady Glen Diner in Turners Falls, in northwestern Massachusetts, is a local landmark. Originally a soft-serve (known as "creams" in these parts) ice cream joint, it became a drive-in diner in 1963. Today things look pretty much the same. Owner Charles J. Garbiel II works the flat-top griddle, which sits where the drive-through window used to be, cooking up classic diner fare like eggs, corned beef hash, bacon, home fries, and pancakes. There's a continuous flow of drip coffee and no shortage of joking, banter, and talk of local politics as customers flip through the local newspaper, The Recorder. If you're nostalgic for the 1970s, this is your spot.
Turners Falls is home to roughly 4,000 residents. It was named after Captain William Turner, who, in 1676 during King Philip's War, led an ambush on Native Americans camped at the Great Falls, killing everyone he could.
During the Industrial Revolution, mills cropped up along the Connecticut River, and a canal was dug through Turners Falls to accommodate the growing paper industry. Turner Falls became a mill town.
But, like so many industrial towns across America, it fell on hard times. The mill jobs left in the 1960s and 1970s. Manufacturing slowly died, leaving the buildings to crumble into disrepair. By the 1990s, downtown was hollowed out.
Garbiel, 41, told me most people avoided the downtown in those days. "You wouldn't have walked on Main Street," he said. "That is where all the meth was."
In the 2000s, heroin and pharmaceutical opiates took hold as they have in towns and cities across the country. Turners Falls sits close to Interstate 91, which some say is a corridor for drugs and firearms; that, mixed with the cheap price of heroin, has meant trouble for Turners Falls.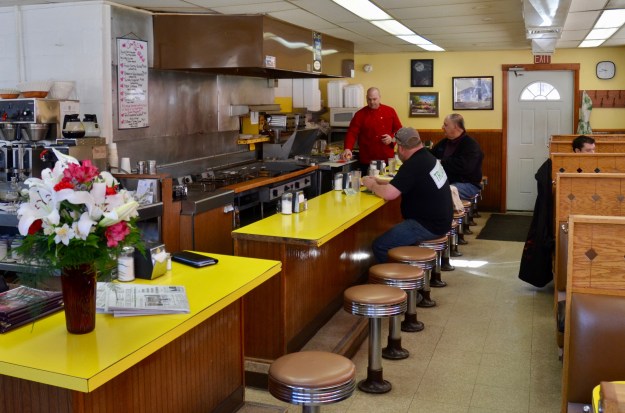 Still, there are signs the economy is picking up. Thanks to some business-savvy locals, Turners' mill-town architecture stayed intact. The old brick buildings were never toppled to make room for shopping malls or big-box stores. The move paid off—a stream of successful restaurants, a brewery, and a budding arts scene have revitalized sections of town.
And, like any great diner, Shady Glen has survived the rough times to see the good ones.
Garbiel bought the diner in 2012 after a series of owners were unable to make it worth their time and effort. A former gym teacher and mixed martial arts fighter, he grew up in town and had worked next door at the Turners Falls Pizza House for years. After he was laid off from his teaching job, he bought the diner.
"I kind of knew the background of how to run the restaurant," Garbiel says, referring to the business classes he'd taken that taught him how to make inventory sheets. "The cooking stuff I kind of learned on the fly here when I took over."
In the kitchen, Marina Bocharnikova works simultaneously on breakfast, lunch, and dinner. She cooks the biscuits and old-school New England diner fare like beef liver with bacon and onions or roast turkey with stuffing and cranberry sauce, preps for lunch and dinner, and bakes pies from the diner's original recipes, which are written on yellowing index cards that date back to the 1960s.
Garbiel has made a few changes over the years, but not too much to upset the regulars, who can be irritated by even small changes to their beloved diner—like the time he moved a booth a few feet to make some extra space.
"I added a couple things [to the menu] like a breakfast burrito, and started making eggs benedict, and we can finally serve beer and wine," he says. "We just try to keep the tradition going and keep things the same."