Four years ago, it occurred to me to tattoo a map of the Mexico City Metro on my arm. I had my doubts at first, but when I told my mother, who grew up in a world without tattoos and still has trouble understanding our generation's need to dye our skin, she exclaimed, "Ugh! It's going to look like veins!" That's when I knew I had to do it. "Exactly! It's the veins of the city!" I exclaimed, maybe a bit overexcited, then called to set up my appointment while my mother rolled her eyes.
Taken together with the borderline-incomprehensible knot of bus, microbus, Metrobús, and bikeshare routes, Mexico City's complex system of public transportation might, at first, seem distressing, even terrifying. How, you might ask, do 21 million people use all this creaking infrastructure—the barely functional traffic lights, post-apocalyptic Metro stations, buses so full they defy the laws of physics—to get from one side of this mammoth city to the other every single day, and then repeat it all over again the next?
I'm afraid I don't have a satisfactory answer beyond the simple truth, which is that we manage. If you're a visitor, though, you might even enjoy it, because you'll be able to do it without rush, enjoying the poetry and marvelous absurdity of what, for us, is commonplace. And if everything goes terribly wrong, you can always get out of the Metro or the bus and call an Uber.
Learning to navigate Mexico City isn't just possible, it is, with some trial and error, fairly easy. And interesting—always interesting. The best anecdotes come from public transport.
METRO (metro.cdmx.gob.mx)
Basics
The Mexico City Metro has 140 miles of track, divided between 12 lines and 195 stations that will get you within walking distance of most places you'll likely want to go anytime from 5am to midnight on weekdays (6am-midnight on Saturdays, 7am-midnight on Sundays).
Because the syndicate of Metro workers has prevented the city government from replacing human ticket vendors with machines, you'll still have to line up to buy your ticket (cash only) or recharge your Metro card with a living human who almost certainly won't speak English. Fortunately, all you have to say is how many tickets you want (they cost 5 pesos each and can be used indefinitely at any station to go any distance) or buy a card ("tarjeta") for 10 pesos at the ticket window and recharge it (recharge is "recarga") with up to 99 pesos at a time, depending on how often you expect to use it.
Like so much in Mexico City, traffic on the Metro can be pretty unpredictable. Peak hours stretch into peak days; sometimes it feels more like peak life. On weekdays, the hours are 6-9:30am and 6-9pm, particularly in terminal and transfer stations. Saturdays, contrary to what you might expect, tend to be busy all day. On Sundays, the city calms down significantly. You might even find the commuter's Holy Grail: an empty seat.
The idea of providing access to people with reduced mobility is fairly new in our decidedly ableist city, so very few stations on the Metro are handicap accessible. There's a list of accessible stations on the Metro website, but it's confusing, only in Spanish, and mostly useless given how often the escalators and elevators break down.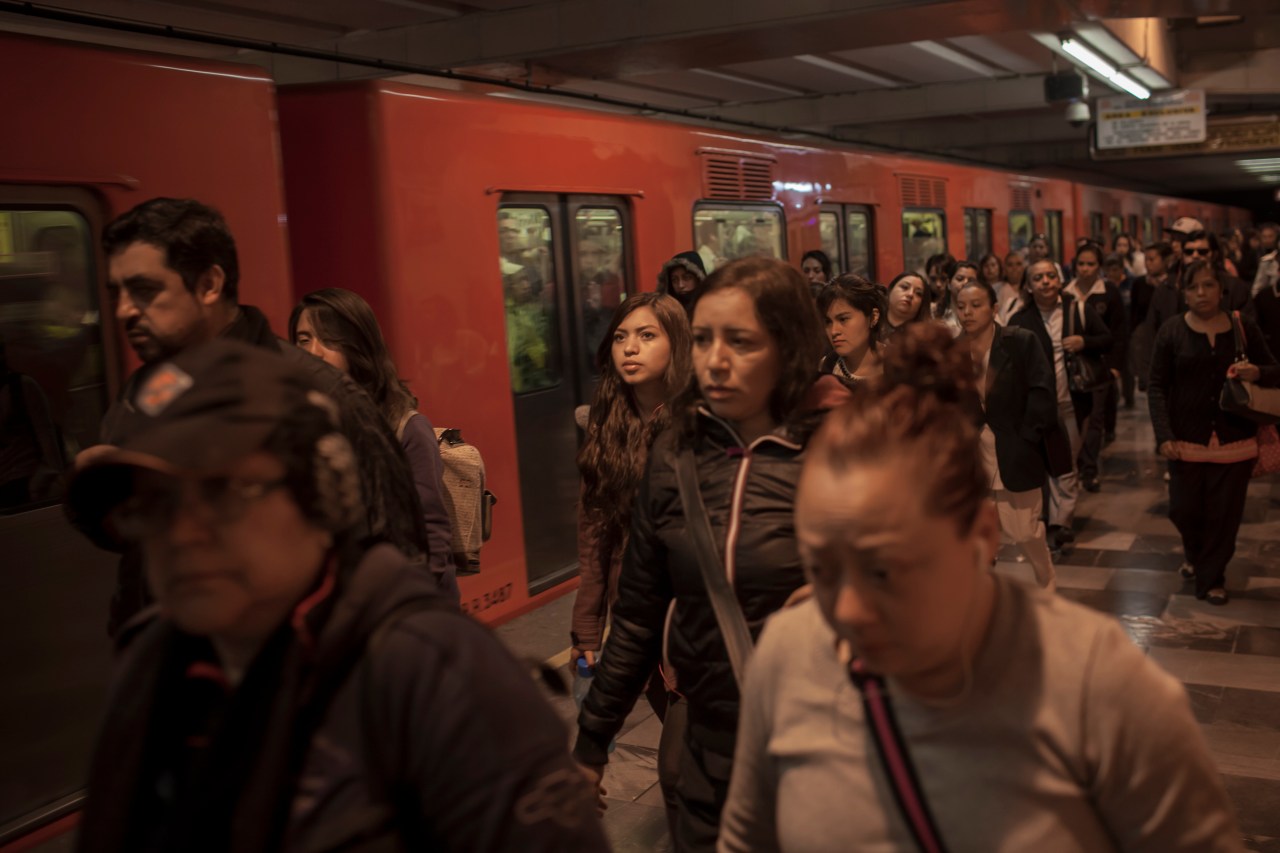 While working on the team that designed the Olympic Games in 1968, the American designer Lance Wyman involved himself in the design of the first three lines. As a New Yorker, he knew that a subway system is more than a mode of transport, that it would quickly become part of the city's identity. The logotype and wayfinding system that he developed for the system, the first in the world to mark every station with an icon to make it legible for the illiterate non-Spanish-speaking indigenous population, has practically defined the city's modern aesthetic.
The designs for those logos emerged from the names of the stations or neighborhood landmarks. Zaragoza station, is marked with a portrait of General Ignacio Zaragoza, the hero of the battle of the Cinco de Mayo; Merced, the city's wholesale market, with a basket of apples; Pino Suarez with the Aztec pyramid that emerged there during excavations.
Though he was only in charge of the first three lines, his model has been replicated for the nine that have been built in the subsequent decades, and for other transit systems, like the Metrobús. The city is infested with little drawings. Over the years, the Metro has also become a visual universe unto itself, with some of the stations transformed into attractions (of a kind) in their own right. Here's a quick guide to some of the Metro's own mini-museums:
Mixcoac (lines 9 and 12): The Museo del Metro opened in 2017 with original plans, archival photos, old uniforms, an enormous collection of tickets and Metro cards, and an entire section dedicated to artifacts excavated during the construction of the system, including fragments of vases from the Aztec Classic period.
Garibaldi (lines 8 and B): At the edge of Tepito, famous—among other things—for having raised several boxing legends, the Garibaldi station is now a dedicated boxing museum. Murals, posters, and personal effects of celebrity pugilists make a busy transfer a little more exciting.
Guerrero (lines 3 and B): The halls of this station are dedicated to lucha libre. On top of some giant murals, there are glass cases loaded with masks, historic photos, hand-drawn antique programs, and champion belts.
La Raza (lines 3 and 5): Because the tunnel connecting the two lines at this station was so long, in 1988 the Metro opened the Tunnel of Science, a permanent exhibition focused on astronomy along with panels for temporary exhibitions. Sometimes the tunnel floods, but there's a scientific explanation for that, too, no?
Talismán (line 4): While building line 4 in 1978, builders unearthed the remains of a mammoth, which, of course, became the icon for the stop. Today, the bones are exhibited in the entrance to the station in a dusty, forgotten display case that does scant justice to the huge mammal that, thousands of years ago, wandered the valley.
Merced, Candelaria, San Lazaro (line 1): These three stations were designed by the celebrated Spanish-Mexican architect Félix Candela. Here you can catch a glimpse of his characteristic hyperbolic parabolas, which, in non-architecture-speak, translates to some crazy geometric ceilings.
Insurgentes (line 1): On the platforms you'll find murals in homage to the Paris and London metros. Outside, in the recently remodeled plaza, you'll find reproductions of pre-Hispanic sculpture, fountains, public seating and a monument to El Sereno—literally The Serene—the antecedents to modern police, who, in the 18th century, watched over public spaces and called out the hour: "It's eight at night and all is calm!"
Balderas (lines 1 and 3): At one of the busiest junctures in the Centro you'll find a statue of "Rockdrigo" González, a central figure in the underground music scene of the 1980s. Before dying tragically in the 1985 earthquake, he wrote a song about this Metro station: "That's where I lost my love, that's where I left my muddied heart."
Pino Suarez (lines 1 and 2): The smallest archaeological site in the city is inside this station. The cylindrical "pyramid" is dedicated to Ehécatl, god of the wind in Mexica culture, and was likely built sometime around the year 1400.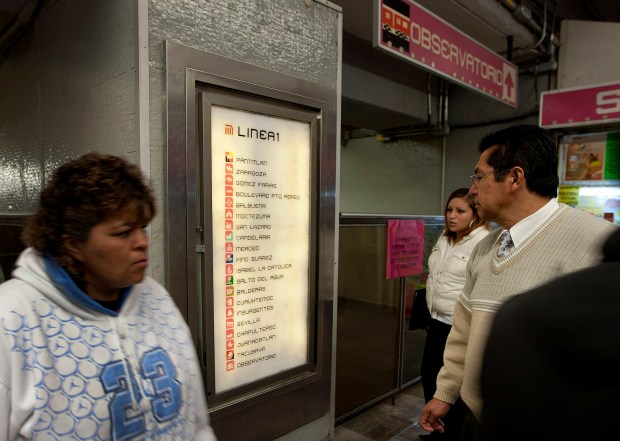 There are outstanding gastronomic opportunities just outside some of the city's biggest Metro stops:
Insurgentes (line 1): Enrique Olvera's favorite taquería is named El Capote but everyone calls it Carnitas El Azul (Avenida Chapultepec, a few steps after the exit from the roundabout labeled 'Chapultepec Nte. Pte.'). You can be conservative and order tacos of shoulder (maciza), shank (chamorro), or pork belly (panza), but if you're a little more adventurous, don't miss the liver (hígado), heart (corazón), stomach (buche), and tongue (lengua). On the other side of the station, entering Colonia Roma, you'll find one of the city's best vegan options, Gatorta (at the corner of Puebla and Insurgentes).
Jamaica (lines 4 and 9): In the Mercado de Jamaica, the city's breathtaking flower market, look for a stall called Carnitas Paty. Order a taco de barriga (pork belly) and a liter of tepache (juice made from lightly fermented pineapple skins). Four blocks from the station you'll find El Huarache Azteca (Torno 154, www.elhuaracheazteca.com), specialists in their eponymous dish—an ovoid tortilla stuffed with beans topped with salsa, onion, cheese and a guisado, or cooked topping, of your choice—which they claim to have invented.
Eje Central (line 12): Here you'll find La Paloma Azul (Popocatépetl 154), one of the few traditional pulquerías surviving in the city; it's also one of the prettiest and serves some of the best pulque.
Indios Verdes (line 3): Okay, so you have to walk a few blocks and the microbus terminal is a pretty hostile place for pedestrians, but it's extremely worth it to go to the very elegant Monte Cristo (Insurgentes Norte 1980), self-described as an "antiguo mesón mejicano" (an old Mexican lodge, spelled with a "j"—think of it as the local equivalent of a "shoppe").
Lázaro Cárdenas (line 9): In the small street behind the station there's a whole constellation of restaurants specializing in the green pozole (a rich hominy stew) from the state of Guerrero, prepared with pumpkin seed, a warming alternative to the more famous red variety from Jalisco. They're all good, but the local favorite is Los Tolucos (Juan Hernández y Dávalos 40).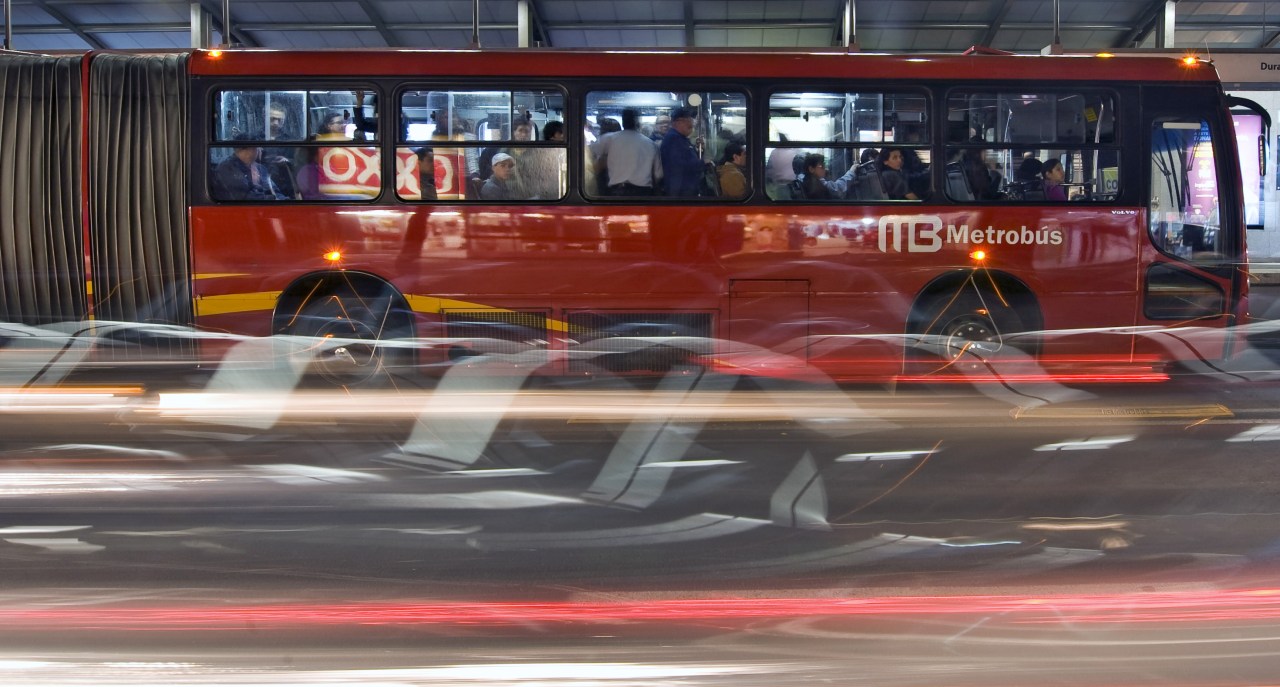 METROBÚS  (metrobus.cdmx.gob.mx)
Since building a new Metro line is slow, expensive, and extremely complicated, in the middle of the last decade the city decided to develop a network of buses that would move in private lanes to fill in some of the gaps left by the underground system. The resultant Metrobús, though perpetually crowded, is a quick, efficient way to get to places that the Metro doesn't go.
Each station has machines—not live people—to buy and recharge tickets. It's a relatively simple process and you can change the language on the screens to English. Every trip, regardless of distance, costs 6 pesos, save trips to and from the airport, which run 30 pesos. Hours vary by line and route, but generally the Metrobús operates daily from 5am to midnight.
Today, there are six lines on the Metrobús system. As a visitor, you're most likely to use Line 1, which runs the length of the city from north to south along Avenida Insurgentes, the longest street in Mexico at nearly 30 kilometers long. This route will take you directly to places like the Vasconcelos Library (one of the city's most beautiful contemporary structures, at Estación Buenavista), the Monument to the Revolution, Avenida Reforma (Mexico's answer to the Champs Elysees or São Paolo's Avenida Paulista), through the heart of Roma and Condesa, to the Poliforum Siqueiros (Estación Poliforum), the beautiful colonial district of San Angél (Estación La Bombilla), the spectacular modernist campus of UNAM (Mexico's most important institution of higher learning, at Estación Ciudad Universitaria), the University's Museum of Contemporary Art (MuAC, Estación Centro Cultural Universitario), the Cuicuilco archaeological site (Estación Villa Olímpica) and the historic center of Tlalpan (Estación Fuentes Brotantes). Line 4 will take you to the Centro Histórico from both terminals of the airport.
MICROBUS
Rickety, polluting old boxes careening chaotically down crowded streets, speakers turned up to 11, drivers who don't follow even the most basic rules of civility or survival…these are Mexico City's storied microbuses. These weirdly hexagonal green-and-white tin cans are a disaster, but we love them nonetheless: the way their owners decorate them, the playlists to accompany you through the city's notorious traffic, the melodies of their souped-up horns, ingenious signboards, and their drivers' knowledge of unheard-of shortcuts.
The routes are, admittedly, inscrutable; even the most knowledgeable chilanga will have barely mastered those linking her work to her home. Getting around on a microbus is only for ninja-level public transport aficionados, but it's also a singular Mexico City experience. Travel this way at your own risk—and preferably under the supervision of an expert local.
ECOBICI (www.ecobici.cdmx.gob.mx)
"This city isn't made for bikers! They think they own the street!" scream bad-humored motorists, trapped in traffic for hours on end, at the cyclists breezing blithely by. Needless to say, Mexico City hasn't always been this way.
For the second half of the 20th century, Mexico City's idea of progress was cars. The city government demolished historic buildings to build wide avenues and fast lanes. They raised pedestrian bridges—re-baptized by urban activists as "anti-pedestrian" bridges—so that no human being would disturb the sacred automobile. They planted the notion of the car as status symbol in the mind of the city's middle class and promoted the notion that to walk or use public transport was for "nacos," Mexican slang meaning…the opposite of posh.
These ideas persisted until 2010 when the newly empowered leftist city government, inspired by the bike-share systems springing up in cities around Europe, instituted Mexico City's Ecobici system. The red bicycles that first appeared in a handful of central neighborhoods have since spread across most of the city's middle and upper-middle class neighborhoods, covering Polanco, Anzures, San Rafael, Buenavista, Tabacalera, Centro, Juárez, Roma, Condesa, San Miguel Chapultepec, Del Valle, Nápoles, San Pedro de los Pinos, Narvarte, Acacias, and Santa Cruz Atoyac. It's been a success.
Annual membership costs 416 pesos (only available with a Mexican bank account), but visitors can purchase passes for seven days (312 pesos), three days (188 pesos), or one day (94 pesos). With that pass, you can take unlimited rides up to 45 minutes long between any of the system's 452 stations. Download the mobile app for maps of bike lanes and Ecobici stations, directions to the nearest bike port, and where bikes are currently available.
AIRPORT
Our poor airport was never particularly pretty, and now that they're working on a new one (optimistically slated for completion in 2020) there's not even interest in correcting its very visible present problems.
Its one saving grace is proximity to the city center. From terminal one, it's a short distance to the historic center by Metro; from terminal 2, there's Metrobús service. That said, I'd recommend using Uber or Cabify or paying for an authorized airport taxi before leaving the arrivals hall. They're all extraordinarily cheap by international standards (to the Centro or Condesa won't cost more than $15).
The immediate surroundings of the airport aren't especially attractive, but if you find yourself with a few hours to kill but not enough time to enter the city proper (and if you're a proper explorer unafraid of setting foot in some tough neighborhoods) there are a few unexpected gems to be found nearby.
La Casa de Juan Juan (last building on calle Poniente 13, in Cuchilla del Tesoro; look for the bell that says Juan Juan): Araceli Avendaño and her family turned the roof of their home, just beside the airport's runways, into a restaurant beloved among aviation fanatics who gather there to watch takeoffs and landings over a taco and a soft drink.
Pollos Asados El Huasteco (Relaciones Exteriores 26, in Colonia Federal): The region of the Huasteca in eastern Mexico, where the central plateau drops toward the tropical Gulf Coast, is famous for its spectacular woodland scenery and for its music. Here you can enjoy the second, at least—especially on weekends when groups come to perform traditional dances—along with some delicious charcoal-roasted chicken.
Peñón de los Baños: This is one of the city's oldest, most historic neighborhoods, famous today principally for its thermal baths (Blvd. Puerto Aéreo 465), whose waters have wet the skin of Aztec emperors, presidents of the republic, and a parade of celebrities. There's also the pulquería La Batalla (Colones 166) with its colorful murals and delicious fruit curados (pulque blended with fruit, vegetables, or any number of unusual flavorings, anything from oats to oysters); it's decidedly more interesting than drinking at a typical airport bar. And if you're interested in sifting through boxes of tropical music on vinyl, make a quick pit stop at Discos Colombia Chiquita (Quetzalcoatl 158).
SECURITY
Violent crime is practically nonexistent on the Metro and Metrobús systems. That said, you'll want to look out for pickpockets, who have always been around but have, in recent years, become both more common and more sophisticated, including recorded cases of collusion between gangs of cell phone thieves and station security guards. So keep your things inside pockets and don't underestimate the ingenuity of our chilango thieves.
Another form of aggression that's sadly common on our public transportation system is sexual assault against women. From verbal harassment to unwanted touching, every chilanga has her own story to tell. During peak hours, there are Metro cars exclusively para damas (translation: for ladies; the authorities aren't particularly up to date in their terminology), and the front of every Metrobús is similarly reserved for women. It's a form of affirmative action that most of us hope can disappear in the coming years, but that, for the moment, disgracefully, remains necessary. If you do find yourself in a mixed bus or subway car, it's usually enough to be aware and look secure: a simple death stare will scare off most would-be predators.
Co-published with the new Roads & Kingdoms Mexico City Travel Guide.