When Neha Jesuja was a master's student studying computer engineering in India, she did not imagine this room: a gas-station back kitchen in Leland, Mississippi, a majority-black town of 5,000 that, like much of the surrounding Delta, is marked by rural poverty.
But this room is where Jesuja spends most the hours of the day, sometimes seven days a week.
Jesuja, 30, moved to Mississippi seven years ago after marrying her husband, Sammy, 34, who was already working in the United States. They had been set up by mutual family friends, and now the couple settled in the Delta, where Sammy's family owned this gas station, called J.i.J. Food Mart.
Because she was putting in long days stocking and cleaning and cooking at the gas station, Jesuja would make the family meals in the station's kitchen. It wasn't long before customers began to smell the food and ask if they could buy some, too. Now a binder labeled "A Taste of India" rests on the counter, next to jars of pickled eggs and pig's feet.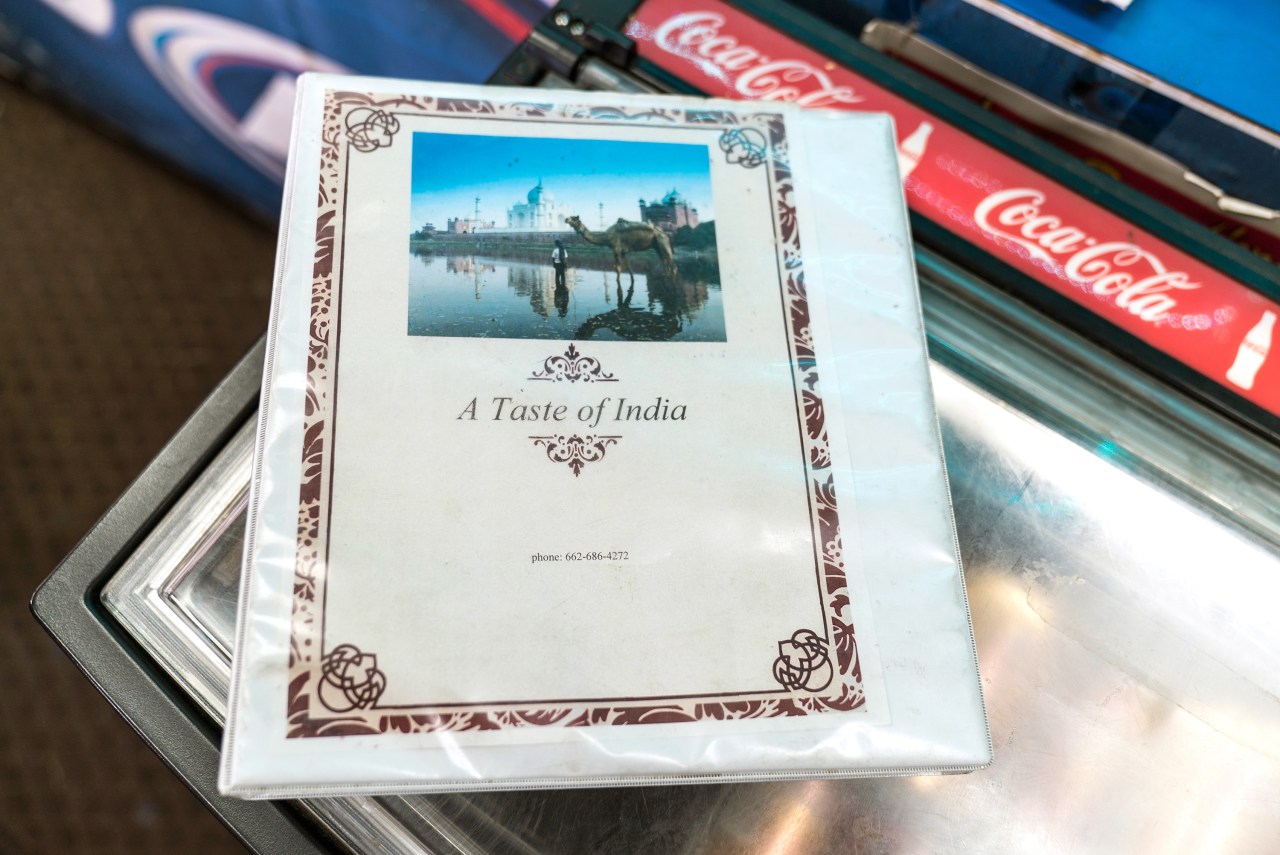 The Jesujas are a part of the Delta's growing Indian community. It's small—but substantial enough to gather two or three times a year for Hindu celebrations and festivals. These gatherings are often held in local hotels, which, along with gas stations, are the livelihoods for many of the region's Indian immigrants.
Though they make up less than 1 percent of the U.S. population, Indian immigrants reportedly own about half the nation's hotels. It's a common phenomenon in immigrant communities: each finds a niche and then dominates it. Another notable example in the Delta was the prominence of Chinese-owned grocery stores in the late twentieth century. How each community finds its niche is in large part circumstance and luck, but once established, the niche is self-perpetuating. As new friends and family members arrive in the country, they join the existing network of advisers and investors who know a field well.
But gas stations like JIJ reflect the changing nature of the South and the nation at large. Here you can buy chicken tikka masala, locally made pork cracklins, and Kool-Aid pickles, that oh-so-Delta delicacy made by pouring packets of the drink mix into vats of dill pickles. But only in a Leland gas station will you find local blues legend Pat Thomas—son of the even more famous James "Son" Thomas—negotiating a paycheck for clearing out the overgrown shrubbery along the gas station's side lot. Thomas refers to most people he encounters as "Big Daddy," and Sammy calls Thomas the same in reply.
A few years ago, John T. Edge, the South's most prominent food writer, reflected on cultural links between India and the American South. Jesuja too acknowledges the connections. "We eat the same thing," she told me. "We eat turnips. We eat mustard greens."
The landscape, the climate—it all felt familiar when Jesuja arrived. The big difference was that in India she lived in Amritsar, a city of more than a million people. "Being here is quiet," she says.
Jesuja recently gave birth to the couple's first child, Nandy, who spends much of her time in the store with her parents. In a back aisle next to racks of snacks are a high chair and booster seat. Jesuja knows that life in a Delta gas station will Americanize her daughter in many ways. But she plans to take Nandy back to India and teach her the tightknit nature of Indian family. She plans to hold onto her traditions, that is, even as she creates her own in her new home.
"The roots have to be there," she says. "The plant, when it leaves the roots, it won't grow up."