I don't know that I have ever loved something as much as I love hot chicken. I love hot chicken so much that I decided to go to Nashville for my birthday with those precious little wings as my primary motive. (Don't tell my best friend, who went with me and is afraid of spice.) Before leaving, I asked my co-worker (the one who loves the Sizz) where to go. Without hesitation, she said Prince's.
Prince's is a Nashville institution that has two locations—one in East Nashville (the OG) and one in South Nashville—and they even have a food truck now. They also frequent many community festivals around the greater Nashville area. But in case you thought I was giving you some inside intel, everyone knows about it. Hell, Sean Brock even went to it on his season of The Mind of a Chef. It's Nashville's worst-kept secret. That's why the lines are insane.
Going off the recommendation, I thought we should go to the original, figuring it might be a little less busy than the bigger one on the other side of town. Granted, now that I write that out, that makes no sense.
Prince's in East Nashville is in a run-down strip mall on a side road off of intrastate highway 41. Half of the parking lot is paved, and the other is still gravel. The restaurant's neighbors are a Chinese food restaurant, a barbershop, nail salon, and a clothing store. Inside there are about six booths and a round table in the corner. The line snakes along the walls to the ordering window.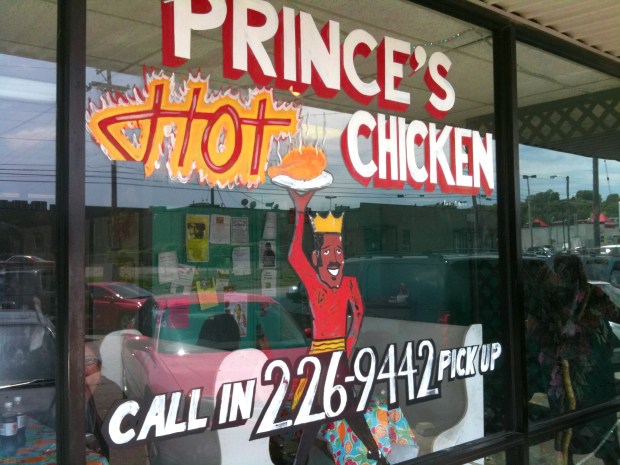 The menu offers whole birds, half birds, wings, thighs, tenders, and any other way you can think of chopping up a chicken. They also offer many sides, ranging from fries and baked beans to coleslaw and potato salad.
There are five levels of spice and a plain option. After waiting in line about 20 minutes, I asked the woman at the counter what she recommended. She told me if I like spicy but want to taste what Prince's is about, to just get the classic "hot."
Full disclosure: I have a fairly high tolerance for heat. I frequently complain that things are not spicy enough even when they are labeled with three flames or five chili peppers. On more than one occasion I have been asked by the server at restaurants if I was sure I wanted it that spicy. I want to sweat and cry, possibly burn my lips off in the process of eating. But I took the woman's advice and just ordered hot. My friend got medium because she was afraid.
We waited about two hours after ordering to get our food. (They fry each individual ticket to order, but that's still a long time, man.) We snagged a big round table in the back and offered a seat to a man waiting for his chicken.
He said he lived around the corner and came a couple times a week. He had gotten a whole chicken but could only handle it mild. His dad had been coming since it opened—in 1945!—and always ate the spiciest version of the chicken. When he was a kid, he had made the mistake of eating his dad's order and hasn't had anything more than mild since. His number came up right after ours. Before going on his way, he told us he hoped we enjoyed our hot chicken and didn't have too hard of a time later in the night.
By this time we were starving, but the chicken was so freakin' hot I got an oil burn on the first bite. But damn, that oil burn was worth it. I had always thought that my grandma made the best fried chicken, but this definitely gave her a run for her money. (Sorry, Nana.) It was moist, crunchy, and, yes, spicy. Next time I go, I will definitely be getting its spicier iterations, but this first experience was euphoric.
What makes this chicken better than, say, hot wings is that it doesn't have that annoying sloppy sauce. It did still stain my shirt, but that is a personal problem I have—ruining white shirts. I think the spice comes from the frying oil, but Prince's is not forthcoming with its methods. The two pieces of white bread soak up all that spicy juice and become cushions of pure pain, more spicy than the chicken. The pickles will offer little respite for the spice bomb that is anything higher than "hot."
What was really nice about the experience was that Prince's hasn't changed for its tourist customers. The locals intermingle with the out-of-towners like they're regulars. The staff doesn't cater to anyone's specific needs other than to make their perfect chicken. There is no giant sign saying some celebrity or chef has eaten there. It is classic, unpretentious, and genuine.
It's been five months since I was at Prince's, and I still can't stop thinking about it. My dreams are haunted by dancing chicken wings and orange-hued slices of white bread. Maybe I'll move to Nashville like everyone else.