Blessed with majestic mountain ranges, an impressive coastline, and rivers of praline-hued desert sand, the Sultanate of Oman's features feel plucked from the "Arabian Nights" cartoon series of my childhood. Although the choice between camping on Jebel Akhdar mountain, Jet Skiing at Al Mouj Marina, or a daylong safari in the desert can be an extremely difficult one, I will almost always choose the sand dunes.
The two deserts that everyone who visits Oman must consider are the Sharqiyah Sands, which is about three hours from Muscat, and Rub' al-Khali, which is a six-hour drive from the capital. While Sharqiyah is easily accessible, Rub' al-Khali is a magnet for adventure travelers and explorers. Also known as the Empty Quarter, it is the largest sand desert in the world, spread across Oman, Saudi Arabia, United Arab Emirates, and Yemen. The dunes here are monstrously tall, towering above white, flat plains. The world's tallest rises to nearly 1,500 feet in Oman's Rub' al-Khali. One of the Earth's hottest and driest environments, the Empty Quarter is uninhabited. If you are looking to be disconnected from the world as you know it, the aptly named desert is the place for you.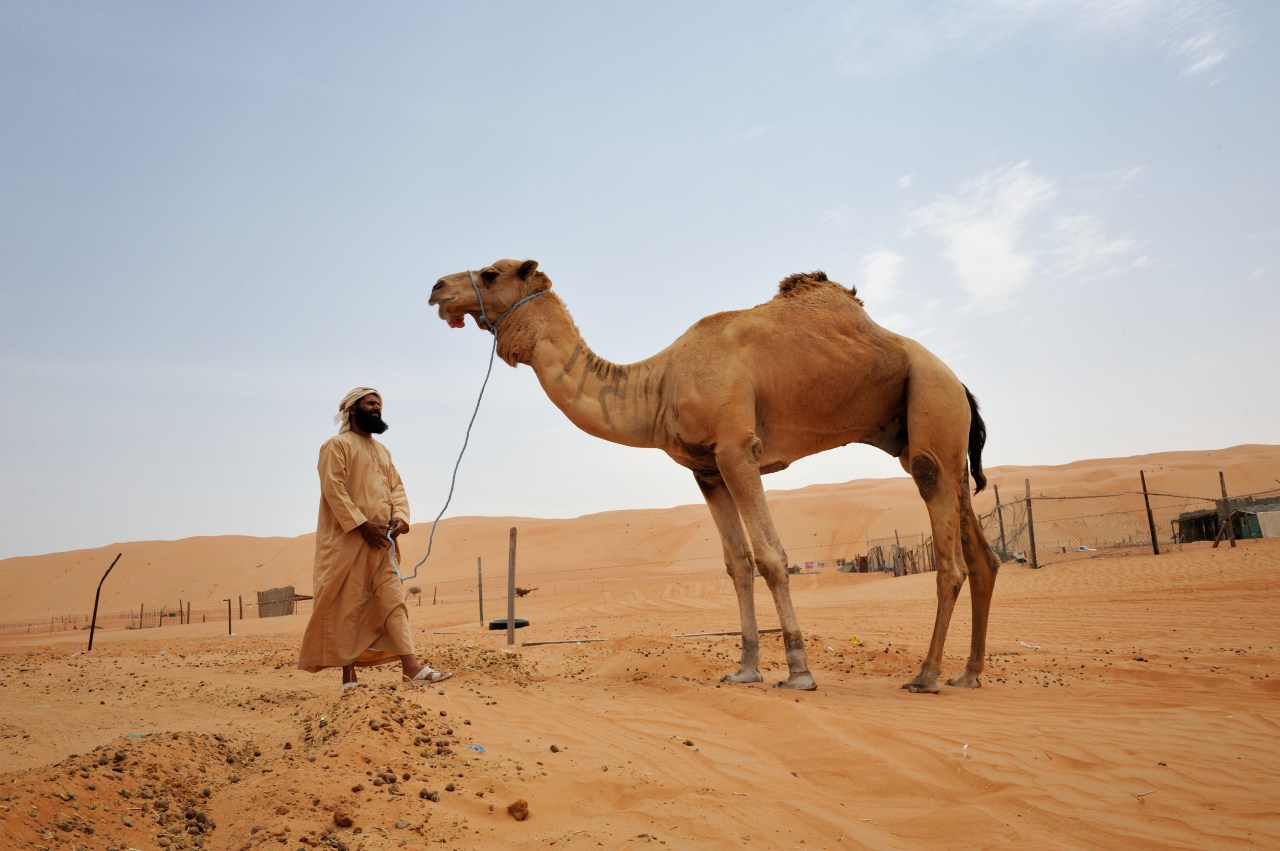 But to me, Sharqiyah Sands (also known as Wahiba Sands), feels quite a bit friendlier than the Empty Quarter. It is a desert that I, like many people, dare to go to without thinking much. The dunes are smaller, and the odds of seeing tire trails are better. It is a short drive from Muscat, but even if you have your own car, do not venture out into the desert by yourself. Bad idea—unless you're feeling extremely confident and are an expert at "dune bashing," or driving around the dunes in a 4×4. Even then it's a bad idea. Remember what happened to Pinaki, a Swiss photographer who got lost in the Empty Quarter and ended up walking 25 miles to reach a border post after days spent with vultures hovering.
But that doesn't mean you shouldn't go to this magnificent place—just go with a tour company. I went with Bediyah Safari on my first trip to Sharqiyah Sands. I met my guide, Hamed, at the company's office after driving two hours from Muscat in my little yellow Veloster, which I parked right outside his door. We took off in his overloaded Land Cruiser on the broad Bidiyah Road, which narrowed as we approached the village Al Rakah, also known as the gateway to the desert. Dune bashing is a lot of fun with a good guide.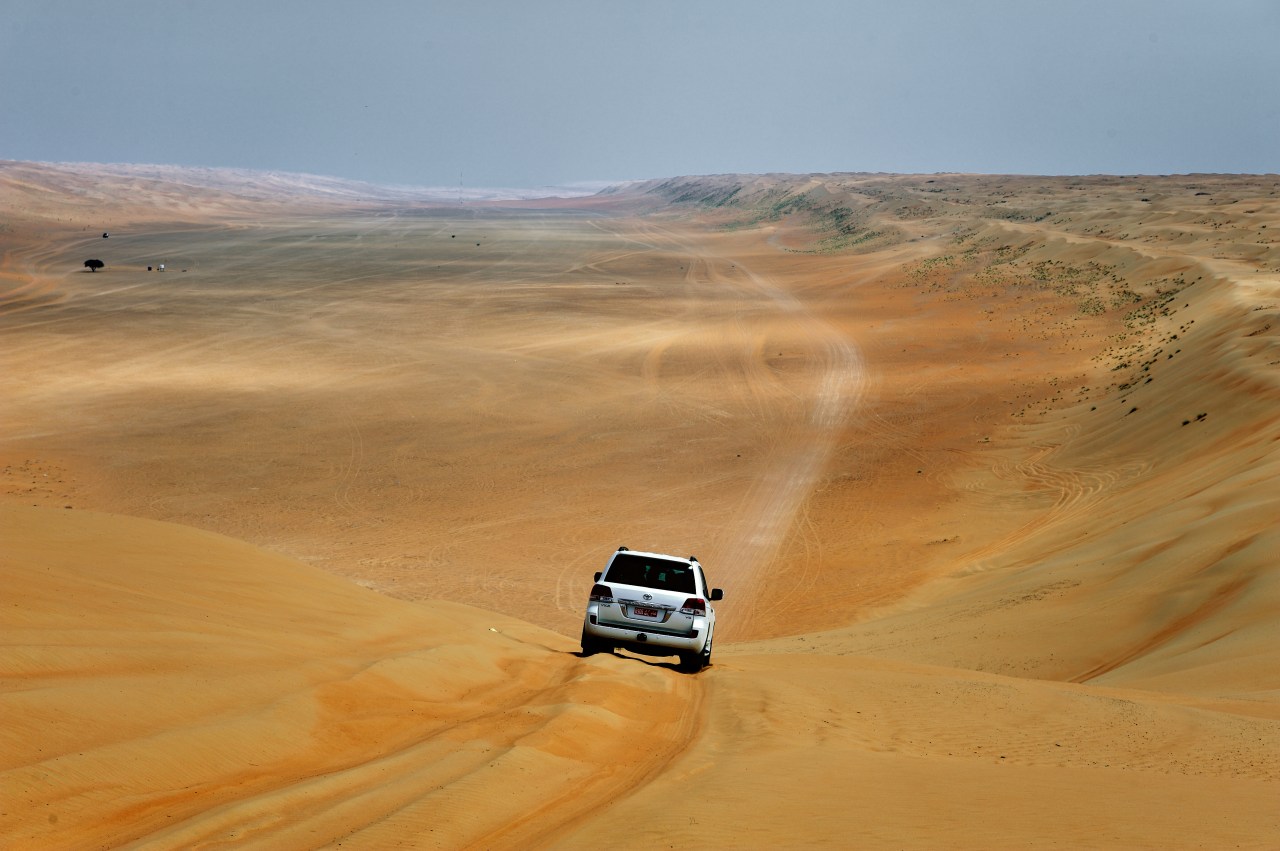 Hamed revved the engine and left the road behind to tumble through the desert pathway, which slowly opened onto a whole new world of… nothing. The silence that enveloped us didn't feel eerie or empty, but calming. I was reminded of the comfortable quiet shared with an old friend with whom conversation isn't necessary. The stretch of dusty brown sand meeting the horizon was suddenly broken by a huge tree in the distance. And finally I spotted the "ships of the desert"—Oman's famous one-humped camels. Each wore a distinct expression. We parked near the tree, next to another Land Cruiser. Camels supposedly hold grudges and take revenge years after being mistreated, so I went to make a good impression on the animals, who warmed up to me quickly. Hamed announced that the food prepared by him and his mates from the tour company was being served under the tree. We were joined by two German tourists—a father and son—on a camel safari. Our plates were heaped with a deliciously spicy chicken curry, which I ate with my fingers under the shade of the tree.
After the hearty meal, full and satisfied, we left to go deeper into the desert. Some dunes felt as high as small hills, others steep as valleys. I wondered how Hamed remembered his way around the seemingly endless expanse. Initially we could see the tire trails left by the vehicles that had crossed the path before us, but as he kept speeding and we kept bouncing harder in the 4×4, we lost the trail. Just as I started thinking about Pinaki's desperate trek, we saw a huge concrete camp with little cottages, clustered in the middle of nowhere.
Outside were two little boys with a camel each. Opposite was the biggest dune I have ever seen, which made the few 4x4s attempting to ascend the sand mountain look like toy cars. I didn't see a single one succeed. But Hamed was a pro, confidently driving us up to the summit, where we spent two peaceful hours. Some tourists who had hiked up perched on their camp chairs with Coronas in their hands, while others just sat peacefully on the sand, enjoying the sunset. I ran up and down the side of the dune, playing with a few Omani kids.
Later, they took me to their relative's tent, located near the camp. She invited us inside to give me a glimpse of the traditional handicrafts she and other women in her house made for a living. She was among several Bedouin families that had set up tents outside the camp to capitalize on the peak of tourist season. After a quick chat with her, we walked back to the camp, where we were served kahwa (traditional Omani coffee) in finjaans (little coffee cups) with dates. We joined the guides and tourists, both Omani and foreign, to spend an evening listening to some Omani folklore and trading stories with each other.
Driving home that night, I drank in the day—the fine sand of Sharqiyah breathing life into the desert's dry winds, the sun painting the dunes fresh and bright. For me, every visit to the desert teaches me something about the Sultanate, Oman's roots, the Bedouin tribes, the behavior of scorpions and camels. The desert gives me the perspective to understand and appreciate each moment a little more deeply.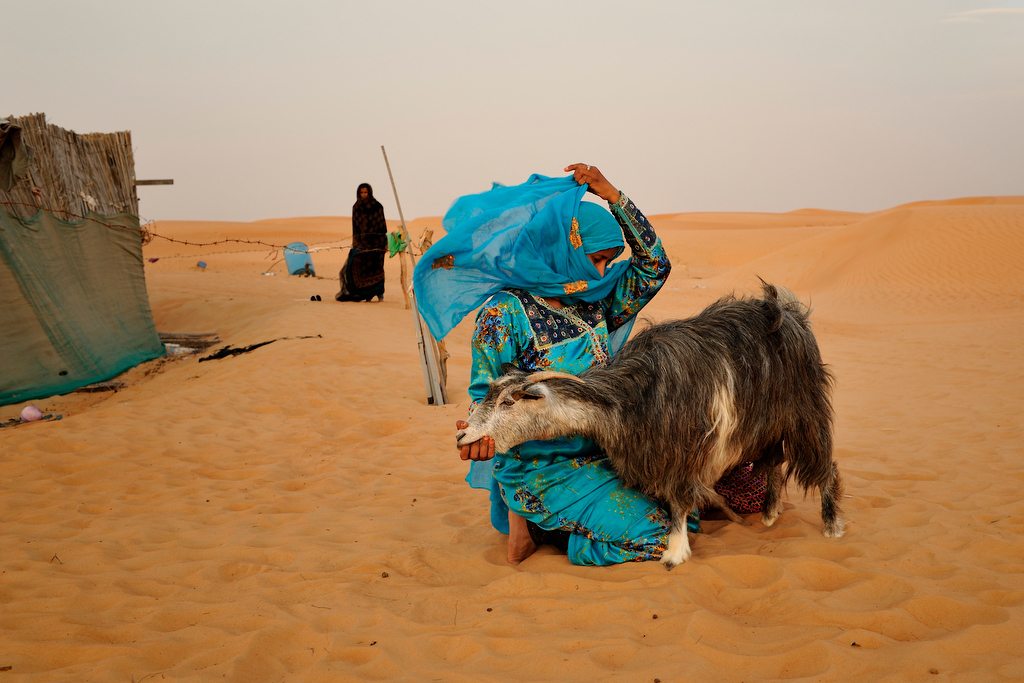 Tips for planning your safari
Cruising through Oman's deserts is no cakewalk. There are multiple risks to be wary of. Rebecca Mayston, manager of The Guide Oman, advises, "Never enter the dunes and try to tackle this driving alone. Always make sure you are with a renowned company that will be there to support and assist anytime something goes wrong."
"Don't just think about getting stuck in the sand. Also consider the remote landscape you're entering and how medical and mechanical situations will be handled. Since the summer heat in Oman soars to almost 120 degrees Fahrenheit, winter is the best time for desert safaris. Most tour companies operate from September to early April and recommend this period as the only time to venture out into the desert. Even 4×4 vehicles struggle to perform well in the severe heat, as the sand becomes extremely fine and soft."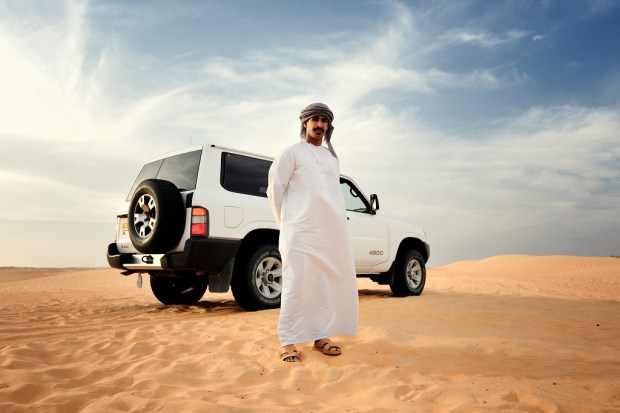 1

Don't even think about going into the desert without a 4×4.

2

Take a spare fuel can.

3

Take a tire deflator, rope, spade, jack, and compressor.

4

Take a good-quality spare tire.

5

Let your tires down to around 15 psi, as deflated tires increase your traction.

6

Always park your car on a slope so it's is easier for you to start and move your car.

7

Avoid heavy acceleration and braking—it will only dig the tires deeper into the soil.

8

Take camping equipment, including tents, sleeping bags, camp chairs, etc.

9

You will need sunscreen, sunglasses, shoes, socks, and lots of water and food.

10

Take a first-aid kit with insect repellent and the other basic needs.

11

Stay away from desert plants and shrubs if you don't want to get bitten by some exotic creepy-crawlies (or even the usual ones).

12

Never litter.