Portugal has a Museum of Pork. I hardly need say more about the national love affair with the meat, and yet, I, like most Portuguese, can't seem to help myself when it comes to pork. Even the most casual glance through cookbooks and restaurant menus will reveal our devotion; how many dishes call for pork, and how many different ways we eat it. If we call friends or family after dinner, chances are they've eaten something with pork—if they haven't, they're probably on a diet. Below, an introduction to the most popular and well-loved pork dishes of our country.
Leitão no forno: suckling pig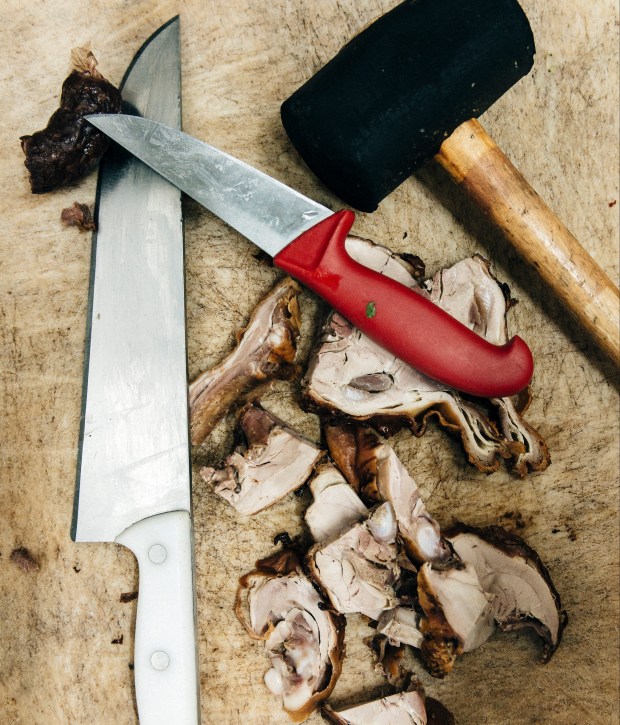 This is an exquisite meal; the suckling pigs, which normally range from 13 to 17 pounds, produce melt-in-your-mouth pork.
Before cooking, the meat is seasoned with garlic, pork fat, salt and pepper, and then put into the grill or oven for about two hours, first at high heat, then at a more gentle temperature. The pigs are usually cooked in wood-fired ovens with aromatic herbs such as eucalyptus.
The result is a juicy, moist flesh with crispy skin. Traditionally, it is served with crispy fried potatoes and salad. If you experience this meal in the region of Bairrada, be sure to accompany it with the classic wine pairing, a glass of the region's espumante.
Sande de Pernil: pork knuckle sandwich
The knuckle is the thinnest part of the pig and is normally served in a sandwich made with a mixed-grain bread—sometimes, the meat is lightly smoked to add a layer of flavor. It has a long tradition in humble snack-bars and tascas. In Porto it has become most popular in Casa Guedes, which serves its version with the popular Portuguese cheese from Serra da Estrela—a mountain range in Portugal—at a very modest price.
Folar: Easter bread with pork
In the northeast of the region of Trás-os-Montes, folar is baked for Easter. The recipe consists of soft bread dough stuffed with pork, ham, and sausage. For many, it represents abundance after the fasting period of Lent. For others folar is just a humble gesture of respect and tenderness, rooted in the celebration of the beginning of spring and summer.
Bifana: pork filet sandwich
The bifana is a small pork steak cut in very thin slices, most often eaten on a type of bread we call molete (a small wheat loaf). The secret, as in so many cases, is in the sauce. The filets are spiced and seasoned with beer, whiskey, white wine, garlic, red paprika, Port wine, pepper, bay leaf, and olive oil. It's easy to find this popular sandwich: Many street vendors and snack bars in Porto sell this popular sandwich, and it is quite trendy at parties in towns large and small.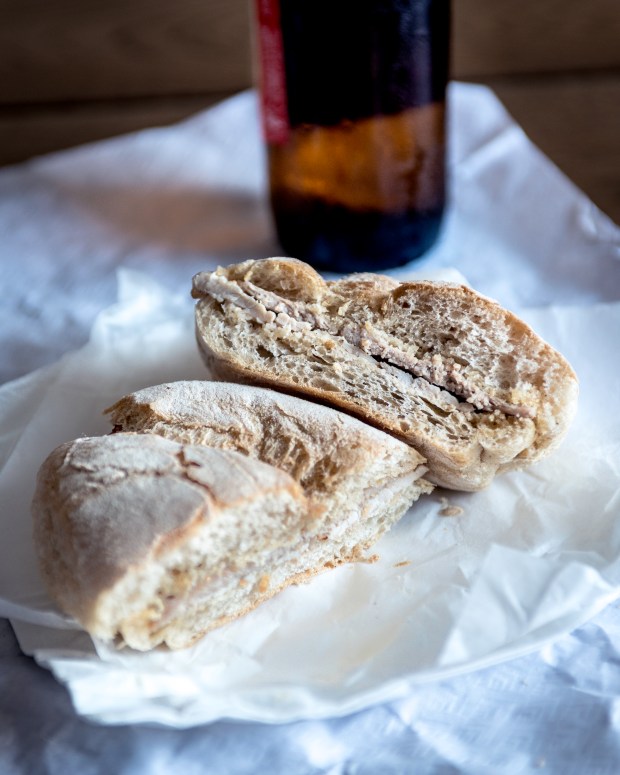 Papas de sarrabulho: shredded pork with blood-thickened gravy
This dish hails from Minho, in the north. This hearty stew is made with pork blood, chicken, pork, ham, pork bones, beef, and loaves of dry wheat or corn flour. It is accented with onions, cured meats, pepper, and spiced with a generous amount of cumin, as well as with clove, nutmeg, olive oil, lemon and pork offal. It's no accident that this dish is more popular between October and February—this heavy soup chases the cold away. Plus, it's in the winter that villagers slaughter the pigs they've been feeding well throughout the year.
Carne de porco à alentejana: fried pork meat with clams
Originally from the southern region of Portugal, this dish is pork that's cut in little cubes and marinated in garlic, white wine, bay leaf, and cloves, then fried. The meat is then simmered with onion and clams, and served with fried potatoes and pickles.
Lombo de porco and costeletas: pork loin and pork chops
In Portugal, families and friends often gather in the kitchen to chat while cooking. We love to get together and socialize—the meal is just an excuse. All the cooks in the kitchens mean dishes are reinvented over and over again, and pork loin and pork chops are good examples. There are hundreds of recipe variations: roasted, fried, grilled, or boiled; served with apples, rosemary, thyme, cheese, oranges, cinnamon, lemons, dates, pineapple, beer, red wine, white wine, mushroom, chestnuts…. You won't be able to try all the recipes in one lifetime.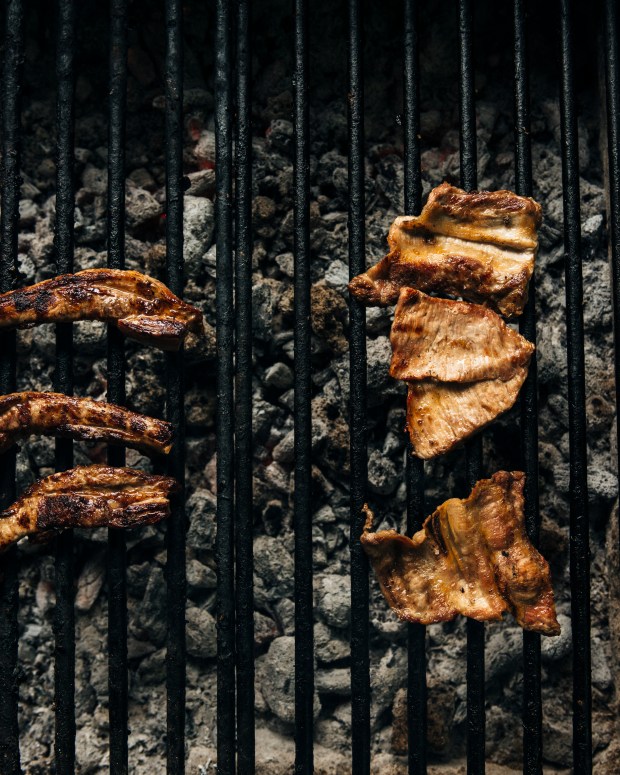 Rojões: fried pork meat with blood
Rojões are cuts of pork from the thigh or belly fried with lard in an iron pot. Originating in northern Portugal, the best-known dish is Minho-style rojões that also uses redenho—the fat from the intestines. But this is a dish that is often reimagined by different cooks, and I have always known the rojões to be marinated in white wine, garlic, bay leaf, cumin and then cooked—without redenho—in the marinade. This is my mother's recipe, passed down to her by my great-grandmother. Rojões are accompanied by a sauce of boiled pork blood and tripe—with corn flour, cumin and pepper—and served with white rice, and fried potatoes.
Cozido à Portuguesa: Portuguese stew
During Portuguese Carnival, a strong scent wafts from kitchens: bubbling Cozido à Portuguesa. This meat and vegetable stew includes beef, chicken, carrots, turnips, potatoes, white cabbage, and many kinds of pork, as well as a variety of traditional Portuguese sausages, and lean unsmoked bacon. In Porto, north Portugal, and the Azores, this is a standard offering on restaurant menus.
Secretos de porco: slices of dark pork
The cut of pork known as secretos (secret) is hidden near the belly. It is a muscle that weighs a little more than a pound in an adult pig. The most traditional way of preparing secretos de porco is seasoning with lemon, pepper, salt, white wine and garlic, and then grilling or frying them. Both are typical, but fried secretos may be more tender. Serve with french fries or white rice.
Enchidos Portugueses: Portuguese sausages
The nearest translation for enchidos—which in Portuguese means "filled"—might be "sausages." There are many regional varieties, encompassing an array of textures and tastes, but generally they are served either alone as starters, or as main course served with rice or boiled potatoes.
Here are some of the most common.
Alheira hails from Trás-os-Montes, in the north; it includes bread, chopped, mixed meats, and garlic.
Bucho, or Butelo, is made with several pork cuts including vertebrae and cartilage, which gives the sausage a very specific flavor. It can also include rice or bread as well. The essential seasoning is garlic vine.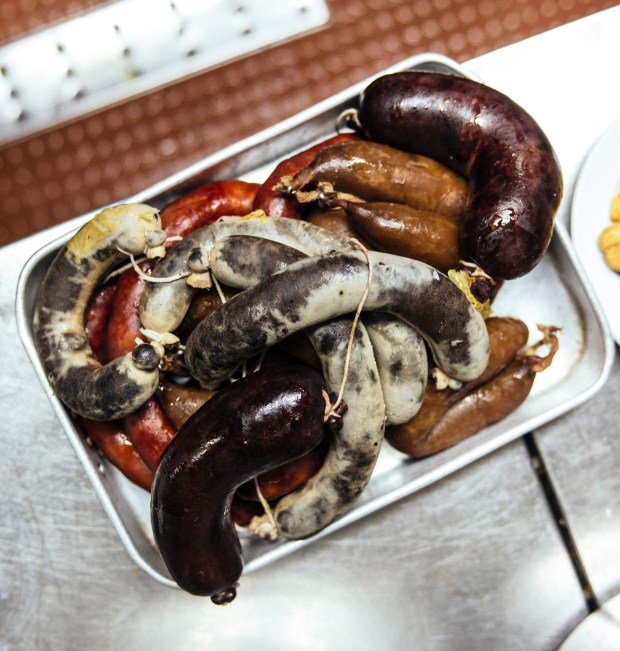 Morcela, or black pudding, is encased in jelly-textured blood that gives the sausage its consistency and dark coloring. It is spiced with cloves and cumin, the source of its intense aroma.
Chouriça is a foot-long, horseshoe-shaped smoked sausage. Bring an appetite (or friends) when you order it. It is made with meat, blood, and pork fat of the Bísaro breed. The indigenous breed are very large pigs with long heads and thick, long bristles mixed with black and white hair. The meat and fat are seasoned with salt, local red or white wine, water, garlic, red paprika, and bay leaves.
Honey chouriça is from the region of Trás-os-Montes, common in the Bragança region, especially in the city of Vinhais. Honey and seasoning blend together to give this sausage its distinct spicy-sweet flavor.
Farinheira is made from pork fat, flour or bread crumbs, and seasonings.
Cacholeira is filled with pork shavings from off-cuts and often flavored with salt, garlic, and cumin.
Salpicão is a thick smoked sausage made primarily with pork loin.
Linguiça is a thin smoked sausage made from pork meat and fats, similar to but usually less heavy than chouriça. It is seasoned with garlic and red paprika.
Presunto is a hind leg of a pig that has been cured, seasoned, and often smoked.  
Paio is a sausage made from pork loin, which gives it a lean texture, prepared with garlic, sweet pepper and white wine.