The food world had a mini-meltdown recently over a government-run Québec casino's decision to bring in a French chef to open a new restaurant, reportedly to the tune of 11 million Canadian dollars. And why shouldn't it? Montreal is a city full of talented chefs. I still dream of the foie gras tart and snow crab at Au Pied de Cochon, Martin Picard's restaurant. Everyone knows: Montreal is a hell of a food town.
Why, then, would Loto-Québec, the government entity that runs the Casino de Montreal, bring in French chef Joël Robuchon? And what do Canadian chefs think of the move? I reached out to David McMillan, of Joe Beef fame, which he co-owns—along with two other restaurants—with Fred Morin. You may remember them from the "Parts Unknown" episode that's basically a televised love letter to Québécois cuisine. McMillan had previously spoken out on the subject, but I got more than I bargained for. What followed was a thoroughly enjoyable chat about the casino, what defines Québécois cuisine, and McMillan's desire to live like Winslow Homer. (It'll make sense when we get there.)
I mention the casino and it's instantly clear that I won't be struggling to get McMillan to talk. I've barely asked the question when he replies, "Every chef in this city is appalled by it—and the ones that aren't are on the payroll of the casino, or have done television work for the casino, or are the types that have agents and restaurants and will kind of say anything for 500 bucks." Why Robuchon? Would it be the same with any other non-Québécois chef? "I have no problem with Joël Robuchon. I have no problem with competing with any chef from anywhere, anytime. What I have a problem with is my government taking taxpayer dollars in a secret agreement out of non-disclosed funds out of multi-millions of dollars and bringing in a chef to a casino. And, you know, it's a flop anyway. It's been a giant flop since it opened."
This may be true. Earlier today, I logged in to the site just to see if I could get a reservation—there were seats available every night for the next 14 nights. After that, I stopped looking.
By contrast, McMillan continues, "My restaurants are full for the next three months, completely booked."
According to Eater, Finance Minister Carlos Leitão argued that the restaurant would be a draw for tourists, and therefore a good investment. The tourism ministry touts the number of restaurants and the creativity of the region's chefs.
I ask a glaringly obvious question, "I understand the furor over the subsidies, but is part of what burns the fact that there is a distinct Québécois food culture, and if the government is going to subsidize a cuisine, it should be that?"
McMillan answers: "Absolutely. First of all, this was the first place to be 'civilized' in North America—we were dining on the street where my restaurant is before a European man had set foot on the West Coast of America. We were dining near my restaurant when no European had set foot on the island of Manhattan. We were dining on the street where my restaurant is when America was the 'great darkness'. To have a French chef come here, where our food is very specific, you know? People are fuming."
What, I ask, is specific about it? And why isn't the restaurant, L'Atelier de Joël Robuchon—where the flatware is famously expensive and the tasting menu costs $200—a success despite Loto-Québec's assertions that it would be good for the city?
This is what I'm really curious about: what makes Québécois cuisine unique?
"There's none of that horseshit that goes on in the rest of the world. Multicourse dinners, 15 courses with 15 different wines paired to each course. This is for new money. It's for nouveau riche, it's for like, beginner diners. In my opinion, an educated diner knows to stay clear of trends and shiny lights. Our culture—it's very much not that. It's an appetizer, a dozen oysters, a main course split, you know, duck for two, fish for two. Eat our cheese or dessert and get the fuck out and go on your way. People here dine, the rooms are noisy, people talk loudly when they eat. People fucking drink like beasts here; they love amorously after dinner."
Life, if you're lucky enough to listen to David McMillan, just freakin' sounds better when he talks about it. I'm ready to hop the train up to Montreal as he continues on about Québécois food: "The real 10 restaurants that are the beating heart of Montreal cook a specific way. Martin Picard, Maison Publique, L'Express, Toqué and others—at these restaurants, their food looks like mine a bit and my food looks like theirs. It's like gumbo looks like gumbo in New Orleans from one restaurant to another. Also, everybody's a little rough around the edges, too, you know. We all come from the country, there was never any real money here."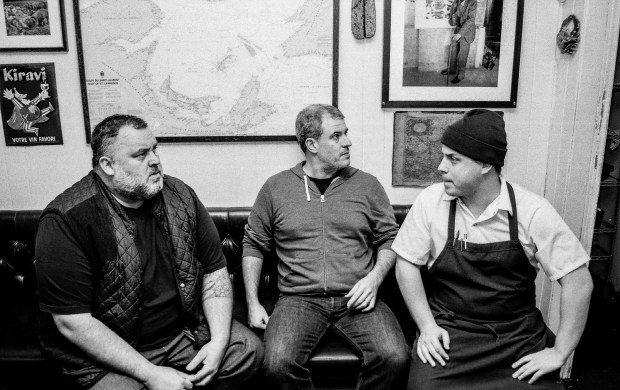 How did that affect the way the dining scene developed, I ask. "You know Québec is a place rich with natural resources, Québec is a place where people come, and take, and rape; take the gold, take the diamonds, take the coal, take the fish, take the sea urchins, take the crab, you know? And then they leave. This is not a place that's ever developed any high-end, how can I say it—multi-Michelin star kind-of-attitude. There are no fine dining restaurants. There's one, but it's frequented by American new-money tourists that don't really get it. So you know there's a lack of pretense in the spirit of the city," he says.
McMillan talks about using the best ingredients, raw milk cheeses, the best butter, the best animal protein, the best seafood; but the dining rooms are loud, people are enjoying themselves, and there is no meal where you have to go and eat a hot dog after you've finished paying your $500 bill.
In the "Parts Unknown" episode, even Bourdain seems taken aback by the splendor of McMillan and Morin's meals and their devotion to antique flatware, glassware; their general dedication to aesthetics. They cook a meal for him in an ice fishing shack and drink out of fine glasses from Alsace, eating Escoffier-era creations—and one gets the feeling that this isn't just for the benefit of the camera. "Fred and I are both a little dandy. We still have fresh-cut flowers inside our houses. You know, we eat on old plateware and we cook out of copper and we do all of that. We'll have cheese instead of dessert, you know, we'll drink brown alcohol out of snifters."
How, I ask McMillan, do they reconcile the decadent nature of such predilections, against the very Québécois notion of keeping the food from being too precious? It's something I've wanted to ask since I saw the episode, and McMillan's answer doesn't disappoint.
"It's the difference between like—I'll take a whole rabbit, and cut it into four pieces; roast it in a pan, add a carrot, an onion, some celery, two tablespoons of mustard, a cup of wine, and I'll pop all of that into the oven and cook it. Some other chefs will bone the rabbit out, roll it into a morsel, put it in a bag, vacuum cook it, cut it into miniature slices, and put carrot juice on it. It's like the difference [between]—I know there's really bad art, but people like it. I like good art. I like Winslow Homer. (The 19th-century American painter famous for his landscapes of New England.)
"So I cook like Winslow Homer. My house looks like Winslow Homer's house, I aspire to dress like Winslow Homer and I cook in a way that Winslow Homer would possibly have liked to eat. A very old way. To cook in a way that is like New England-ish, because you know Québec was part of New England back in those days. So, I like a nice floral plate, I like country aesthetics. Some dudes like this hyper-modern square plate with squiggly lines, and I just think that's shit. That's fine, they're allowed to exist. There's an aesthetic of how much into food you're supposed to be. Like if you have a blog, you're too much into food, okay? You have a fuckin' problem. But if you're well-versed about wine and food, can speak intelligently about cheese and wine, that's good. Like anything, you have to be educated—in music and multiple kinds of music, and in wine and multiple kinds of wine, and art and all of that."
And then we talked about furniture. "And not only that, it's like proper living—what's a chair? All the best chairs were designed 100 years ago. No one has designed a better pot than a good old copper pot. There haven't been any better pots or chairs invented in the last 30 years."
McMillan is, as Bourdain pointed out, a romantic and, I'm learning, a bit of a Renaissance man. We start to wind down our chat. I ask him a couple of questions that I always ask chefs, whether on the record or off: first, any culinary pet peeves? McMillan replies, "When you have oysters, don't put stuff on them. Where oysters are from, there ain't no fucking lemon trees. Putting lemons on oysters, it's stupid. Everybody, they grab a plate of oysters and they grab a lemon and they put the lemon juice all over the oysters. A lemon tree hasn't ever seen an oyster, and an oyster—it just makes the least sense ever."
Finally, to end our chat in as cliche a way as possible, I ask him what his last meal would be. The answer is just what you'd expect from a hopeless romantic, "Whatever Fred wants to cook for me. Fred's my favorite cook in the world. We've been working together for a long time for a reason. We like the same art, the same pots, the same plates, the same food, and yeah, if I was going out, I would definitely leave it up to Fred."