You can always tell a city by its train station. Puzzled tourists, equally puzzled migrants, businessmen with impeccably tailored suits (it's Italy, after all). Nuns and priests from all over the world and big, loud Italian families on vacation—travel time is short in this small, boot-shaped country, yet everything is always so complicated. Upon arrival in the Holy City, Stazione Termini is everyone's first benediction: an introduction to Rome's majestic chaos.
Right behind the station, at the Nuovo Mercato Esquilino, you'll find quintessentially Roman artichokes as easily as bok choy, and as many Indian saris as A.S. Roma football club t-shirts. Follow the stream of people and smells down the back alleys and you'll get to Piazza Vittorio Emanuele II, dotted by countless hole-in-the-wall Chinese boutiques and North African fast-food restaurants. A Bangladeshi guy sells caldarroste (roasted chestnuts, the Italian winter street food institution) at the corner, and the typically Roman Hostaria sign is displayed at the entrance of a Cantonese restaurant.
Welcome to the Rome that millions of tourists a year hardly ever see: they're here for the marble and the pastels, the greasy paper wrapped around the supplì. The colors of the Young Pope and a 'Marcello!' moment, barefoot in a fountain. No time to waste, they're here for the dream. But the city that many other dreams build every day looks like Piazza Vittorio, where the Muslim community gathers for prayers on Eid and the Chinese celebrate the Lunar New Year, with Santa Maria Maggiore and its Sistine Chapel as a backdrop. This is the city of those who arrived by chance, or luck, and stayed because of neither. The Rome of the new Romans.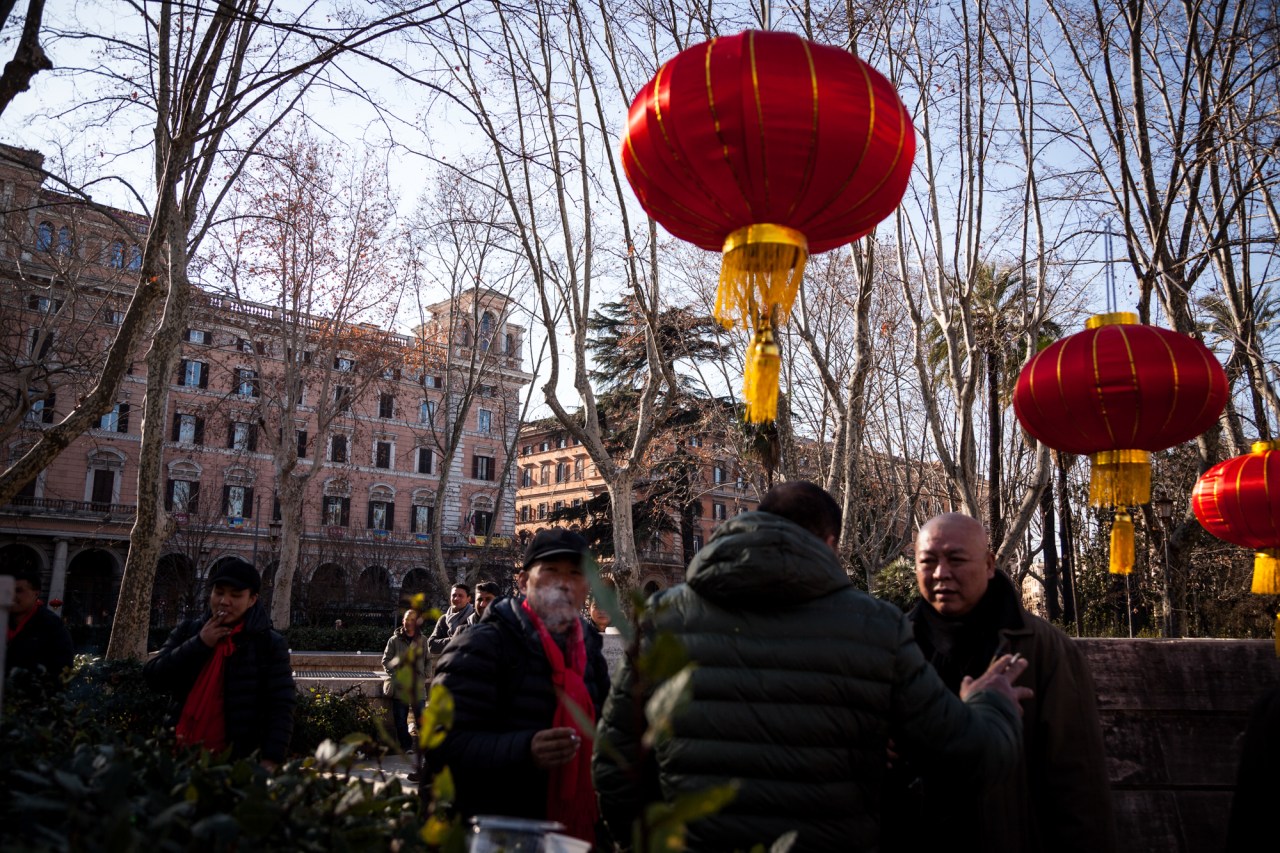 "Piazza di Spagna, Vaticano, Fontana di Trevi?"
The man selling tourists their slice of dream—in the shape of a hop-on, hop-off double-decker bus, with different routes and an audio commentary in eight languages—is Islam M.D. Aminul, a 30-year-old from Dhaka, Bangladesh. He works at a tour bus stand on via del Tritone, a few steps from the Trevi fountain, and has lived in Rome since 2005. Aminul speaks six languages, seven if you include Roman, and has a thick accent. When asked how he likes working in the tourism industry he answers "Fantastico," squeezing the c into a g as locals do.
Rome has the largest immigrant population in Italy. According to the most recent data from ISTAT, the National Institute for Statistics, there were more than 365,000 foreign residents in the capital in 2015, accounting for 12.7% of its total population. The largest community is Romanian, which makes up for about a third of the city's immigrant population, followed by Filipinos, Bangladeshis, and Chinese. Grottarossa and Esquilino, where Stazione Termini is, are the neighborhoods with the greatest immigrant populations.
Aminul lives off the Barberini subway stop, close to where he works so he doesn't have to commute for hours to get into the heart of the city each day. Instead, he could have breakfast with his feet dangling in the Trevi fountain each morning—a dream for tourists and Romans alike — but even that is not enough to make him a Roman in everyone's eyes. It takes seven generations to be a Roman, according to a local saying, and for some new Romans like Aminul, the road ahead still feels very long.
"When I'm meeting new people for work they're all very friendly, daje Aminul, bravo, but it stops there. In 12 years no one ever invited me to their house for Christmas."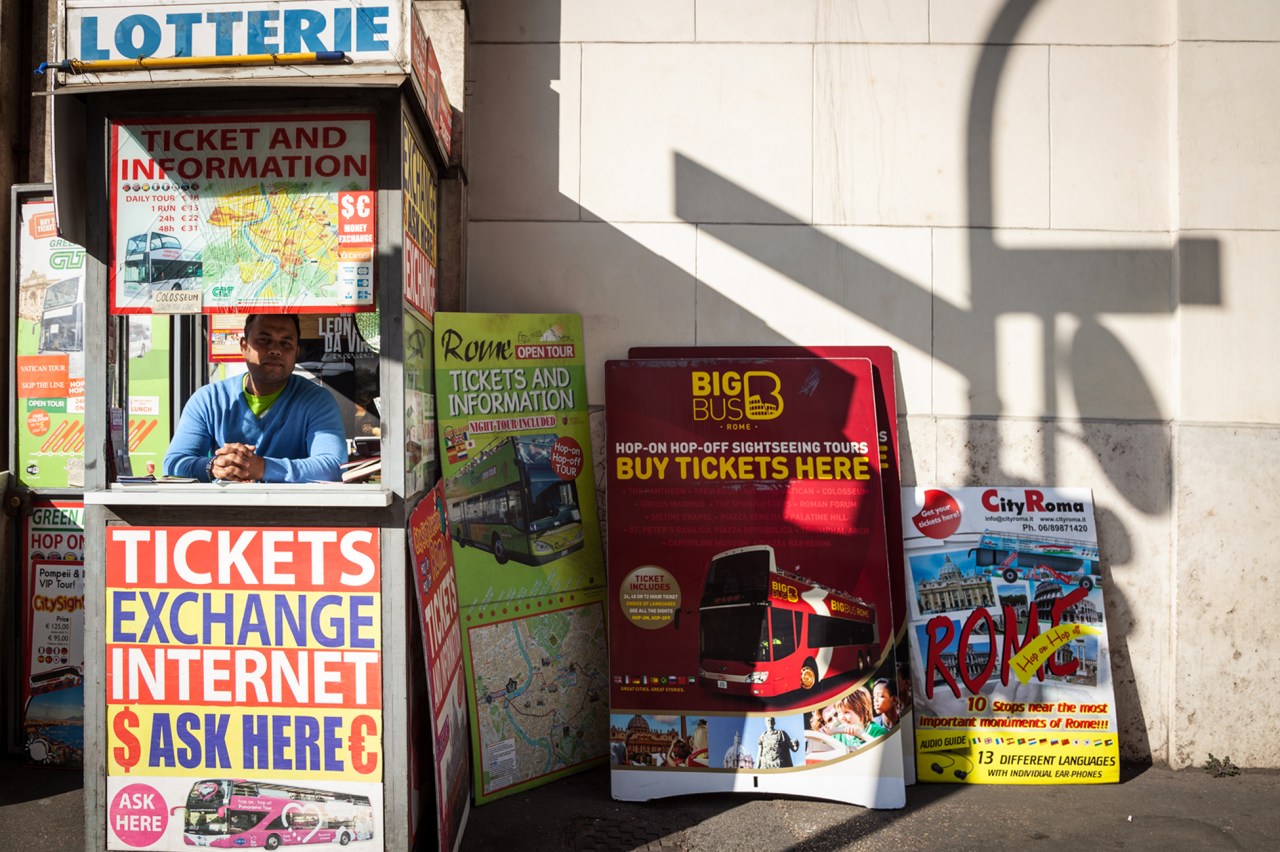 Il Palazzo del Freddo di Giovanni Fassi—known by Romans simply as Fassi—is one of Italy's oldest gelato institutions. Started back in 1880 by Piedmontese Giacomo Fassi and his Sicilian wife Giuseppina, the family-run business first opened as an ice shop selling fresh beer and grattachecca, Roman shaved ice. It was then turned into one of the country's oldest gelaterie by their son Giovanni, at the time gelatiere sovrano—the King's pastry chef.
As the legend goes, Giovanni quit his job when his bosses demanded he shave off his moustache—the workplace had a strict grooming policy—and decided to invest in the family business. The gelateria was eventually established in its current location in Piazza Vittorio in 1927 and prides itself on having served many of the most prominent figures of the time since its early days, including King Vittorio Emanuele III and Mussolini. In 1928, Giovanni Fassi was the first to use dry ice to keep ice cream cold for a few hours out of the freezer, trademarking the invention as Telegelato Giuseppina. That's how the Italian fascist army got its stock of Fassi ice cream shipped to Libya.
"In recent years our clientele has changed drastically. We have a lot of foreign customers, Asian in particular—we've become the meeting point for Chinese and Korean teenagers, they're the largest communities living in the neighborhood," says Valeria Bilancioni, press agent of Palazzo del Freddo.
This meant Giovanni needed to find a way to preserve more than 130 years of gelato-making tradition while satisfying new palates. An answer was introducing the rice flavor, a popular taste in Rome as well as in Seoul, where Fassi—now owned by the Korean firm Haitai, which had been a commercial partner since the early 2000s — has a branch.
"Third generation Chinese kids have grown up with Fassi's gelato. For them, it tastes like home," says Bilancioni.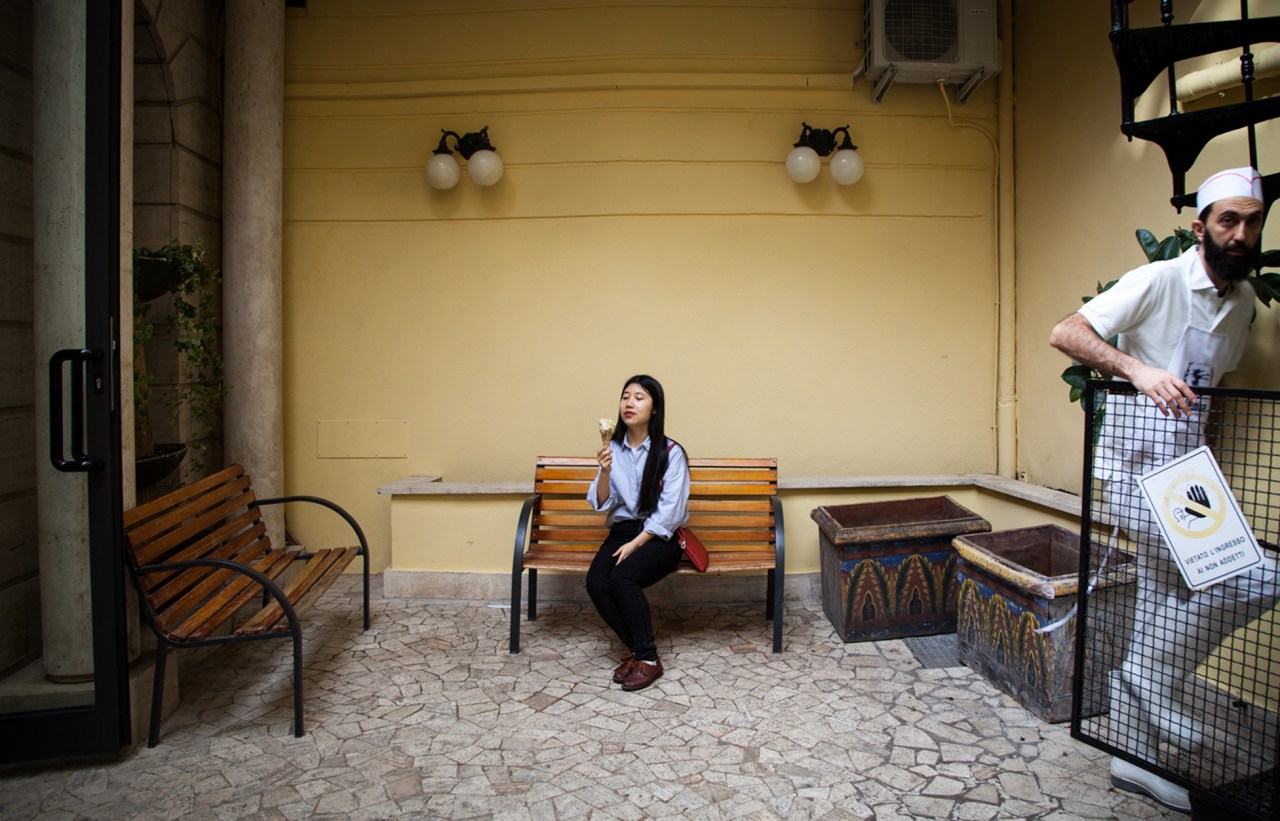 Lilia Meng likes to order her ice cream in Italian, although she's still shaky on some words. It's the most rewarding way to practice the language she just started learning. A 25-year-old Chinese teacher from the Henan Province, Meng first landed in Rome via Beijing in 2014 and is now back for her second Roman stay, living right across the square from the gelateria.
"When I left after the first time I came here, my friends in Rome wrote to me asking when I would come back, saying they missed me and there would always be a place for me here," Meng says. "These aren't things you hear often in China."
It was the warmth of the people that won her over, in addition to the city's granitic immutability, which inspired Romans themselves to give it the epithet eterna—The Eternal City—for thousands of years. While Beijing and China are perpetually changing, Rome is always the same. Meng's Chinese name is Li, but she goes by Lilia when in Rome. She says she could see herself staying here, as she orders her favorite gelato combination: Piedmontese hazelnut, Sicilian pistachio, and rice.
In Rome, one road can lead you anywhere.
The last stop on the B metro is Rebibbia, a suburb known mostly for its ominous prison. To challenge this stereotype, in 2014 Rebibbia-based artist Zerocalcare painted a 130-foot-wide welcome mural, featuring a mammoth, on a wall right outside the exit of the subway. There is an urban legend that fossils of the extinct animal were found there in the 1980s. The mammoth greets the residents and the few visitors alike: "Welcome to Rebibbia—land of mammoths, tracksuits and big hearts. We don't have much but don't miss anything."
The neighborhood looks like a village, with small buildings all connected by courtyards. When we went, on March 5, the election of the Reina was taking place. It's the queen of the Bolivian Carnival, a parade that goes from the Colosseum to the Imperial Fora, organized every year. We followed the Latin American music and the voices of the kids playing soccer in the streets, shouting half in Italian and half in Spanish, and soon found the community center for elderly people, where the election was held. Judging from the red carpet and the makeup on the contestants' faces—as well as the amounts of beer and asado filling up the space—it was clearly a special occasion.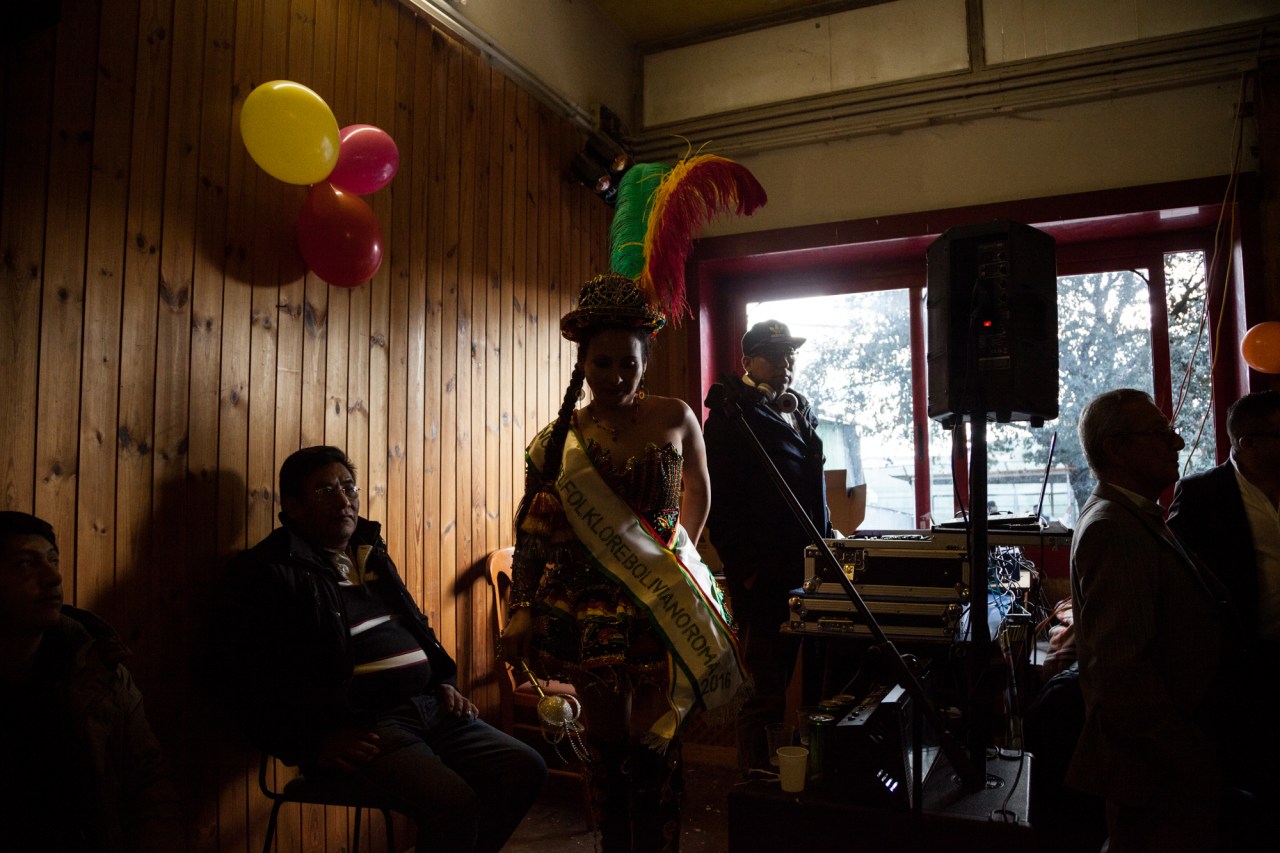 "In Bolivia, we don't only have one Carnival, but many," explains the president of the jury, Sandra Flores, a member of the Association of Bolivians in Italy. "We expect the girls to know the culture and the history of our country, to better represent it here in Italy. That's why not everyone can be elected Reina."
We all know the saying "All roads lead to Rome." But if you have the courage to drive around Rome's main thoroughfare, the Grande Raccordo Anulare—also known as any Roman's worst nightmare, as you risk being stuck in traffic for the rest of your day—you'll discover it's actually the other way around: in Rome, one road can lead you anywhere.
Drive west to Massimina and take the Aurelia exit of the Raccordo; you'll reach the city's biggest Sikh temple, located in a low-income neighborhood also known as Casal Lumbroso—known for hosting Europe's biggest garbage dump. On Sundays, from 11 a.m. onwards, it's a parade of saris and turbans. The main Nigerian Apostolic church is in Torre Angela—all the way east, on the opposite side of the thoroughfare—and right next to it, in Torre Gaia, you'll find the barber shop opened by Testimony and Mike, catering to a young and flashy Nigerian clientele. Not too far, in the Chinese microcosm of via dell'Omo, is Rome's biggest Chinese Buddhist temple, which prides itself on having Europe's biggest pagoda.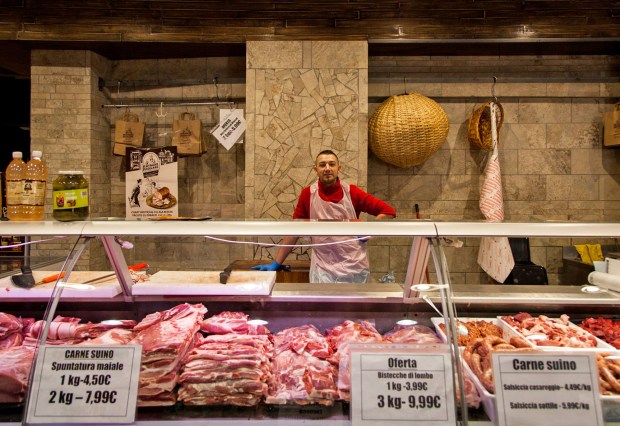 The Romanian mall La Strada opened in 2009, right in front of Stazione Tiburtina, Rome's second biggest train station. It used to host 11 stores selling everything from food, to books, to money transfers, but since 2013 it's been a supermarket. Every counter is cluttered with leaflets of restaurants with a meniu romanesc or advertising Romanian dentists and vets. The clientele is indeed mostly Romanian and Roma, but the place is also popular among Ukrainians, Moldavians, and Polish, while many Africans and Chinese come to shop for meat.
"The only Italians shopping here are the old guys who have young Romanian girlfriends," jokes Tiberius Vasile, who works in the meat department and, like most Romanians, Italianized his name to Tiberio. A far more typical sight in the supermarket are Romanian women who work as helpers for the elderly, and on their day off drag their children here for groceries.
Unlike other countries in Europe, Italy never developed a strong state-sponsored integration paradigm—as opposed to Britain's model of multiculturalism or France's encouragement of assimilation—when the number of immigrants started growing consistently after the 1980s. Instead, family—which in Italy is and has always been the institution that steps in where the government fails—has helped determine immigrant experiences.
For example, many Filipinos who immigrated in the 1980s found jobs cleaning the homes of the Romans of the upper and middle classes, and domestic familiarity played a big role in their integration and overall cultural acceptance. Some say that it also paved the way for ill-concealed forms of racism; in the early 1990s, many Italians used the word "Filipino" interchangeably with "house cleaner."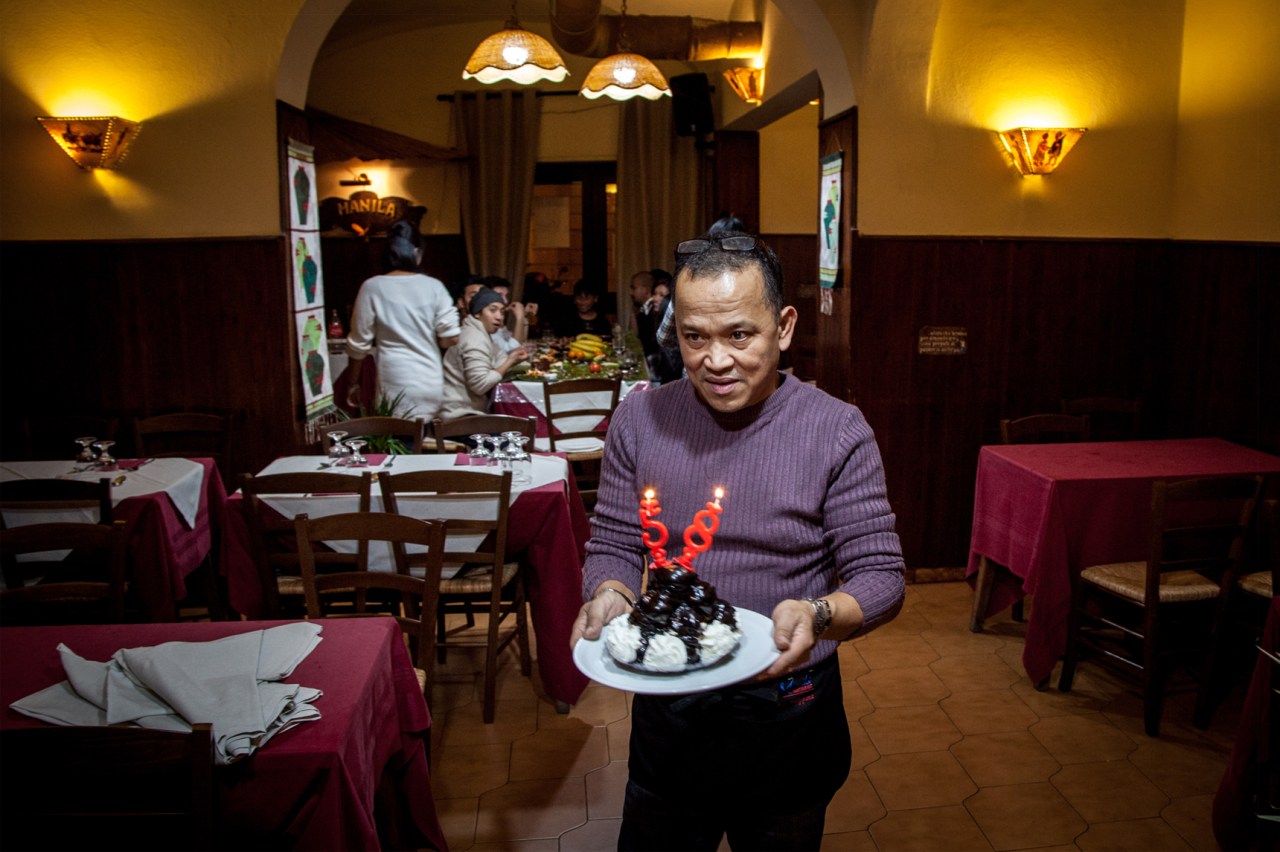 "The one thing I really cannot come to terms with in Rome is the fake well-intentions," says Romulo S. Sabio, the owner of Manila Restaurant in Castro Pretorio, while setting the tables for dinner.
"I've heard so many people telling me that Filipinos are welcome here because we have a nice face and we don't bother anyone," he continues. "But what does that even mean? Don't they think there are good and bad Filipinos too, just as in every other community? What annoys me is that they make no efforts to actually know us."
Romulo came to Rome in 1984, when he was 24, to attend the wedding of his sister, who was working at a restaurant in Trastevere at the time. He was offered a job at the same restaurant and never left.
"I'm from Laguna, a city south of Manila, kind of like Anagni (an ancient town south-east of Rome). I'm basically the ciociaro of the Philippines," he adds, breaking down his Romanity to a very precise degree of provincialism—and claiming that, as far as he knows, the icon of Italian Neorealism, Anna Magnani, was also a ciociara.
He's been a waiter, a cook, an actor, a singer, and a city councilman since, and now owns the most popular meeting point for the city's second-biggest immigrant community, right next to Termini. Thursdays and Sundays are the busiest days because they are both days off, he explains as his wife helps him get the place ready for Boodle Fight, a typical Filipino Military academy tradition, which features a feast of rice and meat served over banana leaves. Sitting at a table near the entrance, his son Re and his daughter Bea are listening to the soundtrack of the American movie La La Land on YouTube, one earbud each.
"Every night it's pasta and veal fettine at ours," he says with a laugh. "Whenever we try to set a date for a Filipino dinner the kids make other plans with friends and ditch us at the last minute."
Cacio e pepe was born out of necessity. Pecorino, pepper, and pasta were the only items Roman shepherds carried with them on the long nights spent camping out in the mountains. According to Antonello Riva, chef and founder of the Accademia della Cacio e Pepe, it then became a staple dish of the local osterie—tavern—out of another necessity, or rather a very Roman expedient: innkeepers used to cover the pasta with so much pepper that it turned black. Although the dish was very cheap, the wine the patrons drank to wash it down would bring the bill back up.
The cacio e pepe of Torpignattara is curry, of which you can find infinite varieties at Euro Bangla, the most popular Bangladeshi restaurant in Rome's self-proclaimed "Banglatown". It's been open for 13 years, four of them under the current owner, Mohammed Ali, who is from Dhaka and has been living in Rome for the last 15 years. His daily mission is to remind his compatriots of the flavors of the homeland with fresh produce you can only find at the market in Piazza Vittorio, such as red spinach and potol (green squash from South Asia). But when it comes to soccer and breakfast, he is Roman through and through.
"Every time I go back to Bangladesh to visit they try to saddle me with rice and vegetables for breakfast, but no way. Only cornetto (croissant) e cappuccino."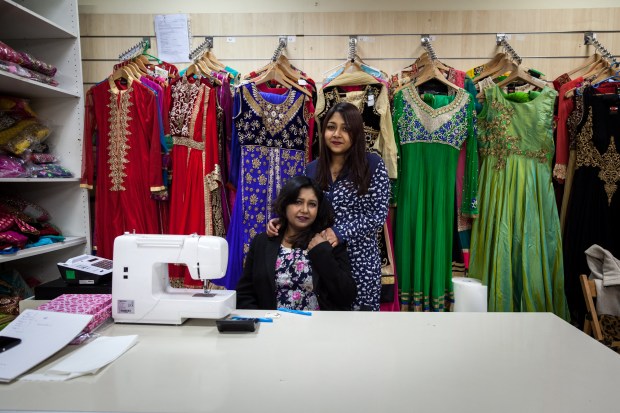 Across the street is Laila Fashion, a store that sells mostly womenswear from Bangladesh and India. Laila Shah, who followed her husband to Rome 25 years ago, opened it 12 years ago. She gives discounts to all her Italian customers because she's happy they'll wear a sari—even if only for carnival. Her daughter, who sometimes helps her in the shop and is in her last year of law school, is named Milva, in honor of one of the city's most famous singers.
Rome is home to Europe's second-biggest Bangladeshi community, outdone only by London, and most live in Torpignattara. It's always been one of Rome's working-class neighborhoods, and served as a background for many of Pier Paolo Pasolini's movies, like Ragazzi di Vita. The writer and filmmaker used to walk the streets of the borgata every day, chasing the lives of those he thought were the 'real' Romans. A mural of a falling man painted on the facade of a building in his honor in 2015 has been nicknamed Torpignattara's Sistine Chapel.
Pasolini's favorite lunch spot is also around the corner (or at least that's what guidebooks claim). Ercole, the owner of the traditional Roman osteria Il Ragioniere, says he remembers seeing Pasolini walking up and down the street where he played soccer with his friends as a child because there was never any traffic. He laments that the neighborhood is run down now, and says no one shops or walks around anymore. He claims immigrant residents rarely eat at his restaurant.
"There are 23 communities living here, of seven different religions," says Bachcu Dhuumcatu, who has lived here for 27 years. He owns a shop with internet and phone booths, prints the Bangladeshi community's daily newspaper and has become the unofficial spokesperson for the Torpignattara community. In his opinion, there's more than coexistence between the immigrant communities and the Italians.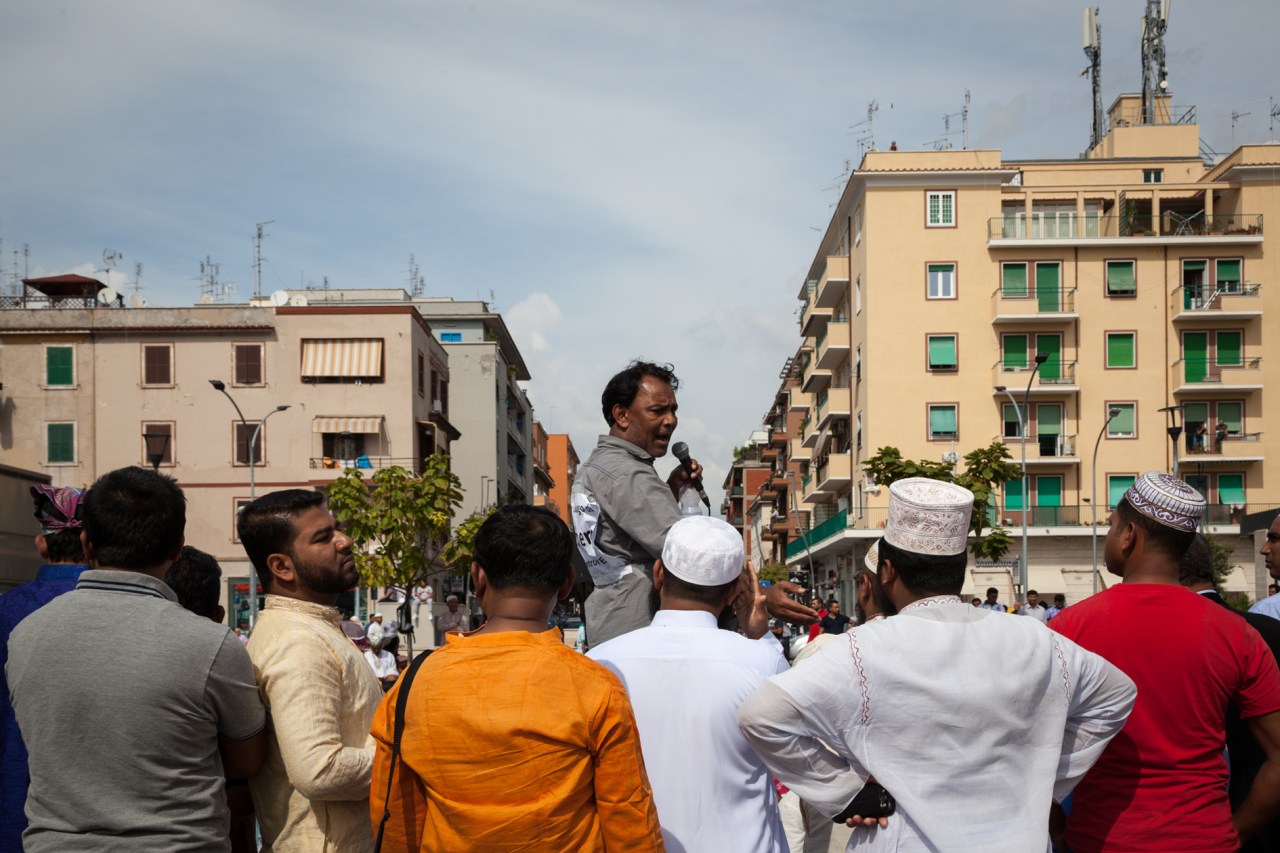 "There's fraternity—except when the media or the politicians say otherwise for political purposes. Torpignattara is actually like a small world."
At the Carlo Pisacane school, one of the neighborhood's primary schools and the city's most multicultural, about 90% of students are second or third generation immigrants. Many grew up eating pizzette as their afternoon snack. As Ennio Flaiano, who co-wrote La Dolce Vita and 8 ½ with Federico Fellini, put it, "Rome doesn't judge, it absolves."
On the day the Chinese afternoon school Dong Fang holds its yearly show, a dozen Roman kids from all nationalities jump on the stage when their teacher Stefania says it's time to sing Fiori Trasteverini. It's a popular song by Roman singer Gabriella Ferri that talks about the Romans' love for people coming from far away. "Venite tutti a Roma, v'aspettamo / se dice che più semo e meglio stiamo (All of you come to Rome, we're waiting for you / as we say, the more, the merrier!)