When Joxe María Arakama decided to bring two female guests to a dinner at his culinary society, they were shocked to find themselves alone at the table. Meanwhile, the rest of the society was having dinner at a nearby venue, having boycotted Arakama's challenge of their boys-only rule.
Arakama had recently gone to the ombudsman of his small city to denounce Gure Kaiola gastronomic society's refusal to admit women at its dinners. The complaint, which was reported in the local press, caused a stir not only in the small town of Tolosa, located about 17 miles from San Sebastián but in the whole of Basque Country.
The Basques take their food very seriously—an obsession that extends well beyond their world-famous restaurant culture. The region is home to more than 1,500 culinary societies, known as txokos, which have historically served as venues for men to gather for conversation, food, and company away from their families. In recent years many txokos have begun admitting female members, although often with restricted access. But this move toward what to many would seem to be basic gender equality has had its detractors—as evidenced in Tolosa.
In reaction to Arakama's petition, the Gure Kaiola society introduced a new rule: members had to write guests' full names instead of the number they were bringing so they could identify if women were coming. When they saw that Arakama had invited two women to the dinner, they organized their own rival event.
In response, the ombudsman requested that the City of Tolosa withdraw any subsidies to Gure Kaiola, as well as other associations that discriminate on the basis of gender.
Shortly after the January 2016 dinner boycott, the ombudsman also requested that they promote "measures aimed at eliminating gender stereotypes as well as positive action, in order to correct the initial inequality suffered by women of Tolosa."
Txokos have long been a source of controversy in the Basque Country. Rumor has it that a century ago members of a society called the Kanoyetan Club even refused entry to Spanish Queen Maria Cristina. She allegedly had to make do with some "takeaway" kokotxas (hake throat, a local delicacy) to take back to the palace. But despite anecdotes like this, some say the tradition blossomed in response to the matriarchal nature of Basque society.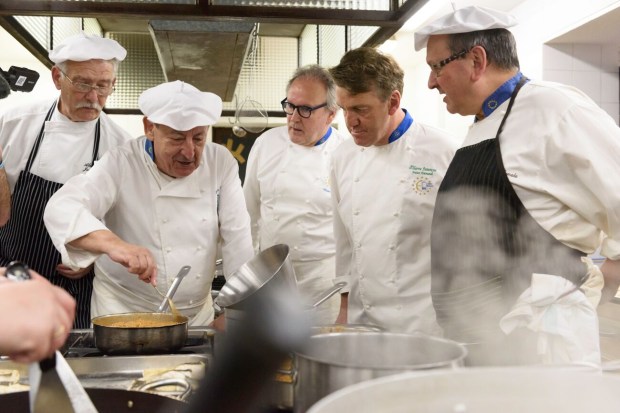 "The truth is that here in Basque country the wife is the real boss," says Juan Mari Arzak, chef, and owner of Michelin three-star restaurant Arzak and one of the most influential voices in the region. The mother runs the kitchen, preparing traditional and homemade dishes. The txokos became a way for husbands to meet their friends to hang out, talk, and cook—while giving the women a much-needed respite from their husbands. "For us, men and husbands, we have to leave the house to have a little authority. And that's why we created societies."
But the makeup of the txoko membership began to change a decade ago when some groups started allowing members' wives and daughters at parties and special occasions. About five years later, some societies finally gave women the right to be members. Today, less than half these groups exclude women. However, there are often still limitations on women's participation. Many societies only allow women to enter on designated days or times of the year, require that they are accompanied by a male member, and prohibit women from cooking.
As night falls in the Old Town of San Sebastián on a rainy Sunday, people in search of good food, wine, and cider head to the city's famed pintxos—tapas—bars. But in the middle of the crowd, dozens head to unmarked old stone buildings, take keys out of their pockets, and enter through wooden doors.
I was lucky enough to head to one such medieval castle-esque building, home to the Cofradía Vasca de Gastronomia (Basque Culinary Brotherhood), on a rainy Sunday in March. As I approached, I heard the sound of a txalaparta, a traditional Basque instrument made of wood or stone which mimics the trot of a horse. Inside the old stone building, decorated with portraits of its historic members, I was embraced by a cozy atmosphere.
Chef Quique Dacosta, a famous Michelin-starred chef from Valencia in town for a culinary symposium visit, had brought shrimp from a nearby coastal city for the dinner. The members also served a hake with a spoonful of txangurro a la donostiarra (a stuffed spider crab) with aioli emulsion and scrambled eggs in chicken broth with winter greens. Thanks to Chef Dacosta's guidance, the dishes were more refined than the traditional Basque recipes usually served. Half of the attendees were female, unusual but becoming more common at Cofradía's dinners, where women represent 10 percent of the membership.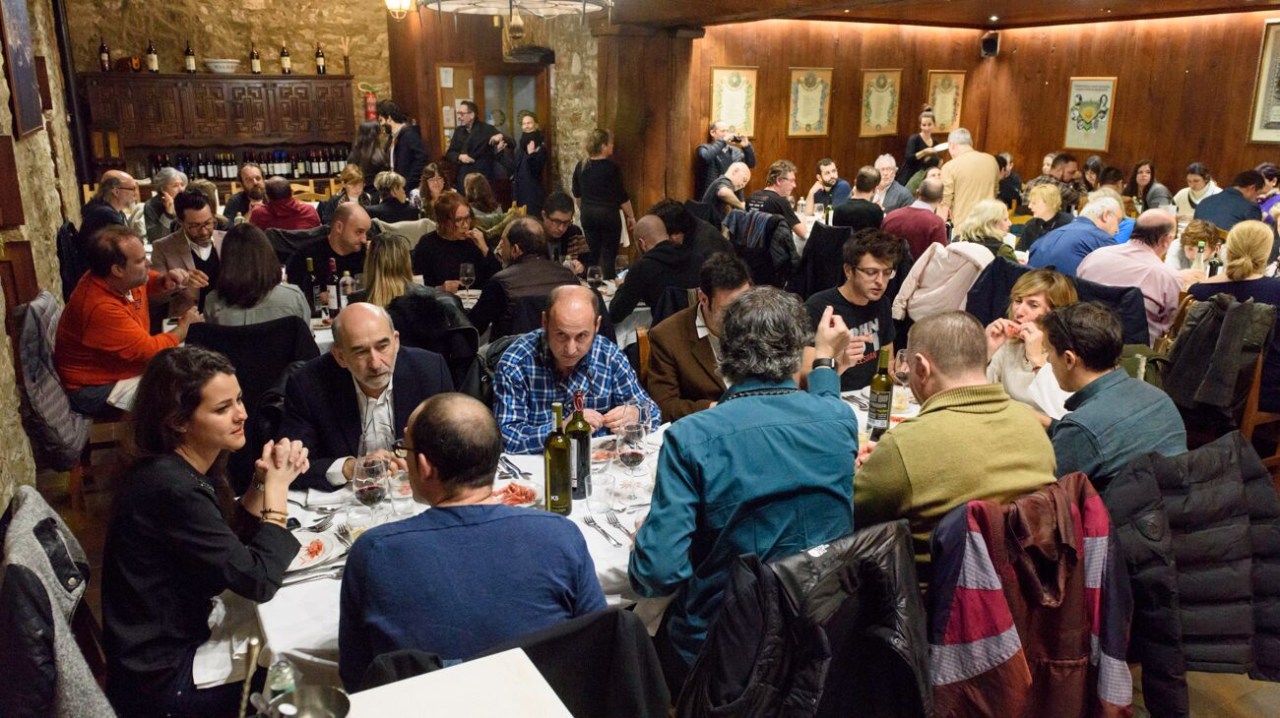 Cofradía, founded over 50 years ago, has allowed women for two decades and has one of the highest percentages of women among its more than 300 members. New members pay an initiation fee of about 1,000 euros, and a 300 euro annual fee thereafter. They help themselves to the pantry to prepare recipes and leave a list of the ingredients used and cash to pay for them in a wooden box.
Elena Arzak, one of the most respected chefs in the world, is a member of Cofradía, along with her father, Juan Mari. Elena Arzak became a rare female leader in Spain's cutthroat gastronomy scene, one that suffers from some of the same streams of chauvinism that affect so much of the international fine dining scene.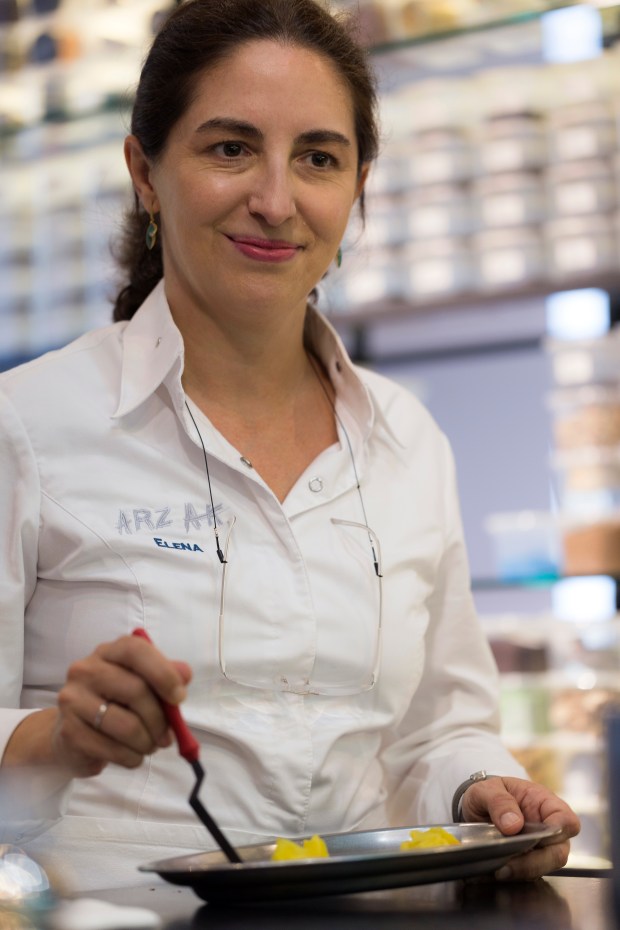 Arzak says she usually cooks at the society on her days off. "My work doesn't allow me to do it assiduously, but I love cooking for my friends or co-workers in Cofradía. We usually cook fish—like hake in green sauce with clams, grilled hake neck, turbot—and mushrooms, peas and beans when in season, and meat, grilled or in sauce," she said, running through a list of some of the cornerstones of the Basque kitchen. Cofradía is one of the few gastronomic societies—even among those that allow female members—that permit women to use the kitchen.
Amaia Arruebarrena has visited Cofradía since she was a young girl and her relatives were members. Arruebarrena says she uses the kitchen, where she can cook with any member or guest, both to organize meals or events with her friends and family and attend events planned by other members. "Although there are still societies that continue to close their doors to women, especially the oldest ones, the number of societies that allow access to women—although not always to the kitchens—is increasing," she said. "This reflects the evolving role of women in society, where they are now seen as equal to men."
Despite the historical and ongoing exclusion of women at txokos, Arzak believes the Basque Country is a matriarchy where women have always had a lot of power. She noted that while she sees the men-only txokos as a tradition, and hasn't been affected personally by them, Basque Country could still improve its gender dynamics.
"I believe and hope that there will be more and more space for women in all fields," Elena added, pointing out that in her father's restaurant, Arzak, 80 percent of the staff are women. "Changing traditions takes time."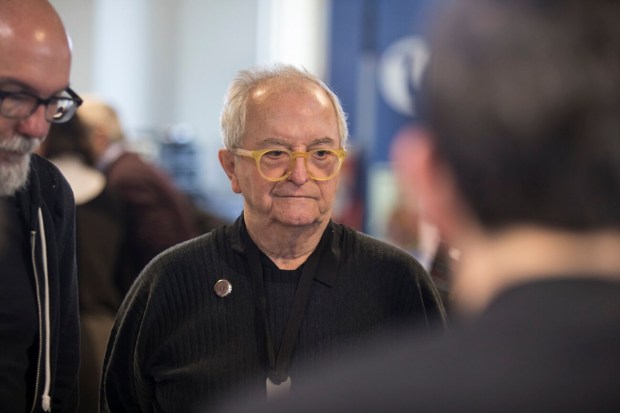 Eider Aristi, having been prevented from joining the txoco her male family members are part of, sees this quite differently.
Her father is a member of a group which doesn't allow women, Euskal Billera, one of the most well-known societies of the Old Town. As a child, she attended celebrations for baptisms, communions, and birthdays in the txoco. When she grew up, she resented not being allowed to become a member of a society she had frequented when she was a young girl.
So when she attended the College of Engineers of Gipuzkoa, she joined Ernio, the Gastronomic Society of Engineers of San Sebastián. From Ernio's 1999 founding "all women were allowed to cook and enjoy the place and the company of others just as the rest of male members," Aristi said.
She hopes that societies like Ernio are just the beginning of what should be a full reconfiguring of the txokos' boys-only approach, especially in light of the fact that Basque's gastronomic groups play an important role in passing traditions—new or old—onto younger generations.
Aristi said Ernio's willingness to include women is a better reflection of current Basque social environment than the txokos that are refusing to evolve. And "this is great for Ernio," she added, "because they will always be known for this."