This essay is adapted from Grape Olive Pig: Deep Travels Through Spain's Culture, by Matt Goulding.
I've passed by the school—Escuela de Cocina Luis Irizar in San Sebastián—countless times over the years, peeked through the windows into the sunken classroom to see a new wave of young students dressed in their crispy white jackets, boning turbot or braising oxtails or sweating out a pastry lesson. One day, I see a group out front smoking and I ask them how class is going. "Man, I love Visi, but she's tough. The other day I got in trouble for overcooking asparagus." How about Luis? "He comes by in the mornings and likes to watch us cook. Seems like good people."
Good people, to be sure. But much more than that. Luis Irizar is a towering figure in Basque cuisine, the man who almost single-handedly set into motion the culinary revolution that has turned Pais Vasco into one of the greatest eating regions on the planet. He opened the first Basque culinary school in 1966, which became an incubator for some of the region's most brilliant minds. His combination of raw technical skill and groundbreaking vision earned him the moniker el maestro de los maestros, the master of the masters. His alumni include Pedro Subijana, the mustachioed captain of Michelin three-star Akelarre and a leader of the New Basque movement; Karlos Arguiñano, who has gone on to produce more than 6,000 episodes of Spain's most-watched cooking program; and one not-so-brilliant cook, a young Californian who stumbled into his classroom in 2002, looking to build a life around a nascent love affair with food.
I've been back to San Sebastián many times since those heady days, but I can never bring myself to walk down those stairs. I was only there for part of a summer, which I spent under the expert guidance of Luis' daughter, and that was 15 years ago. Will they remember me? Do they care? It's like meeting your favorite musician or author—someone who has impacted your life so deeply without them even knowing it. What do you say? Instead, I take the easy way out. I send an e-mail from my rented apartment a few blocks down the road, tell the Irizar family who I am and that I'd love to say hello if they have a free moment. Virginia—one of four daughters of Luis who help run the school—writes back immediately: "Of course we remember you. Luis would love to see you while you're in town. Come by tomorrow at 11 a.m."
The last time I saw Luis, I was 21 years old, on my way to an underwhelming four-year career as a wandering cook. He looks the same: same quiet elegance, same prodigious mustache, same endless smile.
We talk for a while downstairs in the school's office while students in the classroom behind us take in a lesson on fish fumets. The smell of monkfish and root vegetables fills the room.
"What have you been up to all these years?" he asks me. I give him a condensed rundown, tell him about my time as a fry jockey and a boat cook, that I married a Spaniard and am writing a book on his country. "You don't say. And that all started here?" He stares out the window, scanning something on the horizon. He's been a part of hundreds of genesis stories, but this one, admittedly, has a few unexpected twists.
Mostly, though, we talk about his life, about the years on the road, raising a family while accumulating an encyclopedic understanding of classic European cooking. When he tells me about those tough first years running contraband and scraping by in an industry threatened by famine, he lowers his voice and leans in—a habit you'll find with older Spaniards when they speak about the Franco years. But when it comes to the kitchen, he's as animated as I remember him: eyes wide, hands darting here and there, plucking anecdotes from the bookshelf of his mind. "All I ever wanted to do was share what I was fortunate enough to learn."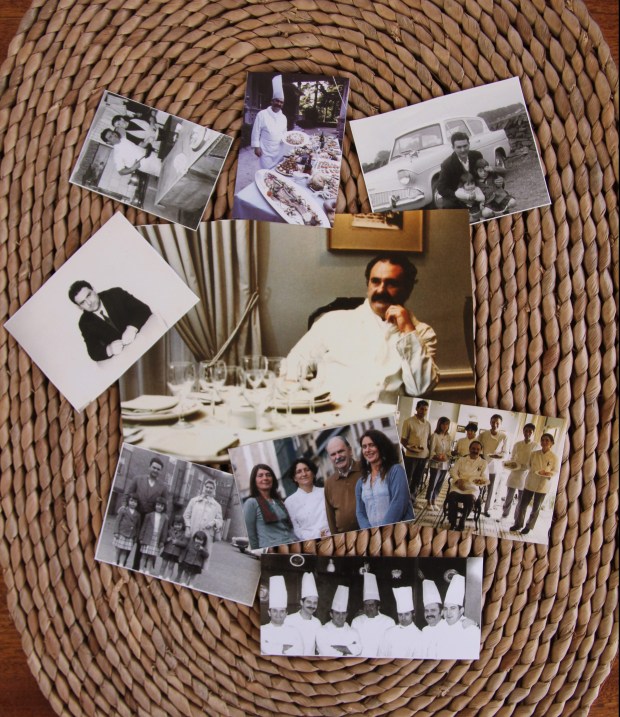 He doesn't get around like he used to, but he still loves to walk the old streets of his home city and pay his respects to the cooks he and his family helped shape. Luis and Visi take me to one of their favorites, Casa Urola, an institution in the old part with the typical two-pronged approach of good Basque restaurants: pintxos on the bar, ready for immediate consumption, and a longer menu of prepared dishes for those sitting down for a full meal. It's a place I've walked by a dozen times without ever noticing—a testament to the top-to-bottom potency of this eating town.
Visi goes back into the kitchen to have a word with the chef and soon the plates come rolling out. First, guisantes lágrima, teardrop spring peas studded with slices of raw wild mushrooms and a veil of acorn-fed jamón. The tiny peas pop release little depth charges of spring across the palate.
"The Basques take eating more seriously than anyone I've met in my travels. They believe it's their duty to eat as well as possible," says Luis. "And they never get tired of it. Even the old couples still go out on tapas crawls."
"Women set aside a night each week to go out with their friends," says Visi. "The men may have their societies, but we go out and eat and drink on our own too."
Years ago, on one of the early episodes of No Reservations, Visi took Bourdain out with her female posse and they all ate a ton and got pretty loaded. In a separate scene, Luis brought him to his local society, one of the 1,500 all-male gastronomic societies that dot the region, places where men gather to cook, drink, and sing homages to the Basqueland. Luis taught him how to make hake with salsa verde, a Basque classic, in the heavily accented English of his Hilton days.
"How is Anthony doing these days?" asks Luis.
The chef brings out a plate of farm eggs scrambled so softly they've barely coagulated, covered in thin shavings of St. George's mushrooms, one of the many foraged fungi that drive Basques wild in the spring and fall. They have the impact of truffles on the loose scramble, pulling us all in close to the plate with hunks of bread for mopping. Visi pours another round of txakoli.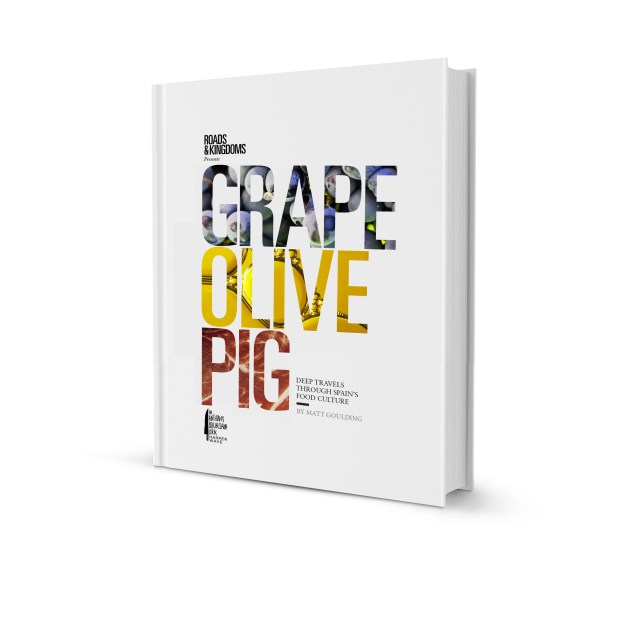 We talk about the latest crop of students—a group that has started to skew more international as the Basque reputation has grown. (The school's waitlist swells with each passing year.) Visi has worked sensibly to evolve the school to fit the times, incorporating the types of lessons that the modern student wants to absorb before heading out into the restaurant world: how to thicken a sauce with xanthan, cooking sous vide, folding in flavors from the global pantry.
Luis, though, belongs steadfastly and proudly to a different era, one where everything starts with product, where surprise isn't an ingredient, where a bowl of peas sure as hell better look and taste like a bowl of peas. He can't tell you how the big names today spherify olives and turn liquids into powder, but come over for dinner and he'll make you a liebre a la royale that would make Escoffier weep. (About the time he made Arzak and a group of French chefs wild hare covered in blood sauce at Arzak's house, Luis says proudly: "They said it was the best they'd ever had.")
The chef plants a plate of kokotxas, hake chin, in the center of the table. Luis sits up. "This is one of the most important plates in Basque cooking."
Visi, the perennial professor, breaks it down: "You make it with olive oil and a pinch of chili and a splash of txakoli to temper the oil. You always make it with the skin side down with a pinch of salt. In just a minute the gelatin will start to release."
I ask them why you never find kokotxas outside of the Basque country. "Let's hope it stays that way," says Luis, growing increasingly animated with the wine. "We don't want the price to go up. It's like jamón. If the Americans ever find out about true Spanish ham, there won't be any left for us."
"We have an inferiority complex here in Spain," adds Visi. "We're possessed of this idea that other people's food is better than ours. We always stress to our students that they need to care about the local culture, they need to defend great producers and old traditions. Nobody wants to go to a city where the food doesn't have its own identity."
Listening to her talk brings me instantly back to the classroom: strong jaw and fixed eyes and sharp hand movements, with a gentle urgency that tractor beams you in and a generous smile, the same one that her father has, that opens you up to whatever message she's delivering. I can see it doesn't just work on me; whenever Visi talks, Luis closes his eyes and nods his head emphatically.
Michelin master Pedro Subijana and television titan Karlos Arguiñano and half a dozen other Irizar alumni may have gone on to be titans of the culinary world, but Visi will always be the most important student to emerge from the school of Luis. Of all the ripples Luis has left behind, none matters more than Visi, the one who carries on the Irizar name, who is responsible for teaching a new generation how to handle themselves inside the kitchen and out. "She's me. She's my daughter, but she's always been me."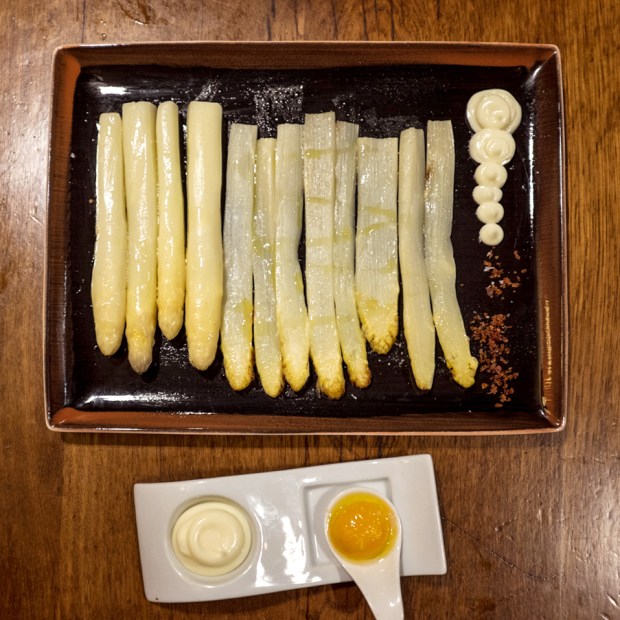 A plate of candlestick white asparagus lands on the table, one of the region's most treasured ingredients, served with olive oil and bread crumbs. Luis sees the scantily clad plate and gives it a nod of approval.
"What matters most to me is that Basque cuisine remains Basque, that it doesn't fuse with Japanese or South American or anything else. That it remains ours."
Despite his loyalty to his home, as the conversation wanders across the Iberian landscape, Luis admits that he's worried about the future of Spanish food. "We've gone too far. There used to be an invisible line between the world of restaurant food and industrial food producers. These are the ingredients we use, these are the ones they use. Until one day someone crossed that line."
Visi sees him getting worked up and puts her hand on his forearm. "Come on, Pop. You shouldn't worry so much."
"What? You know it's true! One day soon you'll be eating a pill that tastes like a raspberry instead of an actual raspberry. I won't be around to see it, but when you taste it, think of me."
The last dish of the day comes out of the kitchen: torrijas, Spain's lavish take on French toast. Urola's version is stunning, so outrageously soaked with cream and egg that it tastes like flan.
I pass Luis a fork and gesture toward the dessert, but he waves me off. "You need it more than I do." By now, Luis has had his share of txakoli and his eyelids are slowly starting to shutter. He likes to head home in the afternoon, time enough to work in a nap before evening sets in.
He pays his respects to the chef. "Better than ever, my friend. Thank you for taking such incredible care of us."
He turns to me, sticks out his hand, shakes mine like he's shook so many before. "Best of luck to you, californiano."
The owner holds the front door open. Luis puts on his hat and grabs Visi by the arm and the two of them step out of the restaurant and into the orange light now bathing the narrow street, disappearing into the crowds that wander the old part of San Sebastián in search of the next bite.