Ngorongoro Crater
Ngorongoro Conservation Area, Tanzania
(+27) 11 809 4300
Jaw's Corner
Near St. Joseph's Cathedral
Baghani St.
Stone Town, Zanzibar, Tanzania
Bourdain had: coffee, mandazi (Swahili donut), bhajias (lentil fritters).
Breakfast date: Saleh Said, Zanzibari businessman and director of Pennyroyal Gibraltar resort investment group.
Forodhani Gardens Market
Forodhani Gardens
Stone Town, Zanzibar
+255 762 039 310

Bourdain ate: octopus, lobster with masala spice, chili mango, Zanzibari pizza (bread with beef, cheese, onion, mayo, egg).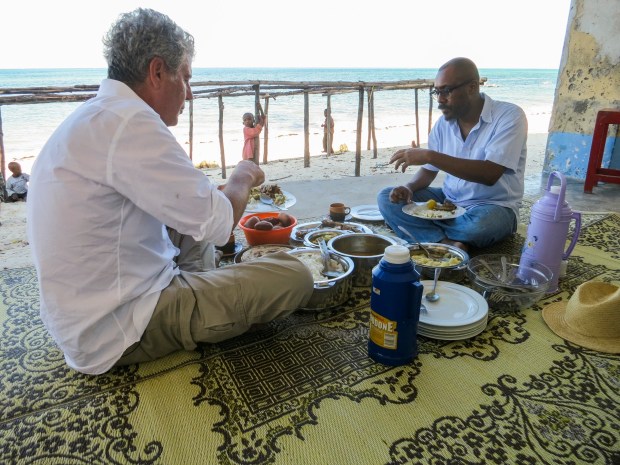 Lake Masek picnic
Bourdain ate: penne with pesto, steamed baby corn with split peas, grilled tomatoes with parmesan, brownies, beer.
Lunch date: Colin McConnell, a fourth generation African born in Kenya, who lives in Tanzania and works as a Serengeti guide. 
Juma's
Stone Town outskirts
Bourdain ate: beef on a stick, chicken (prepared with garlic, lime, coriander, ginger, salt, and pepper), tamarind-chili sauce, fries.
Dinner date: Saleh Said.
House 48
Shangani St.
Stone Town 3661, Tanzania
(+255) 773 164 939
Bourdain ate: coconut rice; freshly caught fish, simmered in a broth of garlic and lime, topped with a fresh salad of chopped tomato, eggplant, cucumber, and potato; chapati; cassava; pan-fried mackerel.
Lunch date: Abeid Karume, musician/artist, and grandson of the first post-revolution president. 
A cool drink with a biologist
Bourdain had: amasi (lumpy yogurt drink, central to the Masai diet).
Drink date: Ingela Jansson, a Swedish field biologist for the Serengeti Lion Project.