You could say my 30-year love affair with Thailand began with a mushroom. I had come to Chiang Mai in 1987 on a backpacking trip through the Far East. A Thai friend took me out to a local restaurant and ordered a dish that changed my outlook on food. It's called het thawp, and it's a puffball-like mushroom that only comes up during the hot season for five to six weeks, served northern-Thai style in a brothy curry with lots of herbs and pork ribs. No coconut cream. Not ultraspicy. Back then it tasted like nothing I had ever eaten before. It was a little crack in the space-time continuum that I got to peer into. I was hooked and I needed more. That trip changed my life.
I started going back to Thailand again and again. Each time I would stay a little bit more, taste a little bit more, learn a little bit more. Three decades later and I now have a home just north of the city that I share with my girlfriend—who is Thai—Kung, plus six restaurants in the U.S. based largely on the food I grew to love in and around Chiang Mai.
The city has changed a lot in that time. The capital of the ancient Lanna kingdom for 500 years, Chiang Mai has been pushed as the culture and art center of Thailand, and it won't take long to see it on full display—in the hundreds of temples to be found throughout the city, in the art galleries and handcrafts you find everywhere. A lot more people come to Chiang Mai these days than when I first touched down. Last year alone there were 28 million visitors. Yet the place is still magical.
My relationship with Chiang Mai has evolved over the years from that of a curious backpacker to that of a dedicated return visitor and now part-time resident. I have my restaurants in Portland, Oregon, and New York, but I keep one foot firmly planted in northern Thailand. What keeps me coming back is what I fell for in the first place and what many Thais, visitors and other outsiders fall for: the people, who are among the friendliest and most generous you'll meet anywhere; the culture, which is ancient and traditional but always evolving; and, of course, the food, an intoxicating mix of herbs, plants, and protein from the diverse ecosystem (think rivers, mountains, jungles, valleys), suffused with flavors you don't find in the Thai food most foreigners are accustomed to. A perfect day for me starts and stops with this special trinity.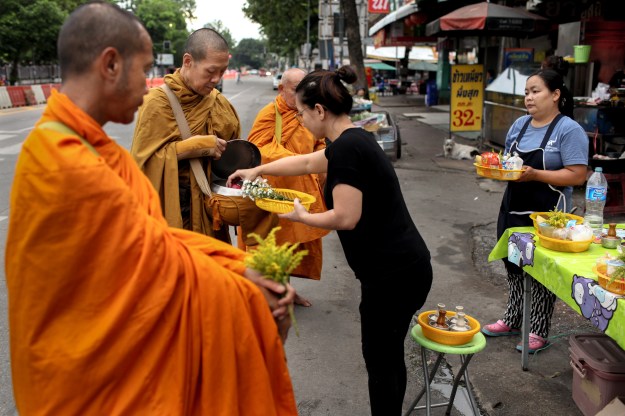 7:00
am
Huay Kaew Road
Amphoe Mueang Chiang Mai District
Chiang Mai
Get Directions
Wake up early to start the day the same way a lot of Thai people do, by tam boon, or making merit by giving alms to monks. The busy bees in Bangkok may not get to do this very often, but for Buddhists in slower cities, it remains their morning routine. You can stop at any of the nearby food stands to get a bag of steamed rice and a couple bags of prepared food or bottles of soy milk. The most crowded spot is probably on Huaykaew Road, but it's not unusual to find monks walking all over the city in the morning since there are over 1,000 temples in Chiang Mai. In Thailand there is a word you use to let the monks know you want to make merit. The word is ni mon. When you walk close to them, you just say ni mon khaa for female and ni mon khrap for male. Tip: Khaa and khrap are used as a polite way to end each sentence.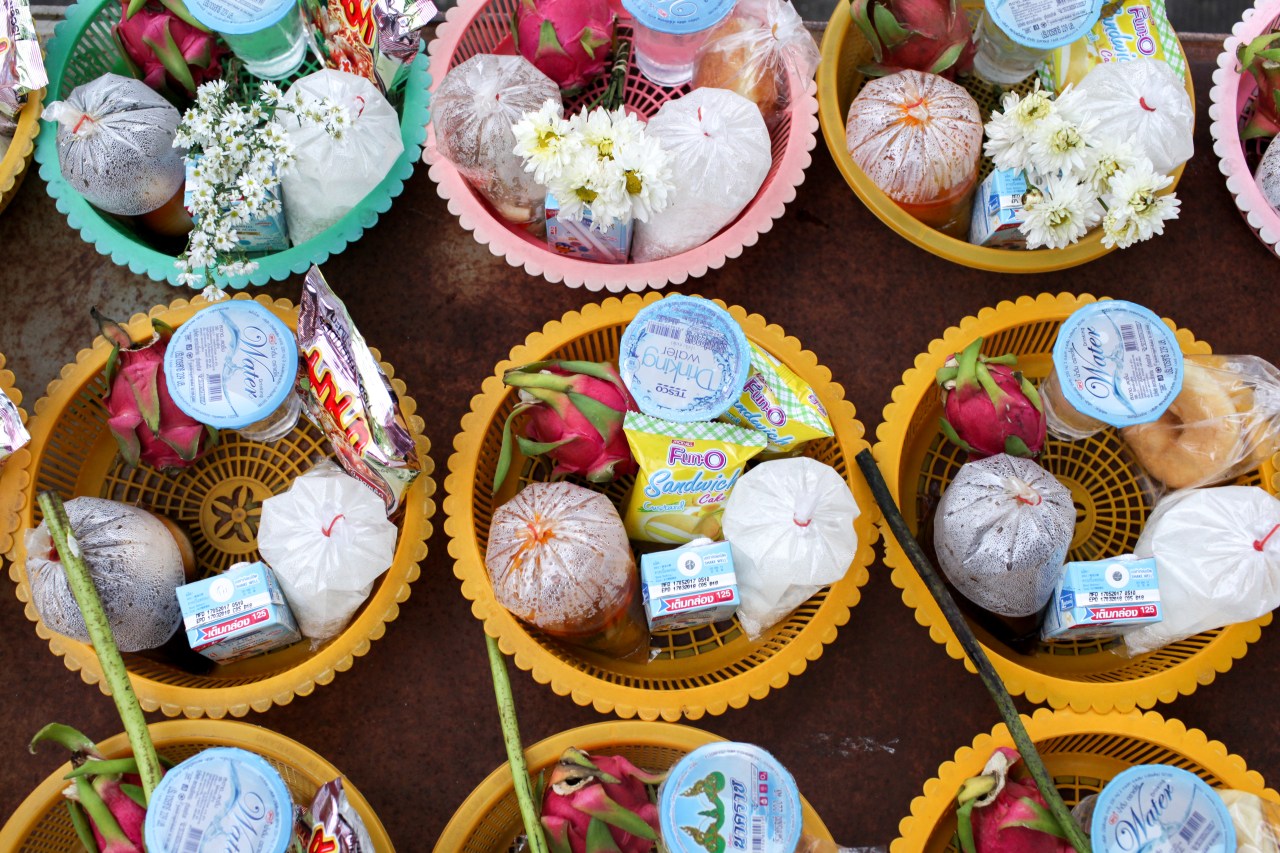 8:00
am
Wat Phra Tat Doi Suthep
Wat Phra That Doi Suthep Road
Srivijaya Suthep Mueang Chiang Mai District
Chiang Mai
Get Directions
Huaykaew Road heads up to the mountaintop temple Wat Phra Tat Doi Suthep, and since you are already right there, you should take advantage of the serene morning atmosphere. It's about 7 miles to the top; if you don't have a motorbike (and, really, you should rent a motorbike while in town), you can get on a roht daeng (a local minibus) at the bottom of the hill. Wat Phra Tat Doi Suthep is the best-known temple complex in Chiang Mai. The view from the temple is stunning, especially on a clear day. It offers a panorama of the city and the valley below. Enjoy the scenery, but take another shot at making merit. Buy incense, flowers, and a candle, then walk clockwise around the stupa three times, as Thai Buddhists do.
9:00
am
Jok Som Pet
Si Phum, Mueang Chiang Mai District
Chiang Mai 50200
Get Directions
After a peaceful morning, it's time to fuel up. Come down off the mountain and make your way to Jok Sompet, a four-decade-old institution serving traditional rice porridge. In Thai, jok is a Chinese-derived word meaning "porridge." There are two main options for jok at Jok Sompet—pork and fish. Order the pork and be sure to add an egg. The poached egg blends perfectly with the soft porridge. Like any good Thai dish, you can season it with a battery of table condiments: dry chili, light soy sauce, and ground white pepper. Save some space for khanom thuay from a vendor in front of Jok Sompet. This sweet treat of pandan jelly and coconut cream gets steamed in tiny teacups. A small bundle of eight to 10 cups wrapped in a banana leaf costs no more than 15 baht (around 45 cents).
10:00
am
Akha Ama Coffee
Si Phum, Mueang Chiang Mai District
Chiang Mai 50200
Get Directions
If you're like me, you'll be looking for a post-breakfast caffeine fix. I love to get my coffee at Akha Ama Coffee, which has a handful of locations around Chiang Mai. The owner, Lee Ayu Chuepa, of the Akha hill tribe, started a fair-trade coffee business years ago and is now known internationally for producing great arabica coffee from the mountains of Chiang Rai province. Make sure to get the amazing banana bread made by Chuepa's partner, Jenny.
11:00
am
Kad Luang
Chang Moi, Mueang Chiang Mai District
Chiang Mai 50300
Get Directions
Kad Luang is the oldest market in town, and it consists of two separate markets filled with everything from prepared-food vendors to artists selling handmade clothing. It's a place to find textiles, kitchenware, local snacks, pungent Thai spices, and fresh produce. You can spend hours walking around this market and leave with an indigo-blue collarless shirt the northern Thai call maw hawm and a sarong, or pha khao ma, as souvenirs, as well as different curry pastes for your kitchen back home and a big bag of snack foods like khaep muu, or pork rinds.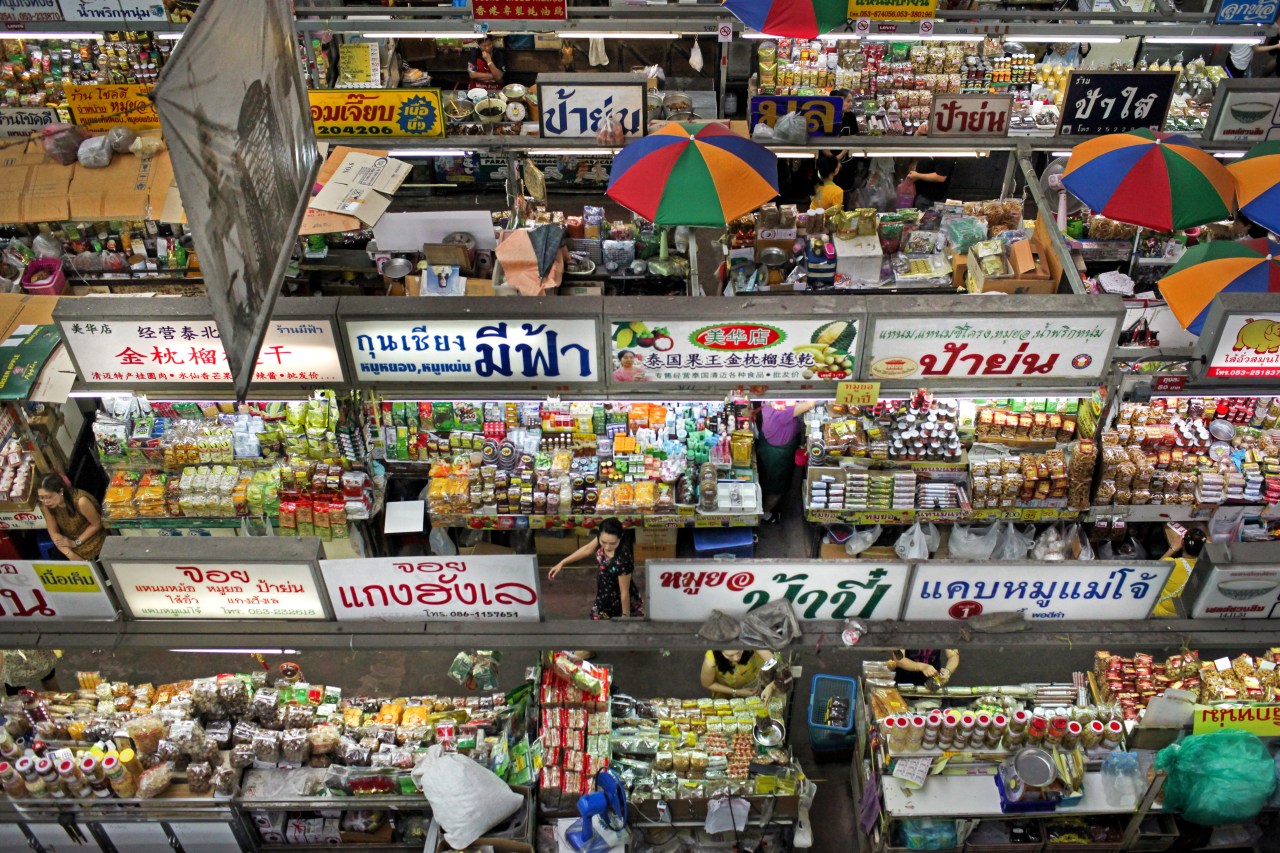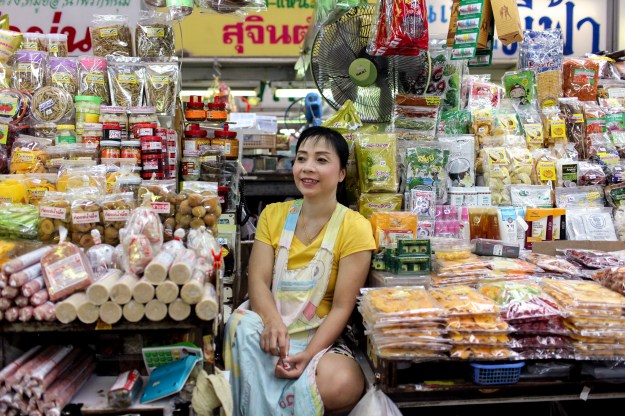 12:30
pm
Khao Soi Lam Duan Fa Ham
Wang KET, Amphoe Mueang Chiang Mai, Chang Wat
Chiang Mai 50000
Get Directions
It's lunchtime now and you'll find the good stuff at Khao Soi Lam Duan Fa Ham on Charoen Rat Road. Khao soi, a curry noodle soup with roots in regional Muslim culture, is one of the stars of the Chiang Mai kitchen—something you should plan to eat a few times while in town. The yellow-hued soup is rich with coconut and has a mild current of spice. The egg noodles come in two forms: boiled in the soup and as a crunchy, fried nest crowning the top. Choose between chicken or braised beef, and dress the whole thing with chunks of raw shallot and pickled mustard greens. Lam Duan also does nice sai ua, or fresh pork sausage, to snack on between slurps.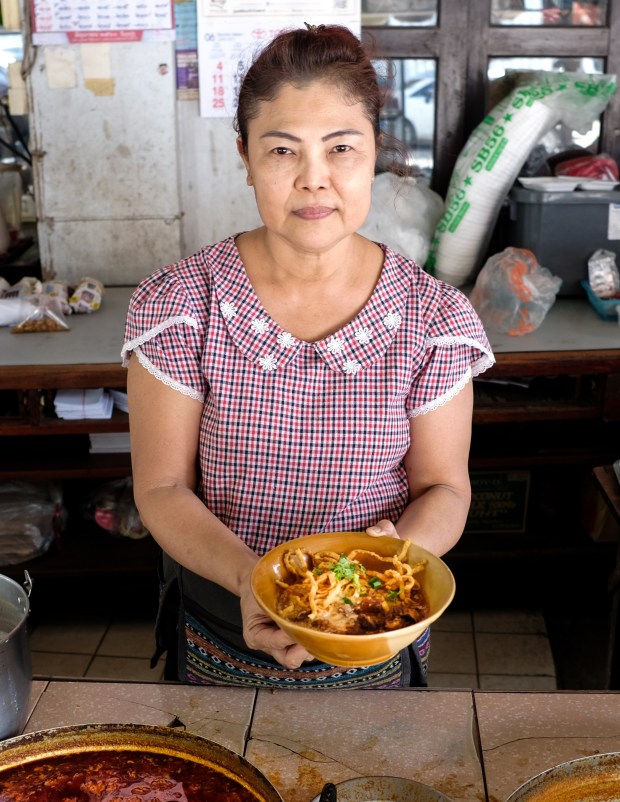 1:30
pm
Santitham
Charoensuk Road, Mueng Chiang Mai District
Chiang Mai 50000
Get Directions
You've been going strong since dawn, so now it's time to slow down. Nuat taa bot (massages given by the blind) are a common practice in Thailand and the perfect way to spend a few hours during the hottest stretch of the day. Here you will find skilled masseuses—some of Thailand's best. I'm a big fan of the shop in Santhitham, but you'll find dozens of options around the city. Go for an hour-and-a-half massage, which normally costs around 250–300 baht. (Yes, that's right: less than 10 dollars.)
3:00
pm
Huay Tung Tao Lake
Don Kaeo, Mae Rim District
Chiang Mai 50180
Get Directions
It's cooler in Chiang Mai than in southern Thailand, but it's still plenty hot year-round. In the dead heat of the afternoon, locals head out to Huay Tung Tao Lake. Go for a swim or just sit by the water and dip your feet in. It's normal in this country to see restaurants built like sala (lakeside pavilions), where customers can sit cross-legged on a reed mat and enjoy food. One of the common snacks at Huay Tung Tao is kung ten, or "dancing shrimp." Tiny shrimp are mixed with lime juice, chili, garlic, and fish sauce—the shrimp still bouncing around when the dish is served. If dancing shrimp are too wild for your taste, there are plenty of other snacks to try: papaya salad, chicken wings with fish sauce, grilled fish. Whatever you order, pair it with beer poured Thai style—with a big chunk of ice to keep it cold.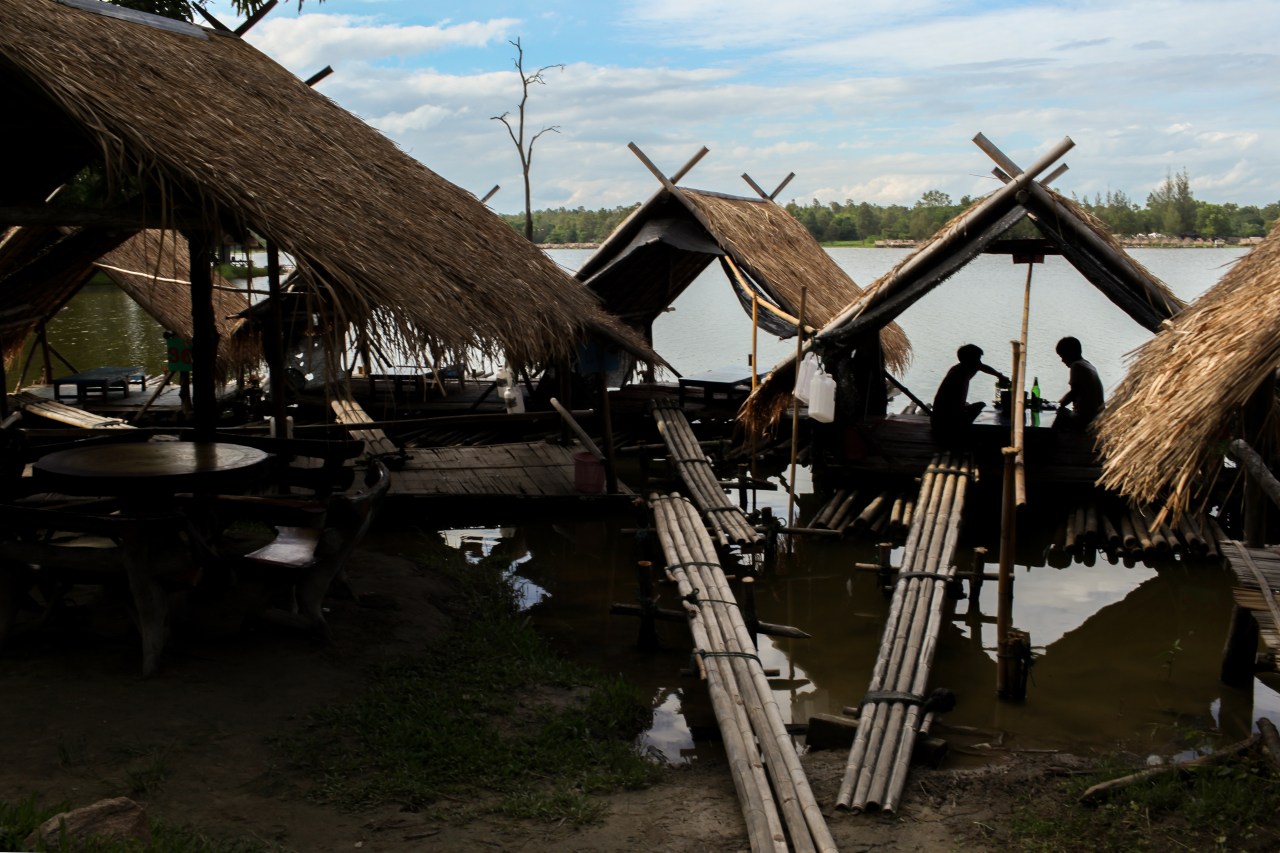 7:00
pm
Baan Rai Yam Yen
14 Soi Khantha-tiro, Fa Ham, Muang
Chiang Mai, 50000
Get Directions
Specialization defines the food scene in Chiang Mai. In other words, one vendor does a single dish, like laap or khao soi, really well. But I like to take first-timers in Chiang Mai to Baan Rai Yam Yen, because the menu acts as a solid introduction to the beauty and depth of northern-Thai cuisine. The menu is massive, like the restaurant itself, but it manages to do most of the northern classics well. Start with saa phak, spicy vegetable salads, and at least one larb, a fiery salad made with raw or cooked beef, pork, or fish. For local curries, try kaeng hang leh, a sweet, fragrant pork curry, or kaeng khae, a curry where vegetables are the star (though meat can be added). If you want something a bit more adventurous, try aep pheung: bee larvae wrapped in banana leaves and grilled with a spice mix that contains lemongrass, chili, garlic, or turmeric. It tastes like honey without the sweetness. Be sure to make a reservation: Locals pack the restaurant, coming to drink, eat, and listen to the live music performed most nights.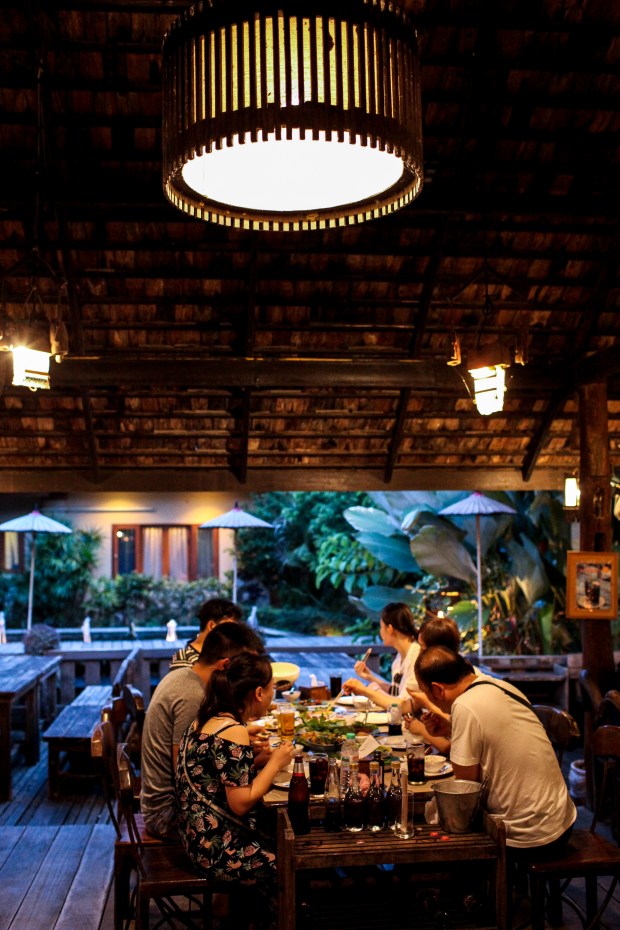 9:00
pm
North Gate Jazz Co-Op
95/1-2, Si Phum Road, Tambon Si Phum
Amphoe Mueang Chiang Mai
Chiang Mai, 50200
Get Directions
Chiang Mai knows how to have a good time once the sun goes down. Head to the North Gate Jazz Co-Op, located right near Chang Phuak Gate. This pub in Old Town is a down-to-earth scene where young jazz musicians play live music to a mixed crowd of locals and farang (foreigners). Order a whiskey set, which includes a bottle of liquor, a bucket of ice, Coke, soda water, and still water. The booze ranges from offerings like Hong Thong and Mekhong—both national whiskeys—to classics like Johnnie Walker. Pour a round of drinks and make some friends—the crowd here is friendly.
12:00
am
Ong Tipparot
Prapokklao Road, Mueng Chiang Mai District
Chiang Mai 50200
Good eating goes on at all hours in Chiang Mai, and midnight is no exception. The last stop for the night should be a noodle place called Ong Tipparot. It's within walking distance of the North Gate Jazz Co-Op. It's famous for luuk chin bua loi, or teeny-tiny fish balls, served in sup kraduk muu (pork-bone soup). The meat from the pork ribs is braised for hours so that it becomes meltingly tender. The owner—regulars know him as Hia Noi—is famous for his memory: He takes 12 orders and remembers them all without writing anything down. At the end he'll add up your bill without asking what you had and tally the total like a verbal abacus. Between the soul-stirring soup and the mental acrobatics, it's an ideal way to end a long day in Chiang Mai.