Uruguayan anthropologist Gustavo Laborde called it "an emblem of local cuisine." Google recognized it with a signature doodle on August 25, Independence Day in Uruguay. Anthony Bourdain called it the Everest of steak sandwiches.
It's a mountain, all right: Walk past any hole-in-the-wall eatery in Montevideo or sidewalk table in beach town José Ignacio and you'll see two, three, even four people sharing a single sandwich. Even when cut into halves or quarters, each portion is so tall—piled so high with ingredients—that you can barely manage to get your mouth around it.
The chivito is Uruguay's classic sandwich. The name is a bit of a misnomer: Like sweetbread (which is neither sweet nor bread) or a hamburger (it doesn't contain ham) or an old-fashioned egg cream (it doesn't use any eggs), the chivito doesn't sound like what it is. Chivo means "goat" in Spanish (chivito means "kid"), but the sandwich is made with steak, ham, cheese, and sometimes other ingredients, like lettuce, tomato, and fried egg.
[Recipe: Here's how to make a chivito]
In other words, not a goat in sight. So what's with the name?
The story behind the sandwich is a nod to seasonality and sourcing locally—long before those movements were fashionable. According to the great Argentine chef and grill master Francis Mallmann, who features a recipe for the chivito in his book Seven Fires: Grilling the Argentine Way (2009), the sandwich was invented in 1944 in Punta del Este, Uruguay's popular beach resort.
It was New Year's Eve, the kickoff for the summer season, and chef Antonio Carbonaro was working in the kitchen at a seaside bar and restaurant called El Mejillón. An Argentine woman came in and requested a sandwich made with goat. The story goes the woman was from Córdoba, a mountainous region of Argentina where chivo (also known as cabra or cabrito) was a common sandwich ingredient. Not so in coastal Uruguay, where freshly caught fish and grass-fed beef were and still are at the heart of local cuisine. Not wanting to disappoint his hungry customer, Carbonaro whipped up a steak sandwich with ham, cheese, lettuce, and mayonnaise. He presented it with a flourish, calling it, tongue in cheek, a "chivito."
What makes the sandwich so irresistible? For Alejandro Sequeira, co-author with Armando Olveira Ramos of Chivito: The King of Steak Sandwiches (2014), it's about quality and texture. "The perfect chivito begins with the choice of meat and bread," Sequeira says. "And Argentine meat isn't like Uruguayan meat. The bread isn't the same, either." Argentines, he explains, use hard French bread for steak sandwiches. Uruguayans favor softer breads, like pan tortuga ("turtle bread," so named for its shape), whose textures allow for more precise bites. "Ideal for attacking a gigantic sandwich," according to the author. Uruguayan beef is often grass-fed and free-range—something that eludes many meat producers in bigger markets.
Technique is important too: Sequeira says that cold-cut toppings, when prepared on the griddle, should form a "booklet." The ham is folded over slices of cheese to prevent a sticky mess on a hot surface. "And the lettuce leaves should always be a base. They should go down first, on the lowest level of the sandwich, to absorb the juices of the ingredients above it, and to prevent the bottom slice of bread from getting soggy."
Sequeira isn't the only Uruguayan who's enthusiastic and specific about sandwiches. He's from a nation obsessed with them: Many Uruguayans skip the traditional Latin American merienda (coffee or tea with cake or croissants, served in the late afternoon) for refuerzo, usually a cold beer and a steak sandwich.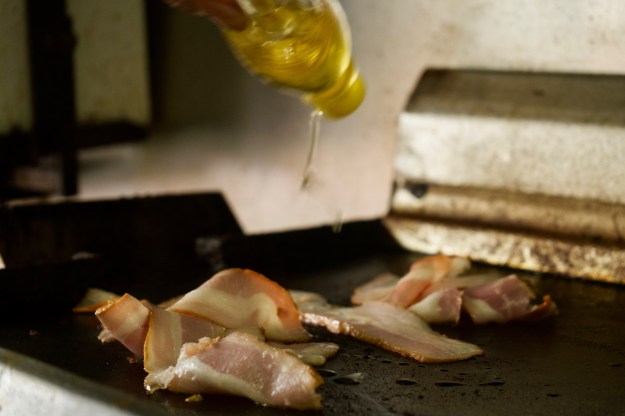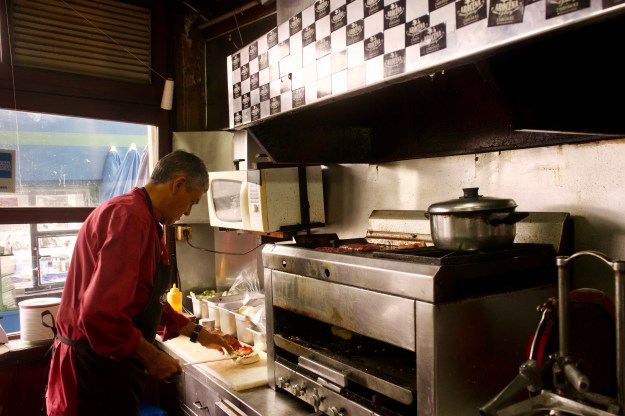 It's not a substitute for dinner, mind you. A word that translates literally as "reinforcements," refuerzo is more like a snack to carry you through to dinner, which happens as late as 11 p.m. in Uruguay.
Futuro Refuerzos (Refuerzos of the Future), a spot near Montevideo's upscale Pocitos neighborhood, updates Uruguayan sandwiches to include more variety, more gourmet ingredients, even options for vegetarians. Its most Instagrammed offering at the time of writing? A fillet of fresh fish on beet bread (turtle-shaped, of course) with avocado, alfalfa sprouts, mustard leaves, and dill mayo.
A long way from steak, ham, and cheese. The co-owners of Futuro Refuerzos represent a wave of young cooks and asadores (grill masters) arriving on the quickly evolving sandwich scene. But Uruguayans are willing to forsake their favorite chivito joints, though: There's room for both and plenty of appetite for sandwiches to go around.
El Tinkal, El Rey del Chivito (The King of Chivito), and Bar Arocena are local favorites for the classic version. In addition to Futuro Refuerzos, Los Francesitos is another spot riffing on the sandwich.
A sandwich is just a sandwich, but in this case it is also a symbol. In a country dwarfed by its neighbors, where culinary traditions overlap and blend together across borders, the chivito has the unusual distinction of being exclusively Uruguayan.
"Uruguayans are lucky to be able to trace the history of this standout dish, something that's difficult to do in other countries," Sequeira explains. "We know the inventor, the place where it was born, and the major players behind its evolution."
Next time you're craving comfort food from home while on vacation, lean into the impulse. Who knows? By asking for something that's not on the menu, like that Argentine woman in Punta del Este, you could inadvertently inspire the creation of a dish that becomes a national classic.