Our tour guide's assistant held up the oldest brandy in the factory. The dusty bottle was dated 1902, and the fill line had evaporated to about a centimeter below the bottom of the neck. There I was, admiring a barrel-aged, wine-distilled spirit more than a century old, and I wasn't in Cognac, much less France. I was at the Ararat brandy factory in Yerevan, Armenia, surrounded by barrels of Caucasian oak, including one reserved for Russian President Vladimir Putin.  
The Yerevan Brandy Co., maker of the legendary Ararat brandy, sits on the right bank of the Hrazdan River, where it has existed since 1953. The company has produced brandy since 1887, when merchant-philanthropist Nerses Tairyan and his cousin Vasily Tairov brought French distillation technology to Yerevan.
The brand is named after Mount Ararat, a dormant volcano held sacred by Armenians, although it's just outside its modern borders, in Turkey. Armenia is the oldest Christian nation, and Christians believe Mount Ararat is where Noah's Ark landed and remains embedded in ice on the summit. (Many expeditions have been launched to find the artifact, to no avail.)
Armenia's sunny climate and rich volcanic soil make it a perfect environment for growing grapes, pomegranates, and apricots. Scientists believe the cultivated grapes of today descended from wild grapevines originating in this region. Given the abundance of grapes, it's no surprise that Armenians have produced wine for millennia. In 2007, archaeologists uncovered the oldest known winery in a cave near Areni, dating local wine production as far back as 4100 B.C. Today, most grapes grown in the region are used to produce wine for brandy; production of wine per se fades in comparison.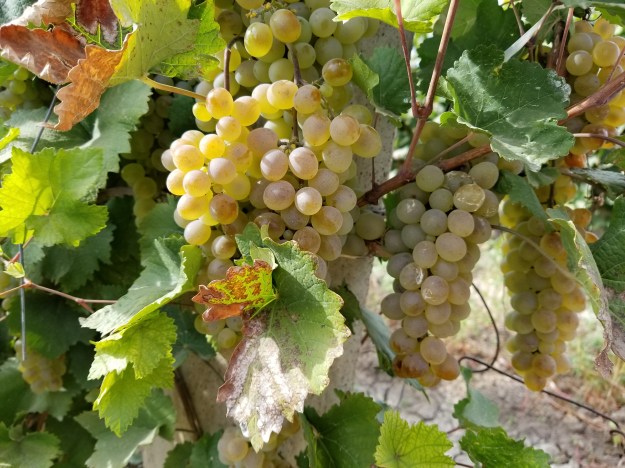 When the distillation process arrived in the late 19th century, Armenians first tried using mulberries, cherries, and many other kinds of fruit to produce a liquor known as oghi. Then they distilled wine to produce brandy, which quickly became more popular. The distillation of wine from nine indigenous grape varietals, the subsequent aging process, and the art of blending gives Armenian brandy a softer edge and more floral and herbaceous notes than most cognacs.
In 1899, Tairyan and Tairov sold the Ararat factory to the Russian company Shustov and Sons, which revamped the operation and brought on master blender Mkrtich Musinyants, who created the first vintage brandy: Fine Champagne Select, the blend from which the Otborny seven-year is derived. At the International Exhibition in Paris in 1902, the brandy won the grand prix, which earned it the right to be called cognac, despite its production in Armenia. The European delegation struck that nomenclature down in 2013, and Armenian brandy today is marketed as arbun, which is derived from the Armenian verb arbetsnel, meaning "to make someone drunk."
Armenian brandy also has a place in world history. Winston Churchill famously said his secret to a long life was "Cuban cigars, Armenian brandy, and no sport!" According to one of his daughters, at the Yalta Conference (a 1945 meeting of Allied leaders in Crimea), Joseph Stalin offered Churchill a snifter of the 100-proof Ararat Dvin, an exclusive brandy named after an Armenian medieval capital. Dvin is aged in reserve casks and gives a woody, smoky aroma, with hints of clove and hazelnut that likely paired well with Churchill's cigars. It won him over, and Stalin reportedly ordered that a case of Ararat brandy be delivered to Churchill every month. In 2015, on the 50th anniversary of Churchill's death, a 70-year-old bottle of Ararat brandy filled from the same barrels as those that supplied him sold for £80,000 ($120,000) at a London auction.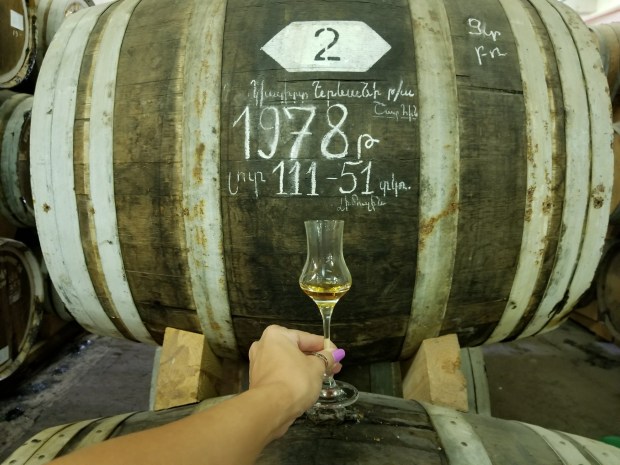 The French company Pernod Ricard bought Ararat in 1998 and has continued to produce award-winning brandy. Last year the brandy received a gold medal for its Ani (aged six years) at the Berlin International Spirits Competition and a gold medal for its Akhtamar (aged 10 years) and a silver medal for its Five Stars (aged five years) at the San Francisco World Spirits Competition, to name a few. Ararat has more than 140 medals and trophies on display in an impressive museum inside the factory.
Armenians enjoy their brandy not only as a digestif but at all times of the day. Though vodka remains extremely popular in Armenia, owing to Russian cultural influences, Russia has a clear taste for Armenian brandy. According to Armenian news agency Arka, citing customs data, 91 percent of Armenian brandies are sold in Russia, which has a population of about 145 million, compared with Armenia's nearly 3 million.
Putin isn't the only world leader to have his own Ararat barrel. Barrels in one section of the factory have plaques designating which head of state was given each barrel, which is made ready on request.
As I tasted four of the 11 portfolio brandies and one of five limited editions at the Ararat factory, I found it easy to acclimate my palate to the spirit. The 20-year Nairi, for example, has a nuanced expression balanced with a great bouquet of honey, peppercorn, and spicy pine nuts while maintaining a light mouthfeel. While I can't see myself becoming a regular brandy drinker, I will certainly order it on occasion. Now that I understand the history and tradition that brought Armenian brandy to its current form, I can appreciate a glass of arbun that much more.