I was asked to share some thoughts on my time with Tony in Madagascar and Bhutan. I've been staring at a blank page for days. His death is incomprehensible. I don't know how to process him being gone.
I do remember how easily words flowed from him. He made it seem so effortless. He was a poet of life. So I'll let that inspire whatever flows now.
I first met Tony in 2014 through social media. I was new to it all and excited to see someone I respected following me. I followed back. And soon we started direct messaging.
I had just finished a film and was exhausted. Every time that happens you think a new idea will never come.  
I needed fresh eyes.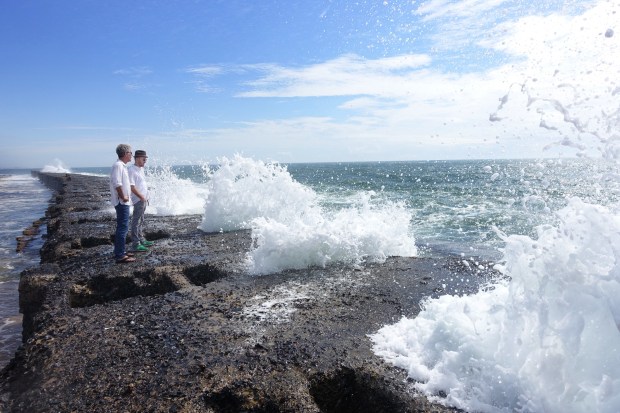 So I asked Tony if he would consider having me tag along.  He wrote back right away, "Where do you want to go?"
I thought about a place I couldn't imagine ever getting to, "Madagascar?" I said, half-joking.  
His reply was, "November?"
We first met in the Johannesburg airport waiting for the last leg to Madagascar. We were starving: Tony famously (and wisely) never ate the food on planes or in airports, and I had slept through all the meals on the plane.  He discouraged me from eating and said we'd get something when we got to Antananarivo, the capital. I held onto my growling stomach.
He was shy and so was I.  
But after the flight and a first meal, we started to connect. The island was in a precarious state, struggling with real poverty and deforestation. It was a sobering journey, but we ended the trip as friends.  
I returned to NYC re-energized to start a new idea, and Tony continued crisscrossing the globe.
In the years after Madagascar, we'd check in on each other with a random message, a quick call, but we never hung out properly. Then, a little while back, The New Yorker magazine was doing a profile on Tony. They called me with some questions. I called Tony. And the next thing I knew we were heading to Bhutan.
Bhutan was where I really got to know Tony.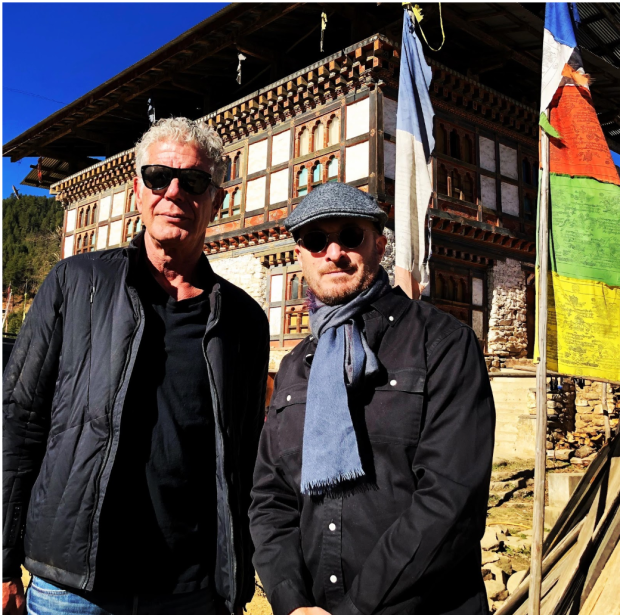 There, I became aware of his utter lack of vanity. He never adjusted his hair or gave a damn about makeup or a lighting set up.  
He was always dressed perfectly for whatever we were doing — never flashy, never understated.  
He just showed up and he worked. I have rarely witnessed talent on his scale be so willingly present and real.
Tony was just himself: humble, confident, authentic, mischievous, kind. He greeted every fan's request for a selfie with patience and a smile.
We spent long hours on rough roads traversing the country, sometimes talking about our favorite road movies (Preston Sturges' "Sullivan's Travels" by unanimous decision).  
And every night we'd retreat to a basket of momos, Bhutanese dumplings, and a couple of fingers of Jack.
I was recently single and he was deeply in love — a combination that made for conversations late into the night.
He was really alive, fully energized, fully engaged, very curious and completely connected to this moment in time. The news in the world was crushing, but Tony was determined. He had rolled up his sleeves and was ready for the ugly fight.
Tony was just himself: humble, confident, authentic, mischievous, kind.
Bhutan culminated for us at a hidden gem called the Lake of Fire.
This pilgrimage place for the Bhutanese has a story, of course: Long ago a monk claimed that its waters held sacred treasures.  When the people doubted him, the monk jumped into the lake, carrying his lamp. The people watched until he came back up, holding the sacred items, his lamp still burning.
Kind of like Tony, fearlessly marching into the unknown for hidden secrets and returning with light.
It seems ironic now that on our last day of shooting we performed a Bhutanese death ritual. We debated the fate of the country, the fate of the world.  He was perplexed as to how mankind's endless hunger to consume could be curtailed.  
"Don't we all want flat screen TV's?" he asked.  
Hard truths spinning in the smoke of incense in one of the most perfect spots nature has to offer. Isn't that what we expect from Tony?
For me, the best part of this in some ways took place off-camera on the way home.
It was a hellish 36-hour journey. I couldn't imagine how he'd survive without airplane and airport food.  And since I was now in his trust, I knew I'd feel guilty if I ate any microwaved frozen veggies in front of him.
We flew from Bhutan to Bangkok where we had a six-hour layover. Tony religiously would go to the lounges and wait for the next leg. Starving, I pushed back and said we should hit the town, get some real food.
He was a bit nervous for sure. He had never left an airport mid-journey before. But I wanted the adventure.
So he trusted me and we zoomed through customs and found ourselves in an insane resort populated with locals.
There were flaming fountains, giant gold sculptures and beer waiters wearing cheerleader outfits for their brands. A cheesy (in all the right ways) Thai cover band was banging out some hits from '80s America.
Tony was thrilled with the menu's exotic offerings and could describe in detail how each nuanced plate was constructed. A feast resulted. We were anonymous without cameras, and the waiters couldn't understand how this foreigner knew what he knew.
Arriving at the airport with time to spare, we hit one of Tony's favorite places, the foot massage parlor. Side by side, hermano a hermano, we had the knots kneaded from our soles.  With bellies full and warm oily feet, the trip to Tokyo was easy.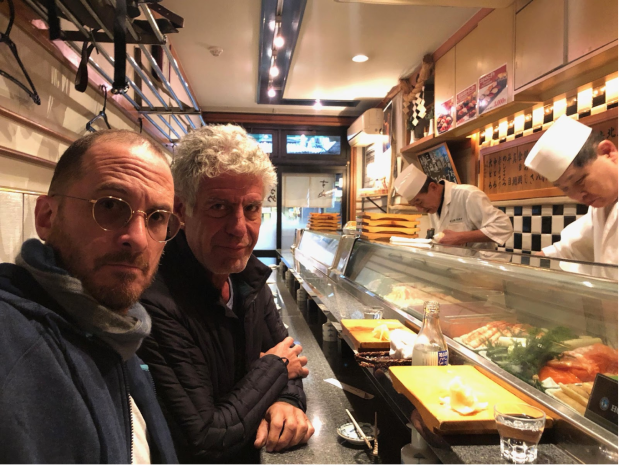 Six hours later, we landed at 4 a.m. for a three-hour layover. Tony and I were already plotting the all-night sushi joints out at the Tsukiji fish market.
It was a uniquely clear day and as the sun rose from the back of the cab, we could make out Mt. Fuji, a rare gift to be seen from Tokyo. The fish market was closing up, but the sushi restaurants were kicking. And we sat at the bar and had another feast with a play-by-play lesson from Tony as the ancient chef did his thing.
Tony, your journeys to parts unknown will always inspire.  Your shows bring the world closer together — not by making easy similarities but by revealing how unique we all are.  
You turned a light on what it means to be a human right now, right here on planet Earth.
Thank you for letting me tag along and witness a master storyteller shape the unexpected into the relatable and unforgettable.  
I will never forget how passionate you were about life and this world. You loved love, cinema, food, artists, people, idiosyncrasies, pain, relief, martial arts, chefs, music, the Lower East Side. You loved the whole damn world (even the parts you despised). And the whole world loved you.
Much love and good winds.