When I first came to Thimphu in 2000, after graduating from college in rural eastern Bhutan, the capital seemed like a metropolis. With a population of about 100,000, it was teeming with people, mostly other migrants from rural parts of the country, eager to embrace new and hopefully better lives. For a boy who grew up following his civil servant father from one rural outpost to another, Thimphu seemed truly cosmopolitan and filled with possibility.
I became an English teacher and then a reporter for a weekly English-language newspaper called Kuensel, where I covered local news and wrote the occasional piece on Thimphu's ubiquitous phalluses.
After more than a decade in Thimphu, it no longer seems as cosmopolitan as it did when I first arrived. In fact, it is quiet and quaint and beautifully so. Time stops here, and clocks succumb to ennui. Yet if you pay attention, you will start to see some major changes: concrete buildings are rapidly replacing some of the city's century-old traditional homes. Some trendy, modern restaurants and bars have moved in. But in other ways, it remains the sleepy and charming capital it has always been.
Start the day at Hotel Thimphu Tower, which offers a commanding view of Clock Tower Square (Thimphu's answer to London's Trafalgar Square or New York's Times Square, on Norzin Lam, Thimphu's main thoroughfare). Order the continental breakfast—paratha (flatbread) with alu dum (fried potatoes in a spiced sauce), fruit salad, and yogurt—and peer at Buddha Dordenma, one of the world's tallest Buddha statues.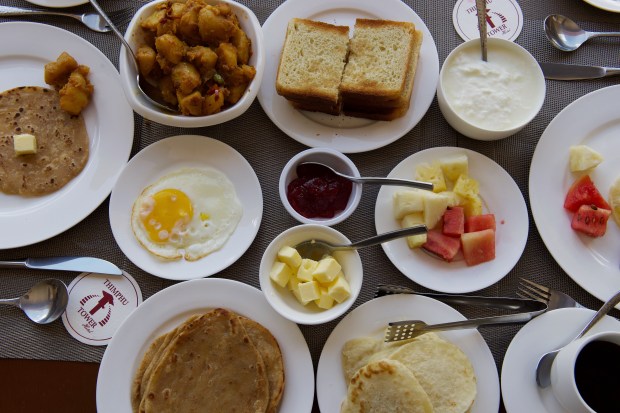 Thimphu has beautiful weather in the spring. The sky is clear, and trees are in bloom, with the occasional afternoon shower. Take about a 10-minute walk along the cobbled pedestrian path to the Memorial Chorten, a stupa (Buddhist shrine) built in honor of King Jigme Dorji Wangchuck (1929–72), who is widely considered the father of modern Bhutan. Visitors circle the stupa to pay respects.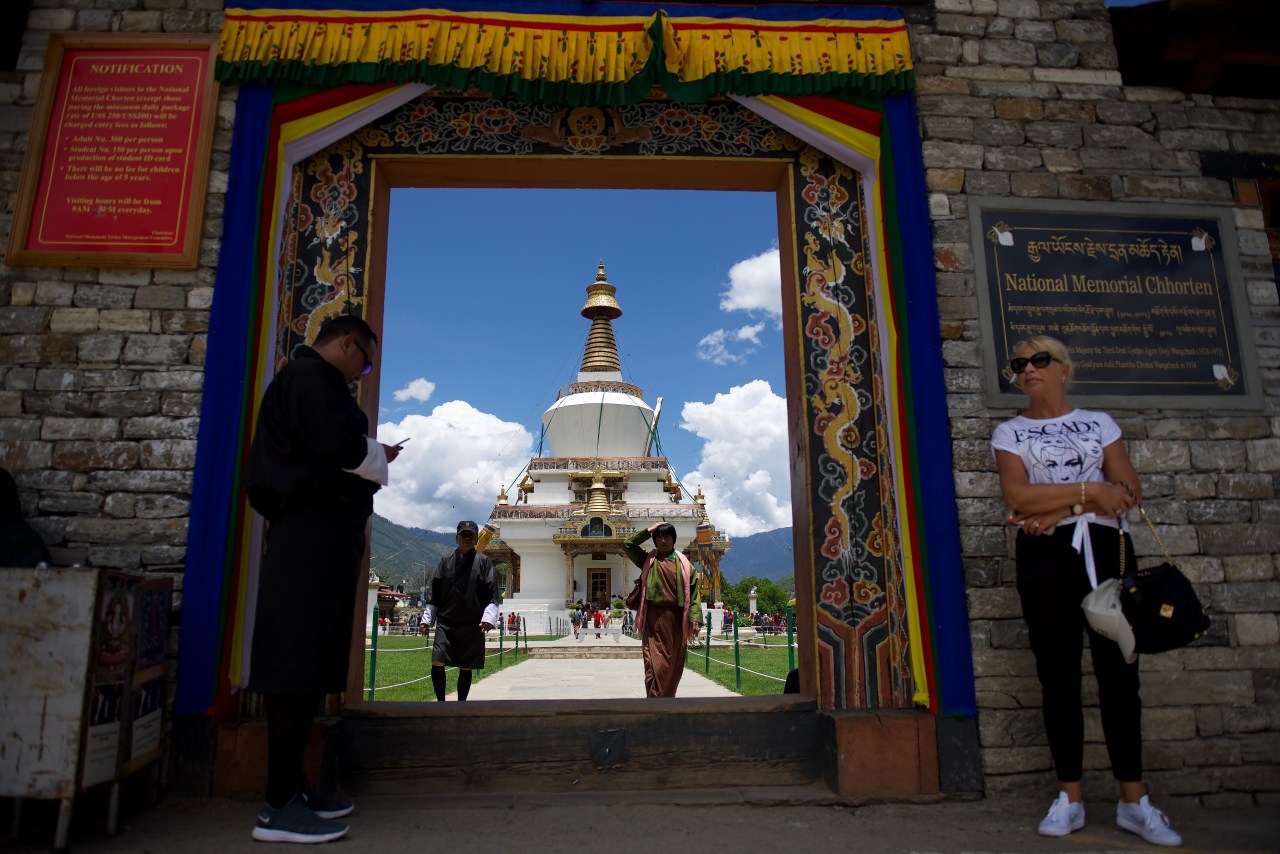 Head back to Norzin Lam and visit the Ambient Cafe and Roastery for a midmorning snack. Try the buckwheat waffles with spring onion, cheese, and chili paste. Junu, the cafe's owner, was a journalist before getting into the food business. The cafe offers more than 40 varieties of tea, many of which are imported from Thailand.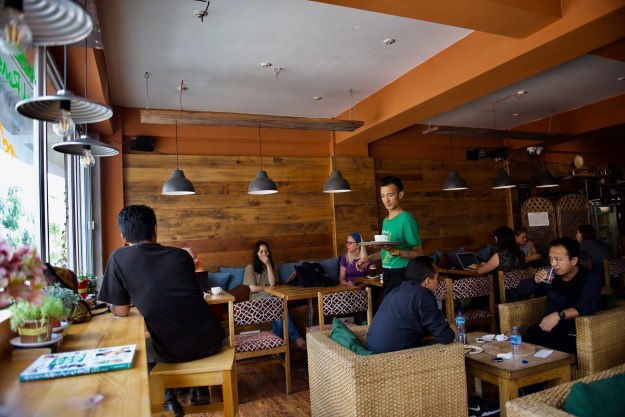 Archery is Bhutan's national sport, and you can witness the enthusiasm that surrounds it at Changlimithang Stadium, built on the site of a decisive battle in 1885 that established the Wangchuck Dynasty. Today, men with much less at stake duke it out on the grounds, shooting arrows distances longer than a football field while fans cheer on their teams and jeer at their opponents.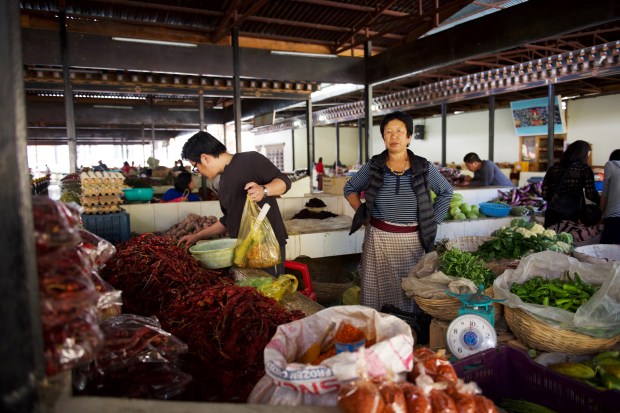 After watching some intense archery, hop over to the renowned Centenary Farmers Market (open from 7 a.m. to 7 p.m., closed Tuesdays) by the Wangchu River. The market hosts hundreds of stalls and displays a huge range of local (and often organic) produce, including nakey (edible wild fern) and bamboo shoots. In 2011 the government launched a program aiming to make all agriculture in the country organic by 2020.
If seeing the varieties of leafy greens whets your appetite, hail a cab and head to the Folk Heritage Museum Restaurant in Kawajangsa, about five minutes away. The restaurant is on the grounds of the Folk Heritage Museum, which merits a postprandial visit.
But first, try the ara, a popular local rice wine, and order a bowl of ema datsi, a fiery stew of chili and cheese. If you order anything else, make it the dried beef cooked with spinach.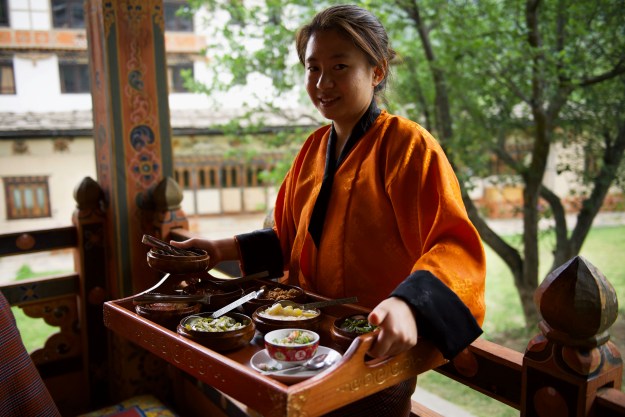 Take another taxi to the crafts bazaar on bustling Norzin Lam. There you'll find scores of bamboo huts showcasing traditional arts and crafts, known locally as zorig chusum. The national government opened the bazaar in 2011 to provide Bhutanese artisans with a centralized place to sell handcrafted textiles, wood and bamboo carvings, and phallic talismans.
As you walk from the market to VAST (Voluntary Artists Studio, Thimphu) Art Gallery, one of the city's best—if few—art spaces, you may notice that Thimphu has no traffic lights. Policemen in navy blue uniforms direct traffic from a booth in the middle of the city's main roundabout. A hub for local creatives, VAST also offers art classes on weekends.
Swing by the always packed Kalden, which offers plates like ema datsi, made from dried red chili, and sliced pork with radish and chili over red rice. Too much chili? Ask for a glass of cool buttermilk to extinguish the burning on your tongue. Don't miss the datsi mar ngo, a house special of cheese fried in butter.
From Kalden's, head to Mojo Park, where local bands belt out songs in English and Bhutanese. It tends to fill up with tourists and young locals during the weekends. Need some air? Head outside to take in the crisp, thin air under the Himalayan night sky.