In a wooden house, tucked away in the Haa Valley, outside the town of Paro, lives a shaman. She's a prominent shaman, I'm told. One who was invited to stay in India by the Dalai Lama himself. She refused, preferring to stay in her native Bhutan.
To get to Tsering Yangzom's home, you drive up a dizzying, tree-lined route that eventually opens onto blinding sunlight and fluttering prayer flags, strung from posts along the road. This is Chele La Pass, which at 13,000 feet is the highest point accessible by road in Bhutan. The air is thin, and the peaks of the Himalayas along the border with Tibet, appear in the distance.
Yangzom has long black hair and wears a dark red kira and tego, a long robe and jacket. Traditional healers like Yangzom are often referred to as shamans, but the Dzonghka word for her occupation is rizom, which roughly translates as "the one who has been resurrected." She neither reads nor writes and never studied to be a rizom, she says, but worked in the fields until she was 25, when a monk recognized her gift. She has been practicing for the 13 years since.
She beckons me up a wooden ladder to the kitchen, where she sits on the floor and pours me a cup of tea and offers to tell me my future.
Bhutan is known for a few things. The Buddhist kingdom has a national index that quantifies a feeling. The Gross National Happiness index was written into the country's constitution 10 years ago, leading some people to refer to the nation as the "world's happiest country." Bhutan is also known for its preserved-in-amber culture, having only begun to modernize in the early 1960s. Traditional healers like Yangzom have long played an important role in Bhutanese health care.
But the legalization of television and the arrival of the internet in 1999 ushered in an era of  modernization that some link to a national mental-health crisis. According to local physicians, suicide is on the rise (the country began tallying suicides only in 2009); and according to World Health Organization (WHO) data, the country had the world's 21st-highest suicide rate in 2011. Local health professionals I spoke with say the country is also grappling with high rates of alcoholism and domestic violence, which they attribute to the dissolution of a more rural, community-oriented way of life.
"A lot of people are leaving their familial grounds to come into the cities, to the towns, where there's light, there's glitter, there's roads, there's everything here," says Chencho Dorji, Bhutan's first psychiatrist, who was hired in 1999 and a few years later spearheaded the creation in Thimphu of the country's only psychiatric ward. Dorji, who received his initial training in Sri Lanka, is one of only a handful of mental-health specialists in the country of 800,000.
He attributes growing rates of depression to the fraying of family and community structures. "It's a messy transition," he says. "Television and social media and all this mobile technology [have taken the] place of [time spent with] grandparents and extended family members."
Dorji is one of only three psychiatrists in the country—four if you count the one in the military.  While psychiatry has been around for about two decades, spiritual healing traditions have been around for centuries. Many Bhutanese—especially among the older generations—still gravitate to traditional healers.
"We are still very much medieval in many ways in our thinking process," Dorji says. "And the hospital is not the first place [most people] will bring someone who breaks down or behaves abnormally." As a result, he says, patients often arrive at his clinic in the late stages of their ailment, after other methods have failed.
One person who is helping Dorji spread awareness about mental health is Namgay Zam, the host of Mind Over Matter Bhutan, a weekly radio program that tackle subjects like anxiety, depression, and suicide. Dorji—or Dr. Chencho, as he is commonly known—is a frequent guest.
Zam, 33, is part of a social-media-literate, fluent-in-Western-culture generation that is more open to approaching mental health from a medical standpoint. But even Zam, who has traveled widely and lived in the United States and elsewhere, admits that it is impossible to cast aside tradition in a country where Buddhism is a way of life.
"You can't separate religion from life here," she says. "The majority of the population is Buddhist, and people believe in cleansing rituals. I've traveled a lot, but when I come back here?"
She laughs.
"Some weird thing goes down, and I'm just like, 'Maybe I need to try some Buddhist way of dealing with this.'"
She says she has looked for ways to incorporate Buddhist teachings into her show in order to connect with more listeners. She wants to bring religious leaders onto the show to talk about issues related to mental health and happiness.
"For a lot of Bhutanese, a lot of religious things do work," Zam says. "If meditation is going to keep you mentally well, I'm going to bring in someone who's going to talk to you about that. It's not just a rigid clinical show."
Zam says she wants to present her listeners with an array of options for treating depression and anxiety. The philosophy behind exposing her listeners to a broad range of treatments is, she says, "What if it works?"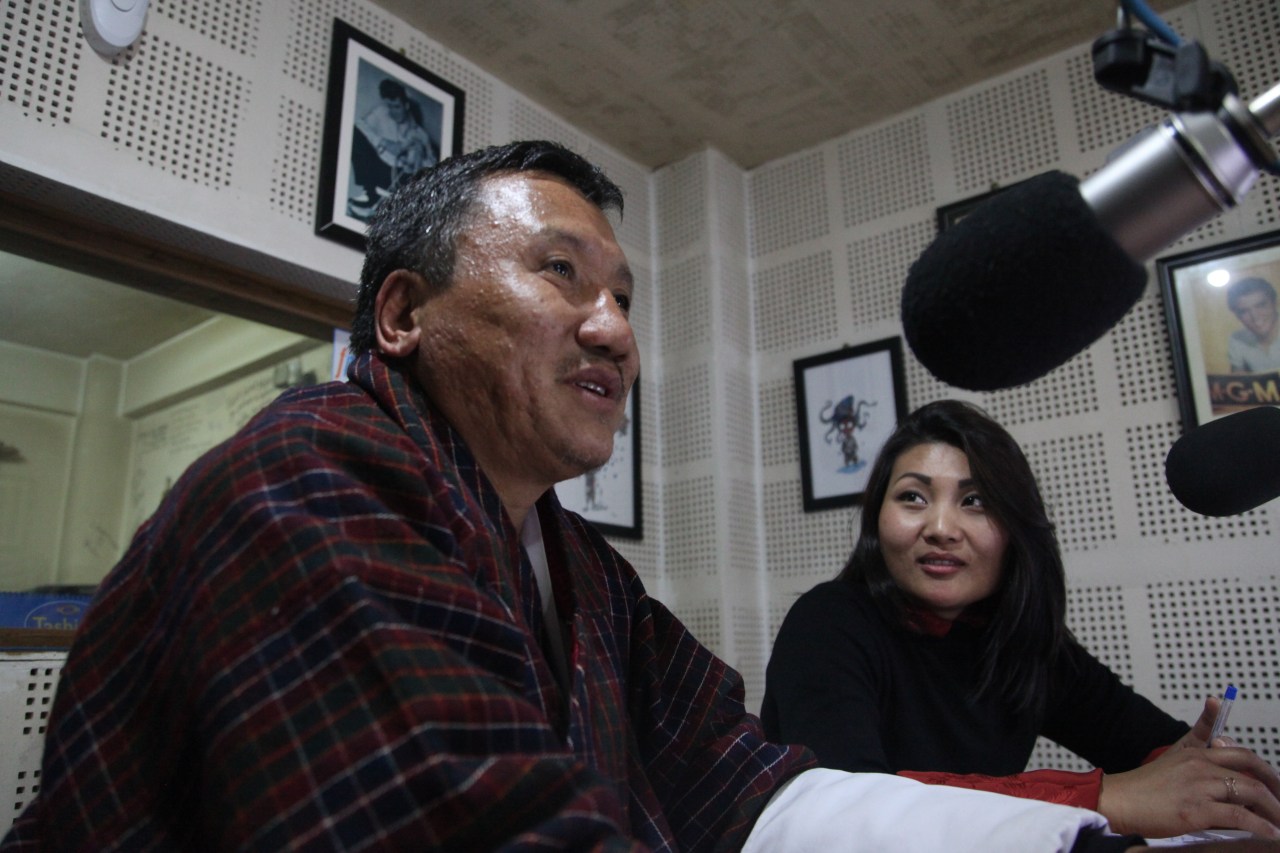 Yangzom tells me she can identify what ails a person simply by looking at their face or by reading their palm. She recalls treating people with "unstable minds" who had left the psych ward in the same condition they entered it.
She tells me she treats them with mantras, asking her tutelary god to possess her and dispel the patient's affliction. She says the ritual almost always calms those who seek her help.
When our tea is finished, Yangzom lights incense, invokes a mantra, blows on some beads, and sifts through a handful of red rice, some of which she tosses behind her. She asks if I want to know what she sees.
I hesitate. I've always avoided fortunetellers, mostly because I worry that despite my American skepticism, I might change my behavior to avoid or pursue whatever future they predict—and in so doing either make it come true or ruin it.
But it's not in my nature to refuse a gift offered by someone who has welcomed me into her home. My heart picks up speed.
What does she see?
This reporting was made possible by a grant from the International Reporting Project.