Oman is a vast desert that has rapidly developed in the 47 years since Sultan Qaboos bin Said overthrew his father. It's surprising that a country more than twice the size of England, stretching from Khasab in the north to Salalah in the south, manages to remain the Middle East's best-kept secret. Muscat, the capital city—with one of the country's two international airports and the famous corniche—is where most of the action happens.
But don't get your hopes up too high when I say "action." While diverse and welcoming to other cultures, Oman ultimately wants to stay rooted in its ancient Arabian culture. Clubs, nightlife, and partying don't play much of a role in even the capital's social scene. What makes Muscat the heart of Oman is its celebration of the country's rich history alongside its open-hearted welcoming of development and change. It is the perfect marriage of the arid, peaceful nothingness of the deserts and the bustle of a flashy Emirati city. With beaches, mountains, and sands, malls, mosques, and souqs, there is something for everyone. If you have just one day in Oman (which would be a pity), this is how to spend it.
If your flight landed in Muscat at night, you probably noticed it mid-air: the Sultan Qaboos Grand Mosque is the pride of Oman.
Start your morning by walking through the marble corridors and wandering the massive halls with their chandeliers, heavy carpets and engravings. The Grand Mosque is open to all from 8am to 11am every day except on Fridays.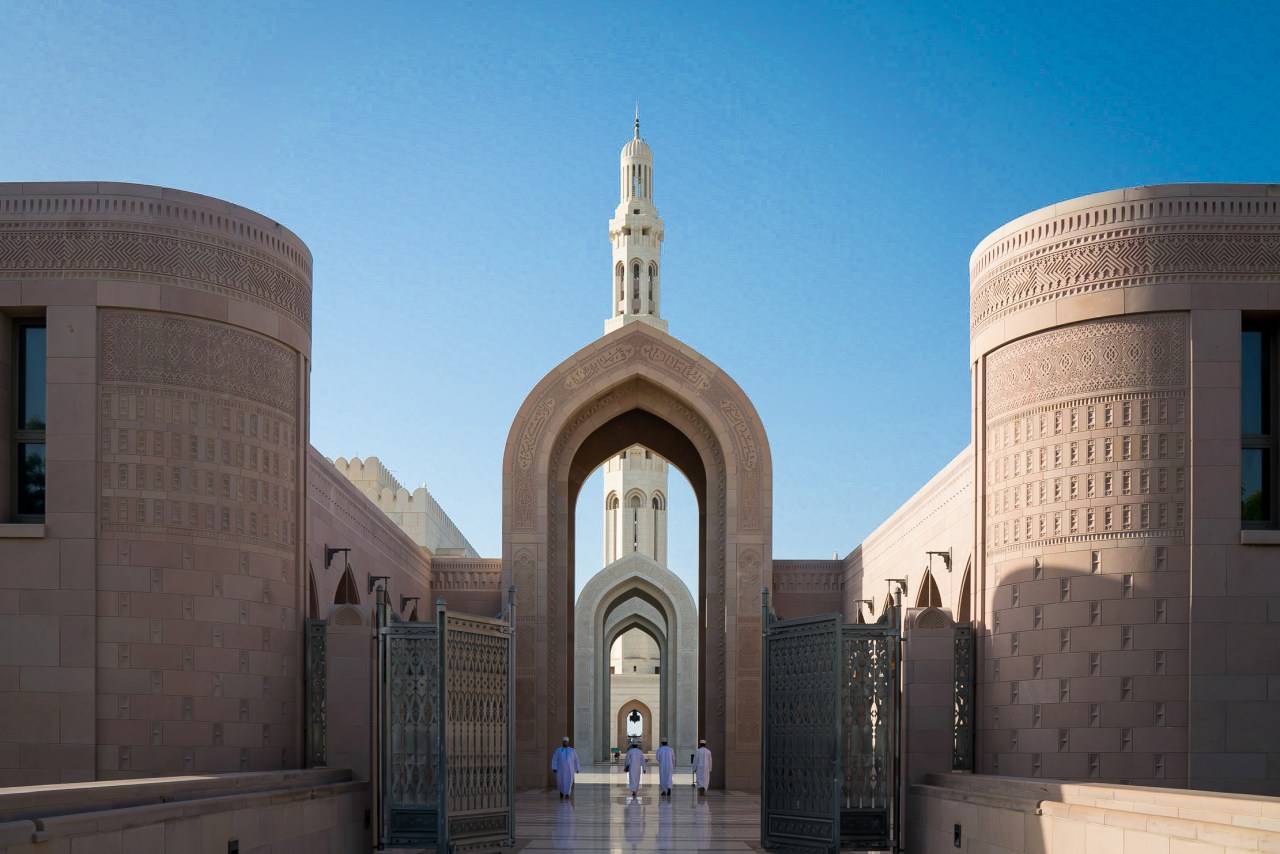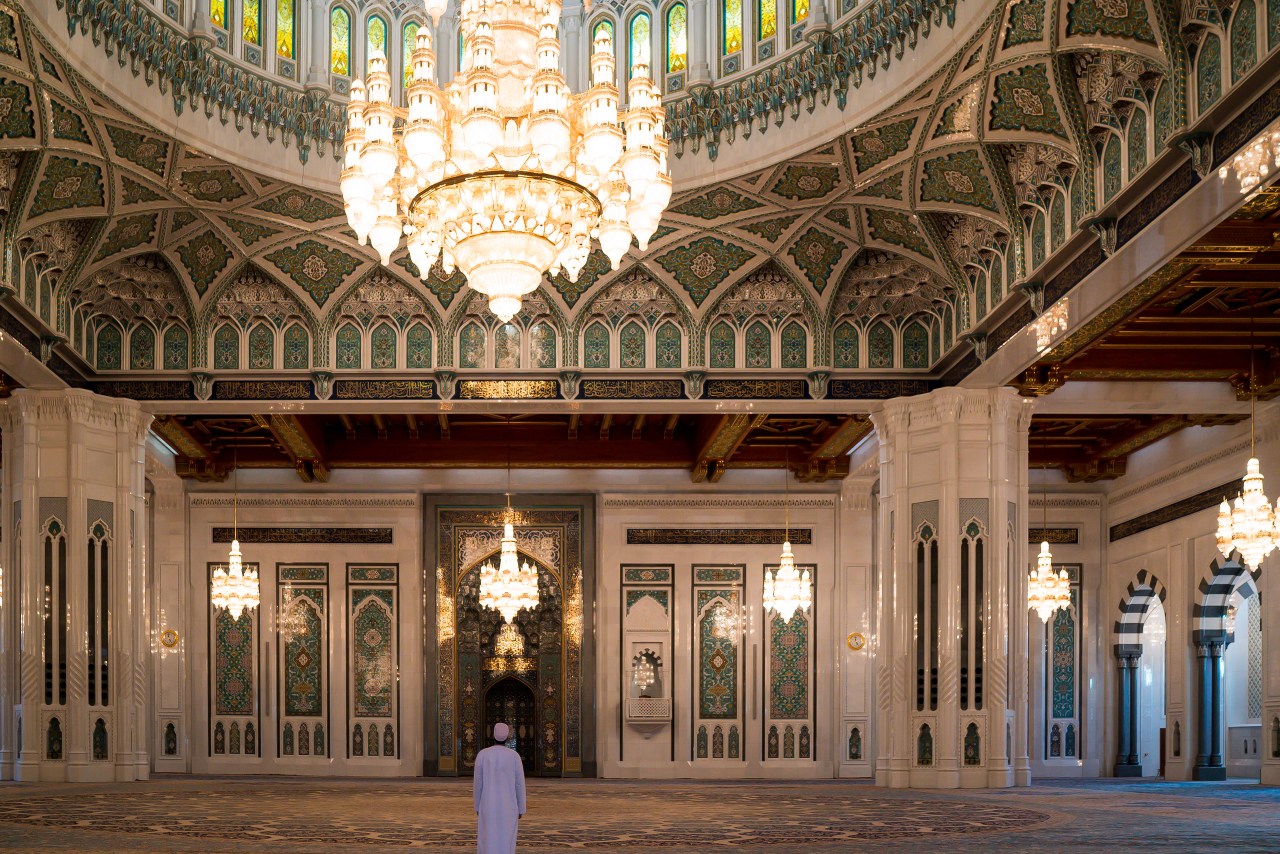 Grab a taxi and head just a few minutes' drive to Madinat Al Sultan Qaboos (MQ). Located smack-dab in the center of Muscat, this posh residential area is the aesthetic heart of the capital. And so of course this is where you'll find the Stal Gallery and studios. Oman has its fair share of local artists and art aficionados—for whom this museum is heaven. Aiming to promote engagement and interaction, its contemporary setup encourages visual art in all of its forms. To me the most endearing thing about Stal is the building: The simple white villa looks like any other house in the neighborhood. Its green backyard, front porch, lawn table, and chairs are all so inviting—exactly like the hospitable Omanis you will meet in Muscat.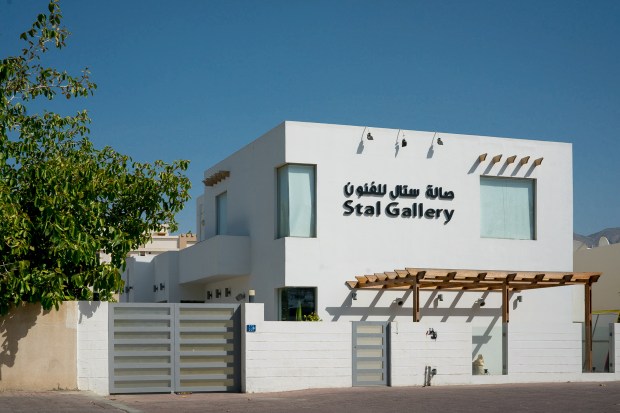 10:30
Al Angham
Royal Opera House Muscat
Al Kharjiyah St, Muscat 103
Get Directions
You can't miss the extravagant Italian-Arab architecture of Opera Galleria, a luxury mall adjacent to the Royal Opera House Muscat. You're probably not in the mood to shop at this hour, but once you taste it for the first time, you will always be in the mood for Indian kharak tea. This milky, creamy tea, served with cardamom and sugar, is an addiction for 1.3 billion Indians and slowly spreading in popularity throughout the Persian Gulf. It doesn't have the same jolt as coffee but instead simply makes you feel more fresh and awake… sort of like toothpaste.
Al Angham is an expensive Indo-Omani restaurant with a brilliant ambiance and an elegant crowd. I love the cutlery and crockery they serve the food in. Have your first kharak tea here while taking in the atmosphere. Order a plate of samosas to go with the tea and don't forget to ask for the delicious mango pickle to dip the samosas in. However, if you are in the mood for something slightly heavier, you could go for chicken or meat harees, which is very similar to an English porridge.
Now it's time to explore the iconic neighborhood of Muttrah, one of the oldest and most important settlements in Oman. Its port made Muttrah the epicenter of trade and commerce at one time. Today it is an epicenter of tourism.
The Bait Al Zubair shoulders the responsibility of preserving the nation's rich heritage by displaying ancient artifacts and national symbols like the Omani khanjar, a ceremonial dagger. Its wooden doors opened to the public in 1998, but many parts of the museum are virtually the same as when Oman's forefathers lived there. One of Bait Al Zubair's five buildings, Gallery Sarah seeks to celebrate modern Oman and is home to photographs, painting, and souvenirs. A visit to this place is a great way to learn about Omani culture, topography, architecture, and lifestyle.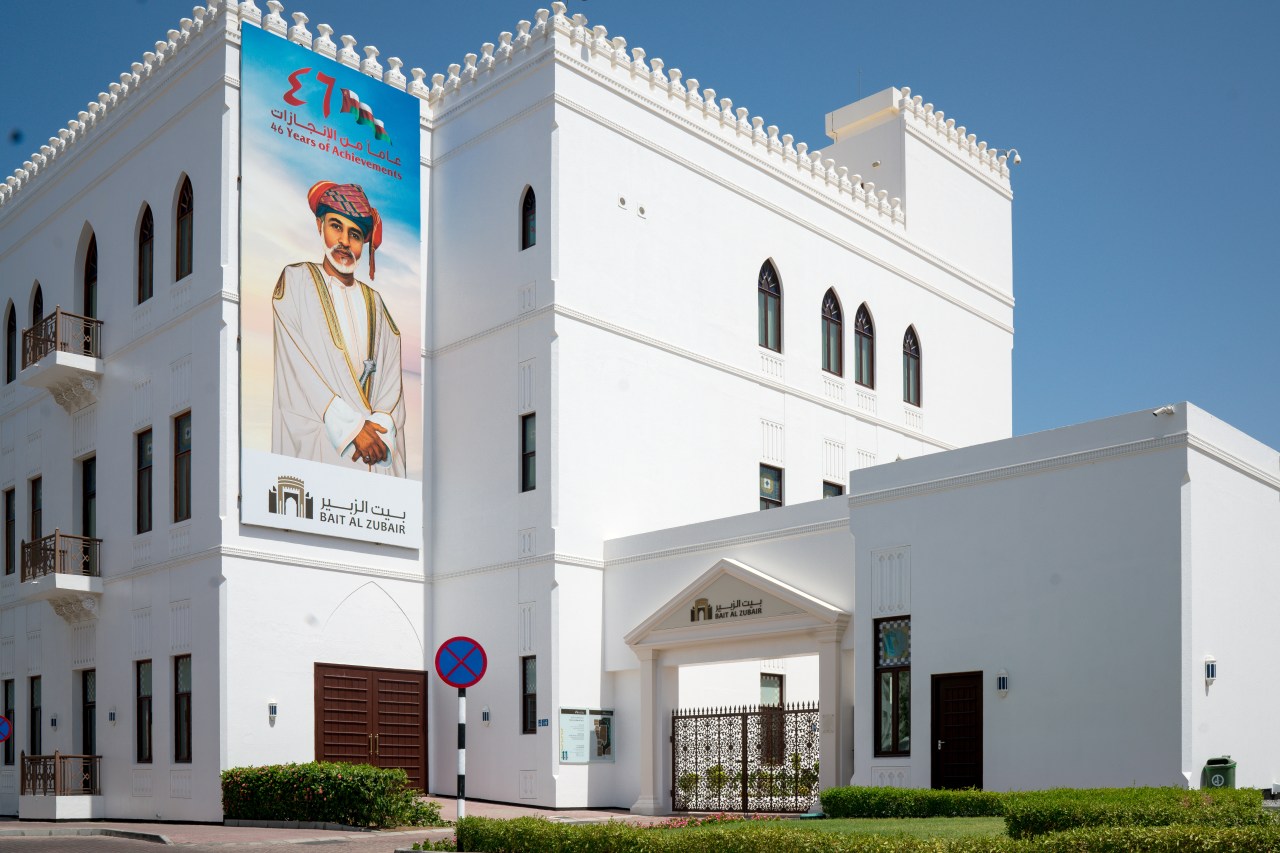 1:00
pm
Bait Al Luban
Al Mina St.
Muttrah Corniche, Muscat
Get Directions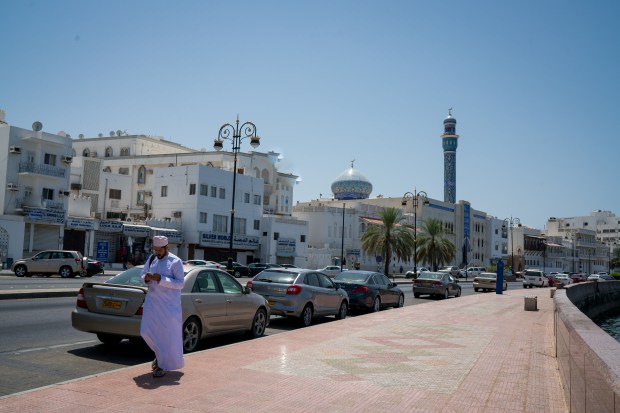 I'm betting you're tired and starving, what with the 120-degree heat and traveling. It's almost certainly too hot to walk, so drive through the narrow lanes of Muttrah along the corniche coastline on your way to lunch. You'll see a few royal and naval ships peacefully basking in the sun. Go straight from the roundabout with a huge fish statue. Amidst the many low-rise building opposite the huge fish market, you cannot miss this three-floored wooden structure.
If you were impressed by Bait Al Luban's exterior, then you will like what lies within. The narrow stairway opens up to a large restaurant where you can experience Omani hospitality as well as its best food, like biryanis and shuwas. Feel free to chat loudly while you lunch—in this part of the world, it isn't impolite.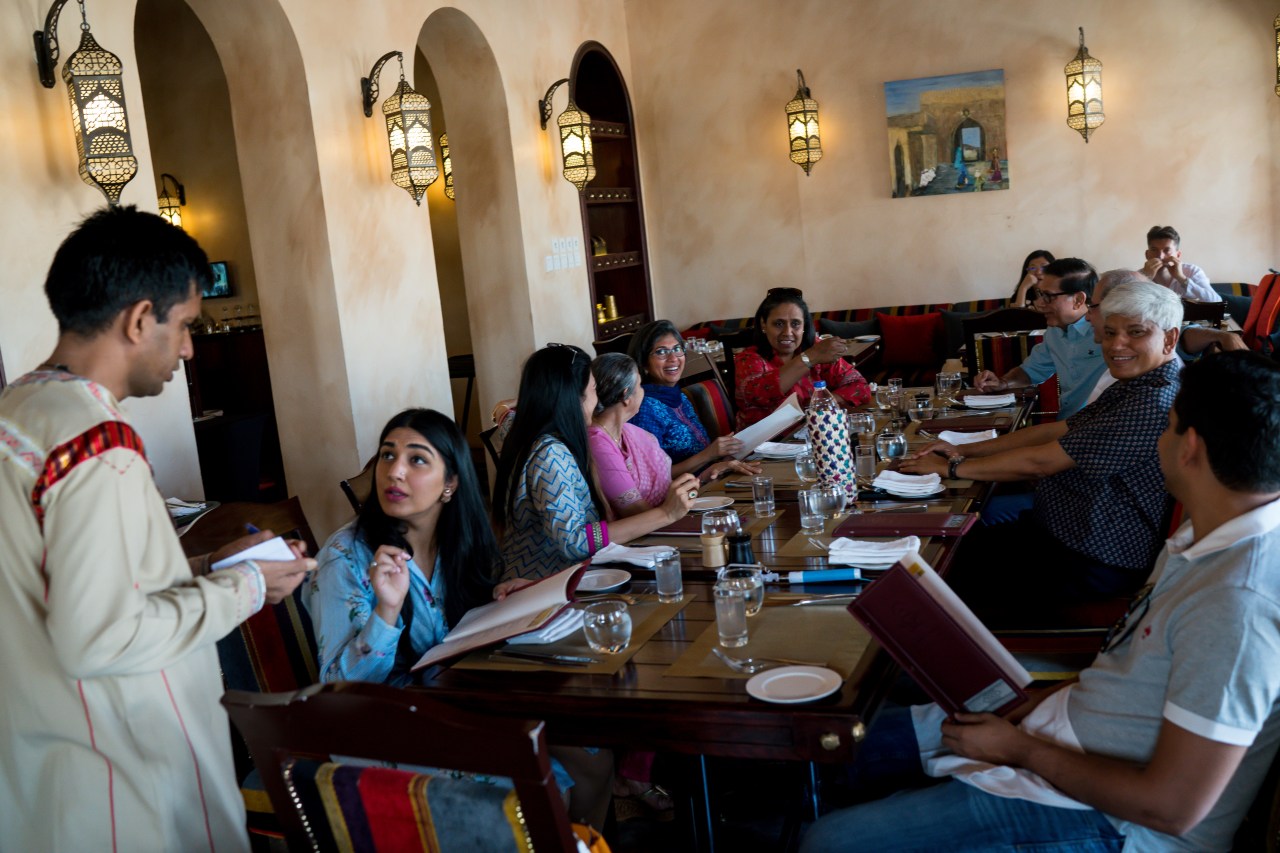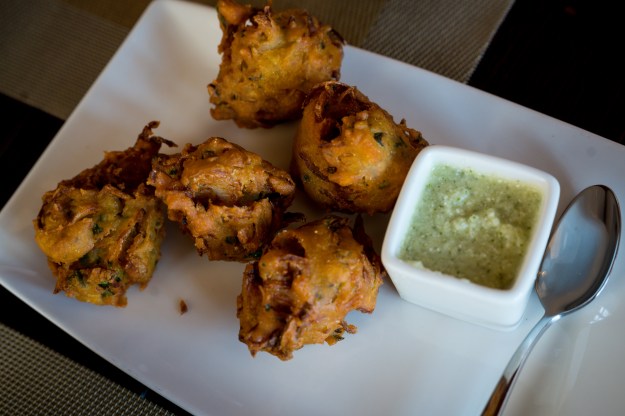 A few minutes' walk away you will find the souq, the traditional marketplace selling everything from jewelry and pashminas to Omani khanjars and food. You will notice the strong, fragrant whiffs of smoke overwhelming your senses as you enter. This is the scent of Oman, and it will get stronger when you go into the perfume, oud (agar-wood resin), or bakhoor (incense) stores.
The souq is also where you can test your bargaining skills—Muscat doesn't have much of a street-shopping culture except in the souq. Make sure you buy frankincense, rosewater, and spices, as you won't find them anywhere else. Once you're tired and thirsty, go to the juice center just outside and order a rose-water slushy. The shopkeeper claims that the delicious pink drink is from the green mountains of Jebel Akhdar.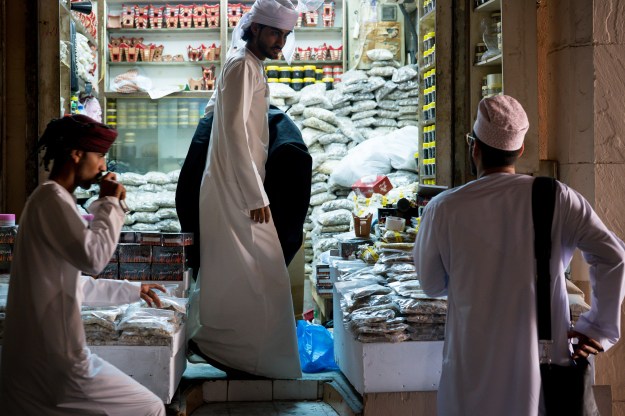 If you want to get a glimpse of Oman's ancient livelihood, your next stop should be the old fishing village of Haramil, not too far from the souq. On your way you'll drive in narrow lanes through the villages of Old Muscat. Some roads are unpaved, and the houses are still made of clay and mud; but many are lit up by a brightly painted door.
Haramil's residents have lived there for generations. The little houses hold fishermen and their families, who have lived there for generations. Most of them set off each day in their own boats and nets for their source of income, the daily catch.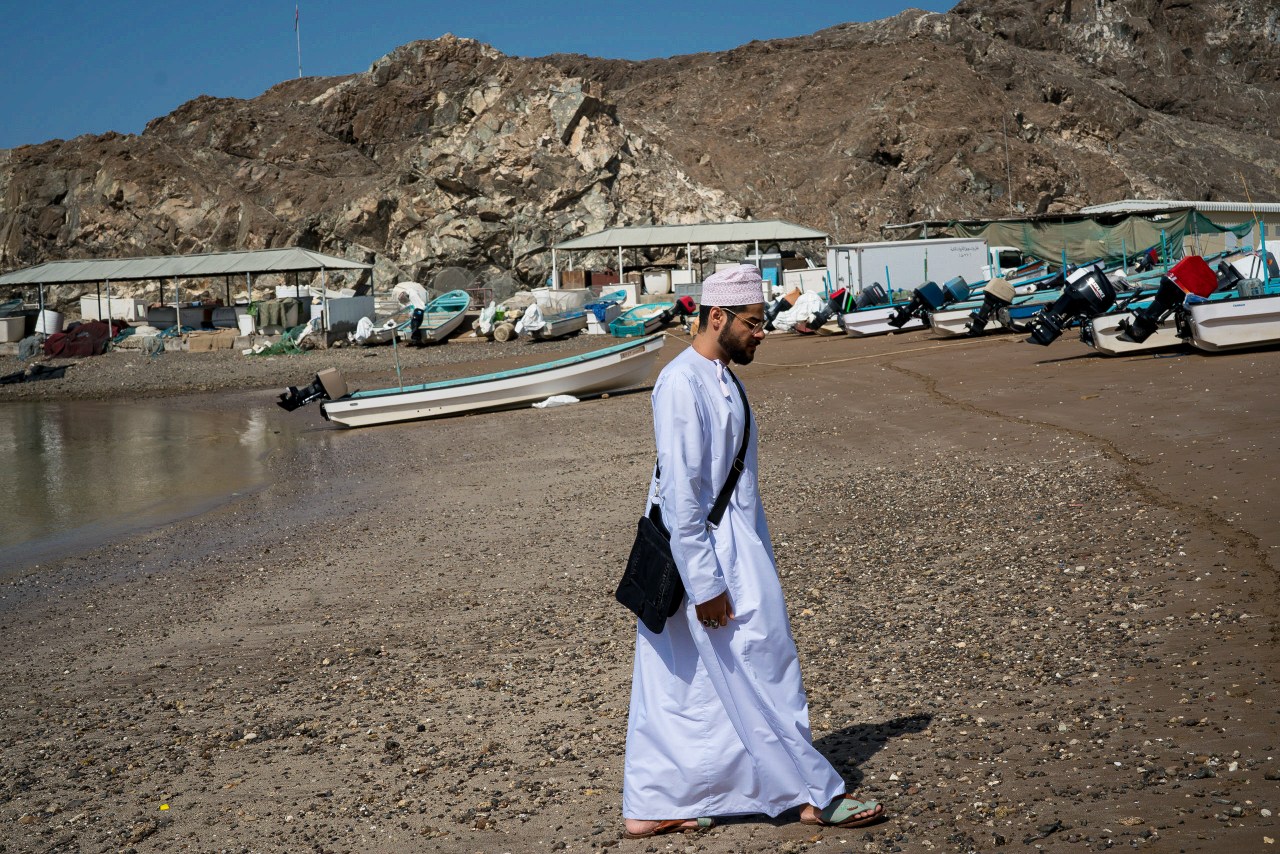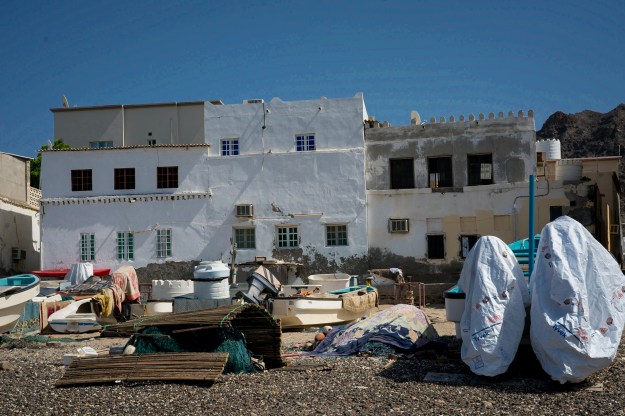 On the way back to MQ, make a pit stop at the Qurum Commercial Complex, a low-lying area that has small commercial malls clustered in one place. One of them, the Sabco Centre, is home to Amouage, Oman's own perfume brand. Amouage's alluring fragrances are known across the region for their unique ingredients and scents. If you stay for more than a day, visit Amouage Factory and Visitors' Centre in Mawaleh. For now enjoy the aromas, and pick your favorite to take home.
The perfect way to end this day will be with some authentic food in the Omani-est setup. Kargeen is an open restaurant surrounded by trees and adorned with small lanterns. You will smell the many flavors of sheesha as you enter—many claim it's the best in Oman. Go for a fruit-flavored iced sheesha and thank me later. The fat menu is filled with traditional dishes. When I'm with my friends there in the evening, out of habit I order the hummus and pita served in an earthen bowl. However, when I'm really hungry, I go for the mixed grill platter that's comprised of chicken tikka cubes, lamb tikka, and some kebabs served in a small tandoor grill. It helps to keep the meat warm; the people at Kargeen know that you will end up spending a lot of time enjoying the warm ambiance and pleasant hospitality.
If you aren't too tired and want to experience a bit more of the beautiful city of Muscat, drive up the road that leads to Riyam Park. A favorite spot for families on the weekend, this humble amusement park has a few rides, swings, and slides. But you can also just sit by the sloping grassy way and enjoy an ice cream as it melts in the evening summer heat. By now I am quite sure you will have decided to stay another day.