Pittsburghers love to lay claim to the boilermaker. Though we'll never know if Pittsburgh was in fact the site of the first shot-and-beer, who's to say we weren't? And even if we didn't invent it, we certainly secured its legacy. After a grueling shift in the steel mills, a cold Iron City and a shot of Imperial whiskey wasn't just a treat—it was a necessity.
Pittsburgh still gets dubbed a "shot and a beer town"—which is hardly a bad thing. We're home to plenty of great blue-collar bars, where the cheap drinks flow as freely as Steelers chitchat and unsolicited advice. But recent years have brought an influx of money and younger drinkers and with them a new wave of bars, breweries, and distilleries. So whether you're looking for an elaborate craft cocktail or just need something cold and sudsy, Pittsburgh's got you covered.
Gooski's
Dive is one of those tricky words. It can be used pejoratively ("that place has gotten kind of divey") or proudly embraced, trumpeting an affordable neighborhood atmosphere. Gooski's falls squarely in the second category. Sitting atop Pittsburgh's punky Polish Hill, Gooski's slings PBR pounders and pub grub, ranging from classic pierogies to vegan kielbasa. The big draw is the music, provided by a well-stocked jukebox and rock bands raging in the back room. Though somewhat notorious for their gruff service, a handwritten sign behind the bar sums up how to succeed at Gooski's: "Know what you want. Have your money ready. Don't make us kill you."
Butcher and the Rye
From the taxidermied animals to the stunning chef's table, there's plenty to ogle when you walk into Downtown's Butcher and the Rye. But there is no sight prettier than the massive whiskey wall, a staggering collection of hundreds of bourbons, scotches, and ryes that includes more than a few rare bottles. Grab a pour at the downstairs bar and bask in the glowing wall of barrel-aged goodness, or head upstairs to the cozy rye bar for a perfectly executed original cocktail. Though whiskey is king, don't be afraid to branch out: Some of the most memorable drinks I've had at Butcher have been mezcal based.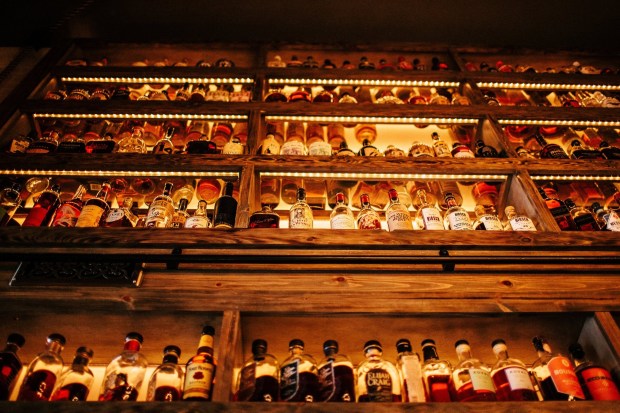 Location: 212 6th St., Pittsburgh, PA 15222
Contact: (412) 391-2752
Le Mardi Gras
While there is no shortage of bars in Shadyside, none is quite like Le Mardi Gras. Just off boutique- and bistro-lined Walnut Street, Le Mardi Gras bills itself as the "oldest cocktail lounge in the city." I believe it. Narrow, dark, and smoky, the vaguely New Orleans–themed bar feels timeless. Le Mardi Gras is both loved and feared for insanely strong drinks, which are made with juice squeezed right in front of you (a gimmick, sure, but an awfully good one). With warm, welcoming bartenders and classic crooners on the jukebox, Le Mardi Gras is the bar everyone wants in their neighborhood.
Allegheny Wine Mixer
"Wine bar" and "pretension" needn't go hand in hand—and Allegheny Wine Mixer is living proof. The Upper Lawrenceville bar curates an unparalleled wine list, built around a rotating feature like "the Balkans" or "summertime reds." Thanks to friendly, knowledgeable bartenders and a glut of deliberately awful art on the walls, AWM never feels snooty or unapproachable. Education and exploration are at the center of everything they do: Instead of a happy hour, AWM hosts "hours of experimentation" in the form of $4 half pours and half-priced meats and cheeses. The bar also boasts the coolest playlist in the city. Think Bowie, the Modern Lovers, and plenty of grubby garage rock.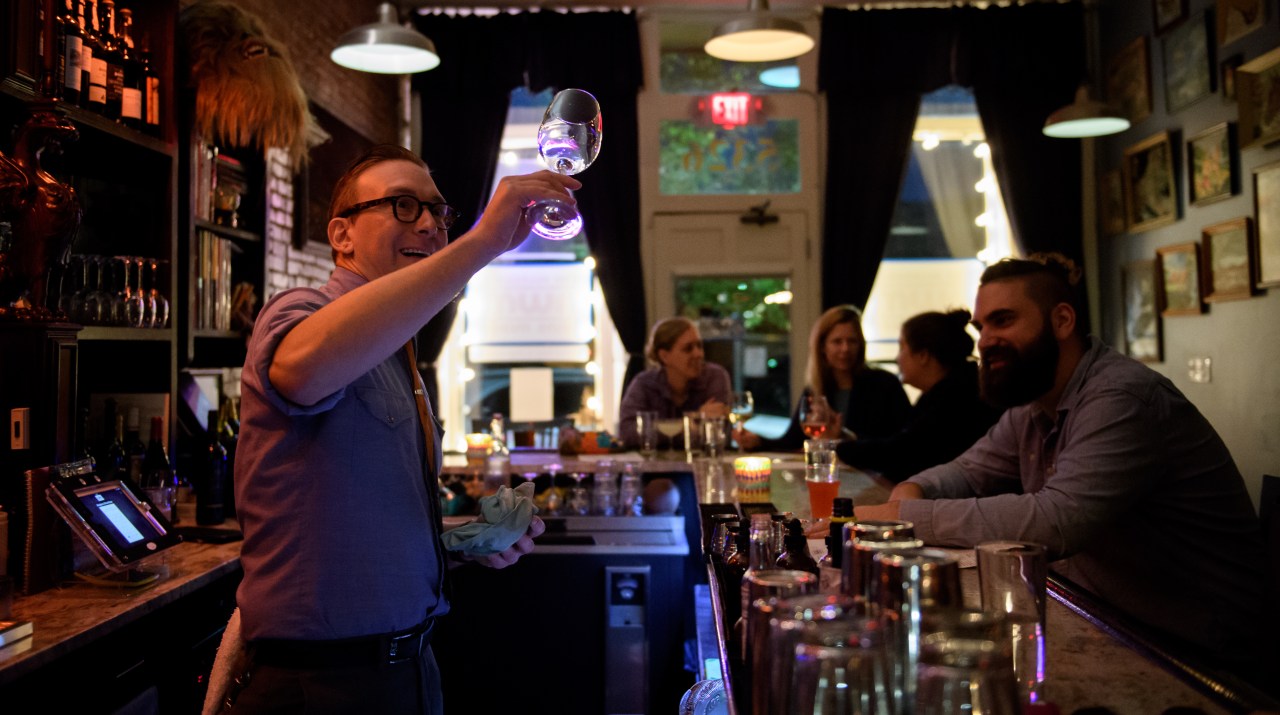 Grist House Craft Brewery
In light of the recent explosion in craft beer, this roundup could easily be filled entirely with breweries. There are plenty of opinions on which of the dozens does it best, Grist House manages to please everyone. Located in a former slaughterhouse in Millvale, Grist House has made quite a name for itself in three short years. It's not hard to see why. A large outdoor space welcomes both kids and dogs. There's a solid lineup of food trucks. The atmosphere is just hard to beat. And, oh yeah, there's beer. Though they ably turn out trendy double IPAs and fruit sours, I appreciate the easy-drinking options—brown ale, Kölsch—every bit as much.
Kelly's Bar & Lounge
From the janky neon sign to the vinyl booths, Kelly's Bar & Lounge feels like a 1950s diner was dropped in the middle of East Liberty. In that rapidly changing neighborhood, Kelly's is a reliable oasis. I can always count on the ridiculously cheesy mac and cheese and featured $4 cocktail to bring me back to life. Though it appears untouched by time, Kelly's keeps up, offering a deep list of classic cocktails, interesting craft drafts, and regular DJ nights. That variety draws an eclectic mix of customers, from scruffy punks to local politicians. And in a city that lacks outdoor dining spaces, the cozy back patio is a pleasant surprise.
Hidden Harbor
Hours from a beach, Pittsburgh may seem like a strange spot for a Tiki bar. But on one of our many drizzly, dreary days, there is no better escape than a trip to Hidden Harbor. The bar is part of a nationwide revival of Tiki culture, which celebrates kitsch, exoticism, and oodles of rum. Since opening in early 2016, Hidden Harbor has emerged as one of the most fun and innovative spots in town. With theme nights like Weird Science Wednesday and an ever-expanding rum library (now over 250 bottles), there's always something new to check out. The elaborately garnished, multi-ingredient cocktails are as bright and funky as the bar itself, bringing year-round sunshine to the Rust Belt.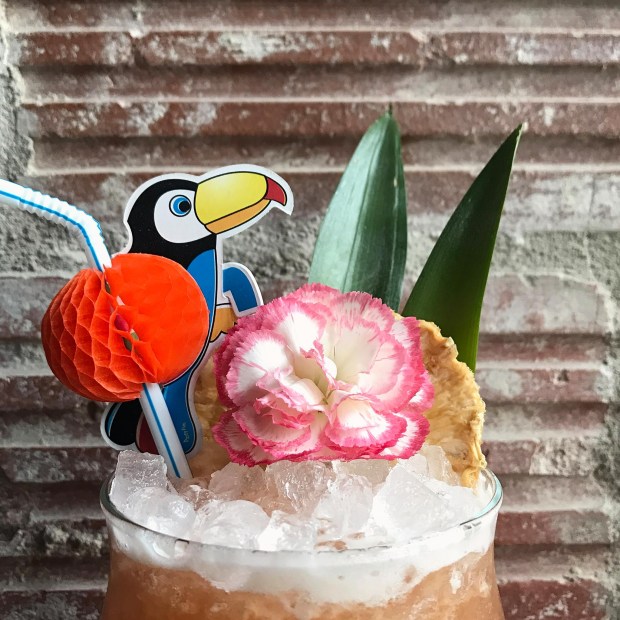 Piper's Pub
Spend enough time in Pittsburgh and someone will eventually tell you that Carson Street has more bars per block than anywhere else in the country. Whether or not it's true, the sentiment is accurate: There are tons of places to drink on the South Side. And yet Piper's Pub stands out. A local version of a classic British public house, Piper's serves up 20-ounce pours of Guinness and London Pride alongside hearty English classics like shepherd's pie. The drink options go deeper with a rotating cask ale, plenty of Pittsburgh drafts, and an impressive selection of scotch. Comfortable and inviting, Piper's Pub is the perfect place to linger over brunch or take in a soccer, er, football match.
Bob's Garage
Ever wonder what would happen if a party city and a dive bar collided? Head to Bob's Garage to find out. Blanketed in Christmas lights, this establishment is a roadside beacon in the quiet borough of Blawnox. Inside it's even zanier: Every available inch of wall and ceiling is covered in lights and decorations that change with the seasons. The drinks and service are no-frills, but the atmosphere is fun and friendly. There are karaoke nights multiple times a week. Bob's Garage ramps things up at Christmastime, stringing up even more lights and raising money for their Spirit of Christmas charity. The bar is lively, quirky, and uniquely Pittsburgh.
Location: 1372 Freeport Rd., Pittsburgh, PA 15238
Contact: (412) 963-9552