"Disneyland with the death penalty," the science-fiction writer William Gibson declared after visiting Singapore in 1993. In a 4,500-word piece for Wired, he described my country as an authoritarian state devoid of creativity and authenticity. The Singapore government promptly responded by banning Wired, which Gibson probably interpreted as a case in point. (The ban has since been lifted.)
It's true that authoritarianism underpins Singaporean politics: Civil liberties are restricted and restrained, bloggers are sued, activists are harassed, and, yes, we do still have the death penalty. But Singapore is far from a sterile environment.
Like all cities, we are a place of contradictions: of great joys and frustrations, capable of breathtaking beauty and cruel ugliness. Even for someone like me, born and bred on this island, learning to recognize and appreciate its complexity has been a journey. My perfect day in Singapore would be one steeped in the things that speak of home to me: amazing food, passionate people, and the occasional need to sit down somewhere with air conditioning.
7:00
am
Mr and Mrs Moghan's Super Crispy Roti Prata
Poh Ho Eatery
7 Crane Road 429356
Get Directions
Early risers must be rewarded somehow, and breakfast at Mr and Mrs Moghan's Super Crispy Roti Prata is a good prize. It's often recommended as one of the best places in Singapore to get roti prata, a fried flatbread whose name magically morphs into roti canai once you cross the border into Malaysia.
The stall sits in a tiny coffee shop, tucked into a corner just behind Joo Chiat Road. Enjoy the prata kosong, a pancake eaten "plain," or with an egg folded in. It's fluffy on the inside and crispy on the outside and matched with mutton or fish curry or dal. Wash it down with local kopi (coffee) or teh (tea), served with no-nonsense efficiency: Someone will come by your table to ask you what you'd like to drink, then holler your order across the entire establishment to their colleagues behind the counter.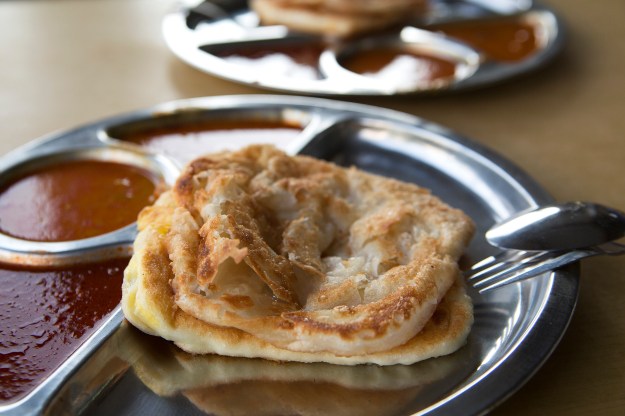 A bit of travel is required to go here—driving or getting a taxi/Uber will be the easiest and fastest option—but, especially if it's a weekend, it's worth making the trip to Bukit Brown Cemetery. It's the largest Chinese cemetery outside of China, and it's a depository of history and heritage for Singapore. It's also home to a wide range of flora and fauna.
Most weekends, the Brownies, of the volunteer group All Things Bukit Brown, host free guided tours around the cemetery. (Check out their event page for more information.) There are introductory tours, which provide you with an overview of the culture and stories on offer in the cemetery, highlighting the tombs of notable figures and their contributions to Singapore. There are also themed tours that focus on more specific aspects of the site, such as the edible plants that grow in Bukit Brown.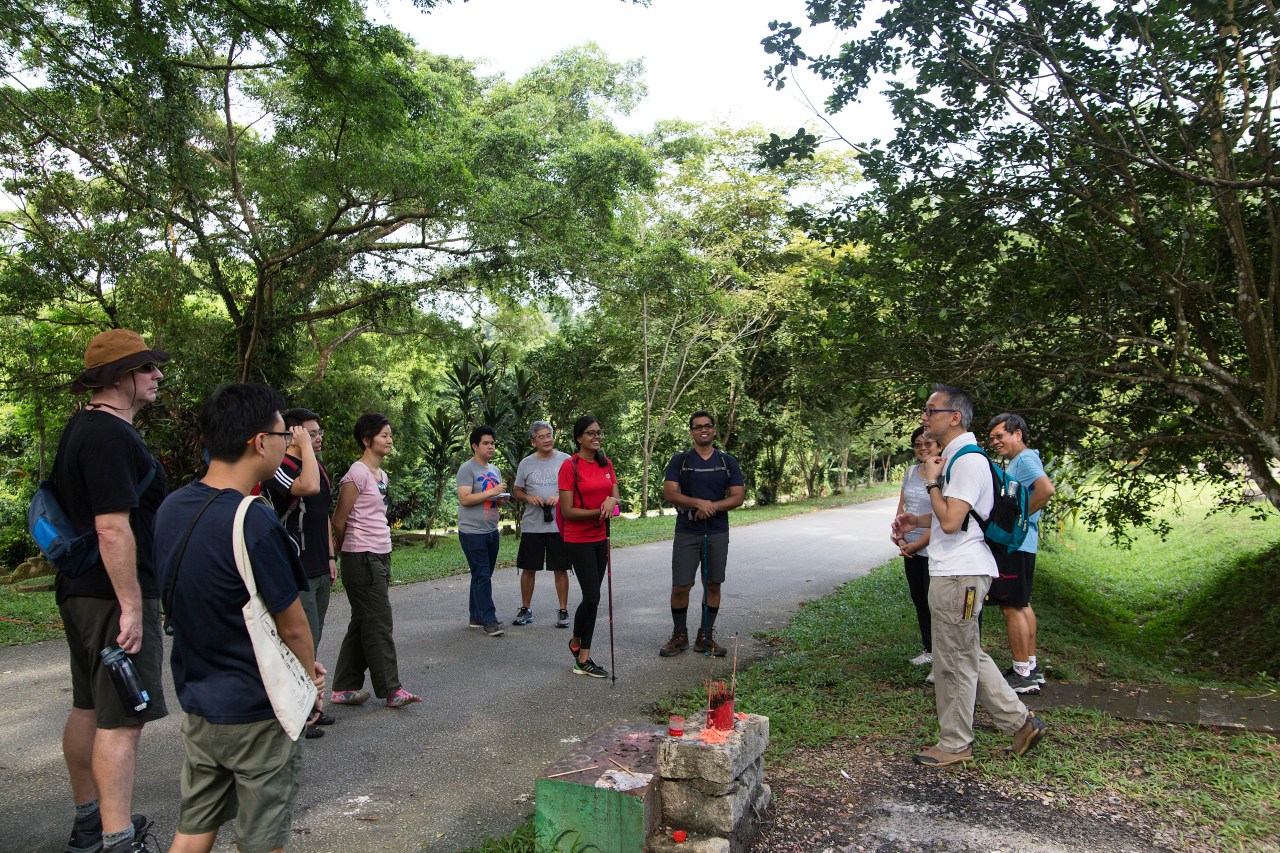 Keep in mind, though, that Bukit Brown isn't quite what it used to be: More than 3,700 of over 100,000 graves have been exhumed to make way for an eight-lane highway that will cut the cemetery in half. The imminent change is why the Brownies' mission is so important and why I'm so insistent that Bukit Brown is worth the detour. As urbanization encroaches upon this historic and natural space, the need to learn, preserve, and understand its value has never been so urgent. Public awareness and care for Bukit Brown might one day be the only thing that stands between the cemetery and a top-down master plan to destroy it completely.
If there are no guided tours available, you can still wander about Bukit Brown by yourself. But an alternative is to get yourself down to Kampong Glam, where you can marvel at the gorgeous Masjid Sultan (its history dates back to 1824) or visit the Malay Heritage Centre, to learn about the history of the Malay community in Singapore. The compound is open from 8 a.m., but the museum opens at 10 a.m., and free tours kick off at 11 a.m. Wander down Arab Street and stop at Toko Aljunied, a friendly store offering gorgeous Peranakan kebayas, batik sarongs, jewelry, and other trinkets.
Hop into a taxi from Bukit Brown, or work up an appetite for lunch by walking about 15–20 minutes from Kampong Glam to Little India. This is one of the most vibrant parts of Singapore and a popular gathering place for the country's many South Asian migrant workers. Just a casual wander down the streets in this district will show you a side of Singapore that has already been lost in more gentrified neighborhoods.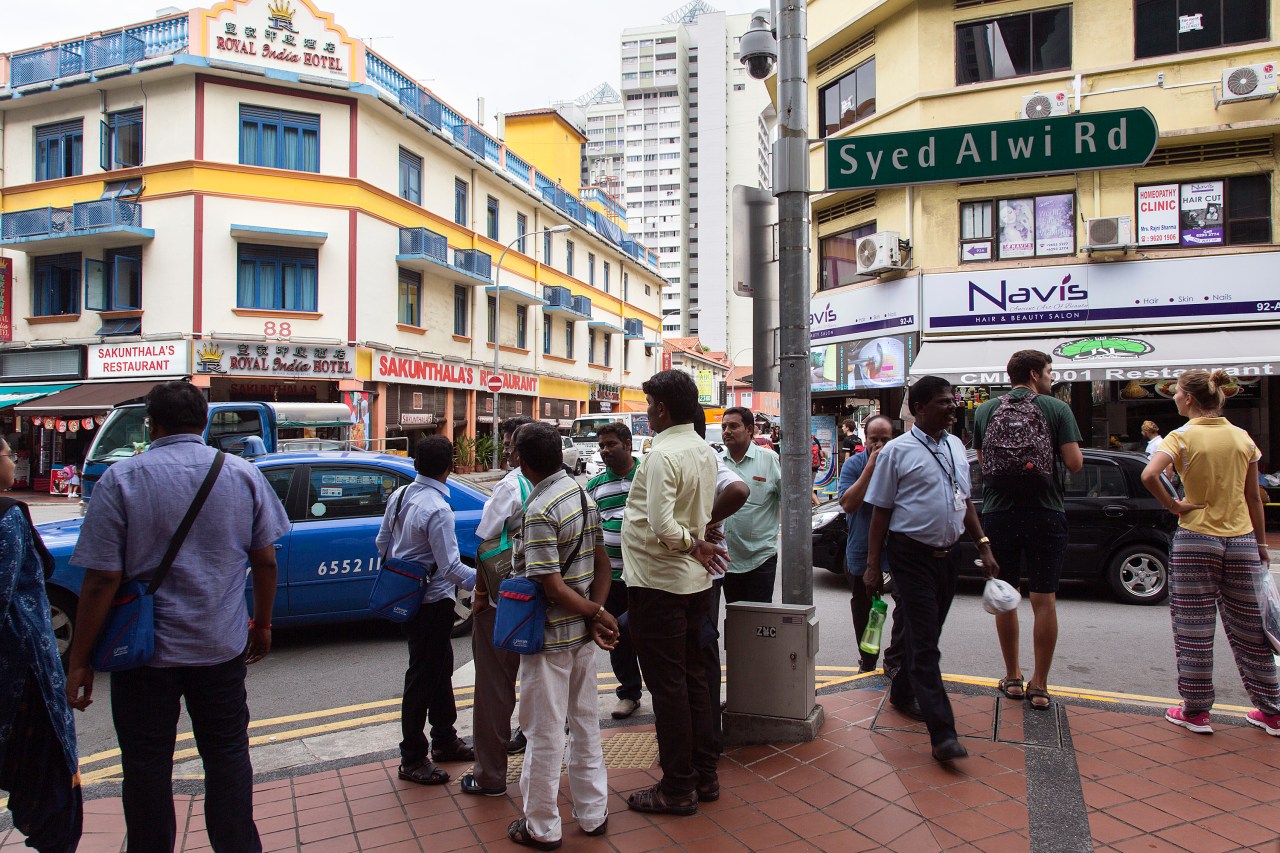 Don't miss Mustafa Center, a 24-hour maze of a shopping mall, jam-packed with almost anything you can think of. You could walk into Mustafa for, say, some batteries, yet walk out weighed down with shampoo, towels, a box of biscuits, and a toilet seat. (If I sound like I'm speaking from experience, that's because I am.)
The top floor of Mustafa houses the restaurant Kebabs n' Curries, serving up tasty Indian, Pakistani, and Chinese Indonesian dishes. There's no shortage of good food in Little India; some of my other go-to places include the Banana Leaf Apolo, for fish head curry, and Swee Choon Tim Sum Restaurant, for affordable yet delicious Chinese cuisine.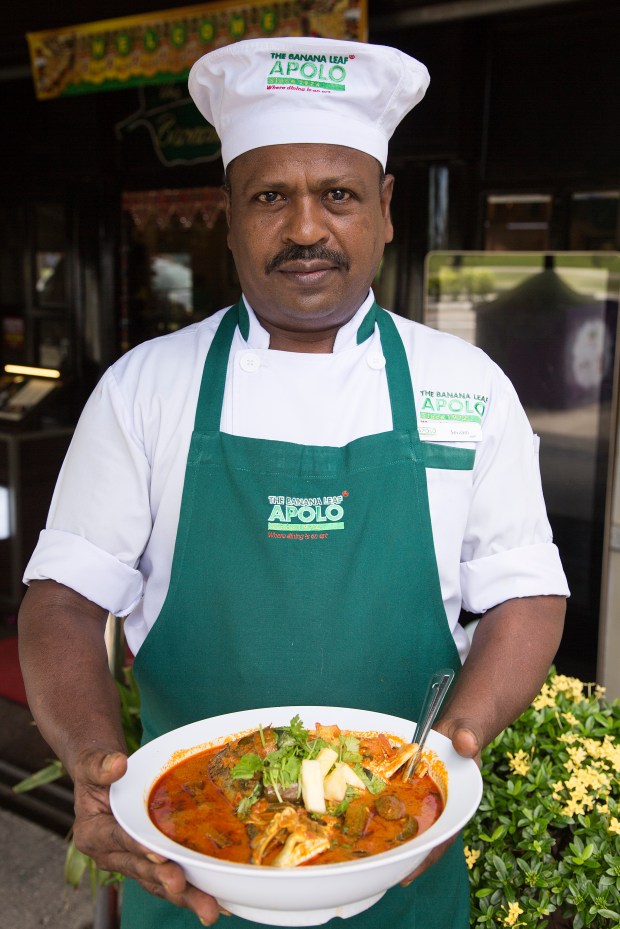 3:30
pm
National Gallery Singapore
1 Saint Andrew's Road, #01–01
178957
Get Directions
Head into Singapore's civic district. The architecture here moves away from the shophouses and high-rise public housing of Little India toward colonial-era buildings like the Victoria Theatre and Concert Hall or the Arts House, in what used to be Singapore's Parliament. (The new and much larger Parliament is right behind it.)
The National Gallery Singapore joins two national monuments—City Hall and the former Supreme Court—to create one massive home for the world's largest public collection of Singaporean and Southeast Asian art. To give you a sense of scale, the National Gallery has over 8,000 pieces in a floor area of 690,000 square feet.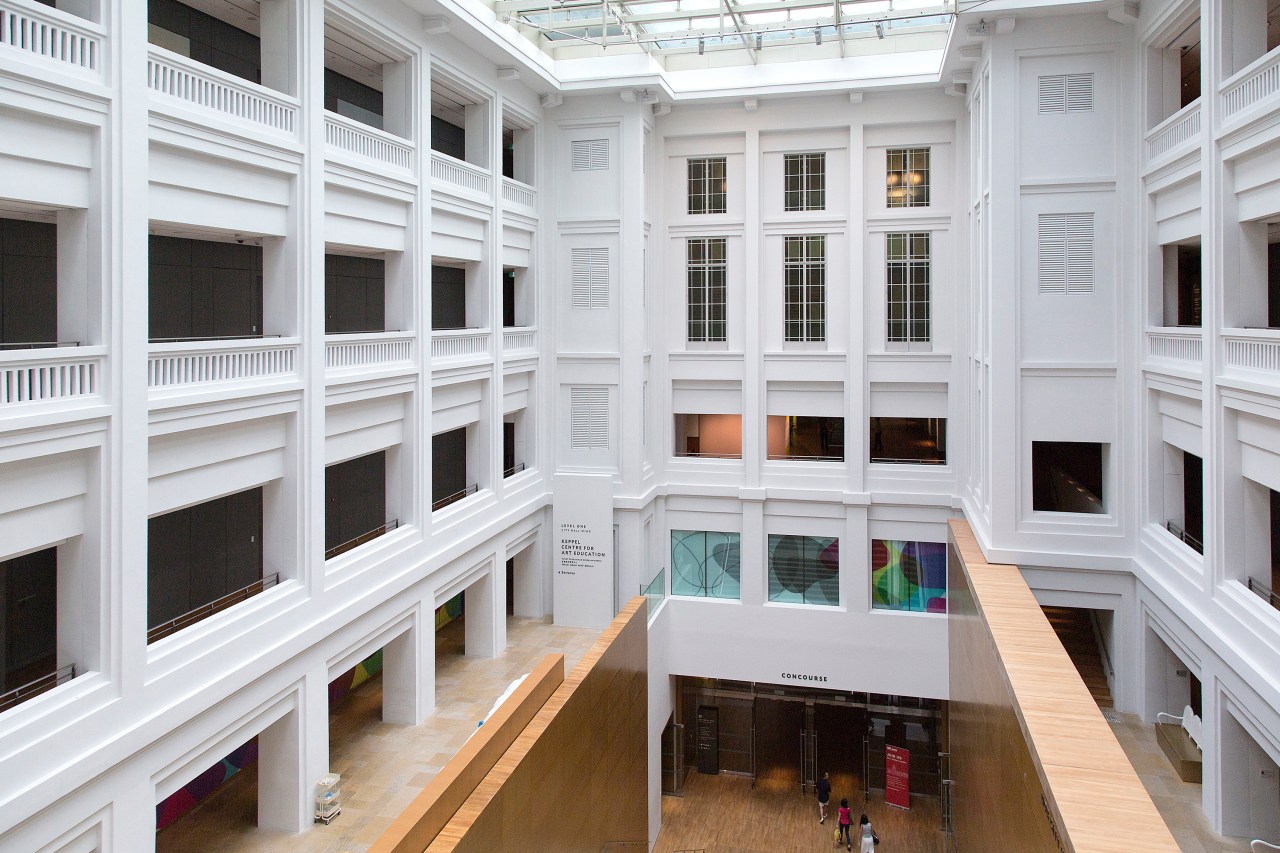 My favorite exhibition is "Siapa Nama Kamu?," meaning "What Is Your Name?" The show traces Singaporean art from the 19th century to the modern day. It's a beautiful way to follow the development and growth of the country and to see the region through the eyes of those who have called it home. Of particular interest is the section on the Nanyang Style, referring to a group of Chinese artists who were active in Malaya in the 1950s. Trained in both Chinese and Western traditions, these artists were inspired by Southeast Asian life; the Indonesian island of Bali, for instance, provided plenty of inspiration. What you get, then, are fascinating blends of influences and techniques, creating works that you won't see anywhere else.
Once you've had your fill of art and culture, take a stroll across the Cavenagh Bridge, named for Major General Sir William Orfeur Cavenagh, who was Governor of the Straits Settlements—which then included Singapore—from 1859 to 1867.
Walk past the towering skyscrapers of the Central Business District and along the Singapore River down to Boat Quay. The row of shophouses used to be the center of trade and commerce; the river used to be chock-full of boats carrying goods such as rice, rubber and tin. Many a businessman prospered off of Singapore's advantageous position as a prominent entrepôt.
Today Boat Quay is a series of pubs and restaurants, providing bankers and office workers a place to unwind and get tipsy at the end of the day. Pro tip: Don't eat at the seafood restaurants on Boat Quay. They are notorious for being ludicrously overpriced.
Boat Quay does, however, have one hidden gem: the Neko no Niwa Cat Café, situated on the second floor of a shophouse. More cat cafes have since opened, but Neko no Niwa is the country's very first. It's also my favorite, because the owners, Sam and Sue, are uncompromising about the welfare of their feline companions. (A note for parents: Children under the age of 7 aren't allowed in the cafe; children between 7 and 14 need adult supervision.)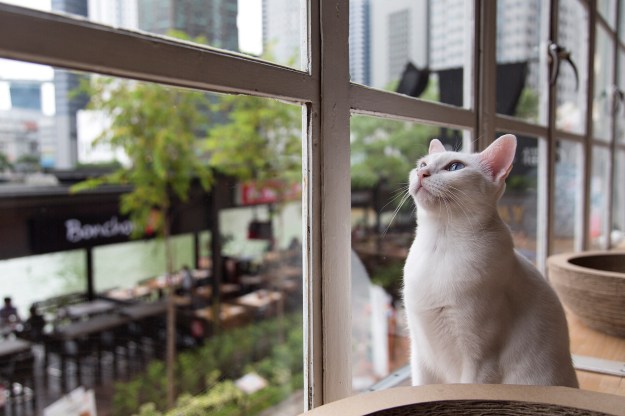 All of Neko no Niwa's 13 cats are rescue cats, in keeping with the establishment's desire to encourage people to adopt pets instead of buying them. These fur kids have been specially selected for their temperament—they are calm, friendly, and enjoy human company. Buy a coffee and settle into one of the comfy chairs. If you're lucky, a cuddly little thing will come curl up in your lap!
Lau Pa Sat is one of the most famous food centers in Singapore, loved by locals and tourists alike. Built in the 19th century and gazetted as a national monument in 1973, the market provides a wide range of cuisine, from local delights to Filipino, Japanese, and even Costa Rican fare.
The best time to visit Lau Pa Sat is in the evening. As the sun sets in Singapore at 7 p.m., the street behind the hawker center is closed off, and the satay vendors set up their stalls. In no time at all the street is transformed into a smoky lane with meat skewers sizzling over charcoal. It's a lively atmosphere as each stall vies for customers, trying to intercept them and get them seated before they move on to a competitor.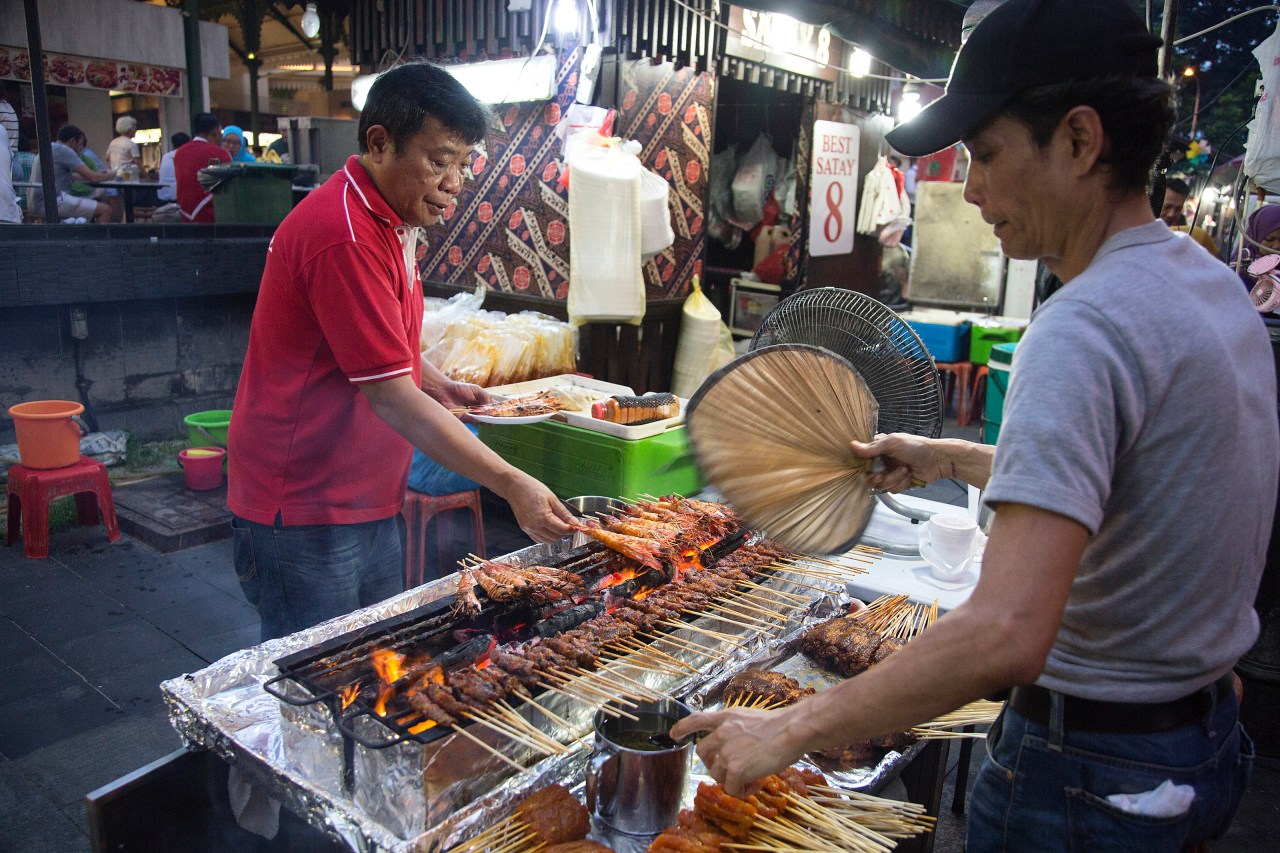 Beyond satay, try out some local favorites, like sambal stingray (barbecued stingray served with a chili paste) or carrot cake. Be warned, though: This is not the carrot cake you're imagining! In Singapore carrot cake refers to a dish of rice flour and white radish, fried with egg and preserved radish. You can have it "white" (plain) or "black" (with sweet soy sauce).
9:00
pm
Smith Street Taps
Chinatown Complex
335 Smith Street, #02-062
050335
Get Directions
There's a good chance that Lau Pa Sat will have already put you in a food coma, but those still up and raring to go can top the day off with a visit to Singapore's largest food center, in Chinatown Complex.
Navigate through the maze of food stalls and find Smith Street Taps. Alcohol is pricey in Singapore because of the "sin tax" the government levies, but Smith Street Taps offers a rotating list of craft beers from around the world in a no-frills environment. It's perfect for those who just want a pint without having to deal with the pretentious atmosphere of a posh bar.
There are days when one is frustrated and tired and stressed out and William Gibson's description of a soulless authoritarian dystopia doesn't seem so inaccurate. But there are many more days like this one, when Singapore demonstrates that she has so much more to offer.