What I remember best about the home where I grew up in Sri Lanka are the five mango trees. As kids, we plucked green mangoes, peeled and sliced the flesh, and put it into a mortar with whole dried red chiles, whole black peppercorns, vinegar, sea salt, and a sprinkling of sugar. We pounded this spicy mango mix with a pestle. This childhood repast of green mangoes was great. For our family mango chutney, we use half-ripe mangoes. They are sweeter and turn a golden color when cooked. This chutney is piquant, sweet, and spicy—all the flavors well balanced.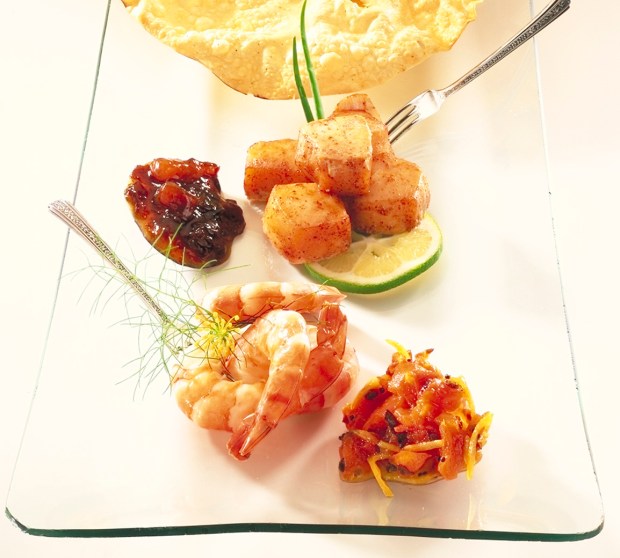 Mango Chutney
Ingredients
(Yields 2 quarts)
2 quarts mango, packed, peeled, seeded, and sliced into ¼ – by 2-inch pieces
1 cup dark seedless raisins
4 cups sugar
4 cups cider vinegar
1 yellow onion, minced
4 tablespoons each minced ginger and garlic
2 teaspoons crushed red pepper flakes
1 teaspoon grated nutmeg
1 teaspoon ground cloves
2-inch piece of a cinnamon stick
6 pods cardamom
Salt to taste
Preparation
Wipe mangoes dry of all moisture; set aside with raisins. Place remaining ingredients in a nonreactive pan and simmer over low heat for 15 minutes. Add mangoes and raisins. Simmer until mangoes turn transparent and chutney is thick, about 2 to 2 ½ hours. Cool, ladle into sterilized jars, cover, and refrigerate. Keeps up to three months.
Tomato and lemon zest, two colorful partners, bring out the best in each other. In this recipe, spices are used whole rather than ground; fried in oil, they give texture and a haunting aroma to the soft, glazed tomatoes. The sharp cumin and the sweet licorice fennel add a mild aroma. The more assertive fenugreek, a small legume used as a spice, emanates a pungent charred flavor when cooked in oil, and black mustard seeds give a nutty flavor when cooked in oil, and black mustard seeds give a nutty flavor. Poppadom accompany the chutney especially well.
Tomato-Lemon Chutney
Ingredients
(Yields 1 pint)
2 tablespoons olive oil
½ teaspoon whole cumin seeds
½ teaspoon fennel seeds
¼ teaspoon fenugreek seeds
½ teaspoon black mustard seeds
½ teaspoon crushed red pepper flakes
4 cloves garlic, peeled and thinly sliced
1 tablespoon finely shredded ginger
½ cup sugar
½ cup white vinegar
1 ½ pounds ripe tomatoes, cut into small dice
Zest of 2 lemons, cut into a fine julienne
Salt to taste
Preparation
Heat oil in a nonreactive pan and, on medium heat, fry cumin, fennel, fenugreek, and mustard seeds. When mustard seeds start to pop, add red pepper flakes, garlic, and ginger. Stir over low heat for a few seconds. Add sugar, vinegar, and salt to taste; bring to a slow simmer. Stir in tomatoes and cook on low heat for 45 minutes. Add lemon zest julienne and simmer until chutney is thick. Cool, pour into sterilized jars, cover, and refrigerate. Keeps up to 1 month.
Excerpted from Burst of Flavor: The Fine Art of Cooking with Spices, with permission from the University of Hawaii Press.