During the last two weeks in April 2018, a man with a scruffy salt-and-pepper beard, dressed in a camouflage-pattern T-shirt and khaki cargo pants, stomped into Yerevan's Republic Square in the early evenings. Behind him, a sea of people sporting the Armenian flag colors of red, blue, and orange cheered and chanted his name. The raucous crowd could not get enough of this firebrand, who has taken the entire country by storm.
The man, 42-year old Nikol Pashinyan, last week became the country's new prime minister.
Pashinyan, who rose as a member of a fringe parliamentary faction, shook the world last month by leading a revolution that toppled the government and upended the ruling Republican Party, which had been in power since 1999.
But Pashinyan is not new to Armenia's political scene. His rise has been a decade in the making and wasn't merely a reaction to what Armenians saw as an attempt by former President Serzh Sargsyan to hold on to power.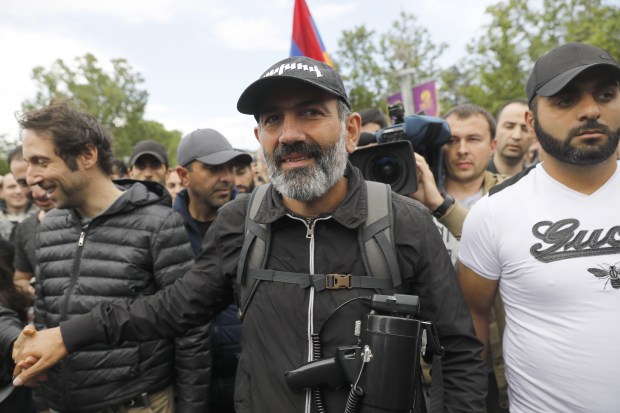 Pashinyan-led mass protests in Yerevan, and eventually nationwide, began in mid-April. The goal of the movement, called My Step, was simple: to prevent Sargsyan, who had served as president for a decade, from continuing to rule as the country's prime minister.
In 2015, Armenia voted on a new constitution in a referendum, changing the presidential system of government into a parliamentary one, making the prime minister the head of government, elected by the National Assembly. The maneuver drew comparisons to Russia, where Vladimir Putin served for eight years as president, then became the prime minister from 2008 to 2012 to avoid term limits before being re-elected to the presidency in 2012.
After 11 days of protests, Sargsyan resigned on April 23. That evening, strangers congratulated one another. Vuvuzelas blared everywhere, and singing and dancing broke out in the middle of Yerevan's main thoroughfares.
Never before had Armenians been so unified in purpose, ecstatic in the bliss of empowerment and accomplishment. Hundreds of thousands of people took to the streets for freedom and justice after similar movements over the years failed. But this time was different.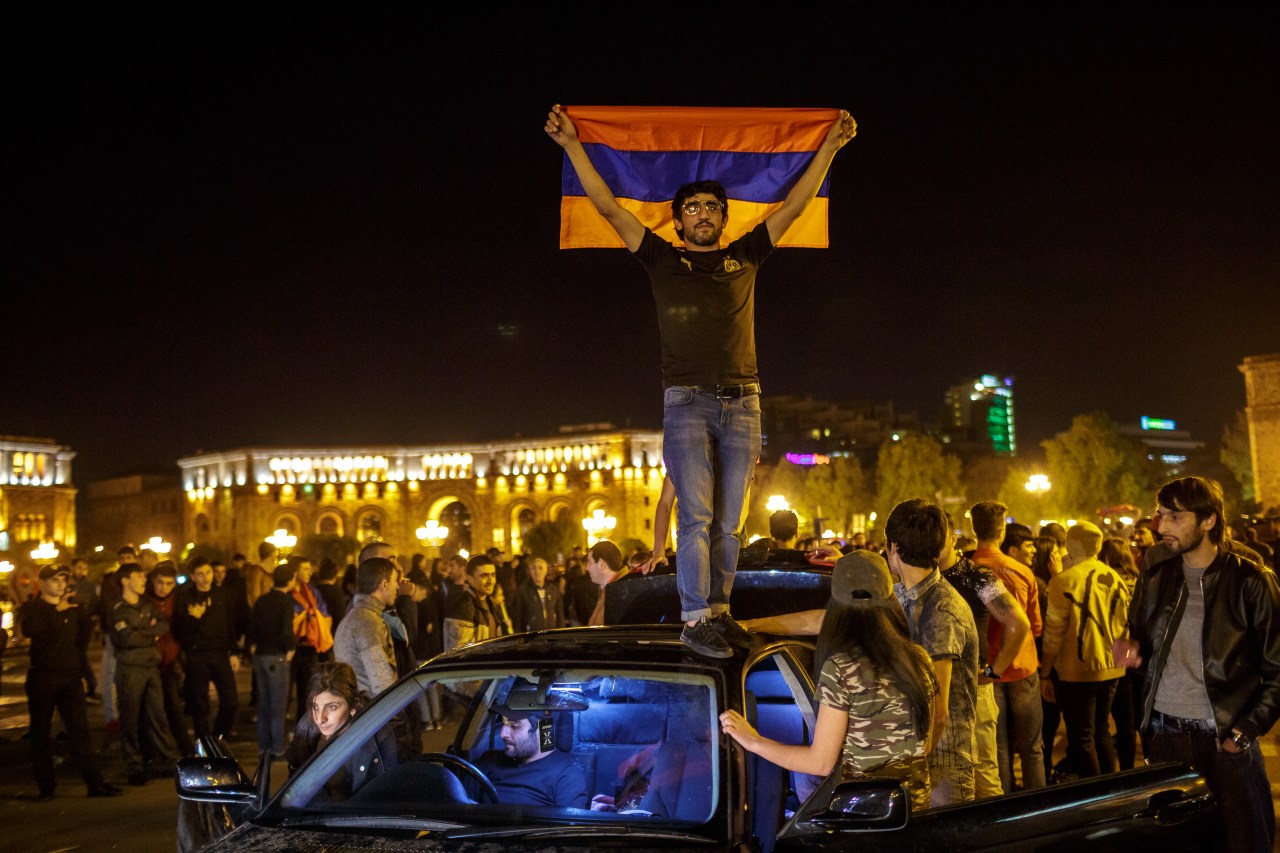 Pashinyan's political career began in 2007, when as the editor of the daily newspaper Haykakan Zhamanak (Armenian Times), he publicly called for the overthrow of then-President Robert Kocharian and the oligarchy.
He launched what was initially a one-man civil movement, which later became a political party called Impeachment. He could be heard in Yerevan's Freedom Square behind the grand Opera almost daily, shouting into a bullhorn and criticizing Kocharian. His one punctilious phrase—"struggle to the end"— resonated with the public, and soon he began to attract followers.
The Impeachment party ran in the May 2007 parliamentary elections but failed to win any seats. Then it threw its support behind Armenia's first president, Levon Ter-Petrosyan, who returned to the spotlight nine years after his abrupt resignation and challenged Kocharian's successor, front runner Serzh Sargsyan, in the February 2008 presidential election.
Despite wide public support, Ter-Petrosyan lost to Sargsyan. Armenians protested daily in Freedom Square the election, which was marred by allegations of voting irregularities. The protests turned into round-the-clock peaceful sit-ins, with hundreds of demonstrators pitching tents in the square. On March 1, 2008, nearly two weeks after the protests began, the mass demonstrations turned into a violent confrontation when a brutal crackdown by authorities left 10 people dead, including two police officers, and at least 130 others injured.
Pashinyan went into hiding while prominent figures in the protest movement were arrested. When he emerged 16 months later, he was promptly detained, then sentenced to seven years in prison for his role in the demonstrations. In May 2011 he was released under a general amnesty that Sargsyan granted to political prisoners.
After his release, Pashinyan formed an alliance with Ter-Petrosyan's Armenian National Congress in the May 2012 parliamentary elections and won a parliamentary seat.
In 2013, Pashinyan split from the ANC to form his own party, Civil Contract. In December 2016, his party became a member of the Way Out opposition alliance, which won nine seats in last year's parliamentary elections.
Pashinyan continued to admonish Sargsyan and his Republican Party, which had grown deeply entrenched in all governmental and civil spheres. Even school teachers were pressured to join the party.
During parliamentary debates, Pashinyan was consistently one of the most vocal members. And his opposition to the leader and the party came to a head before the April parliamentary elections, which would decide the country's prime minister. Sargsyan would be the only candidate for the office, since according to the Armenian Constitution, the majority party makes the nomination. That was something Pashinyan couldn't let happen.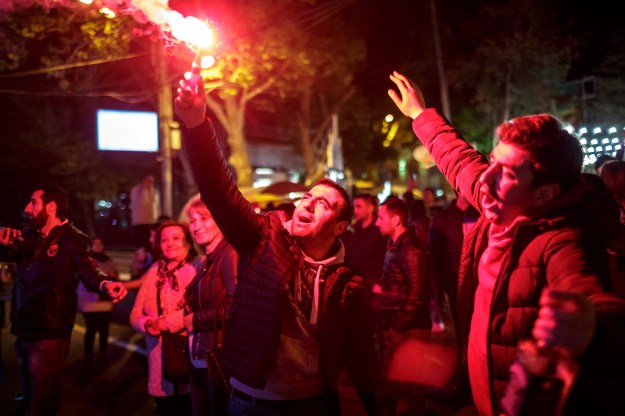 Pashinyan's My Step—a march from Gyumri, the second-largest city in Armenia, to Yerevan, about 75 miles away—began on March 31. He and a handful of supporters passed through villages along the way, spreading anti-Sargsyan, anti-Republican messages. On April 13, the group reached Yerevan, where Pashinyan rallied his supporters in Republic Square. By nightfall, demonstrators occupied the city's France Square.
The protest movement, which gained strength day after day, was driven by young Armenians. On the surface, the random intersection shutdowns and sit-ins throughout the city seemed chaotic. But these were, in fact, well-organized, decentralized demonstrations of civil disobedience, planned in the days leading up to the elections.
The clusters of protesters were in close contact with one another, if not by phone, then through bicycle messengers who would zip from one location to another and provide updates on whether to stay put or move on.
On April 17, the day that Sargsyan was elected prime minister, demonstrators took Republic Square peacefully, with no resistance from police. On subsequent days, they continued to open or close it at will.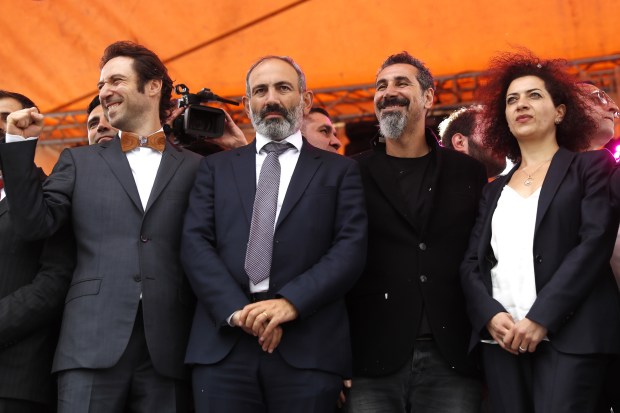 Pashinyan's speeches at nightly rallies in Republic Square were eloquent yet simple: The Armenian people must take back their government and country, through peaceful means. He urged Armenians to unite for a better future.
His message of empowerment especially resonated with the country's disenfranchised millennials. Youth unemployment is at 36 percent in Armenia, according to the International Labor Organization, and many young people yearn to work abroad. In his speeches, he encouraged young people to be catalysts for change and have a say in how their country is governed.
He also emphasized that the country's police, especially those in riot gear, were serving the people and that Armenians were grateful to them. "Our struggle is not against the police. It's against the government," he told protesters, discouraging confrontation. The crowd responded, "Police, come join us."
Only six days after being elected prime minister, Sargsyan resigned.
The demonstrations, however, continued unabated. After all, someone had to become the next prime minister if it wasn't Sargsyan. On April 25 and 26, 100,000 Armenians came out daily in Yerevan and on April 27 and 28 in Gyumri and Vanadzor (Armenia's third-largest city) and threw their full support behind Pashinyan. He had become the people's candidate.
Despite being the only candidate, Pashinyan lost a parliamentary vote on May 1 to elect the new prime minister. It wasn't clear why the Republicans, who hold the parliamentary majority, voted against him even though they promised not to challenge his candidacy. Moments before the widely broadcast vote, he addressed a vivacious crowd in baseball caps that read "Dukhov" (slang for "man up" or "with courage") and urged them to wait for him. Thousands more supporters started pouring into the square.
The next day, tens of thousands of supporters, following his message for civil disobedience, resumed their strikes and sit-ins. Once again, intersections at major and less-traveled roads were blocked, bringing the city to a near standstill. Armenians were more defiant than ever, emboldened by the Republicans' refusal to step aside for a Pashinyan-led minority government. But by nightfall, the Republicans conceded and vowed they would not field their own candidate. The peaceful protests continued in full force.
On May 8, Pashinyan was elected prime minister.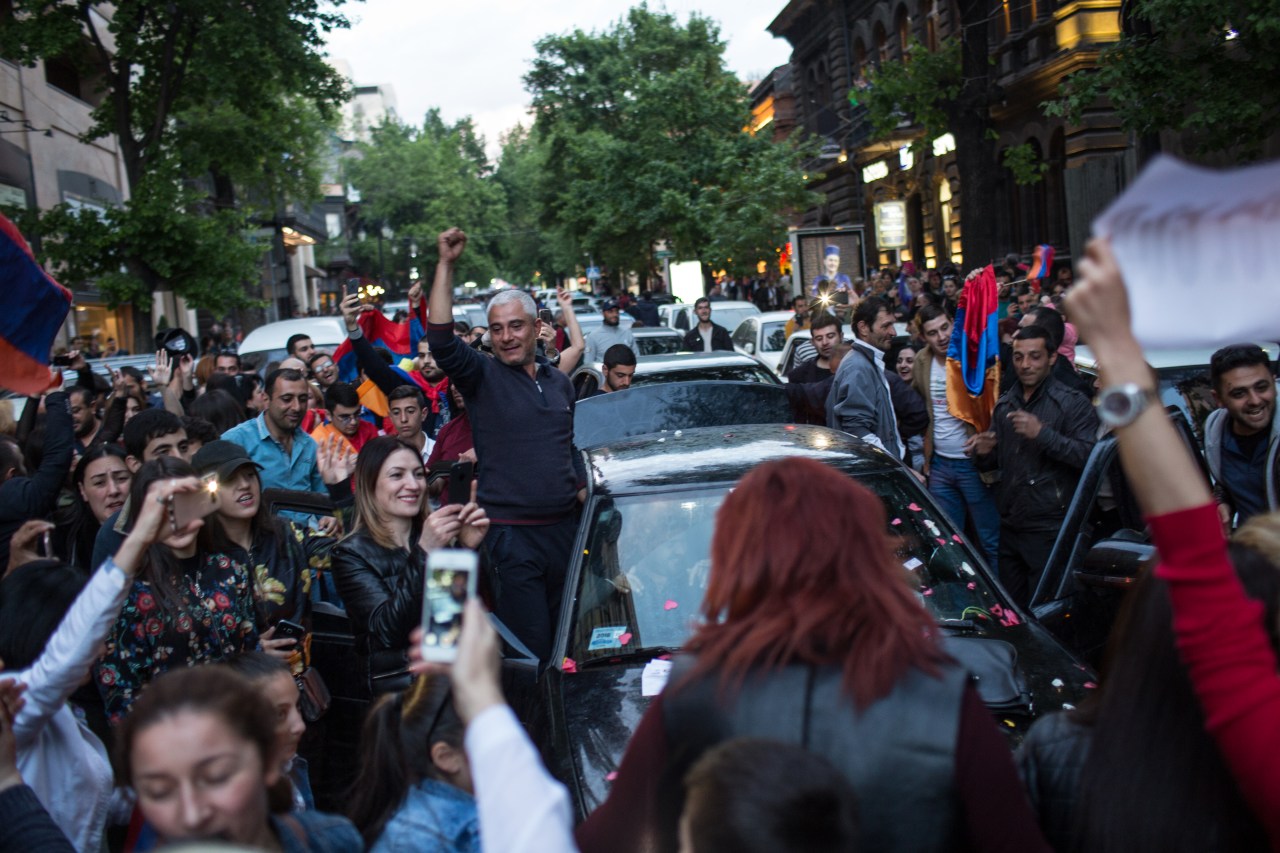 This month Armenia enters a new chapter as a free and independent republic, written by a younger generation that did not see the early tumultuous years of independence that were plagued by war.
Pashinyan now speaks of reconciliation. Members of his newly appointed cabinet include several new faces and some old ones—four members who held high-ranking positions in the previous administration.
But the Armenian youth who reclaimed their nation through the uprising have huge expectations for change. About 30 percent of the population lives below the poverty line. The unemployment rate has been hovering around 17 percent for the last two years. A breakthrough to resolve the conflict between Armenia and Azerbaijan over the disputed territory of Nagorno-Karabakh has yet to be found. And an estimated 15,000 to 20,000 people emigrate from Armenia annually. Sargsyan's government failed to tackle these problems during his tenure.
Now, after a decade of demanding change, all eyes are on Pashinyan, who is expected to turn the country around.