Comida baiana, or "Bahian food," is the queen of cuisine in Brazil, thanks to its deep African roots. Nowhere in the northeast of the country is this more evident than in the city of Salvador da Bahia, the state capital and heartland of Afro-Brazilian life. The majority of Salvador's residents have African heritage and are proud to celebrate it. From the moment you step off the plane to when you walk along the scenic beaches, the aromas of Salvador's African ingredients invade your senses. The foods you encounter are recipes that have survived hundreds of years of the brutal slave trade and are proof of Africa's imprint on Brazilian cuisine.  
Since African influences are everywhere in Salvador's food, it's important to know what, where, when, and how to spot them. It's also important to understand who makes the food and why. You will meet the mothers of the cuisine, the celebrated black women of the north, known as baianas. During slavery, Afro-Brazilian women were able to acquire economic autonomy by selling their food on the streets. Baianas dress in African garb and carry the tradition of black resistance in their cooking and families.
You will also regularly encounter ritual foods for Candomblé ceremonies, a spirituality inspired by Yoruban beliefs from West Africa.
This journey through Salvador's gastronomic treasures will take you from high-end boutique restaurants to home-cooked meals and the street vendors of Salvador's famed plazas and open markets.
King in Salvador's cuisine is dendê oil, or palm oil. Transported by the Portuguese from Africa during the slave trade, Africans continued to use dendê oil in nearly all their foods as they used it in Africa. The oil's thickness and distinct flavor characterize a number of everyday baiana meals.   
The most common dendê-based food is acarajé: mashed black-eyed peas, onion, and spices, rolled into balls and deep-fried in dendê oil.
In addition to being the star of Salvador's street-food scene, acarajé doubles as a ritual food offered in same balls to Yansa, the orixá of wind and war, during the massive Festa de Yansa in December. But it's just one of many ritual foods found in Salvador.
Foods of the Festas and Orixás
Salvador has many festas (public celebrations). When they honor the orixás (gods or spirits), feasting plays a major role. Certain ritual foods are given as offerings to the orixás and consumed to receive their blessings.
During the Festa do Oxalá (second Thursday of January)—one of the most important festivals in Salvador, as it honors the father of all orixás, Oxalá—try the arroz de hauçá, an Afro-Islamic dish found in northern Nigeria. It's believed that Africans from the Hausa people of northern Nigeria brought this dish to Salvador. The rice is an overcooked, almost mushy, unsalted rice, enjoyed with braised meat grilled in garlic and onions and served around the sides of white rice with a spicy pepper sauce made from dendê, coconut milk, parsley, olive oil, dried shrimp, and green peppers in the middle.
Arroz de hauçá is also common on February 2 during the Festa de lemanjá, which celebrates the almighty orixá of the ocean. Sweet and savory specialties are offered and eaten, including mingau de tapioca or mingau da maizena. These are warm or cold porridge drinks made of cornstarch or tapioca and spiced with cloves, cinnamon, and honey. Both are also typical breakfast foods, eaten year-round but heavily consumed around this time. Manjar branco, a boiled mix of milk, coconut milk, and cornstarch, is also offered to Iemanjá.  
Although Carnival is celebrated all over Brazil during the month of February, Salvador celebrates another round of mass partying with the festas of Santo Antônio (June 13) and São João (June 22 to 24). Corn is the staple at this time, and corn-based sweet and savory treats are enjoyed throughout the festivities. Variations on canjica, a yellow hominy pudding or cake made with cloves, cinnamon, and honey, are a local favorite. Also try the cuscuz de milho, which are cornmeal cakes sweetened with shredded coconut and sugar.
Acaçá, a white cornmeal dough of coconut milk and sugar wrapped in a banana leaf and baked over a fire, is common in June as well. It comes in sweet and savory form—packed with either coconut and cinnamon or meat and spices. You can purchase them from local markets with bakeries, or street vendors. All are usually gluten-free.
Caruru is a ritual food typically served with Bahia's signature dish, moqueca. Its popularity rises toward the end of September, when baianos pay homage to the twin orixás Ibeijis who are synchronized with the Catholic twin saints São Damião and São Cosme. Since the twins are of Middle East origin, okra and olive oil are the main ingredients in caruru, slow-cooked in a thick stew with coconut milk, dried shrimp, cassava flour, tomatoes, onions, and peppers.
And xinxim de galinha, a spiced chicken slow-cooked in coconut milk, dendê oil, shrimp, green peppers, lemon juice, tomatoes, garlic, ginger, and onions, serves as a ritual food for the orixá of the river, Oxum. It can be found in most restaurants and homes in Salvador.  
I used to miss my bus and run late to appointments just to snack on these tasty gluten-free options. One of my all-time favorite tapioca street foods is beiju. It's powdery cassava starch dusted into a frying pan without oil, where it magically transforms into a large circular pastry with a thick crepe texture. The beiju is then layered with savory or sweet ingredients and folded over like a big flat taco. My top picks for fillings are carne do sol (sun-dried meat and cheese), guava jam and cheese, and the addictive chocolate, cheese, and coconut. You can find beijus throughout the city, along the famous boardwalk of Porta da Barra, and at most local bus stops. Or you can buy tapioca flour and make it yourself.
Another fun way to eat tapioca is in the alluring cuscuz de tapioca com coco: a wet cake made of coconut milk or water and tapioca flakes, mixed with honey and shredded coconut and drizzled with condensed milk. It's best to buy them off baianas selling them in the street or at local cafes.  
Bolo de aipim is a moist breakfast cake beloved by baianos. Made with cassava-root shavings, egg yolk, and milk and sweetened with shredded coconut and sugar, it's found year-round in nearly all bakeries and supermarkets throughout Salvador. It's a great snack for the beach or exploring the city.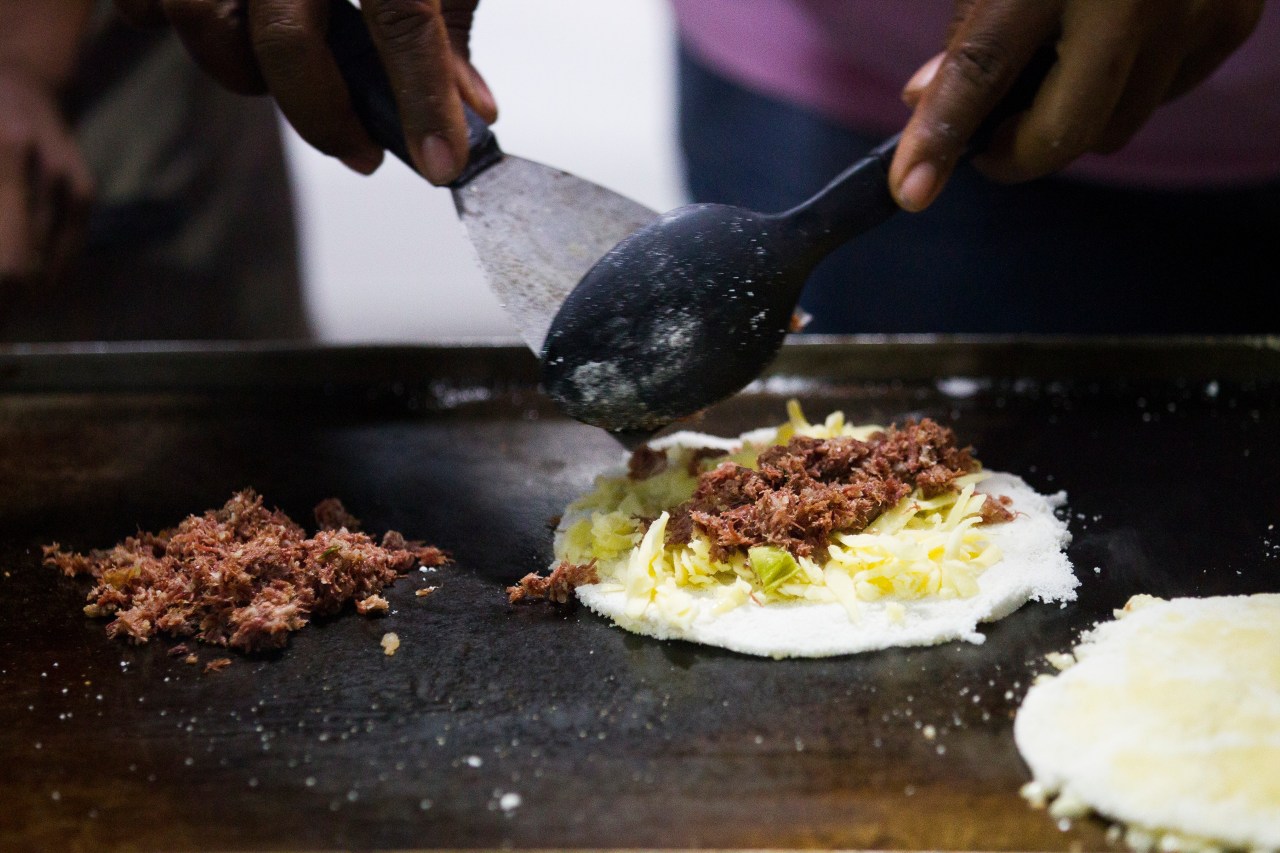 Most of the foods already mentioned contain coconut, and the luscious coconut palm-lined coast of Bahia provides the region an ample supply. Everything from soups and stews to pastries and alcoholic beverages are coconut based or flavored.
Salvador's signature coconut dish is the world-famous moqueca. Born in Salvador, moqueca is a thick, rich, deep-orange slow-cooked stew made with fresh coconut milk, traditional spices, fish or shrimp, ginger, garlic, malagueta peppers, and dendê oil. Moqueca is served with rice, salad, and coconut-based caruru and vatapá. Regardless of the ingredients, most dishes come with Brazil's popular condiment farofa, a baked and buttered cassava flour poured on virtually everything. To wash it down, enjoy an ice-cold coconut water, served fresh from its shell.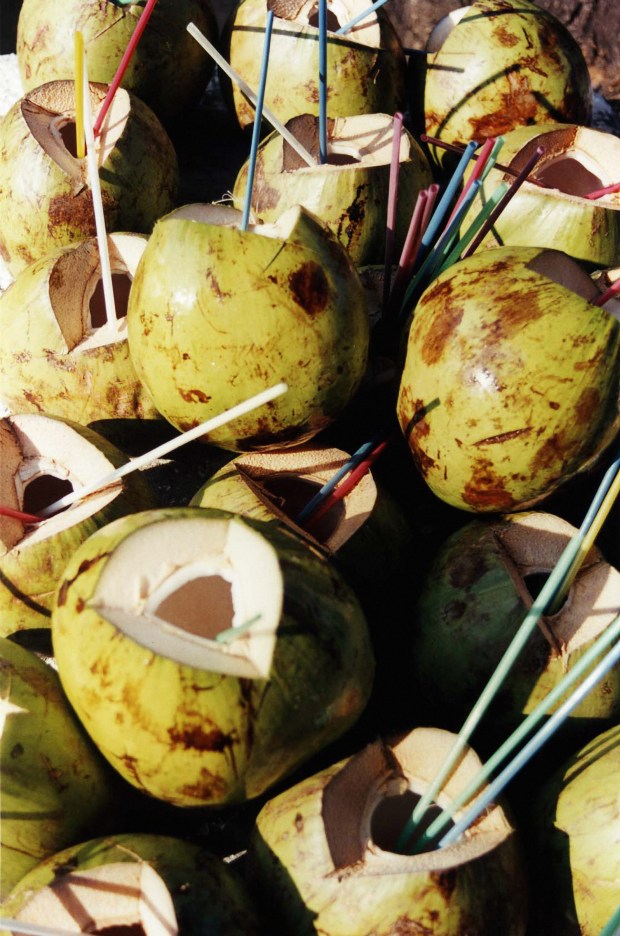 Pirão de peixe is often served as a side with moqueca or other entrees. It's a puree of coconut milk, fish, lemon juice, cassava flour, cloves, green onions, coriander, and dendê oil.
Another coconut-flavored dish that's que delícia! is caldo de sururu, a thick soup made of tiny shellfish, coconut milk, cachaça liquor, dendê oil, potatoes, peppers, and onions and garnished with cilantro, lime, and spicy sauce. It's found in restaurants or sold in big metal tins by street vendors.
Moqueca, pirão de peixe, sururu, and most coconut treats can be found almost anywhere in Salvador; but to enjoy it at its finest, try Big Moqueca or Bar Recanto da Lua Cheia. Both restaurants are located on the water in the lower city's famous Bonfim barrio. Arrange for a taxi to get there, and don't stick around after sundown. You can also try these dishes in upscale boutique restaurants like Dona Mariquita (in the Rio Vermelho barrio) or the artsy baiana culture house and restaurant D'Vendetta (in the historic district).   
The Ultimate Comida Baiana Experience
Now it's time for comida baiana at its most authentic—in the home of a baiana woman.  
Deep in the heart of Salvador is Dique do Tororó (Tororó Dam). Although partially commercialized because of the nearby gaudy and unnecessary soccer stadium built for the World Cup, the Tororó is iconic for its statues of African orixás in the man-made lake. In the Tororó barrio, which overlooks the lake, is Ajeum da Diáspora, the home/restaurant of culinary artist Angelica Moreira.
Treasured in Salvador as an expert on the city's African cuisine, Dona Angélica opens her home once a week to guests with reservations. The restaurant's motto is cozinha de resistência (kitchen of the resistance). Her home-cooked meals are served in a dining room whose walls are adorned with Dona Angélica's family inheritance and symbols of orgulho negro (black pride).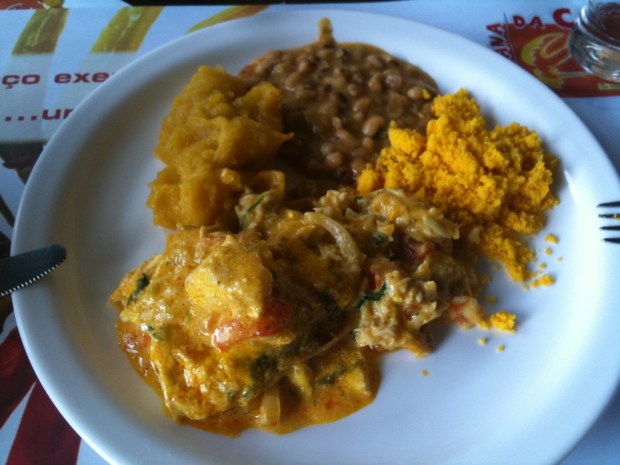 The night's menu depends on the African region or diaspora nation Dona Angélica wants to profile or the hard-to-find baiana dishes she chooses to feature. In the past she has blessed her guests with famous South African foods like bobotie, a dish loved by Nelson Mandela. Hers incorporates a baiana version of coconut-walnut rice, mixed with milk-soaked bread, ginger, garlic, and minced meat, seasoned in spices and baked in a skillet. Her feijão com arroz de Ghana (beans with rice of Ghana) is a fabulous mixture of black-eyed peas, coconut rice, marinated chicken, and fried sweet plantains—with a baiana twist.
She's also mastered efó com peixe, a dish exploding with flavor. It's made with a green leaf called língua de vaca lavadas (washed cow tongue), which has medicinal and spiritual uses. The bundles of leaves are blended into a rich spinachlike combination of dried shrimp, roasted peanuts, cashews, coconut milk, onions, garlic, ginger and dendê oil. It's often served alongside marinated fish, on a bed of white rice.
As a lifelong student of African cuisine and comida baiana, Dona Angélica picked up her talent in the kitchen from her mother, aunties, and grandmothers. By showcasing Africa's rich cuisine in Salvador, she hopes to carry on the tradition of connecting Afro-Brazilians with the foods of the motherland.