Since at least the time of the Aztecs, the Valley of Mexico has exerted a gravitational pull on the world around it. The Aztecs came to the great Lake Texcoco in the 14th century and there built the greatest city in Mesoamerica, Tenochtitlán. When the Spanish arrived on the gulf coast, they made their way to the city immediately; they proceeded to destroy it and build their own great metropolis, which would in short order become the finest city in the "New World." Goods flooded the city's markets; new cuisines emerged, as foreign ingredients merged with the agave and corn and tomato and chili that had first been cultivated in the fertile highlands to the east. Mexico City's history can be read in blood or in gold, but it is perhaps most legible in food, spelled out at every lonchería and taco stand, every power-lunch and immigrant enclave. If history is transmitted through food, then no city in the Western Hemisphere wears its past as proudly on its sleeve as Mexico.
Huarache toluqueño, from stalls around the Zócalo
Eating a huarache toluqueño—a relatively young invention that, as its name suggests, comes from afar (or at least from Toluca, capital of the neighboring State of Mexico)—is like eating before the arrival of Columbus in the West Indies, before Cortés landed in Veracruz, and before the destruction of Tenochtitlán. Though probably not more than 80 years old, this dish could easily be the oldest surviving street food in Mexico City: a large tostada of blue corn—pounded, not ground, to give it a coarser texture—covered with a simple mixture of beans, nopales, and cilantro, maybe mixed with some xitomatl (tomato), maybe with some ahuacatl (avocado). There's nothing about this dish that requires the last 600 years of history: It's straight from the milpa, the pre-Hispanic agricultural system that survives in rural villages throughout the country.
Caldo Tlalpeño
This may well be the only chilango dish in this short guide that is, in the end, still rural, a bridge between two towns. Like the origins of so many recipes, caldo tlalpeño's either reach the heights of legend or are terribly banal. Legend has it that the dish was first served to His Serene Highness Antonio de Padua María Severino López de Santa Anna y Pérez de Lebrón (the on-again-off-again Mexican dictator for much of the 19th century, known to his detractors and to history simply as Santanna) during a drunken night out in the village of Tlalpan, then outside the city, now absorbed into its southern periphery. More mundane versions place the dish's origins at the defunct Indianilla station in what is now the Colonia Doctores, just south of the Centro Histórico, where trains used to leave for Tlalpan. The soup was sold at small stalls to feed people on the 10-mile journey south.
Traditionally made with sour pear, caldo tlalpeño is today often made using xoconostle, a puckering cousin to the prickly pear. If memory serves, the poet and folklorist Rúben M. Campos wrote about eating a caldo in Tlalpan along with "sweet, sparkling" pulque (the fermented sap of the agave, a popular drink from the Aztec period) as far back as 1900. It's a dish that's also a bridge between two towns and two times, between an urban present and a rural past.
Filete Chemita, Bellinghausen or Prendes (now at El Palacio de Hierro in Polanco)
There are two ways of writing the name of this dish, a simple platter of beef with butter, demi-glace, and mashed potatoes. Filete Chemita, written with uppercase letters, is an aristocrat's dish, born in the old Prendes Restaurant, founded on the site now occupied by the Palacio Bellas Artes in 1892, where it was named for a regular diner. For decades Prendes was the most "important" restaurant in Mexico City: Everyone who was anyone ate there. The great muralists, Diego Rivera and David Alfaro Siqueiros. Francisco Madero, Mexico's abstemious, vegetarian first revolutionary president. Victoriano Huerta, the treacherous general who assassinated and succeeded Madero. President Lázaro Cárdenas and the disastrous Gustavo Díaz Ordaz. All of them ate, at one time or another, in Prendes, their faces immortalized on the restaurant's walls. In 1915 the owners of Prendes opened Bellinghausen in the Zona Rosa, where they duplicated much of their original menu. Though the original Prendes no longer exists, Bellinghausen still serves to a well-heeled crowd during lunch hours.
Written with capital letters, Chemita is fixed in the past, immortalized like a portrait collecting dust on the wall of a long-shuttered dining room. Written in lowercase—filete chemita—it's transformed into something common, belonging to everyone and no one: a dish that has transcended its origins to become something paradigmatically chilango.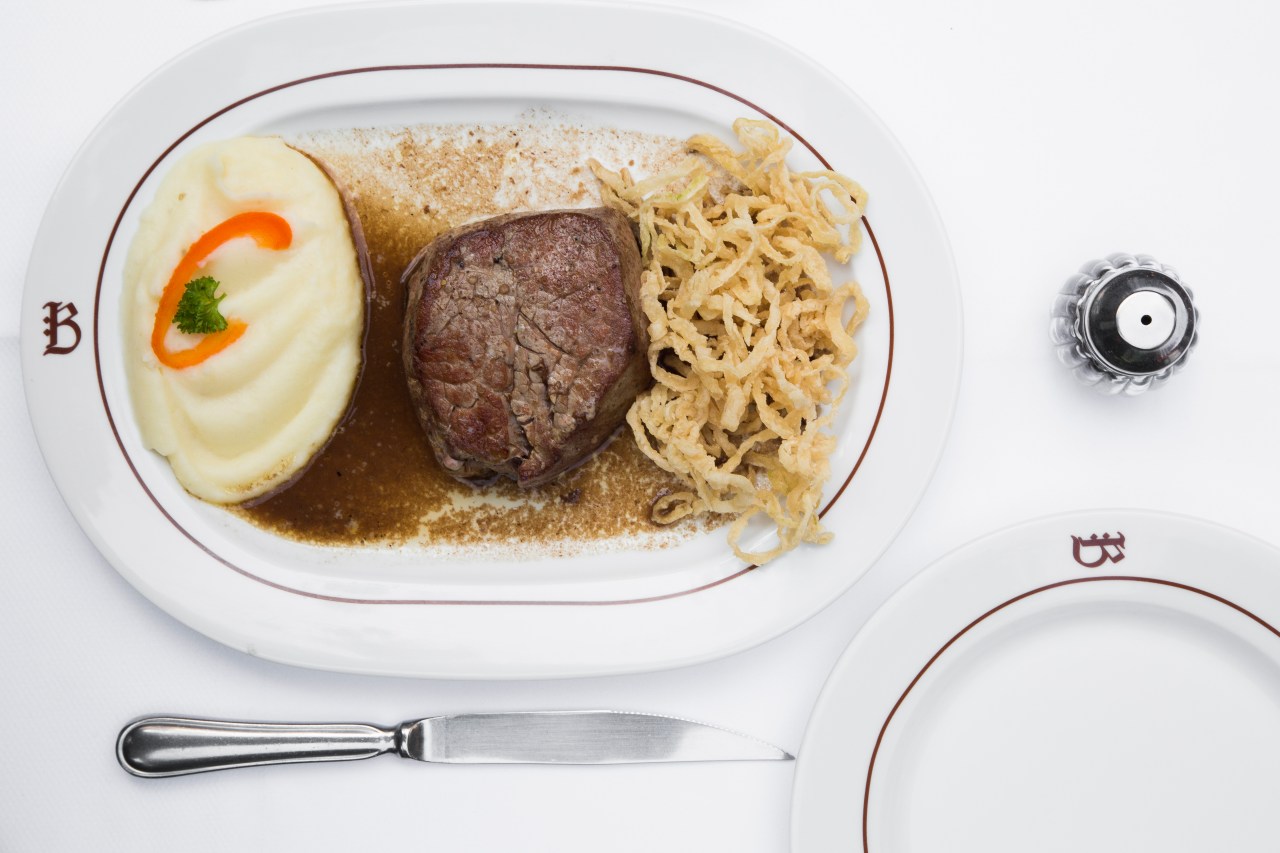 Mapo Tofu, Barrio Chino
This dish is a form of resistance. For at least 60 years—that is, from the last two decades of the 19th century through the first four of the 20th—anti-Chinese racism was formally established in Mexican law (look for the excellent book Chino: Anti-Chinese Racism in Mexico, 1880–1940, by Jason Oliver Chang). In the late 1800s, Chinese immigrants arrived in the country to build railroads, beginning in the north and eventually reaching the capital. Mexico City's Chinatown, first developed on the western side of the historic center between 1910 and 1930, was less a neighborhood than a fortress. Even after the official campaigns against the Chinese were dropped, chilangos still viewed the barrio chino through a veil of racism; it was seen as a terrifying place of fearsome traditions, opium, and venereal diseases. But Mexico City's Chinese population adapted, creating a new style of Mexican-Chinese cooking specific to Mexico City's barrio chino that has through the years become indispensable. The staple dishes of the Chinese-Mexican arsenal have changed, but the mapo tofu served at Hong King restaurant, open since 1963, is much the same as it always has been. I'm not interested in a "pure" example of the dish—there is more "authentic" Chinese cooking going on these days in the Cantonese restaurants in a neighborhood called Viaducto Piedad, southeast of the city center. I'm interested in a dish that contains a whole complex history of solidarity and stoicism, a tremendous lesson in strength in the face of a dizzyingly ferocious city and world.
Tacos de canasta
According to historians, the taco de canasta—which translates as "basket taco"—was the first to be sold on the streets of the capital, and it's easy to see why. Really just tacos de guisados (with cooked fillings), dressed and packed very tightly in cloth to conserve them for a full day's sale, they were extraordinarily convenient and easy to transport. They're the taco of the office worker, the day laborer, the man or woman on the move. One of the old, well-known photos of the sale of tacos on the streets of Mexico City, taken around 1920, is of a group of hawkers gathered around a taco de canasta vendor.
The most common varieties are stuffed with beans, minced pork, potato, and chicken with adobo. And the size is always the same: taco #14 (14 cm in diameter), though some will come in a smaller size and others will come in two tortillas for a bit more heft. They're sold over counters at minuscule storefronts, from baskets mounted on bicycles, or at plastic tables set up on the street. There's always salsa on hand, and sometimes there are bowls of pickled chilies and carrots. Of course, there are taqueros out there experimenting with new flavors and styles. I have on my desk a pamphlet titled Curso completo de tacos de canasta (Complete Course on Tacos de Canasta), published just last year, offering "variations" that include tuna a la mexicana and potato with sardines. The city is always changing; so are its tacos.
Carne Tampiqueña, Restaurante La Corte
This dish originated in a restaurant called the Tampico Club on Calle Balderas, one of the most important avenues in the Centro Histórico. First served in the late 1930s, carne tampiqueña has since become ubiquitous on fonda menus across the city and country: grilled beef with beans, an enchilada, rajas (sliced poblano chili), and guacamole. It's inevitable, almost boring. It didn't used to be.
The Tampico Club was a restaurant for the wealthy. At the time of its founding, the bipolar capital was in the throes of a period of intense malinchismo—a term used to describe an obsession with the foreign, derived from the name of Hernán Cortés's indigenous translator, La Malinche. At the same moment, los capitalinos were experiencing an equally powerful pull toward nationalism. So at a time when the French restaurant Les Ambassedeurs represented the absolute pinnacle of refinement, Tampico Club, located just 1,500 feet away, aspired to the same level of elegance under the banner of Mexican cookery while staying open 24 hours a day.
Named for the city of Tampico, a port on Mexico's northern Gulf Coast where the owners spent a good part of their youth, Tampico Club was in its time a high-flying place. It was close to the intersection of Paseo de Reforma, Mexico City's grand avenue, and Avenida Bucareli, a point that was for years the hub of the city's journalism world, what some older establishment journalists still refer to as "information corner." This was where journalists came to sell themselves and politicians came to fatten them with bribes. Salvador Novo, one of Mexico City's great chroniclers (and gossipers), described the clientele at Tampico Club as empistolados, or "loaded," as in "armed." There's no more "information corner" today (politicians would now rather see journalists dead than bribed), but carne tampiqueña has fortunately lived on. For a particularly good version, try it at Restaurante La Corte, just south of the Zócalo. Most days they serve it as part of the three-course comida corrida.
Empanada de Amarillo, Restaurante Xaachila
There are endless ways to define a city. You can define it by urban agglomeration, by density, by geography, by political organization, by social taxonomies. Here's another way: A city is a manifestation of a wish. If the village is a prison, then the city—and what's more, La Capital, with its capital letters like the towers of a cathedral—is liberation, a wish made manifest for immigrants.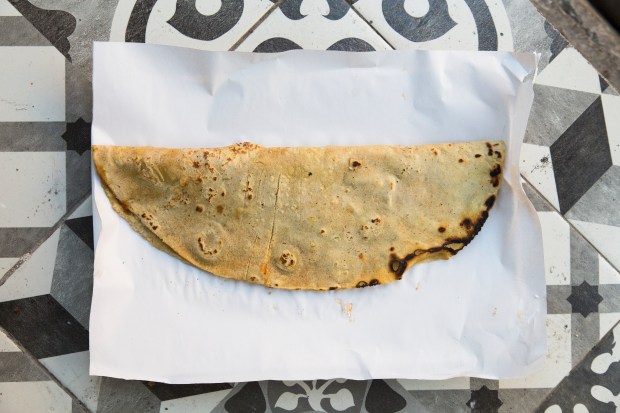 Some of Mexico City's immigrants came here from Oaxaca, and many of those immigrants came to sell food, gathering from the 1940s onward as the capital's population boomed. They gathered along the street that leads to the Church of the Santísima at the eastern edge of the Centro Histórico to set up their shops and sell their products. The most oaxaqueño of all those shops and restaurants is a tiny stall called Xaachila, recently expanded into the open storefront next door, and its best dish is the empanada de amarillo. It's a simple, perfect dish: a tortilla, tasting of grain and ash; yellow mole with smoky notes of chili chilcostle or guajillo and a cache of spices (fat pepper, clove, cumin, oregano, the clean anise notes of hoja santa); and shredded chicken for texture and body. It's unforgettable.
Tacos al Pastor, El Huequito, and El Vilsito
The story of tacos al pastor could easily read as a collection of approximate dates and approximate facts: the first cooking fires from hundreds of thousands of years ago, the first vertical roasting in Mycenae or some such place 4,000 years back, the evolution of the gyro in Greece and shawarma or döner kebab in the Ottoman Empire, the migrations of the Lebanese to Mexico in the second half of the 19th century, the foundation of three taquerías in Puebla, southeast of the capital, in the 1930s: Bagdad, La Oriental, and Tacos Tony. Pork was subbed in for lamb, the tacos moved to Mexico City, a spicy adobo was rubbed on, the tortilla took the place of the pita. In 1959 El Huequito opened near the Mercado de San Juan in the Centro Histórico and declared itself the first place to serve tacos al pastor. Then pineapple was added to the mix, and in 1966 El Tizoncito opened, also claiming to be the first to serve the taco al pastor.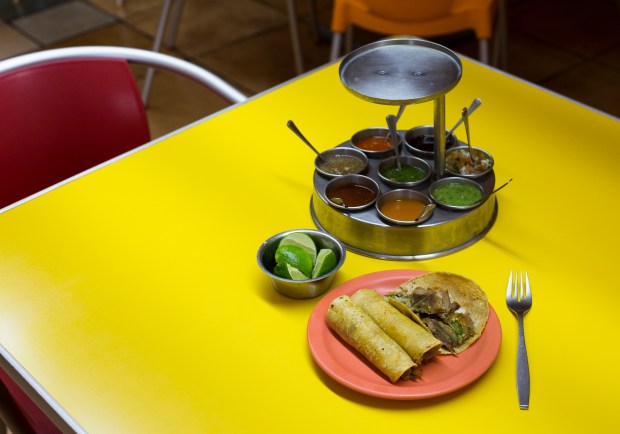 But that list of facts and dates does nothing to point to the sensibility of the thing, whether a purist's favorite like El Huequito, or the more modern style, best had at El Vilsito in the colonia Narvarte. The rotation of the spit mimics the rotation of Mexico's mestizaje, of new arrivals and new forms of coexistence in a shared urban space. Mexico City can be inhospitable, violent, racist. Taco al pastor is the opposite: a delicious manifestation of peaceful coexistence.
Hamburguesa con Queso, Hamburguesas Hollywood
A city of migrants, with its floating population, is perforce made up of people coming, people going, and people coming back. In the years that followed World War II, thousands of Mexicans went to work in the United States as part of the Bracero (manual laborer) program, in place from 1942 to 1964. What did they bring back with them? Dollars, of course, but also other curiosities: words like chance and lonch (lunch) and orden (order), here meaning not just the structure of things but also a specific quantity of food served in a public place—an order of fries, for instance, or an order of tacos. And they brought back the happy custom of hamburgers and hot dogs (the latter, visitors should know, is called a jocho in chilango slang).
Of course, these novelties were met with jeers by the intelligentsia. In 1972 Novo wrote, "The hot dog exists, but I will not stain these pages by doing more than noting their unconscionable existence." José N. Iturriaga wrote in 1989: "A simple French baguette or a hamburger has nothing on our tortas compuestas"—which translates as "composed sandwiches"—"with their origins in the city of Puebla." Luis Marcet, former director of the Mexican Restaurant Association, said in 1989, simply, "Hamburgers? No thank you!" The film Acá las tortas (Here Are the Sandwiches), directed by Juan Bustillo Oro in 1951, follows a family-run tortería in Mexico City and its rival, a hamburger shop next store. The premise is that hamburgers and hot dogs "taste like carpet," while the Mexican torta, though humble, is enormously flavorful. The history of Mexico City is also a history of our contentious relationship with the United States, which is to say, with the Other.
And yet hamburgers persisted. These days burgers are everywhere in Mexico City, but there's only one way to try a version more or less similar to the ones eaten by our hyperbolic forefathers. Hamburguesas Hollywood opened in 1962, just before the United States canceled the Bracero program. It's a minuscule place, just a bar and a few stools, but they sell the last of Mexico's first-generation hamburgers. Go before it disappears under a layer of dust or another earthquake.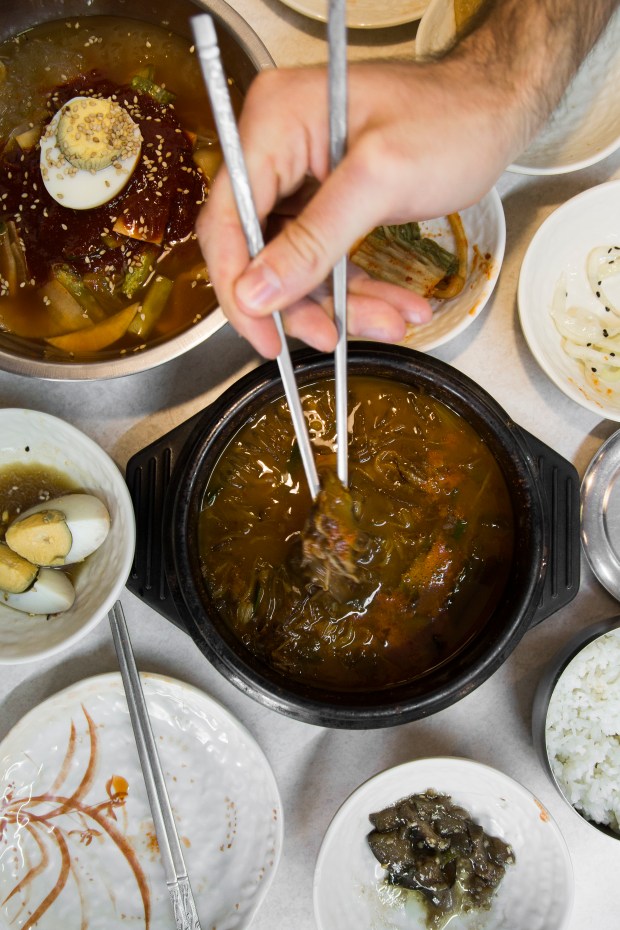 Yukgaejang, Mapo Kal Bi (or any number of Korean restaurants in Colonia Juárez)
Though the Korean migration into Mexico City isn't anything new (the first registered Korean migrants came around the turn of the 20th century), the Korean population has never been as visible as it is today. There are dozens of Korean restaurants in the portion of Colonia Juárez that has become Mexico City's Koreatown—and arguably the most exciting place in town to eat. Of all the many delicious things on offer at these restaurants, one dish in particular is worth mentioning, and that's the yukgaejang, a marvelous relative of the chilango mole de olla, the only mole that comes in the form of a heavily spiced soup (revitalized a decade ago by Enrique Olvera at Pujol).
The two dishes might well be brothers separated at birth who, having grown up on opposite sides of the Earth, have found each other and come to love one another. If mole de olla is lippy and badly brought up, then yukgaejang is even more so. Both are spicy, but yukgaejang is a punch compared to mole de olla's dainty slap. There should be a special word to describe the particular type of sweat that a good bowl of yukgaejang induces—and if we all accept each other, chilangos and Koreans achilangados, we might one day come up with one, our own contribution to both languages and cuisines.
Co-published with the new Roads & Kingdoms Mexico City Travel Guide.