After spending just a couple of hours in Newfoundland, you may find yourself invited to a stranger's house for dinner. And if it's Sunday, it'll probably be a Jiggs dinner.
A Jiggs dinner also called a boiled or cooked dinner is a Newfoundland tradition that dates back to the early 20th century. The name comes from George McManus' comic strip Bringing Up Father, whose main character is an Irish immigrant named Jiggs living in America.
On a recent visit to Newfoundland, Vanessa Kenny introduced me to the dish.
Kenny, who oversees operations for Cod Sounds, a local culinary school, learned to cook a proper Jiggs dinner from her father. Her mother, Kenny explained, not being a Newfoundland native, just couldn't make the gravy right (apparently they make it differently in Nova Scotia). Our meal would have "none of that white gravy," Kenny assured me. She says white, or—as she calls it, mainland—gravy doesn't take advantage of the dark drippings from the roast, so it is bland in color and flavor.
I had always thought of gravy as a take-it-or-leave-it condiment, but now, I am a convert.
But it wasn't just the gravy that won me over. It was also the corned beef, juicy turkey leg atop mashed potatoes, stuffing, cooked greens, and boiled cabbage.
Meat hasn't always been the star of the show. Earlier iterations centered on potatoes and other vegetables (typically cabbage and carrots) boiled until tender. Salt riblets (pickled meat) were used sparingly, for flavor—many families couldn't afford lots of meat.
There is no meat scarcity at the Kennys', however. We ate boiled corned beef and a roasted turkey with crispy, golden-brown, served with homemade stuffing. Thanksgiving, it seems, comes once a week in this part of Canada.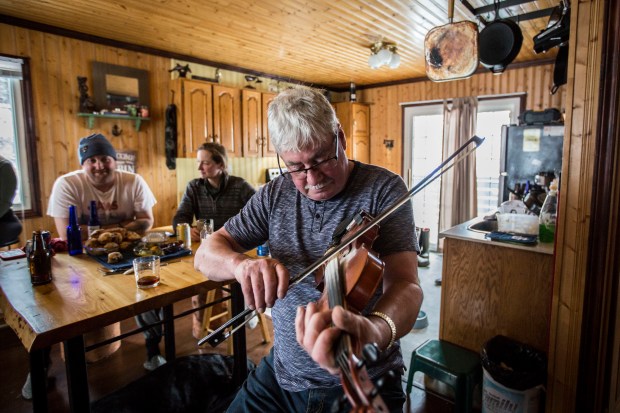 After Kenny laid out the final dish, wiping sweat from her brow, she motioned for everyone to line up, grab a plate, and eat. Mustard pickles, pickled beets, and baskets of blueberry muffins, and biscuits competed for space on the table. We ate. We chased our meal with cold, local beer. And then ate some more. And then returned for seconds and drank some more.
Although we made a dent in the spread, it was clear leftovers are part of the point. I asked her what she planned to do with them.
"Hash!" she exclaimed.
Sometimes Kenny makes Jiggs dinner just for herself and husband, Albert. (I suspect Jack and Dency, the Kennys' two plump Labradors receive their share of table scraps.) But often, the Kennys host a small crowd.
"Usually someone has a guitar," Kenny told me.  
Jiggs dinners are not confined to the home—many local restaurants serve the meal—but it's not quite the same experience as being serenaded by friends playing the guitar and harmonica around a wood-burning stove.
Still, given how much work goes into preparing a Jiggs dinner, isn't it ever tempting to go out for dinner and let someone else do the heavy lifting?
"No," Kenny said firmly. Going out for Jiggs means missing out on not only all those better-the-next-day leftovers but also the pot liquor, the liquid left after all the corned beef, green cabbage, turnips, carrots, potatoes, and yellow split peas have cooked for three hours. It's what flavors Kenny's gravy, and I'm told it's also the perfect hangover cure on its own.
That's good to know, since a pounding headache is a seemingly inevitable part of any visit to this rollicking province.