In Carmelo, a sleepy town in rural southwestern Uruguay, a busy work week might include a "quick" three-hour barbecue lunch with at least one bottle of tannat wine, extended yerba mate sessions, cruises along the delta, and the ever-important midday siestas. It is how many dream to spend their days—belly full of cheese, meat, and wine while gazing into the sunset as gauchos ride on horseback through the vineyard.
Carmelo's burgeoning wine tourism remains under the radar even for many Uruguayans. Tiny Uruguay's wine production pales in comparison with neighboring Argentina's or Chile's, but Uruguay's industry is booming. Exports increased nearly 70 percent from 2016 to 2017, according to the National Institute of Viticulture.
Local winemakers speak of Carmelo's terroir, a result of the Paraná and Uruguay rivers feeding into the Río de la Plata and creating a unique microclimate where vines thrive. This is tannat country—the nation's flagship grape, introduced by Basque immigrant Pascual Harriague, who arrived from Madiran in southwestern France in the mid-1800s. Tannat grows well in Uruguay and is mostly by boutique and family operations, many of which have opened to the public for tours and tastings in the last few years.
Because of limited production and resources, Uruguayan vintages aren't easily found around the world.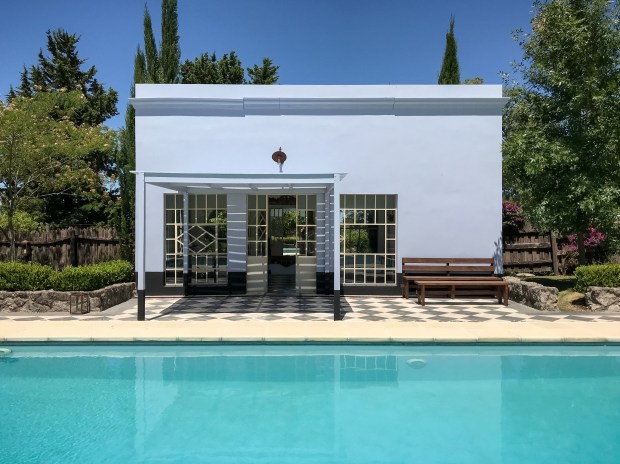 Narbona Wine Lodge
To do: Spend the night in the Tannat Room. Explore the estate with a glass of Puerto Carmelo tannat roble in hand. Don't skip the dulce de leche for breakfast.
Narbona is perhaps the best-known winery in this region, owing to its award-winning wines, boutique hotel by Relais & Chateaux, and dairy farm, which dates back to 1909, produces some of the best cheese, yogurt and dulce de leche in South America. The farm was abandoned for decades until renowned developer Eduardo Cantón took over the property in the 1990s. He refurbished the estate and transformed the farmhouse into a functional modern winery while honoring its rustic charm.
Narbona boasts a winery, a wine museum, a restaurant, and five luxe suites that start around $240 a night. Each suite is named after a kind of wine or varietal: tannat, pinot noir, rose, sauvignon blanc, and viognier. The stay is worth it for the breakfast alone, which includes a spread straight from the farm to your wooden table, with creamy yogurt, fresh eggs and homemade breads made in the adjacent bakery and served with olive oil, jam from the fruit trees, churned butter, and silky dulce de leche.
Speaking of dulce de leche, the general store attached to the restaurant has floor-to-ceiling shelves filled with the caramel spread in jars of all sizes. Take some home, no matter how much space it takes up in your suitcase.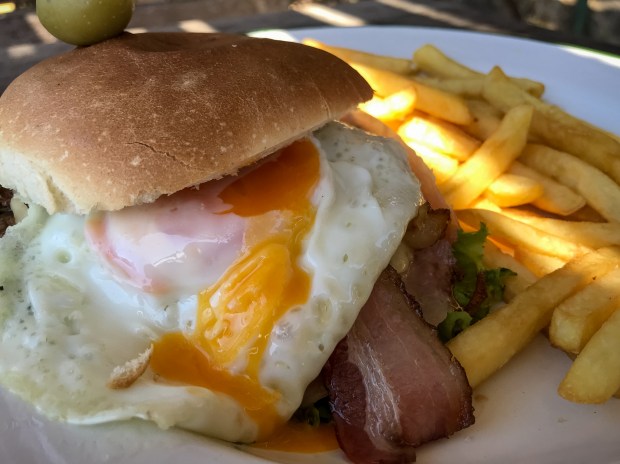 From Narbona, hop on a bike and ride 2 miles on dirt roads through the countryside and eucalyptus trees to Puerto Camacho, a private beach on the riverbank where Argentines in the know escape the big city. Start with a late afternoon lunch (or early dinner) at Basta Pedro, the open-air restaurant on the port. Ordering chivito, Uruguay's national dish, would be a wise choice. It might be the best sandwich known to man, with everything that's right in the world: thin tenderloin steak, ham, bacon, melted cheese, and a runny egg. Afterward, walk around the grounds and check out the old chapel and dairy store (more dulce de leche, this time in ice cream form). If you can time it right, end the evening on a leisurely boat ride while the sunset paints the sky.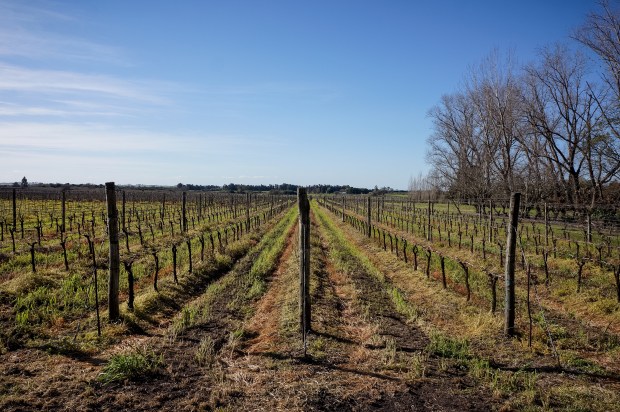 To do: During harvest, pick grapes with the Marzuca family. Work up an appetite and feast on a traditional Uruguayan asado (barbecue), which can be arranged with at least 24 hours' notice.
The jewel at this boutique winery run by husband and wife Bernardo Marzuca and María Marta Barberis and their children is the tannat-syrah gran reserva blend. It's also the perfect place to get the true Uruguayan asado experience. There's no restaurant on site, but the Marzucas regularly host barbecues (reservations required), at which guests sit underneath the trees in the quiet vineyard and gorge on grilled meats and entrails paired with excellent wines and great conversation.
Almacén de la Capilla/Bodega Cordano
To do: Visit the general store for the best edible souvenirs. Sit beneath hazelnut trees in the garden and enjoy cured meats, cheese, and wine. Participate in la vendimia (harvest) activities in March.
When you enter Almacén de la Capilla, you may feel transported to the 1870s, when owner Ana Paula Cordano's great-great-grandfather arrived in Uruguay from Genoa and planted grape vines. His son opened the store in 1900, and the shelves are filled with colorful antique bottles, wine jugs of all sizes, and artisanal products like fruit preserves, pickled vegetables, olive oil, wine, and grappamiel, a famous local drink that adds honey to traditional grappa.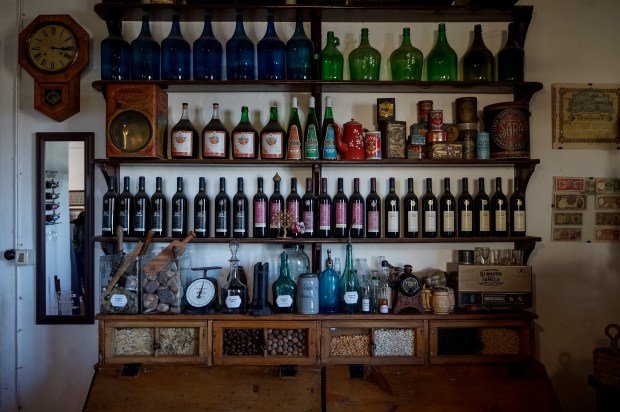 The owners will gladly give a free tour of the store, including a look inside the basement wine cellar, accessible from a trap door and down a rickety ladder. The Cordanos' vineyard mostly produces tannat and chardonnay, and during harvest season they organize special events like backyard barbecues and grape stomping. Wine and cheese tastings can also be requested.    
Location: Route 21 Km. 257, across from the chapel
Contact: +598 4542 7316 or almacendelacapilla@adinet.com.uy  
Bodega Familia Irurtia
To do: Learn the history of Uruguayan wine from the Irurtia family.
Don Lorenzo Irurtia immigrated to the region from Spain's Basque country around the turn of the 19th century, and like many early settlers in Carmelo, planted tannat grapes. Nearly 100 years later, the fourth Irurtia generation continues his legacy. For years it focused on mass-producing table wines, but over the past decade, local demands changed, and the attention turned to quality.
A giant wine bottle with an Irurtia label stands next to an olive tree and wagon wheels at the entrance to the winery, accompanied by a 1926 Ford Model T and 1917 turquoise Titan tractor—two of the many classic cars and machines regularly seen around Carmelo. The entire winery doubles as a museum, filled with winemaking equipment used during the first harvest in 1913. María Noel Irurtia, one of five siblings, leads tours through the vineyard and wine cellar. The tasting is in the cellar, amid brick walls, gothic arched doorways, and century-old bottles covered in dust and cobwebs. The wines show how far Uruguay has progressed, from boxed table wine lightened with ice and soda water to the Km. 0 Río de la Plata sauvignon blanc and tannat syrah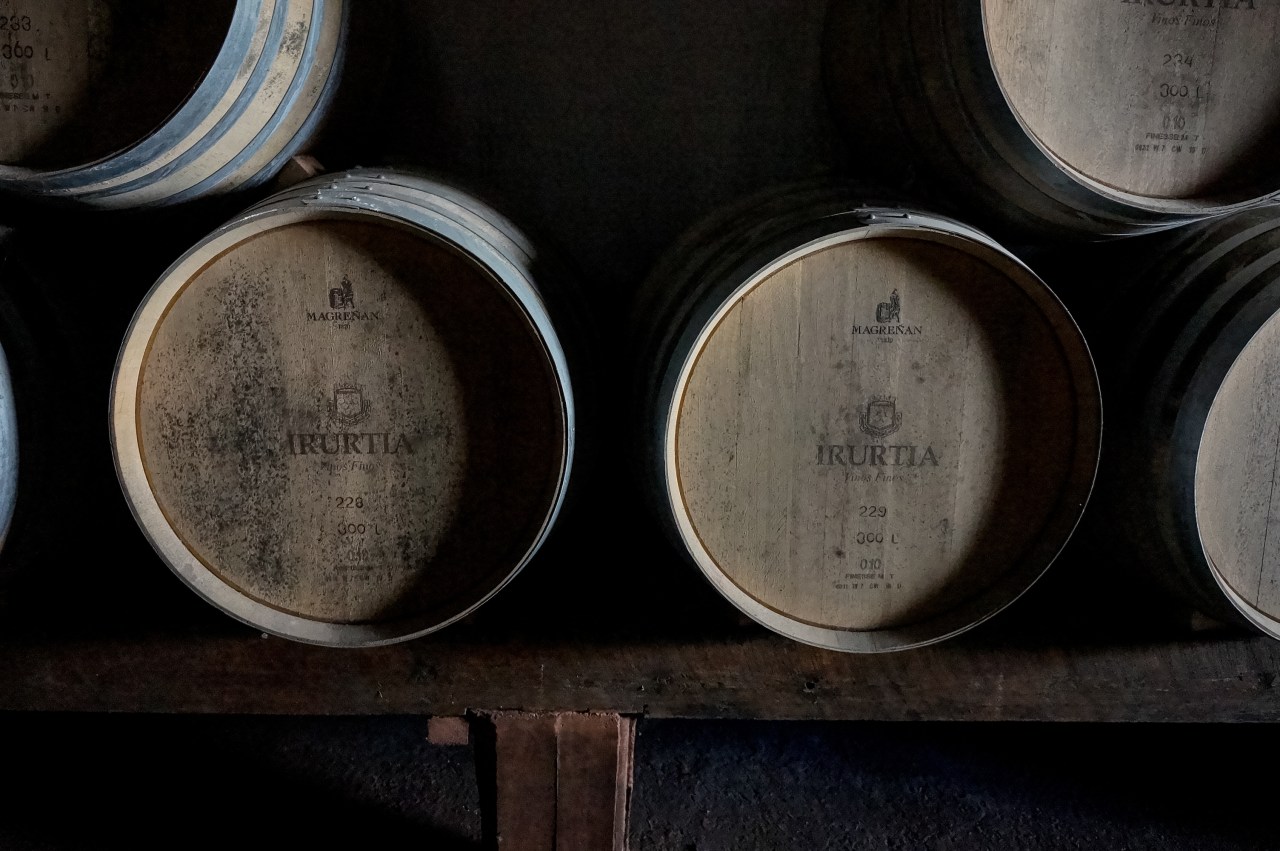 CampoTinto
To do: Live it up Carmelo style: Stay the night, relax by the pool, eat delicious food, and drink all the wines.
Some people may suggest you spend only a day in Carmelo. Don't listen to them. For a real understanding of the Uruguayan campo and wine life, ample time is needed to sit around and enjoy the nothingness. And there's no better place to do that than in a vineyard, drinking yerba mate and rosé poolside all day. CampoTinto, set on a hill overlooking the countryside, is a winery, restaurant, and boutique hotel rolled up in one idyllic place. It's possible to go for just a wine tasting, but once you step onto the property, you won't want to leave.
If you like a wine at CampoTinto (and you will), buy it immediately or risk never drinking it again—particularly the tannat merlot and tannat reserva. The boutique winery bottles a small quantity each year, and when the cases sell out, no hay más.