Red Indian Lake
Bourdain had: hearty cod stew ("when people talk about fish, they just assume it's codfish"), various terrines (duck, rabbit, guinea hen, boar), jellied foie gras, fire-roasted moose shoulder and leg, ribs braised with red wine and local boletus as well as chanterelle mushrooms.
Dinner dates: Frédéric "Fred" Morin and David "Dave" McMillan, chefs and owners of Montreal restaurants Joe Beef, Liverpool House, Le Vin Papillon, and the new Bar à Vin Mon Lapin; Jeremy Charles co-owner and head chef of Raymonds restaurant in Newfoundland; Jeremy Bonia, co-owner, and sommelier of Raymonds.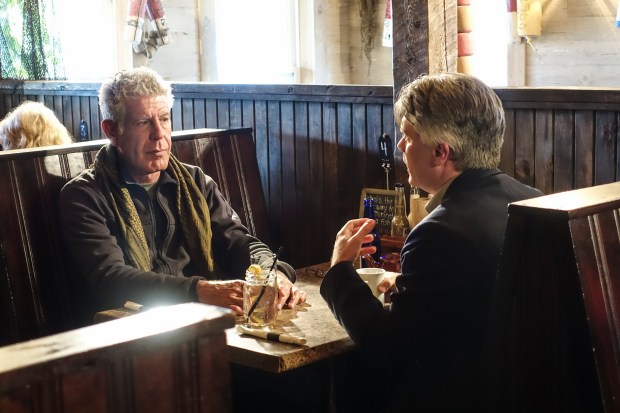 Bourdain had: fish and chips, beer.
Lunch date: Dale Jarvis, Intangible Cultural Heritage Development Officer for the Heritage Foundation of Newfoundland and Labrador.
Bourdain had: white wine, a seafood tower (razor clams, snow crabs, mussels, capelin, whelks, and sea urchin), boquerones, scallop crudo with smoked roe, tuna prepared with berries, caribou heart with alder and chanterelle mushrooms, charred whelk, cod fillet, Jiggs dinner (reinvented as a pasta dish), fried cod swim bladders ("like a chip"), chanterelle ice cream.
Dinner dates: Fred Morin and Dave McMillan.
Home of Maïté Legasse
Bourdain had: sea urchin pâté, stuffed squid over rice, braised halibut, local cheese, tart with local baked apples and blackberries.
Lunch dates: Maïté Legasse, home cook and director of Ma P'tite Cocotte, an ambassadorial food project; Fred Morin and Dave McMillan.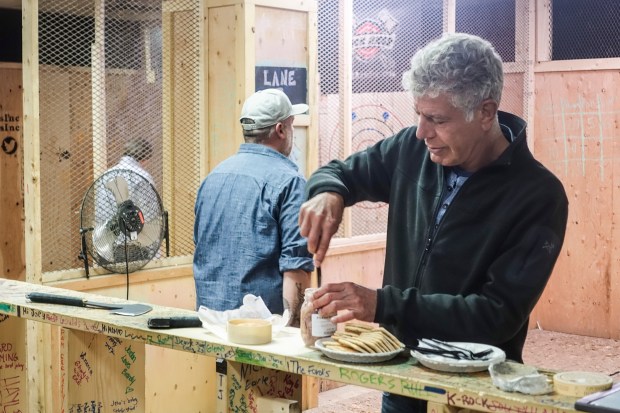 Bourdain had: fried bologna ("don't sneer; it's awesome"), fried clam strips, liver and onions, pan-fried cod tongues, Jiggs dinner ("perhaps the ultimate Newfoundland classic"), french fries.
Dinner dates: Fred Morin, Dave McMillan, and Jeremy Charles.
Bourdain had: a colossal cheese plate, an assortment of patés, and pickled pork tongue.
Ax-throwing dates: Fred Morin and Dave McMillan.