Jeremy Charles on the phone is just like Jeremy Charles on TV: friendly, humble, and plainspoken—until you get him to talk about moose. He has a lot to say about moose. And cod bladders too. Charles, 40, is the celebrated head chef and a co-owner of Raymonds and the Merchant Tavern, both in St. John's, Newfoundland.
He recently showed Tony and Montreal chefs David McMillan and Frédéric Morin around his home province, treating them to fried cod sounds and chanterelle ice cream at Raymonds and preparing a feast for kings on Red Indian Lake.
Danielle Renwick: In the episode, you mention foraging and hunting with your family. How much were fishing and hunting a part of your upbringing?
Jeremy Charles: We spent a lot of time in the woods hunting and fishing. At our cabin—our summer home with my grandparents—we would essentially eat off the land, eating everything we grew in the garden and caught in the fishery or fly-fishing. That was super-common. Most people ate from the land and sea.
Renwick: Is that still the case?
Charles: For sure, especially in communities outside the city. Like anywhere, big-box stores and technology have changed a lot about the way we live, but there's also been a real resurgence of people going back to the land and celebrating all the beautiful things around us.
Renwick: You spent a decade away, working in Montreal and Chicago. What made you decide to move back home?
Charles: I felt in my heart it was time to move on to a new challenge. And the opportunity came up to move back home and open a restaurant, be with my family, and get back to hunting and fishing, go for walks in the woods, and pick mushrooms—all kinds of things you can't do in the city. I was ready to come home and get back to those things.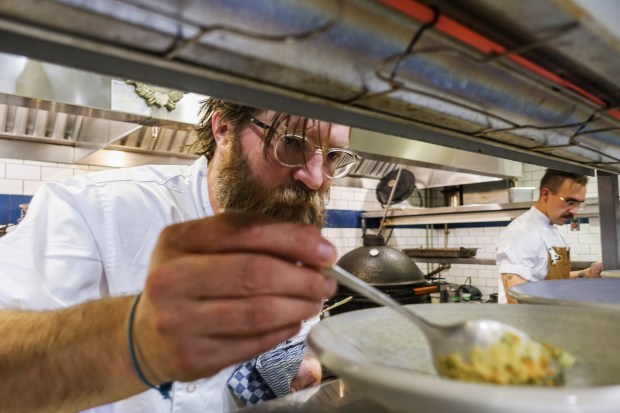 Renwick: Did you always value Newfoundland's food? Or was that something that you grew to appreciate after being away?
Charles: Growing up, it was easy to take it for granted. I always wanted things that were not from here. Basically anything from outside was the prize. But after living away and working in bigger cities, I realized how many wonderful ingredients we have here. It was when I moved back home that I really started to appreciate and showcase all these beautiful things.
Renwick: Another well-known Canadian chef, Jesse Vergen, once said that Canadian chefs are "all looking for the identity of Canadian cuisine today." He said that you've got it all figured out. What do you think he means by that?
Charles: Um, gosh. We're comfortable in our own skin here, and we're comfortable and passionate about what we have around us. We're content to showcase Newfoundland and all its abundance.
Sorry, I'm a little tongue-tied. How do I have it figured out? It's just—I live on a beautiful island surrounded by amazing stuff, I hunt, I fish, I cook, and I'm with my family. It's the dream, I guess.
Renwick: Do you think local attitudes have changed toward Newfoundland food?
Charles: I think over the last 10 or 15 years, people have started to realize how unique Newfoundland is. You can serve wild game such as moose and rabbits and partridges in restaurants, and that's unique. It's the only province in Canada that allows restaurants to serve wild game. People are rediscovering other local ingredients like sea urchin and wild mushrooms and adding them to our pantry, so to speak.
Renwick: When did you get the cooking bug?
Charles: I always enjoyed being around the kitchen as a young boy. I liked having my hands on stuff, be it picking berries, fly fishing, or catching trout or cod off the wharf. It just always felt natural and fun.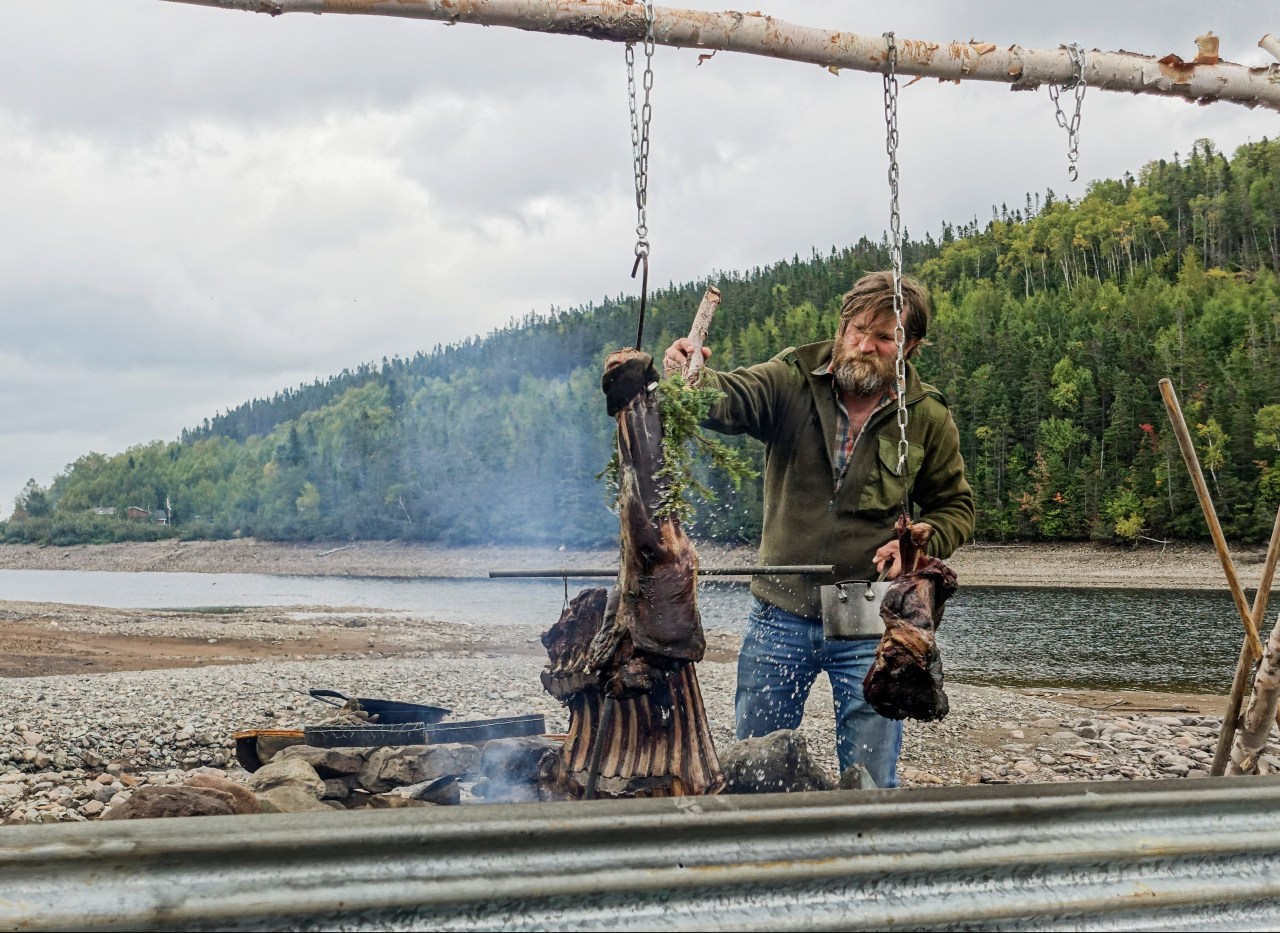 Renwick: How important is moose to the Newfoundland diet?
Charles: Oh, God. Moose is super-important. It's a wild, organic meat found in abundance—sometimes to a fault, because they cause accidents on the road—across the island. A lot of people depend on getting their quarter each year to get them through the winter. It's a really wonderful thing to have access to wild, organic meat like that. It's an amazing animal.
Renwick: What do you mean by "quarter"?
Charles: In Newfoundland you apply for a license to hunt moose each year, and you're guaranteed a license at least once every four years. So oftentimes, four people go in under a license and share their moose. That way, each person gets a quarter every year. I just got my moose tag this morning, and I'm delighted.
Renwick: What does moose meat taste like?
Charles: It has a unique flavor and it depends on the animal—whether it's male or female, young or mature. It's got a hint of game to it, but it's not overwhelming. It's my favorite protein.
A nice piece of moose, cooked medium-rare? It's a wonderful thing.
Renwick: How often do you get out and hunt and fish?
Charles: As much as I can. We do all our hunting in the fall. It's pretty quiet throughout the winter, and the fly-fishing season opens in late May. Obviously, running two restaurants and raising two kids makes it challenging, but we definitely try to make the time because one of the best parts of living in Newfoundland is getting outdoors and enjoying nature.
Renwick: I'm very intrigued by the cod sounds you make at Raymonds. How did it occur to you to deep-fry cod bladders?
Charles: I've been working with cod for a long time, and I'm always toying around with the bits and bobs. The sound—that's what we call the swim bladder—is something that we've been cooking with pork fat for years. Then one day, we stuck a sound in the dehydrator, and it came out like glass—it looked like a chicharrón—and we put it in the deep fryer to see what would happen. Sure enough, it pops up, and we were blown away. It was very unique, and it's a big part of what we do at the restaurant.
Renwick: Is it just like a fishy chicharrón?
No, it's not really fishy at all. You get a hint of fish. We soak them in salt and clean them, dehydrate them, and it has the perfect crispness. It's lightly salted and garnished with seaweeds and crème fraiche.
I'm writing a cookbook, An Ode to Newfoundland [from Phaidon], due at the end of this month, and that was one of the recipes we were working on today.
Renwick: That meal you had at Red Indian Lake—with Tony, Frédéric Morin, David McMillan, and [Raymonds partner] Jeremy Bonia and all the terrines and fire-roasted moose—looked amazing. Who took the lead on that meal, or was it a group effort?
Charles: It was organized chaos. It was really just a bunch of people chipping in. I didn't know what to expect because we had a bunch of product and worked together as a team to execute a lot of food, but being there with my friends and Fred and Dave and Tony and to see that come together was truly amazing.
I don't even remember what we had. I vaguely remember that we had some moose hanging above the fire. But I was so tired, I forgot about it all.
Renwick: At one point in the episode, McMillan says you're "easily the best chef in Canada." How do you feel when you hear that kind of praise?
Charles: I'm blushing. Dave is a culinary legend, and I've looked up to those guys for a long time. I live in a big country full of amazing chefs, and I just feel fortunate to be able to be doing what I'm doing and celebrating the products that we have.
Renwick: Do you see Newfoundland cuisine or aspects of it catching on outside Newfoundland or influencing food outside Newfoundland?
Charles: Yes, for sure. I've got friends from across the country who see the ingredients we are working with, especially with the seafoods, and want to get their hands on them. We have a lot of guest chefs who come through, and I always make sure they leave with a gift bag.
Renwick: What's a perfect Newfoundland gift bag?
Charles: Smoked capelin, snow crab, salted fish, maybe some jams, and a bottle of rum.
Renwick: What are your hopes that somebody watching this episode will take away from it?
Charles: I hope people get a sense that it's pretty magical place full of a lot of interesting, friendly people and amazing landscape.
This conversation has been edited and condensed.